Happy New Year's to readers everywhere! Last week we posted a poll listing 15 of the major energy stories of 2012. Readers voted, and the Top 10 are presented below with a short narrative describing the story. 1. Revolution in US oil and gas production continues The fracking revolution in the US continued, with oil production […]
The people who like to think they are managing the world's affairs seem fiercely determined to ignore the world's true condition — namely, the permanent contraction of industrial economies. They just can't grok it. Two hundred years of cheap fossil fuel programmed mankind to expect limitless goodies forever on an upward-swinging arc of techno miracles. […]
With land prices at a premium in Singapore, vertical farms with rotating vertical racks present a sustainable solution while cutting down pollution.
The Mitt Romney-Barack Obama presidential debates in October had one man in New Delhi hooked. D.K. Sarraf, Managing Director, ONGC Videsh Ltd, the state-run overseas explorer, would plonk himself before a television early in the day and hang on to every word. Sarraf is no avid America watcher – his interest in the three debates […]
Dieter Helm's The Carbon Crunch: How We're Getting Climate Change Wrong–and How to Fix It has the potential to be an influential energy policy book, not just for the UK but for the rest of Europe and the United States. Helm has been making the rounds to promote the book and recently gave a concise […]
Iran "successfully" test-fired a surface-to-air-missile on the fourth day of a military drill around the Strait of Hormuz, the state-run Fars news agency reported, citing a military official. Iranian Navy forces have successfully test-fired the latest version of the indigenous surface-to-air missile Ra'd (Thunder) during the Velayat 91 maneuvers. Rear Admiral Amir Rastegari, the spokesman […]
An excellent summary of Prof. West's research into complexity theory and the scaling laws that determine the lifetimes of both biological organisms and socioeconomic systems. I have referred to his work here to try to explain why large-scale, hierarchically organized socioeconomic systems (cities, economies, nation-states, etc.) exhibit superexponential growth, for a time, but then inevitably […]
A programme launched in Buenos Aires three years ago to encourage the use of bicycles has already brought results: the use of this environment-friendly means of transport has increased fivefold in the Argentine capital. "Buenos Aires, mejor en bici" (Buenos Aires, Better by Bike) is the name of the project that emerged in 2009 in […]
Many people trot out their predictions for the coming year right about now. I'm generally allergic to predictions and think rather in terms of probabilities. Naturally, the world we live in is far too complicated to yield anything approaching certainty concerning such matters as the future price and supply of energy, future economic conditions, and […]
In the first part of this two part series we discussed how the sheer amount of energy coupled by its cheap cost enabled society to increase the amount of work that could be produced at a much reduced cost. It was this cheap energy subsidy that made the process of arbitrage between human labour and […]
Iran plans to relocate an airport in the southwest of the country after discovering oil deposits under its runway, media reported on Saturday. The National Iranian Oil Company "intends to buy Ahvaz airport due to the existence of oil deposits under the airport's tarmac," the state broadcaster's website quoted Mohammad Rasoulinejad, managing director of the […]
The oil glut at Nymex's Cushing, Okla., hub unexpectedly grew, reaching a new record. Meanwhile, crude imports fell 9.2% in October to the lowest level since January 2000. WSJ
BP's shares have lost 8% during the course of 2012, in line with the oil and gas sector average. Meanwhile, the Footsie has gained 6%. If markets don't like uncertainty, and keep a company's share price depressed because of it, I'm a little surprised BP's shares haven't performed better this year seeing as positive newsflow […]
Every culture has a Story of the People to give meaning to the world. Part conscious and part unconscious, it consists of a matrix of agreements, narratives, and symbols that tell us why we are here, where we are headed, what is important, and even what is real. I think we are entering a new […]
On January 8 of this year I posted my annual prediction article for this year – 2012 – The Year of Living Dangerously. Now it's time to assess my complete and utter cluelessness when it comes to predicting things within a given time frame. Despite the fact that myself and everyone else acting like they […]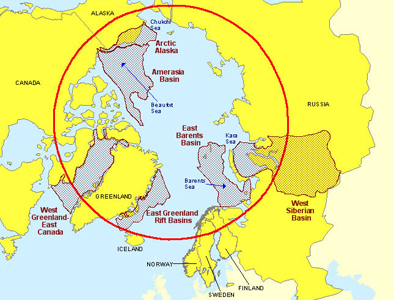 The Arctic holds an estimated 13% (90 billion barrels) of the world's undiscovered conventional oil resources and 30% of its undiscovered conventional natural gas resources, according to an assessment conducted by the U.S. Geological Survey (USGS). Consideration of these resources as commercially viable is relatively recent despite the size of the Arctic's resources due to […]
Saudi Arabia raised its 2013 expenditure target by almost a fifth to a record 820 billion riyals ($219 billion) as the world's biggest oil exporter pushes ahead with expansion plans to diversify away from oil. The government expects 2013 revenue of 829 billion riyals, giving it a surplus of 9 billion riyals, the Finance Ministry […]
In his first week as U.S. president, Barack Obama told Iran's leaders he would extend a hand if they would "unclench their fist" and persuade the West they weren't trying to build a nuclear bomb. So far, they have not. In response, the United States and the European Union this year took a step they […]
Over the past year, energy has moved from the business and science section straight to front-page headlines. From the President's highly controversial decision on Keystone XL to new assessments of prolific U.S. oil and natural gas reserves, American energy dominated the headlines this year – and for good reason. High gasoline and diesel prices threaten […]
The rapid collapse of a U.S. diplomatic compound in Libya exposed the vulnerabilities of State Department facilities overseas. But the CIA's ability to fend off a second attack that same night provided a glimpse of a key element in the agency's defensive arsenal: a secret security force created after the Sept. 11, 2001, attacks. Two […]
Authorities expect more debris from the March 2011 Japanese Tsunami to wash up on the Pacific Coast this winter. Seasonal changes in ocean currents and North Pacific winds will push the 1.5 million tons of debris still out there towards our shores. Just last week, authorities in Washington State were nervously tracking the massive […]
The beginning of the year has traditionally been a time of optimism when we all look forward to the exciting things that are going to happen over the next 12 months.  Unfortunately, there are a whole bunch of things about 2013 that we already know are going to stink.  Taxes are going to go up, […]
Despite rising gas prices, oil production is surging in this country. That has some predicting the U.S. could eventually overtake Saudi Arabia as the world's largest petroleum producer by 2020. In the middle of a Colorado cornfield, sandwiched between cattle and farm houses, is the front line of an American oil boom. "We plan […]
The great bulk of the economic commentary you read in the papers is focused on the short run: the effects of the "fiscal cliff" on U.S. recovery, the stresses on the euro, Japan's latest attempt to break out of deflation. This focus is understandable, since one global depression can ruin your whole day. But our […]
Chinese planes flew near Japanese airspace Monday to assert its claims to Japan's Senkaku islands (China calls them the Diaoyu islands). The move came just as Japan announced its new prime minister. Hugh White, a professor at Australian National University and a former Australian defense official, believes this is the latest sign the two countries are […]
Presented without additional commentary is video from my recent speaking tour in Massachusetts. It's my latest and most comprehensive assessment of the twin sides of the fossil-fuel coin, climate change and energy decline. In response to this presentation, I've heard via the occasionally accurate grapevine that I'll never speak on that campus again.
Royal Dutch Shell plans to drill for oil this spring in the arctic Chukchi and Beaufort Seas off the northern coasts of Alaska, but watchdogs and environmentalists are not yet convinced that Shell and federal regulators have taken enough steps to prevent or contain a potential oil spill in the treacherous and icy waters. The […]
The common feature of the transformative technologies of the 20th and 21st centuries is that they were one-offs that cannot be duplicated. What if the engines of global growth that worked for 65 years (since 1945) have not just stalled but broken down? The primary "engines" have been productivity gains from industrialization, real estate development and […]
Chevron Corp. (CVX) said its Australian unit made two more natural-gas discoveries in the Exmouth Plateau area of the Carnarvon Basin, a hydrocarbon basin offshore western Australia. The oil and gas producer has now reported 19 discoveries in Australia since mid-2009. Chevron said the Pinhoe-1 exploration discovery well encountered roughly 197 feet of net gas […]
Thousands of protesters from Iraq's Sunni Muslim minority kept up a week-old blockade on a key highway on Thursday and readied mass rallies for Friday to demand concessions from Prime Minister Nuri al-Maliki. Protests flared last week after troops loyal to Maliki, who is from the Shi'ite majority, detained bodyguards of his finance minister, a […]