Russia's Deadly Mideast Game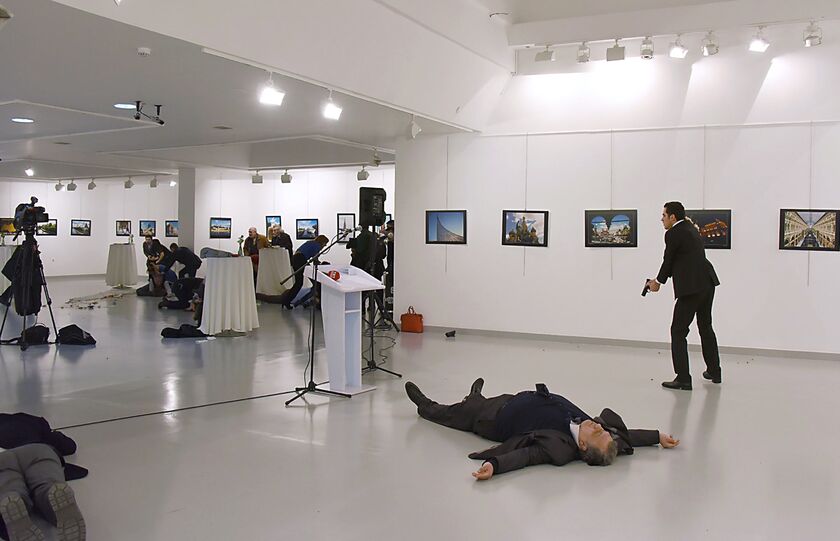 With its devastating show of force in Syria's civil war, Russia has reasserted itself as a military power in the Middle East. It's also put Russians in the region at mortal risk, as the Dec. 19 assassination of Andrey Karlov, Russia's ambassador to Turkey, proves.
Karlov is a casualty in the Kremlin's quest for power and influence in the region. Karlov's murder—by a gunman who screamed opposition to the siege of the Syrian city of Aleppo before he himself was killed—is likely to draw Ankara and Moscow closer because of shared security concerns over the spillover of the Syrian conflict.
Vladimir Putin's regional clout goes far beyond Syria, however, and is aimed at restoring the influence that waned after the fall of the Soviet Union. "Russia is really keen to increase leverage in the Middle East by every means," Fyodor Lukyanov, chairman of Russia's Council on Foreign and Defense Policy, tells Bloomberg News.
Part of the appeal of the Middle East is the chaos that reigns there. Anders Aslund, a senior fellow at the Atlantic Council in Washington who advised the government of former Russian President Boris Yeltsin, says Putin uses "small, victorious wars to keep himself popular"—as in Chechnya in the early 2000s, Georgia in 2008, and the annexation of Crimea in 2014.
U.S. relations with some Gulf nations have cooled, and Russia is finding common ground with energy-dependent Mideast economies by shoring up oil prices. In December, Russia helped negotiate a deal between the Organization of Petroleum Exporting Countries and non-OPEC producers to curb oil production.
The deal, concluded on Dec. 10, involved direct talks between Putin and his Saudi and Iranian counterparts. "Russia's antiterrorist operation in Syria and the success of its mediation with OPEC shows that its influence has grown and the oil-producing nations of the Middle East are paying attention to its views," says Elena Suponina, a Middle East expert at the Moscow-based Russian Institute for Strategic Studies, which advises the Kremlin.
Separately, Russia on Dec. 10 secured a $5 billion investment by Qatar in Russian oil giant Rosneft, and then had state-controlled Rosneft take a stake in an Egyptian gas field worth as much as $2.8 billion.
The Qatar deal was notable because the two countries have had a difficult relationship, with Moscow accusing the emirate of sponsoring Islamist terrorism in Syria and in Russia's Chechnya region during a long separatist war there. In early December, though, Qatar's Emir Tamim bin Hamad Al Thani called Putin to talk business, even as Russian aircraft bombed Qatar-backed rebels in Aleppo, according to a Kremlin transcript of the call.
Russia's motives are commercial as well as political. The Middle East's liquefied natural gas industry is booming. Rosneft and state giant Gazprom want to develop LNG outside Russia, while protecting their market share in Europe by securing control of gas resources from potential competitors. "Both are keen to become global LNG players," says Valentina Kretzschmar, director of corporate research at Wood Mackenzie, an Edinburgh-based consulting firm. The Kremlin has built a strong alliance with Egypt through President Abdel Fattah al-Sisi. It's deepened long-standing ties with Iran, which has sided with Russia in the Syrian conflict. Russian companies including Gazprom signed agreements on Dec. 13 with Tehran that could yield billions.
Moscow is anxious to keep Tehran in its orbit to prevent expansion of Western influence in the Caspian Sea region. The area includes Iran and the energy-rich former Soviet republics of Azerbaijan, Kazakhstan, and Turkmenistan, where Russia holds sway, says Nikolay Kozhanov, a Russia-based academic associate for Chatham House, a London think tank. Iran also is an oil and gas producer and potential competitor to Russia in supplying European markets. Putin "is using the judo strategy: Keep your rival close," Kozhanov says.
Putin has been looking for a route back to oil-rich Libya. The Kremlin has been aiding Khalifa Haftar, a military leader who controls a large swath of Libya's territory and most of its oil fields, and who many Libyans and observers fear is trying to wrest control from a United Nations-backed government in Tripoli. Haftar has twice visited Moscow over the past six months; Russia, under a contract with the central bank in Tripoli, printed 4 billion Libyan dinars ($2.8 billion) and transfered the notes to an eastern city loyal to the military leader.
Russian arms exports to the Middle East and North Africa have been rising, with sales totaling $12.7 billion from 2006 to 2015, compared with $6 billion in the previous decade. Algeria accounted for more than half of sales in recent years, followed by Syria, Iraq, and Egypt. Russia's opportunities to export to the Gulf remain limited because U.S. security and economic ties are deeply entrenched there. "Russia on no account is trying to supplant the U.S. in the Persian Gulf," says Suponina, of the Russian Institute for Strategic Studies. But, she adds, "there's room for everyone. Bahrain, Saudi Arabia, Kuwait, and the United Arab Emirates already buy Russian weapons."
With its wars and intrigues, the region is a perfect place for Putin to play out his ambitions. Says Aslund, "Putin is perfectly at ease amidst chaos. When most are lost, he is calm."