China Is Trying to End America's Petrodollar Monopoly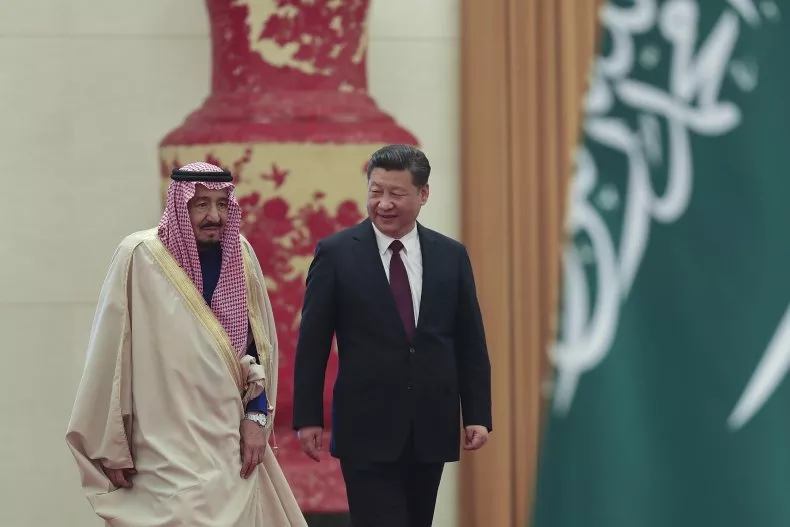 President Xi Jinping of China ended his diplomatic charm offensive in Saudi Arabia last week with a promise to buy more oil and gas from Gulf Arab states, while also publicly calling for energy trade to be settled in Chinese yuan for the first time.
The bold call, if realized, would have major implications for the decadeslong strategic relationship between the United States and the oil-rich nations of the Persian Gulf. The emergence of a substitute currency could hit the U.S. dollar and have an impact on Western markets, but the petrodollar's monopoly isn't so easily broken.
China, a manufacturing and industrial powerhouse, is the world's No. 2 economy and largest crude oil importer. It pays Riyadh tens of billions of dollars each year for Saudi oil.
At a historic first meeting between Xi and the leaders of the Gulf Cooperation Council—Bahrain, Kuwait, Oman, Qatar, Saudi Arabia and the United Arab Emirates—the Chinese president sought to shore up his country's supplies at a time of energy uncertainty, and ahead of an expected post-pandemic recovery next year.
"China will continue to import large quantities of crude oil on a long-term basis from GCC countries, and purchase more liquefied natural gas. We will strengthen our cooperation in the upstream sector, engineering services, as well as storage, transportation and refinery of oil and gas," Xi told his counterparts on Friday, the last day of a three-day visit to the Saudi capital.
"The Shanghai Petroleum and National Gas Exchange will be fully utilized for yuan settlement of oil and gas trade," said Xi, who in an accompanying op-ed in the Saudi newspaper Al Riyadh called the petroleum-producing Gulf Arab states "an energy tank for world economy."
It was perhaps another hint at Beijing's long-term ambition to boost China's national currency—physically and digitally—and weaken the dollar's grip on the global economy, rather than an attempt to upset the longstanding status quo of the crude oil trade going back half a century.
Saudi Arabia's assets and reserves are held mostly in dollars, while the value of the Saudi riyal, like the currencies of its neighbors, fluctuates at a fixed rate to the dollar in what is known as a "currency peg."
Beijing and Moscow this year agreed to settle their energy deals in yuan and the Russian rouble rather than the dollar. A move by Riyadh to do the same would cause considerable disquiet in Washington, but may be seen as consistent with the kingdom's increasing hedge against the U.S., which has pivoted away from the Middle East in recent years.
A Saudi source told Reuters ahead of Xi's trip that small amounts of oil conceivably could be settled in yuan to pay for Chinese imports, as Riyadh has done with U.S. transactions in the past. But "it is not yet the right time," the person was quoted as saying.
The continued preference for the American currency is an indication of the dollar's foothold in energy and other markets by way of being an indispensable global reserve currency, a status that long predates the rise of OPEC, or the Organization of the Petroleum Exporting Countries.
By contrast, the Chinese central bank's control of yuan exchange rates, coupled with the currency's relatively limited asset conversion options outside of China, make the U.S. petrodollar particularly difficult to replace in the near term.
But Xi's overtures in the Middle East more broadly aren't to be overlooked. The region is central to China's Belt and Road Initiative, and its relations with Saudi Arabia are mutually beneficial in several ways.
Mohammed bin Salman, the Saudi crown prince who many expect will eventually rule the kingdom, boosted his political legitimacy by hosting Xi, who was never likely to concern himself with the young royal's alleged involvement in the 2019 killing of journalist Jamal Khashoggi at the Saudi consulate in Istanbul. The murder and other human rights issues are a major issue for many Western trading partners.
For Beijing, the political partnership with Saudi Arabia, home of many of Islam's holiest sites, has included coordination at the United Nations. The kingdom has backed China's pushback against formal probes into its repressive policies in Xinjiang, where the U.N. Human Rights Office recently identified abuse against Uyghurs and other mainly Muslim minority groups.
China is Saudi Arabia's top trading partner, and its standing in the Middle East is steadily rising among the region's people after decades of geopolitical friction with Americans, according to opinion surveys conducted in Arab League countries in the Gulf, the Levant and North Africa.
This was evident in the pomp and ceremony that greeted Xi in Riyadh on December 7 as he arrived for what was only his third foreign trip since early 2020. The White House last week dismissed suggestions that President Joe Biden, who didn't receive the same reception during his August visit, may have felt offended by the lack of fanfare.
Xi's trip, which included a meeting with Saudi King Salman bin Abdulaziz, was also a continuation of the Gulf Arab states' diversification of relations from the U.S., a long-time security partner, to include further integration with China, a first-choice economic partner with fewer value strings attached.
Washington may prefer more distance between China and Gulf Arab nations, but Riyadh doesn't see itself as having to choose. "We don't see this as a zero-sum game," Prince Faisal bin Farhan Al Saud, the Saudi foreign minister, said of the Chinese leader's outreach.