Venezuela's Oil Minister Eulogio Del Pino faces an uphill battle persuading Russia and Saudi Arabia to cooperate in cutting oil production amid a supply glut that has pushed prices down more than 30 percent in the past year, according to analysts Robin Mills and Edward Bell.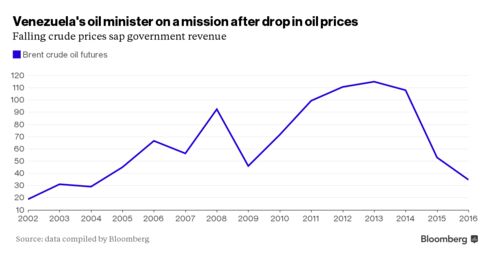 Concern that U.S. shale producers would benefit from any increase in oil prices following a potential cut is one factor that will keep Saudi Arabia and Russia from agreeing to a reduction in output, according to Mills, chief executive officer of Dubai-based oil consultant Qamar Energy, and Bell, commodities analyst at lender Emirates NBD PJSC. Del Pino will meet Russian Energy Minister Alexander Novak in Moscow Monday before traveling to Qatar, Iran and Saudi Arabia, the world's largest oil exporter.
"There's a minimal chance the Venezuelans will get them to agree to anything," Mills said by phone on Sunday. "I don't think the conditions are there for an agreement."
Possible meeting
Venezuela approached Russia about a possible meeting between the Organization of Petroleum Exporting Countries and producers such as Russia that are outside the group, Novak said in an interview with Bloomberg Television on Thursday. Venezuela's President Nicolas Maduro said on Union Radio Sunday that "OPEC and non-OPEC countries are close to an agreement," without specifying what kind of agreement.
Venezuela has repeatedly called for OPEC members to meet as slumping oil prices sap government revenue. Brent crude has dropped from $115 a barrel in June 2014 to less than $30 this month. OPEC with its de facto leader Saudi Arabia supply about 40 percent of the world's oil. The group pumped in January at the highest level since 1996, when Bloomberg began compiling data, as it reactivated Indonesia's membership.
"The Saudis may want to take some oil off the market," Mills said. "They can talk to the Russians, they can talk to the Venezuelans, they can talk to the Nigerians, but they can't talk to shale."
OPEC meetings
Members of OPEC hold twice-yearly meetings to discuss market conditions, whereas the U.S. shale industry involves thousands of private firms working alongside the world's largest oil companies. That makes it impossible for the U.S. to agree on production cuts, Mills and Bell said. Any decrease in output that results in higher oil prices would benefit the U.S., they said.
OPEC decided last month to abandon its previous 30 million-barrel-a-day production target. The group is seeking to maintain market share by pushing higher-cost producers out of the market, Mills said.
Any effort to coordinate cuts is complicated by Saudi Arabia's goal of defending sales and Russia's inability to rein in production in winter months, when output cuts can damage fields. Bell sees signs that demand will rise this year and provide support for prices.
"A fundamentals-driven re-balancing is going to have an effect, and markets will start to recover by the end of the year," Bell said by phone from Dubai. "The message from this region is 'it's going to be a difficult process, but we're going to ride it out.' "