US Oil Production Nears Previous Peak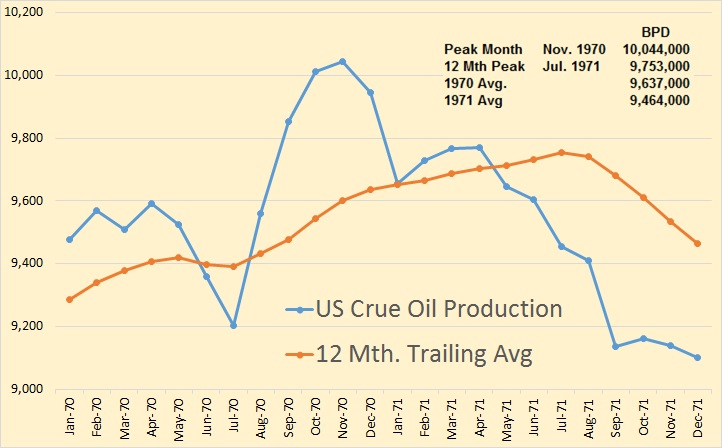 The EIA's Monthly Energy Review came out a couple of days ago. The data is in thousand barrels per day and the last data point is July 2015.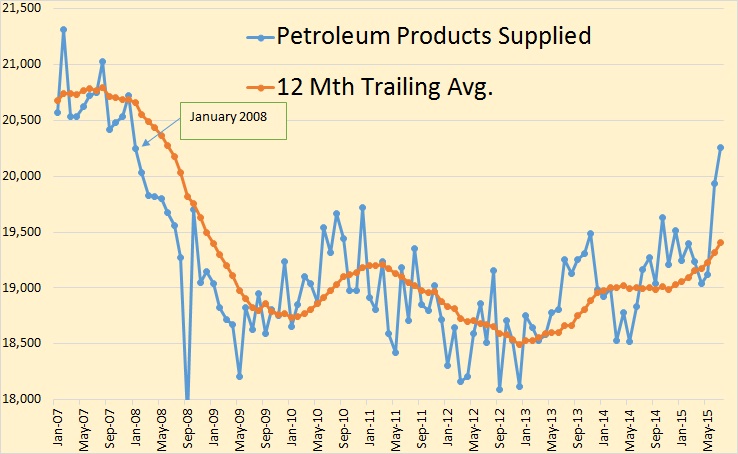 US consumption of total liquids, or as the EIA calls it, petroleum products supplied, reached 20,000,000 barrels per day for the first time since February of 2008.
Something I never noticed before, consumption started to drop in January 2008, seven months before the price, along with world production, started to drop in August 2008. This had to be a price driven decline. Could the current June and July increase in consumption be price driven also?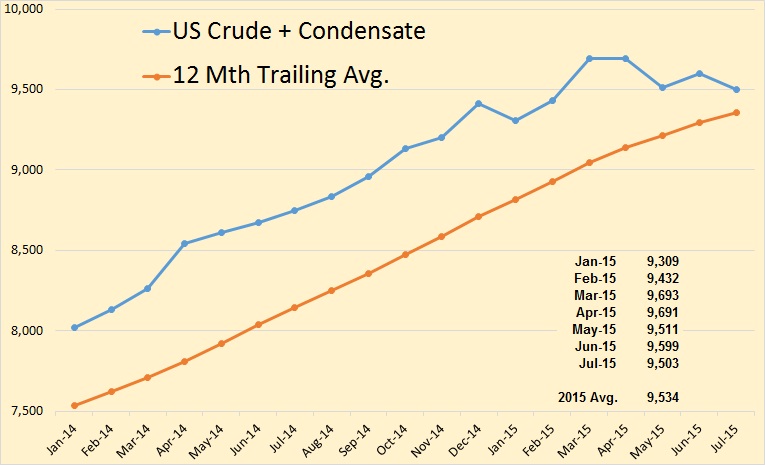 US Production was down 96,000 barrels per day in July to 9,503,000 bpd. That is 190,000 bpd below the March level of 9,693,000 bpd.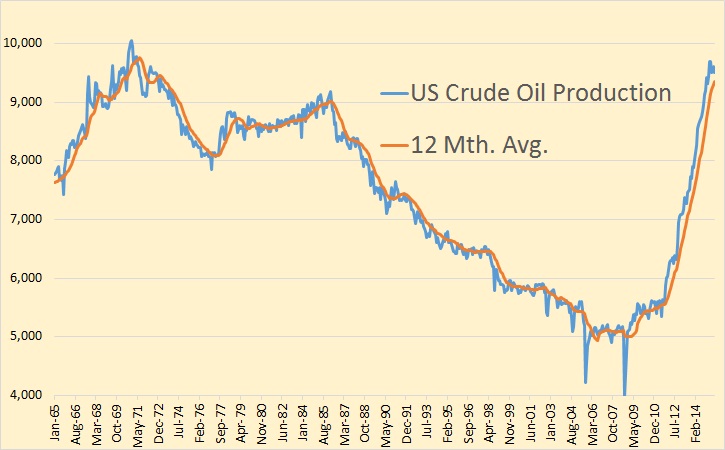 Here is what the last 50 years of US production looks like. The peak was in 1970 or 1971, depending on what you call the peak.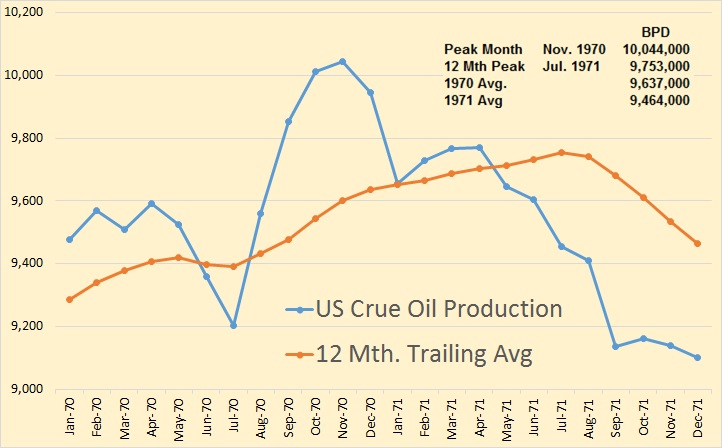 In March 2015 we were still 351,000 barrels per day below the peak month of 10,044,000 bpd in November of 1970. But right now we are headed in the wrong way to break that record. In July we were 541,000 bpd from that record. Right now the 2015 average, January through July, is 9,534,000 bpd. That is 103,000 barrels per day below the 1970 average. But the 2015 average is likely to get smaller as the year plays out.
I have another chapter from Peter Goodchild's Tumbling Tide: Population, Petroleum, and Systemic Collapse. I really like this book. The author comes closest to matching my sentiments than anyone I have read to date.
Tumbling Tide Chapter 10
The Pollyanna Principle
The problem of explaining peak oil does not hinge on the issue of peak oil as such, but rather on that of "alternative energy." Most people now have some idea of the concept of peak oil, but it tends to be brushed aside in conversation because of the common incantation: "It doesn't matter if oil runs out, because by then everything will be converted to [whatever] power." Humanity's faith in what might be called the Pollyanna Principle—the belief that everything will work out right in the end—is eternal.
The critical missing information in such a dialogue is that alternative energy will do little to solve the peak oil problem, although very few people are aware of the fact. The Pollyanna Principle, after all, is what gets us through the day. Unfortunately, a quick glance through any standard textbook on world history would show that the principle does not apply to many civilizations that lie buried in the mud. But to point at oil-production charts is to mistake psychological problem for an engineering one; most people do not like to be pushed very far in the direction of the logical.
The main stumbling block, as noted above, is not the fact of the decline in world oil production, but the related fact of the impracticality of alternative energy. Alternative sources of energy do have certain uses, and they always have had, especially in pre-industrial societies. However, it is not possible to use non-hydrocarbon sources of energy to produce the required amount of energy, and in a form that can be (1) stored conveniently, (2) pumped into cars, trucks, ships, and airplanes for the purpose of long-distance transportation of goods and people, (3) converted into a thousand everyday products, from asphalt to pharmaceuticals, and (4) used to run factories—and which costs so little that it can be purchased in large quantities on a daily basis by billions of people.
There is also the question of time. The entire conversion of world industry would have to be done virtually overnight. The peak of world oil production was probably around 2010. The more-important date of peak oil production per capita was 1979.There are approximately 1 billion automobiles and over 7 billion people. Throughout the twentieth century, food production only barely met global needs, and in the last few years it has not even reached that level. In terms of the amount of time available, the switch from hydrocarbon energy to an alternative form of energy would stretch the bounds of even the most fanciful work of science fiction.
But we don't even know the name of such an "alternative energy." Every month, the mainstream news media tell us of "the miracle of x power," but in the following month the x has been replaced by another provider of miracles. And even if that x were named, there would be the immense task of setting such a program in motion on a planet-wide scale—half a century too late do any good.
Contemplating the expense will also take us far into the realms of fantasy. At $10,000 (a fairly arbitrary figure, admittedly, but no real figures exist) per vehicle, replacing the vehicles that are now on the road would cost $10 trillion. The substructure—the ongoing manufacture, transportation, maintenance, and repair—would add much greater expense. The existing furnaces in all the world's buildings would be obsolete. Countless machines all over the planet would have to be replaced, countless factories redesigned. We would have to replace the asphalt on all the world's paved roads with a non-hydrocarbon substance. The money and resources simply do not exist. It is perhaps fortunate that there is no politician or business leader who would be willing to initiate such a mad venture.
In actuality, the world of the future will not be crowded. Survival for a few will be possible; survival for a population of billions will not be possible. But very few people have asked the ugly question of exactly how rapid and dramatic reduction of population is going to take place. Voluntarily?
There are two further problems with trying to educate people on these matters. The first is that any discussion of either peak oil or alternative energy requires a scientific frame of mind: an understanding of empirical research and an ability to follow statistics without being misled. A grasp of basic science is essential in order to get balanced perspective on the data and in order to judge between the practical and impractical. The so-called civilized world is still largely the domain of astrology and other forms of superstition. Yet empirical research does not mean "I once saw something-or-other," and statistics are meaningless unless one understands exactly what is meant by "statistically significant."
The second of those further problems is that the concepts of peak oil and alternative energy extremely complicated. Although it is possible to reduce those two topics to five hundred words or so, the problem with such a single page explanation is that much of the vital information would be left out. If the document failed to mention every "an/but/or," the message would almost certainly be lost. If, on the other hand, the document were to be expanded to cover every minute particular, the writer would probably lose track of the average reader, since the text might exceed the latter's attention span.
The alternative energy problem can also be illuminated by examination of similar dialogues on other topics, especially in cases where science clashes with its opposite. A discussion about creationism, for example, might entail hours of exhausting dialogue, to be terminated when the creationist party raises his head, takes a deep breath, and says; "Well, I believe. . . ." The Conversation has reached a barrier, beyond which no travel is possible. When communication is in such a poor state, there is often little hope that the reader will go so far as to check citations, bibliographies, or further reading lists, or even to do something requiring as little labor as clicking on a hyperlink on a web page.