US May Oil Production Growth Surprises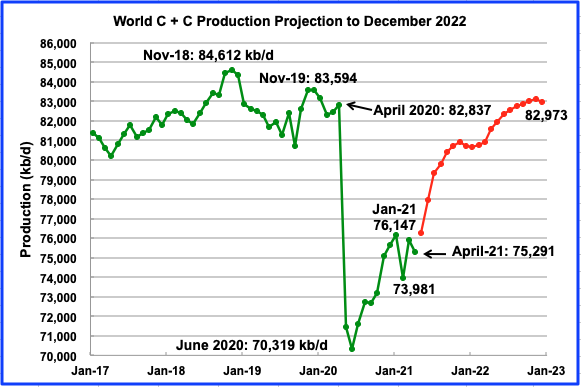 All of the oil (C + C) production data for the US state charts comes from the EIA's Petroleum Supply monthly PSM. After the production charts, an analysis of three EIA monthly reports that project future production is provided. The charts below are updated to May 2021 for the 10 largest US oil producing states.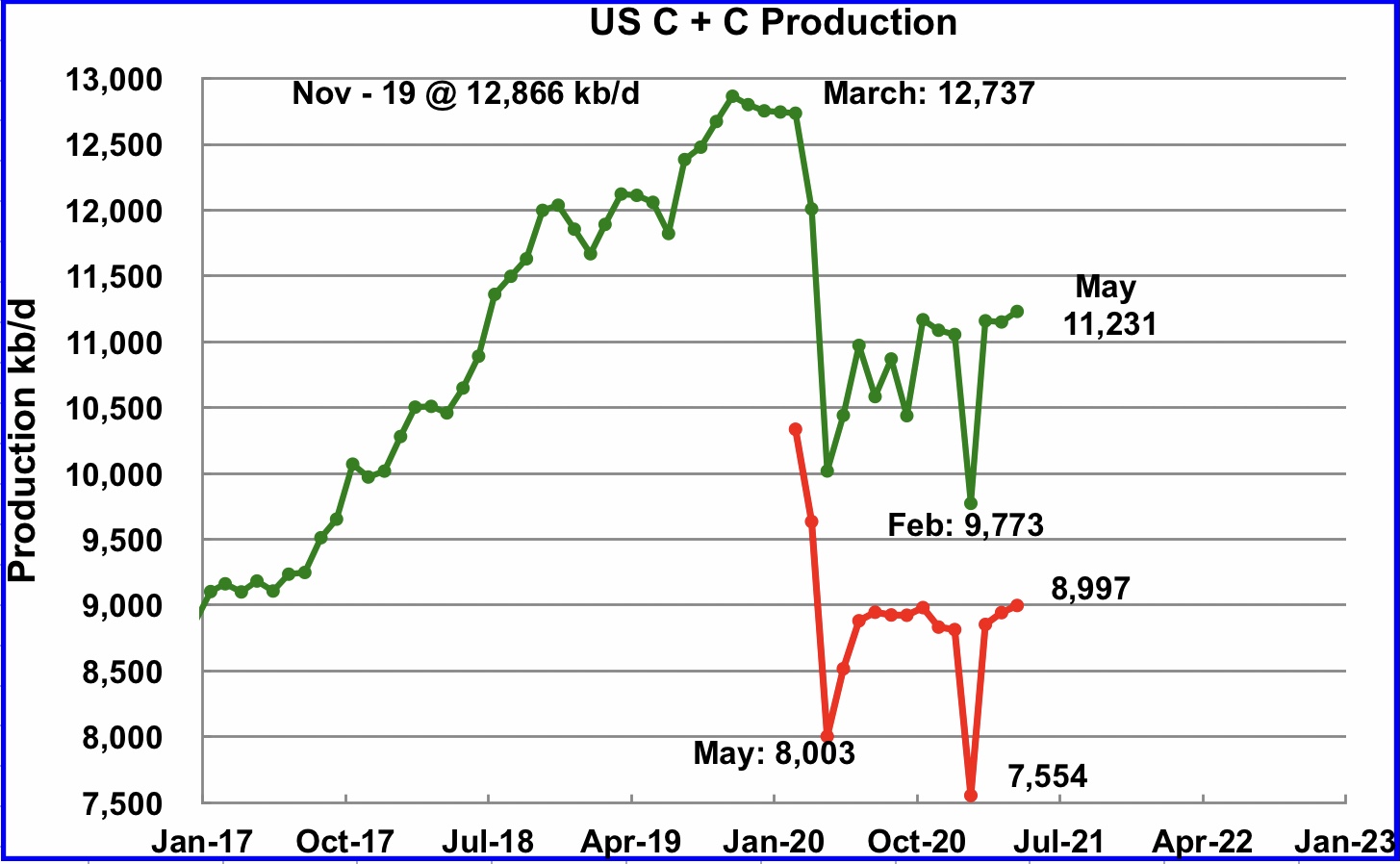 U.S. May production surprised to the upside by 80 kb/d. Production increased from 11,151 kb/d in April to 11,231 kb/d in May. It was also 175 kb/d higher than January's. 
The July STEO report forecast US May output would be 11,230 kb/d. A Very accurate forecast. In fact it is predicting relatively flat output of close to 11,200 kb/d out to October 2021. See first chart in Section 1 below.
In the onshore lower 48, May production increased by 54 kb/d, red graph. The 36 kb/d difference between the US' increase and the On-shore L48's increase was mostly due to the 29 kb/d increase from the GOM.
Ranking Production from US States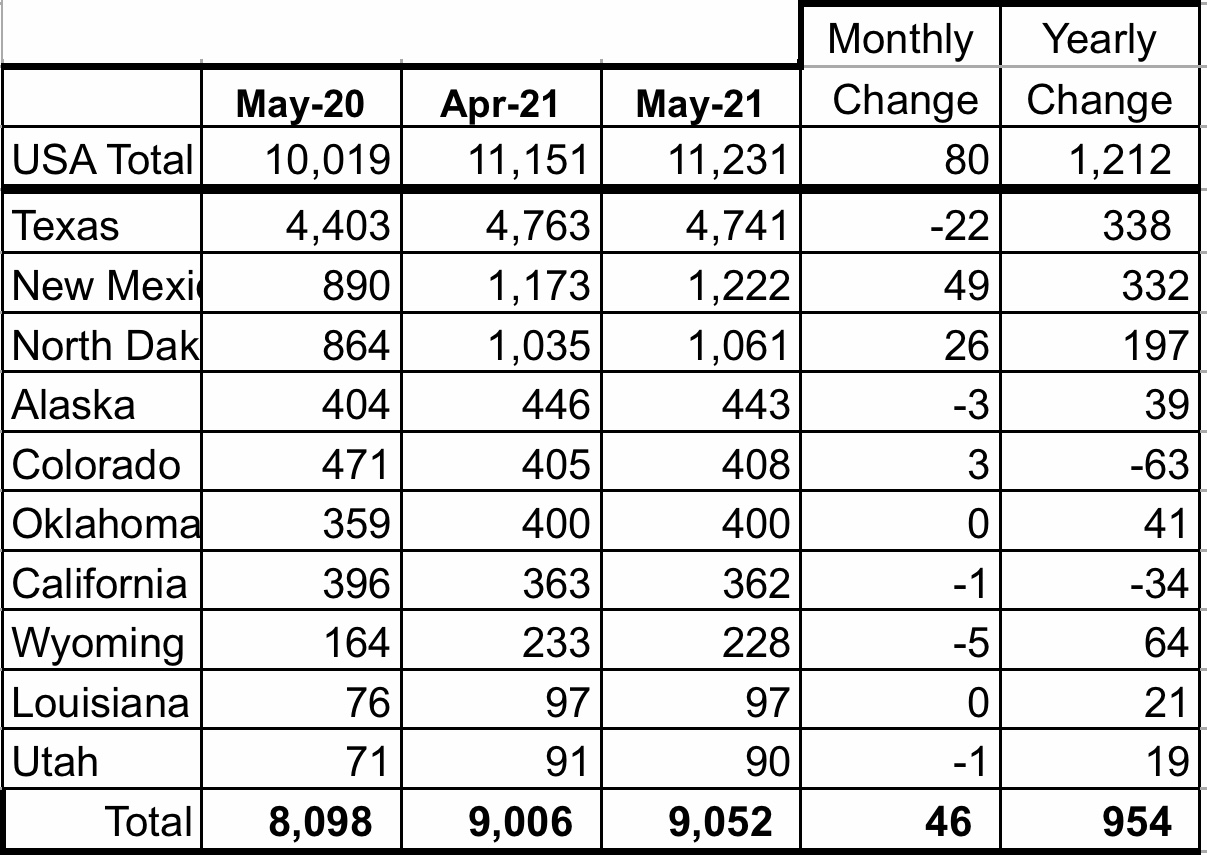 Listed above are the 10 states with the largest US production. These 10 accounted for 80.6% of US production out of a total production of 11,231 kb/d in May 2021. 
On a MoM basis, the largest increases came from New Mexico and North Dakota. Surprisingly, Texas dropped 22 kb/d. On a YoY basis, all states except Colorado and California had a greater output than last year.
Production by State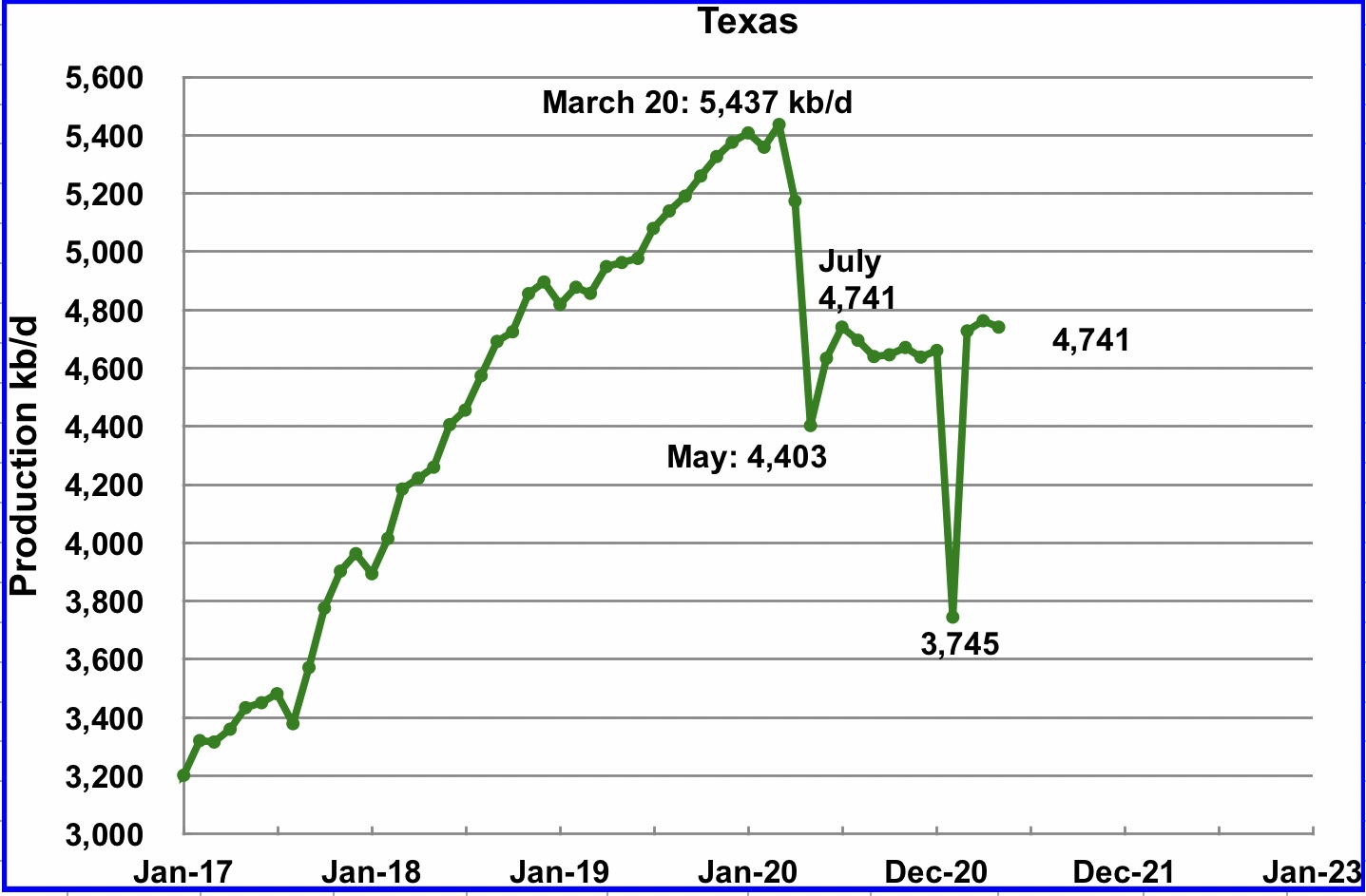 Texas production decreased by 22 kb/d in May to 4,742 kb/d.  In the EIA's July report, April's output was revised up by 18 kb/d from 4,745 kb/d to 4,763 kb/d. 
In May there were close to 197 oil rigs operation in Texas. By the week of July 23, 206 were operating.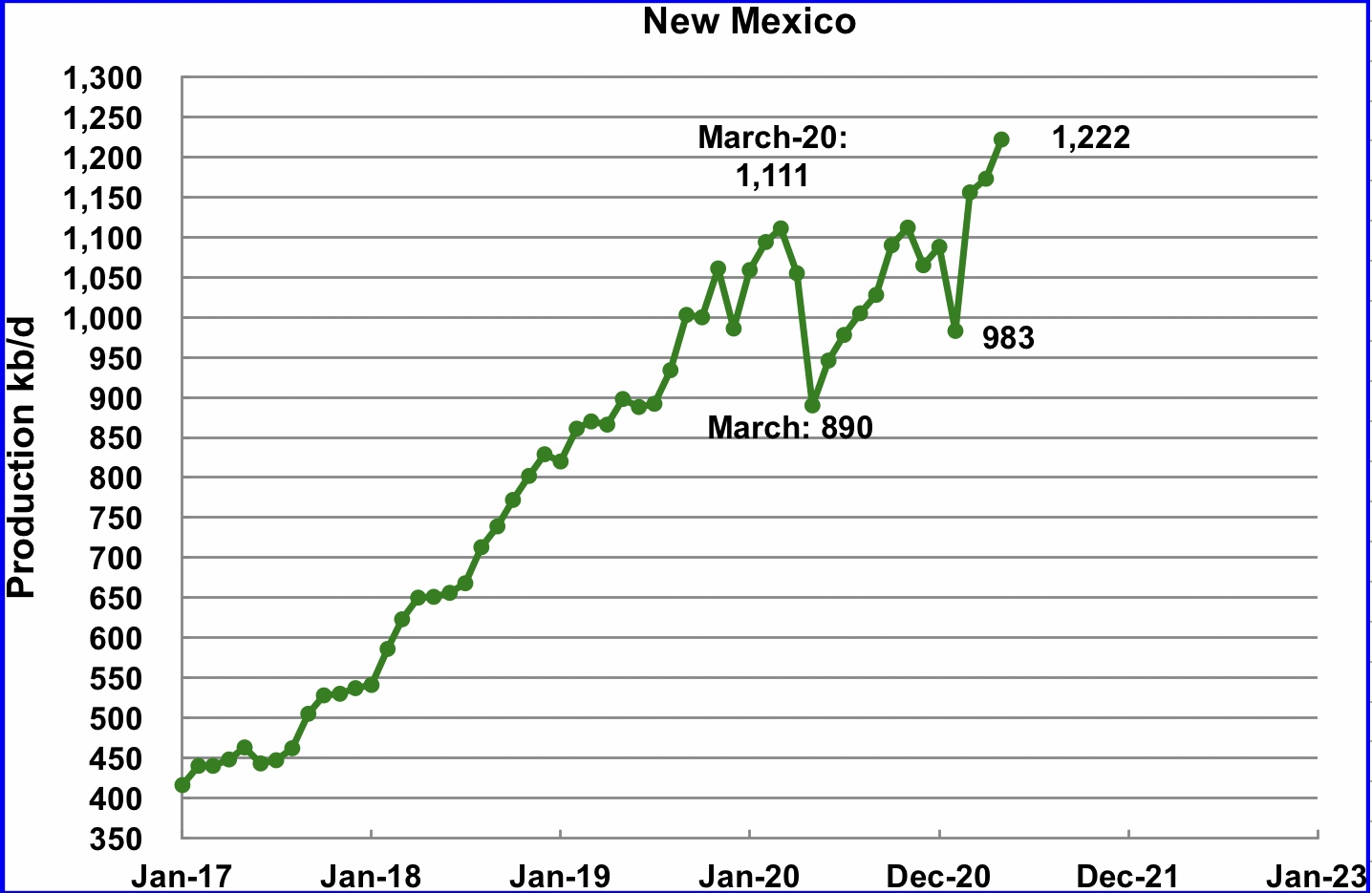 May's New Mexico production increased by 49 kb/d to 1,222kb/d. May's output is another new record. New Mexico had 71 rigs operating in the Permian in May and they have been increased to 75 in July.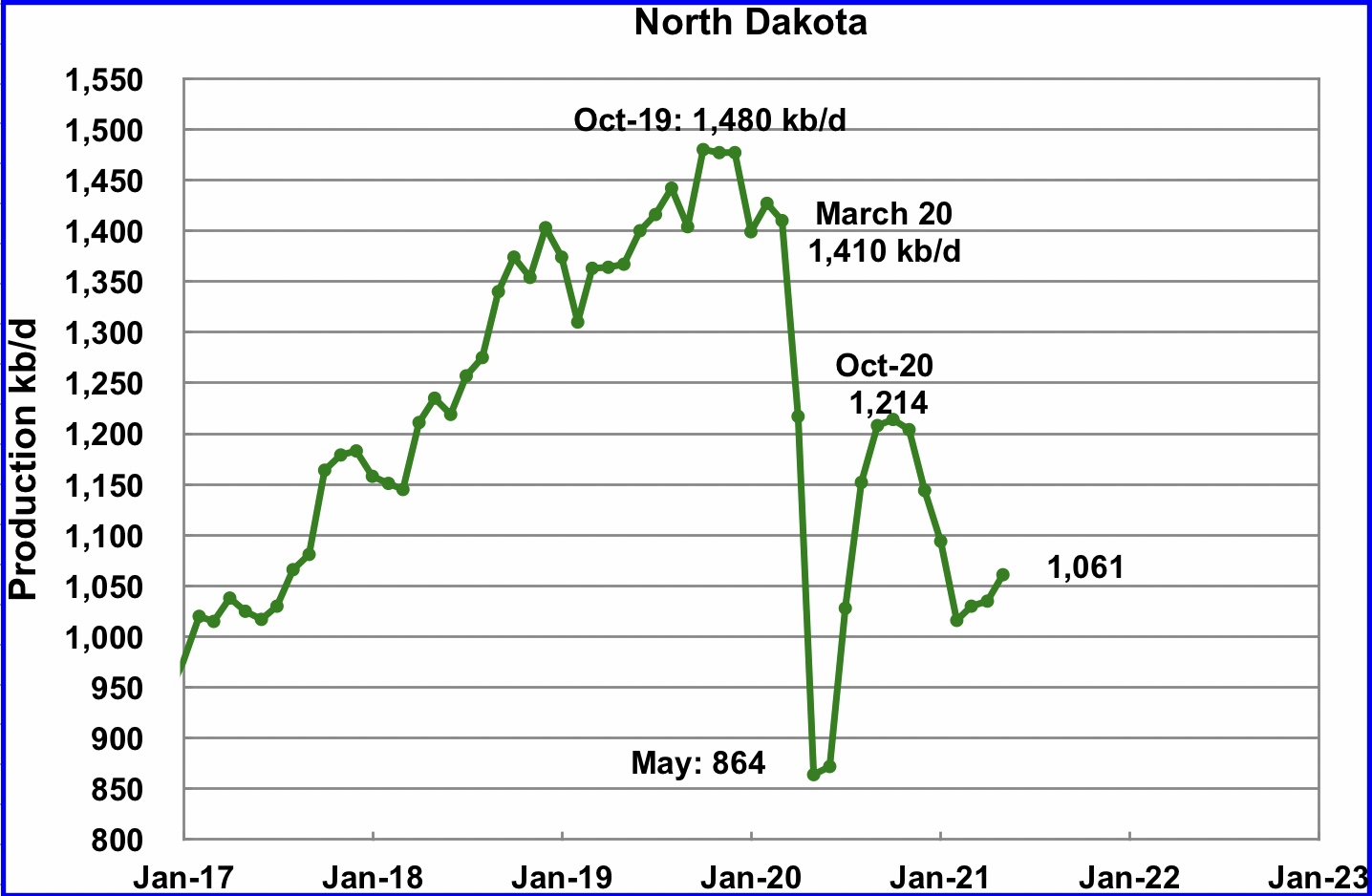 According to the EIA, May's output was 1,061 kb/d, an increase of 26 kb/d over April. During May, North Dakota had 16 rigs operating and by the fourth week of July they had increased to 18. The July report revised up the April output from 1,029 kb/d to 1,035 kb/d.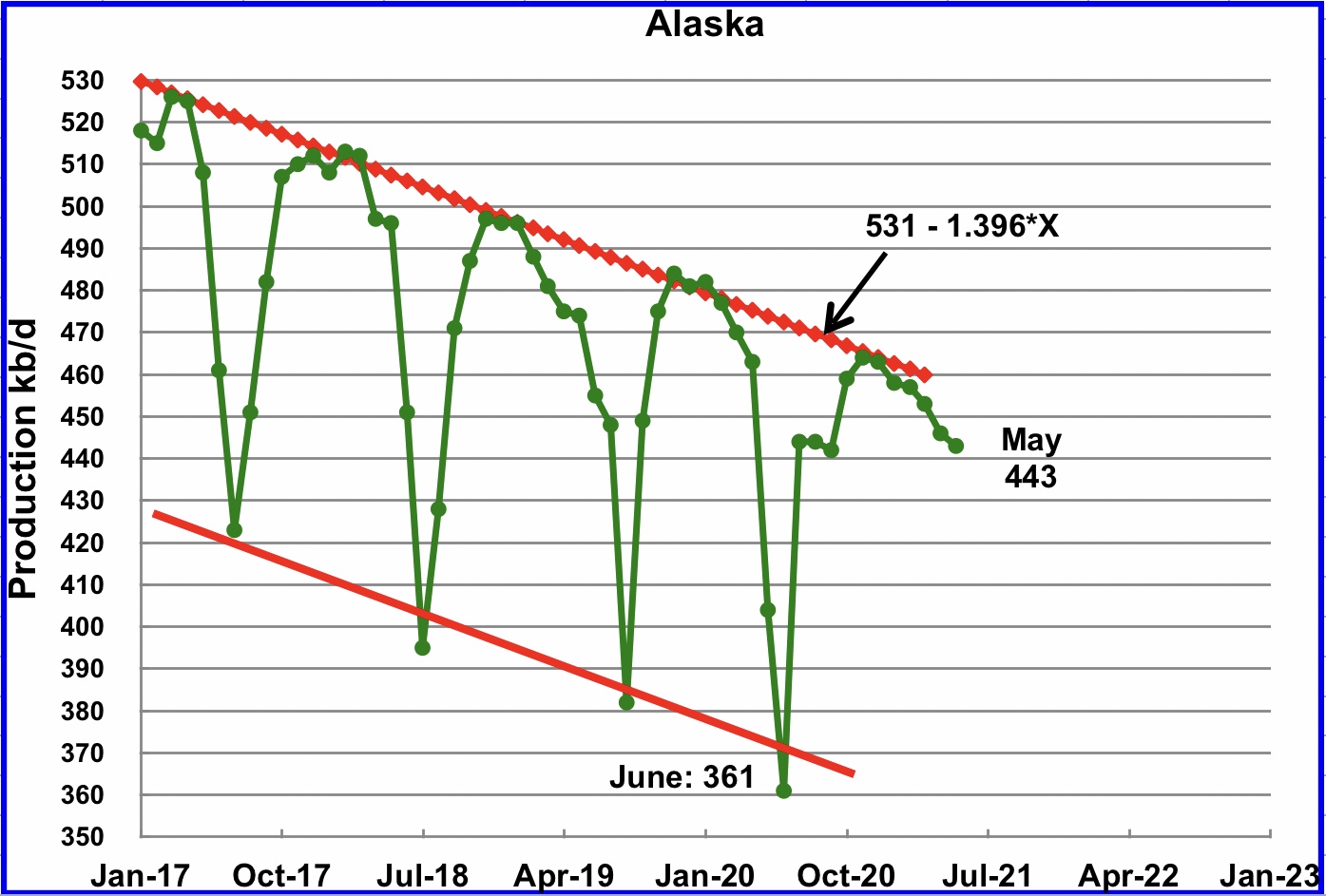 Alaska's May output decreased by 3 kb/d to 443 kb/d.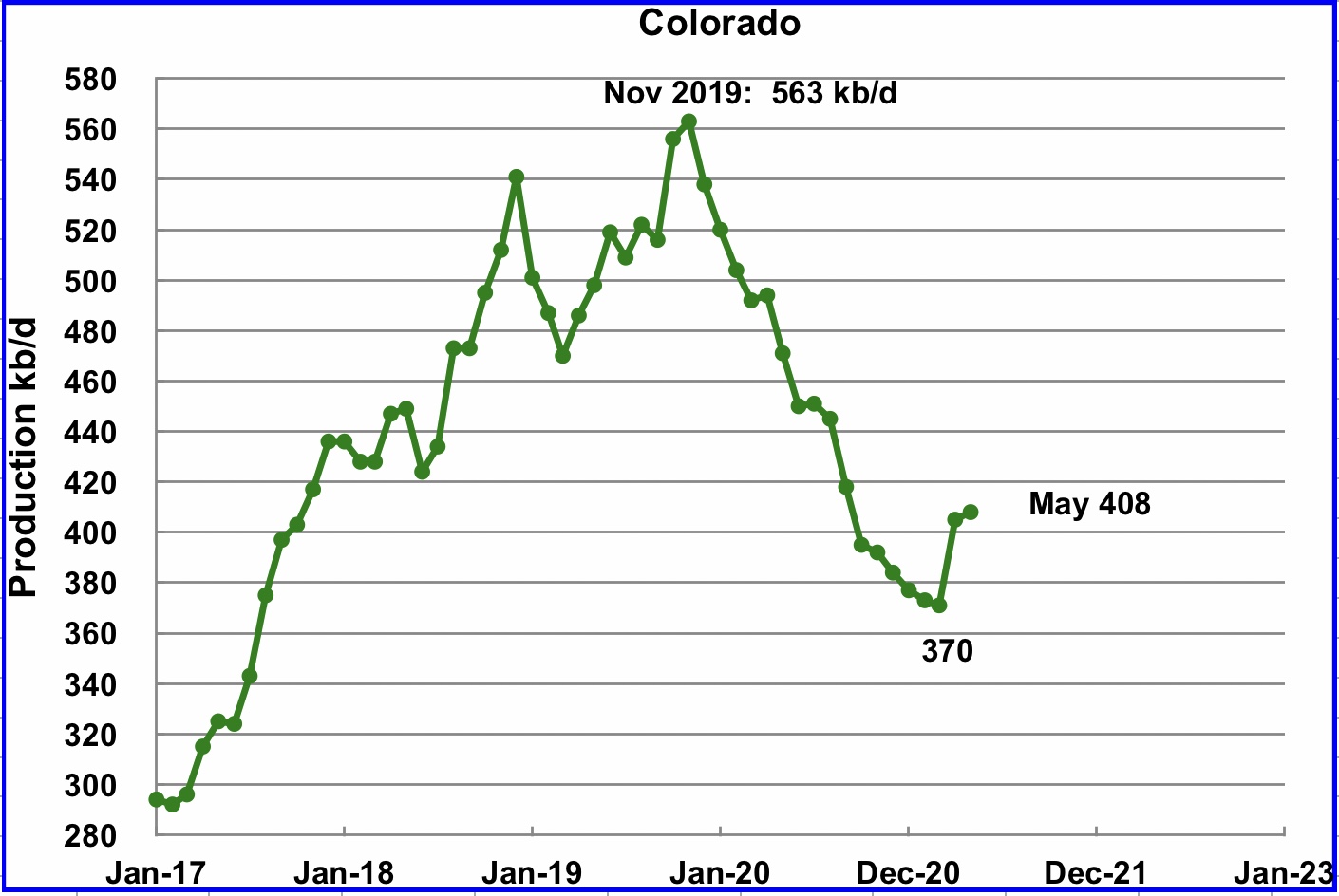 Colorado's May output increased by 3 kb/d to 408 kb/d.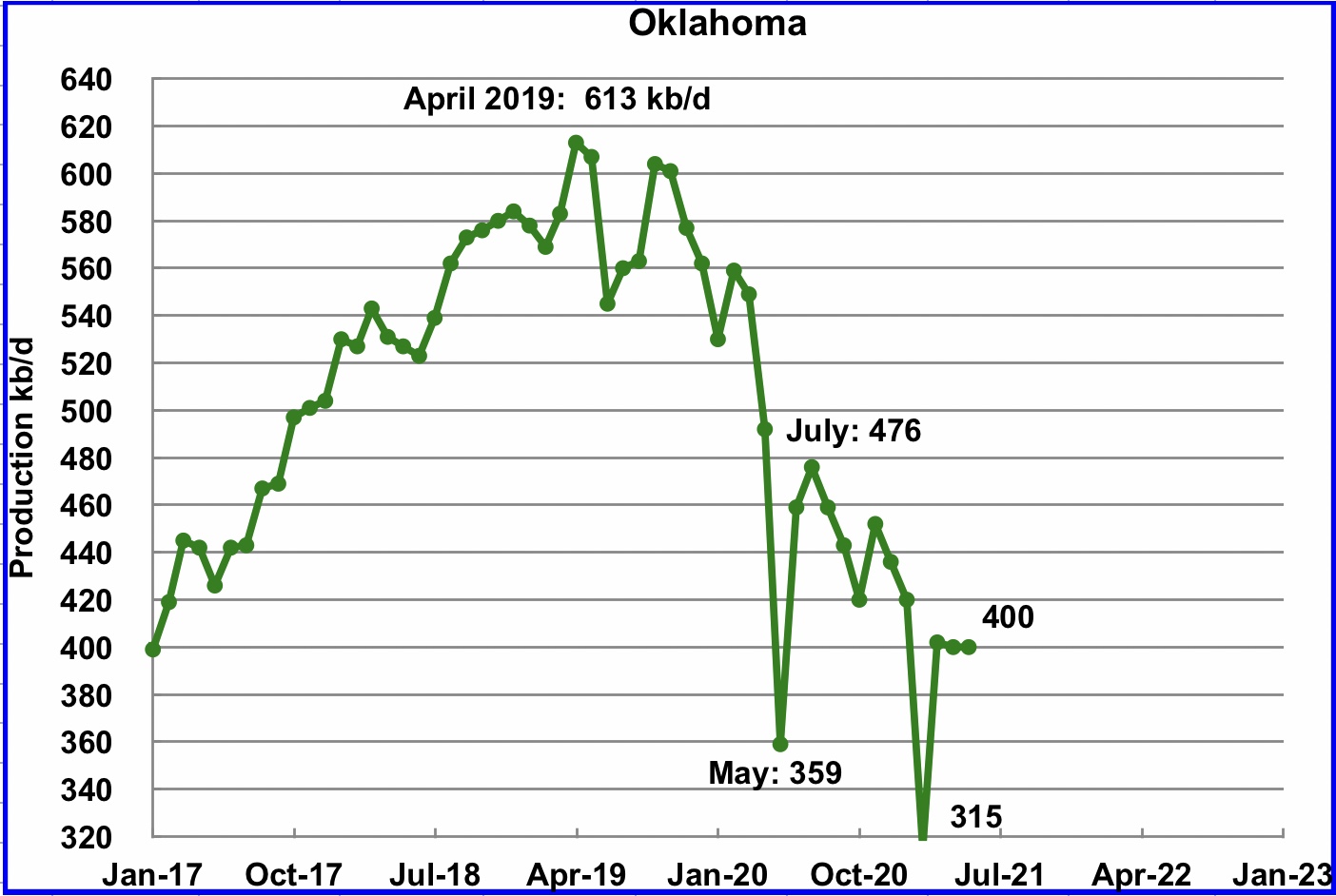 May's Oklahoma output was unchanged at 400 kb/d. At the end of May, 28 rigs were operating. From the beginning to the end of May, 7 rigs were added. Even though 7 rigs were added during May, production was flat. By the week of July 23 the rig count had increased to 30.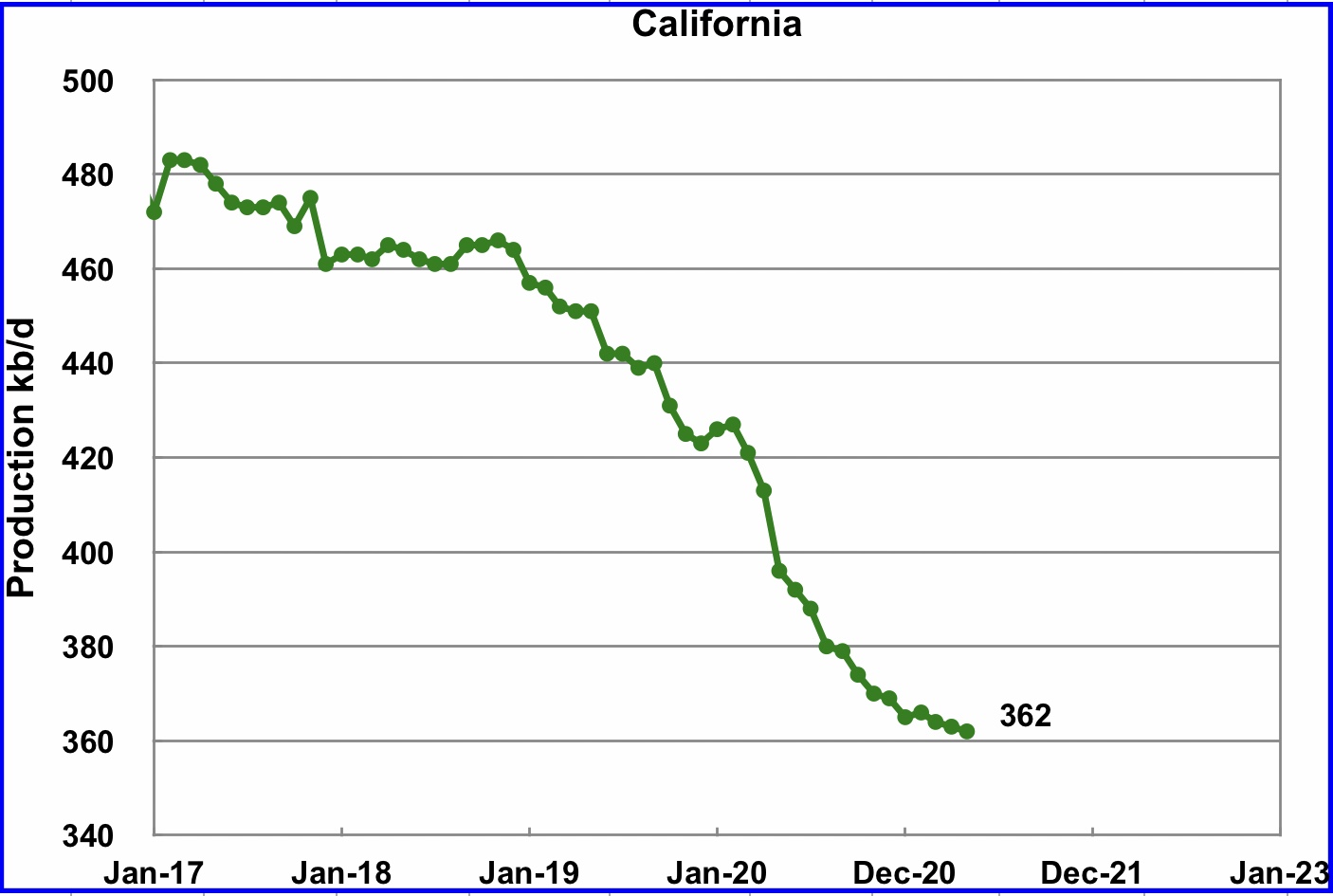 California's slow output decline continued in May. Its production decreased by 1 kb/d to 362 kb/d.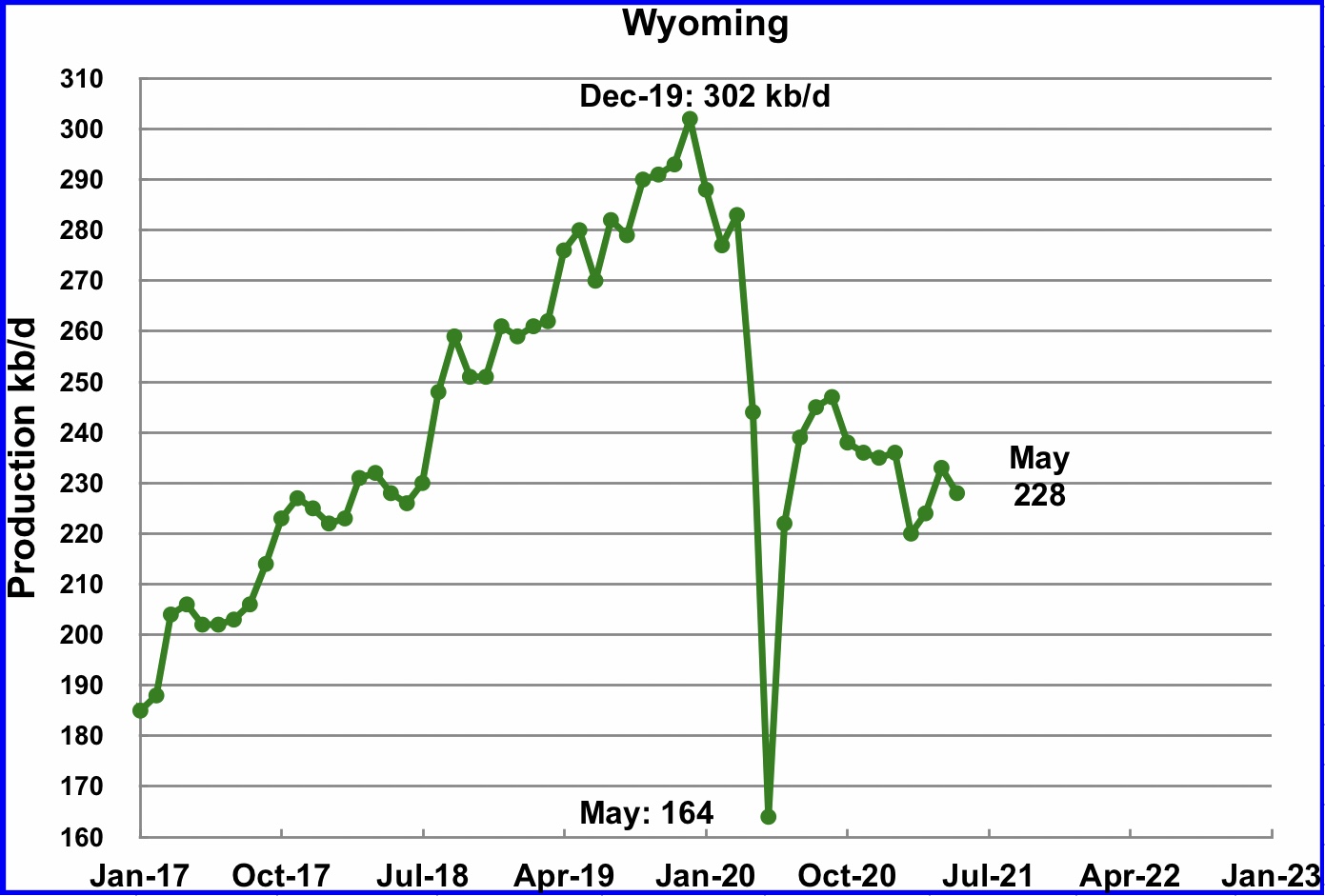 Wyoming's production in May decreased by 5 kb/d to 228kb/d. Wyoming had 3 oil rigs operating in May and they were increased to 12 by late July.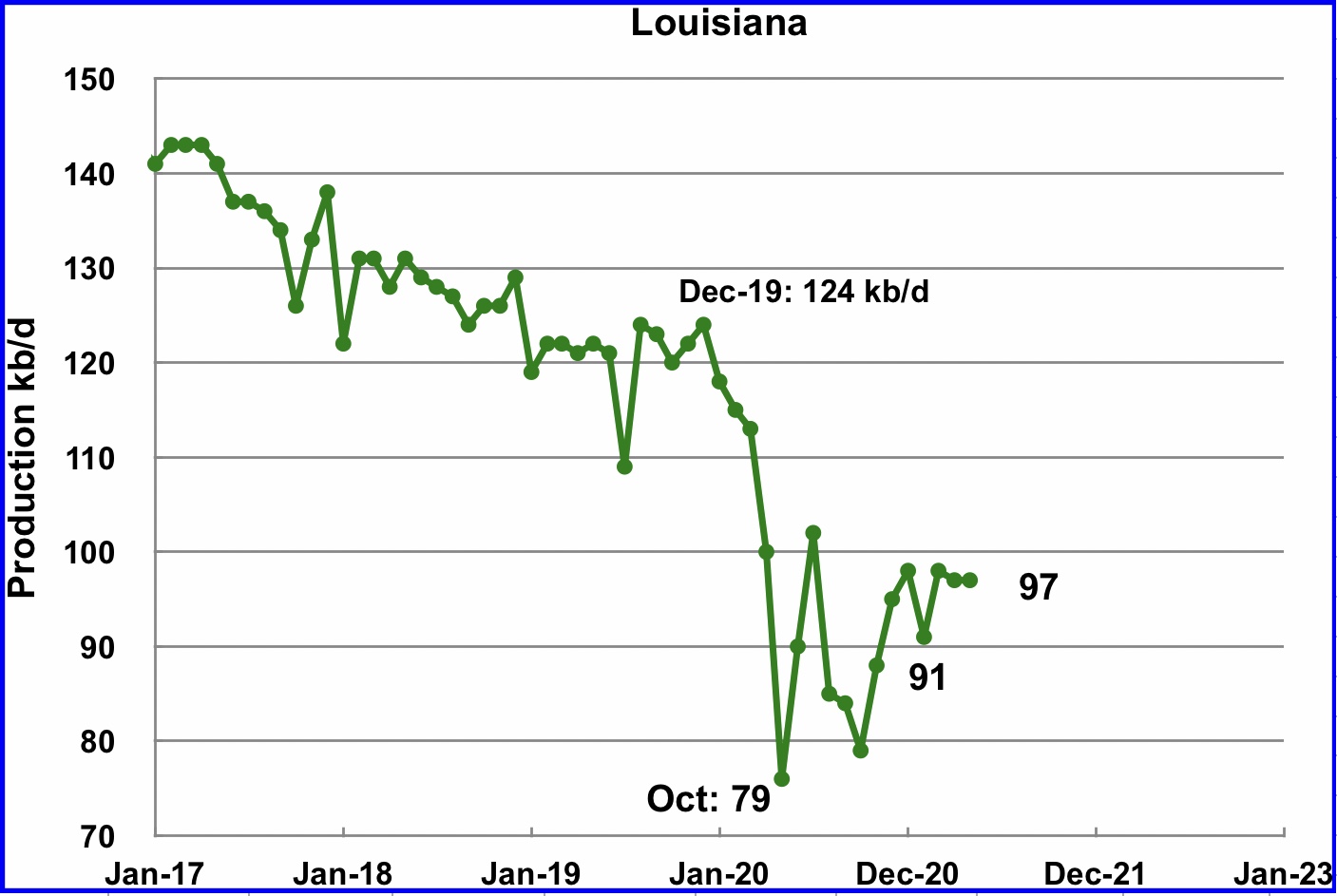 Louisiana's output was unchanged in May at 97 kb/d.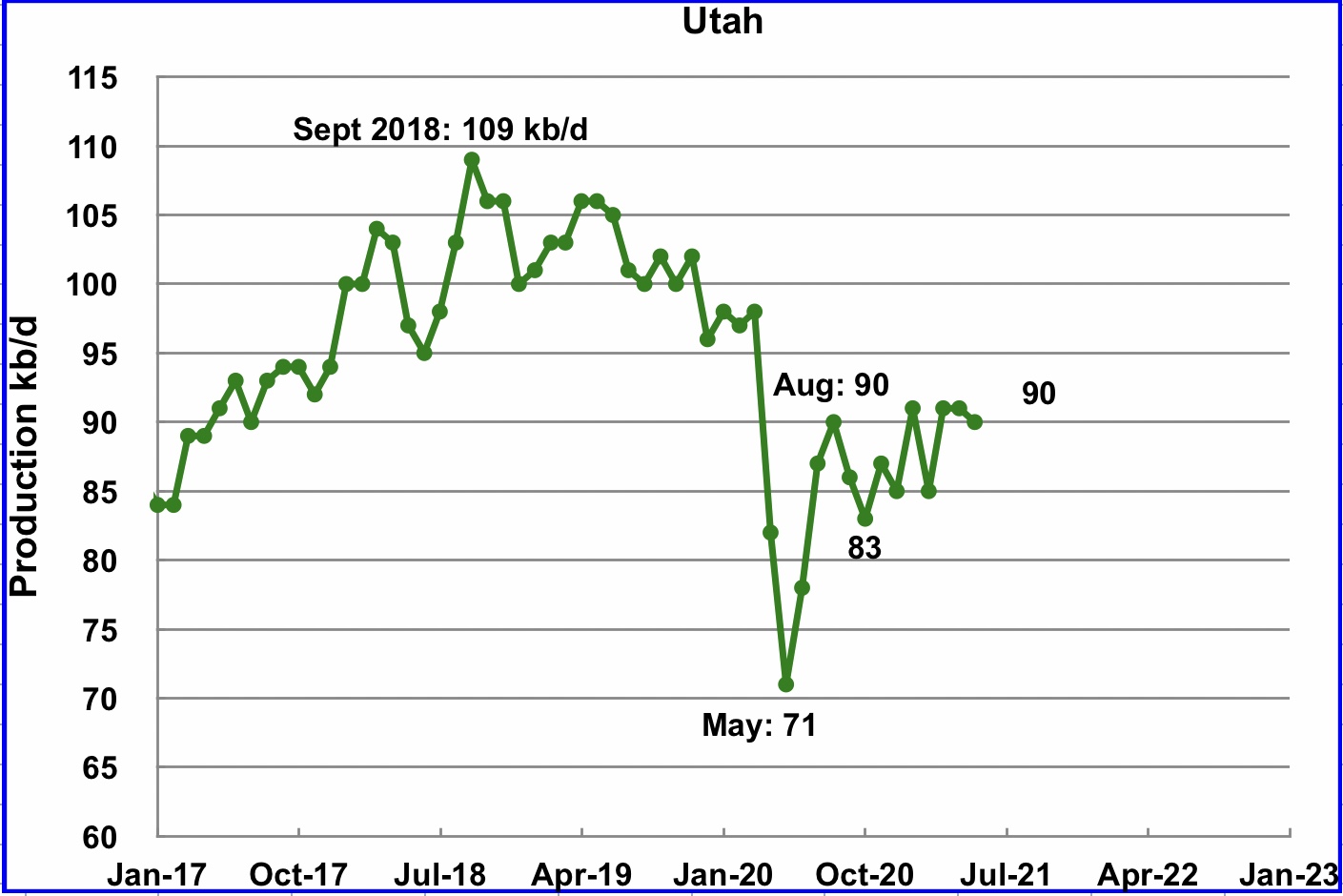 May's production dropped by 1 kb/d to 90 kb/d. Nine oil rigs were operational in May and were increased to 11 by the fourth week of July.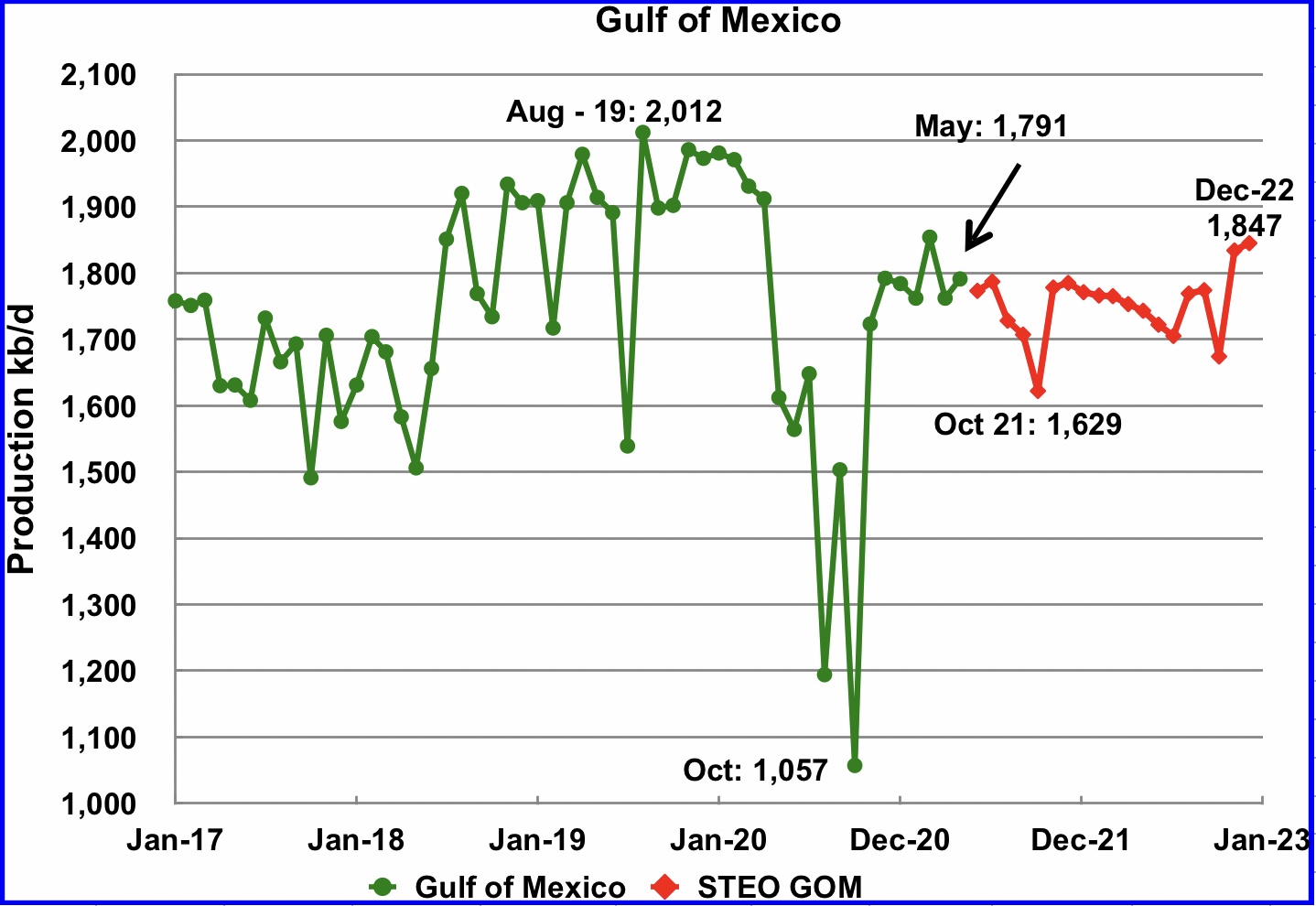 Production from the GOM increased in May by 29 kb/d to 1,791kb/d. If the GOM was a state, its production would rank second behind Texas. 
The July STEO projection for the GOM output has been added to this chart and projects output to be 1,845 kb/d in December 2022, little changed from the June report.
1) Short Term Energy Outlook
The STEO provides projections for the next 13 – 24 months for US C + C and NGPLs production. The July 2021 report presents EIA's updated oil output and price projections to December 2022.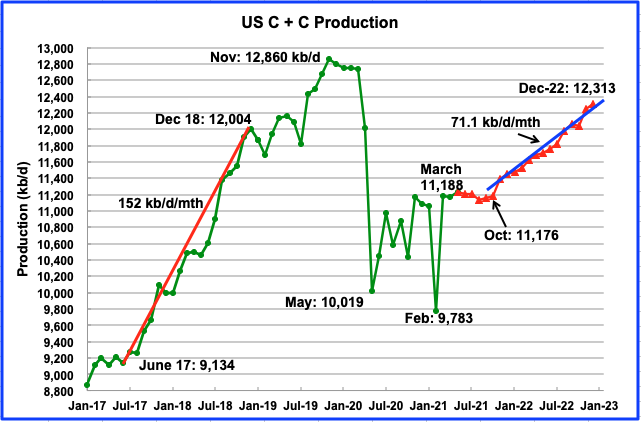 There has been quite a change in outlook from the STEO June report to the July report regarding the US oil production for the rest of 2021. According to the July STEO, US output is forecast to be essentially flat from March to October. It then begins to climb in an almost linear manner from December 2021 to December 2022 at an average rate of 71.1 kb/d/mth. In the previous report, output began to increase in June. It is not clear why output begins to climb almost linearly after December. 
The July STEO added 166 kb/d to December 2022 output from the previous June report which was 12,147 kb/d to increase it to 12,313 kb/d.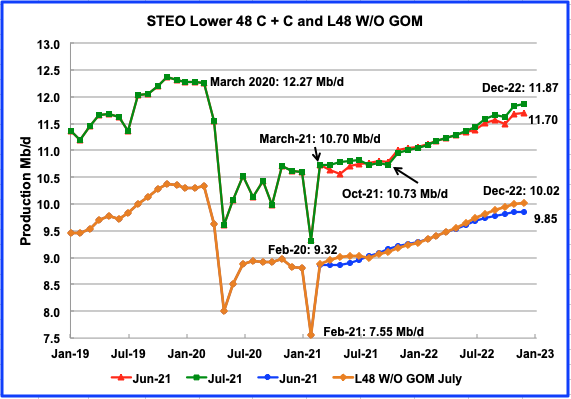 The July STEO output projection for the L48 states is very similar the one provided in the June report except for the output increase of 170 kb/d in December 2022.
In the onshore L48, L48 W/O GOM, production starts to increase in September 2021 from 9.06 Mb/d to 10.02 Mb/d in December 2022, an increase of 0.96 Mb/d. The average monthly increase in production rate from March 2021 to December 2022 is 64 kb/d/mth.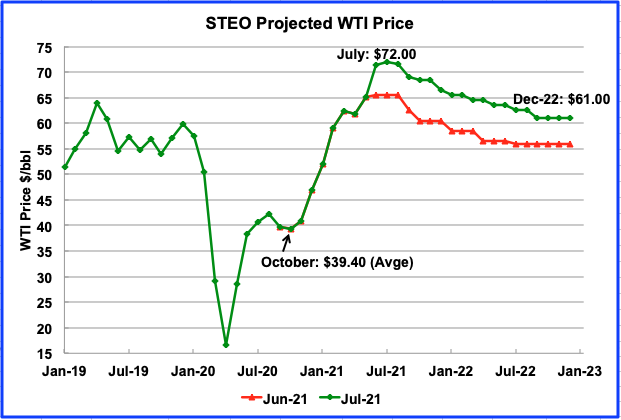 The July 2021 STEO oil price forecast was significantly revised up from the one in June. During June, July and August, the price for WTI is exepected to average close to $71.50/bbl. After August it begins a slow decline. WTI drops to a low of $61.00/b in December 2022.
The September WTI contract settled at $73.95 on July 30, slightly higher and reasonably close to the EIA projection of $72.50.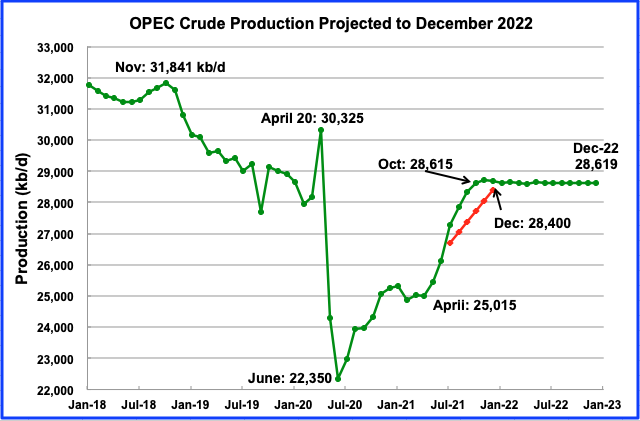 This chart shows the STEO's July forecast for OPEC crude output to December 2022. OPEC's output is projected to increase from April to October by 3,600 kb/d. After October output remains essentially flat. The October output is virtually the same as OPEC's output on January 2020, just prior to the onset of the pandemic.
OPEC's July report announced that their production in June was 26,034 kb/d, very close to the EIA forecast. According to this report, OPEC + will add 2,100 kb/d from May till July. How much will OPEC add in July?
From April to June, OPEC added 1,100 kb/d. Using an approximate 85 – 15 split for OPEC and the remaining + members, of the 2,100 kb/d, OPEC would add 1,800 kb/d and the + members 300 kb/d. So for July we should expect OPEC to add close to 700 kb/d since they have already added 1,100 from April. This will bring their output in July close to 26,700 kb/d.
Below is my best guess for which OPEC countries will supply the expected 700 kb/d.
Saudi Arabia 300 kb/d

Kuwait 150 kb/d

UAE 150 kb/d

Iraq 100 kb/d

What is your best guess?
From August to December, OPEC + announced that they will add 2,000 kb/d at a rate of 400 kb/d/mth. Using the same 85 – 15 split, OPEC will add 1,700 kb/d and the + members 300 kb/d. OPEC will add on average 340 kb/d/mth starting in August. This will bring OPEC output to 28,400 kb/d in December 2021. (Red line).
If this estimate is correct, it raises the question of why did the price of WTI drop by $5/bbl after the OPEC + announcement since OPEC will bring oil back to the market at a rate slower than initially planned. (Red graph chart). Possible market over reaction! I should note that WTI has recovered by $5/bbl since the hitting bottom at $66/bbl.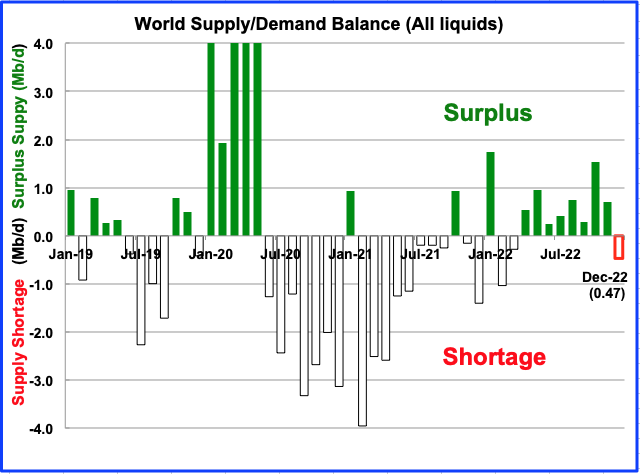 This chart show the historical supply/demand situation up to June 2021 and after that, the EIA's forecast out to December 2022. After the supply surplus from February to June of 2020, world oil supply was intentionally reduced by OPEC and its partners. The US also reduced its output but the reduction was related more to the low price of oil. 
From April 2022 to November 2022, the STEO is forecasting an average surplus of close to 0.675 kb/d. A recent report indicates that OPEC is concerned with the surplus shown after July 2022.
In the May report, the December 2022 deficit was 0.88 Mb/d. In the July report it has been reduced to 0.47 Mb/d.
2) Drilling Productivity Report
The Drilling Productivity Report (DPR) uses recent data on the total number of drilling rigs in operation along with estimates of drilling productivity and estimated changes in production from existing oil wells to provide estimated changes in oil production for the principal tight oil regions. The following charts are updated to July 2021.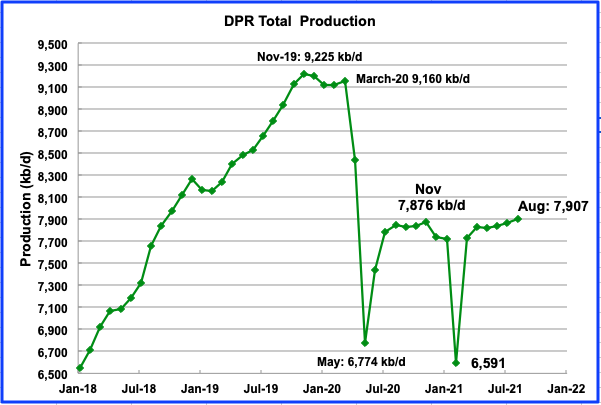 Above is the total oil production from the 7 DPR basins that the EIA tracks.  Note that the DPR production includes both LTO oil and oil from conventional fields
The DPR is projecting output for August 2021 to increase by 42 kb/d over July to 7,907 kb/d. From March to August, output in the DPR increased by 175 kb/d or close to 35 kb/d/mth.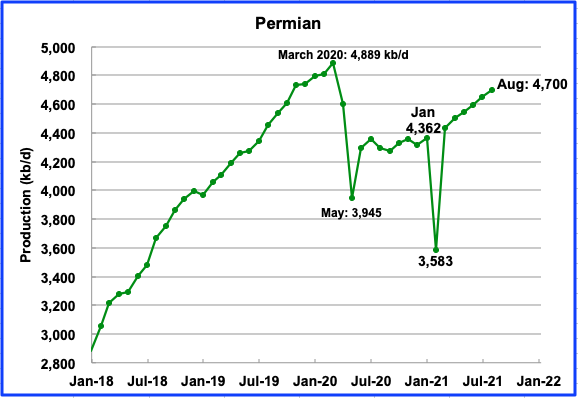 Permian output in August 2021 is projected to be 4,700 kb/d, up by 53 kb/d from July. From January to August production increased by 338 kb/d or approximately 48 kb/d/mth. At this rate, production will be very close to the March 2020 peak of 4,889 kb/d in December.
During July, close to 238 rigs were operating in the Permian, up from 100 in November.  These 238 rigs are clearly sufficient to increase production in the Permian.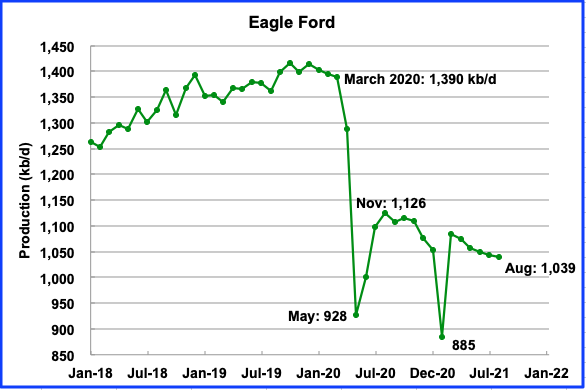 The forecast for the Eagle Ford basin has shown a dropping output for five consecutive months. Output is expected to drop by 4 kb/d in August to 1,039 kk/d.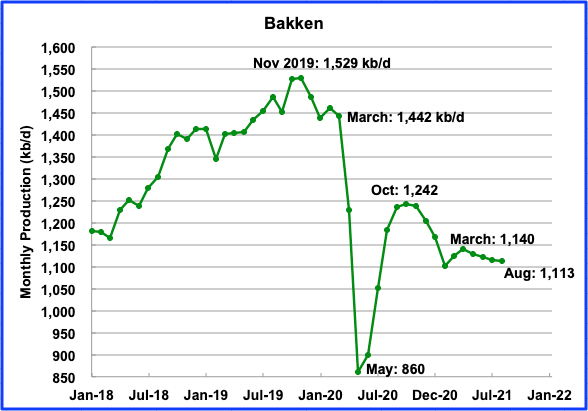 The DPR forecasts Bakken output in August to be 1,113 kb/d a decrease of 3 kb/d from July.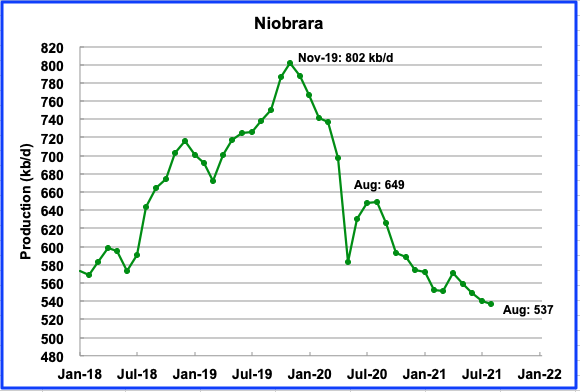 Output in the Niobrara reached a new low in August 2021, 537 kb/d. The Niobrara is spread over Wyoming and Colorado. In July 11 oil rigs were operating in the Niobrara, 9 in Colorado and 2 in Wyoming. There were no rigs operating in Wyoming from January to the middle of June.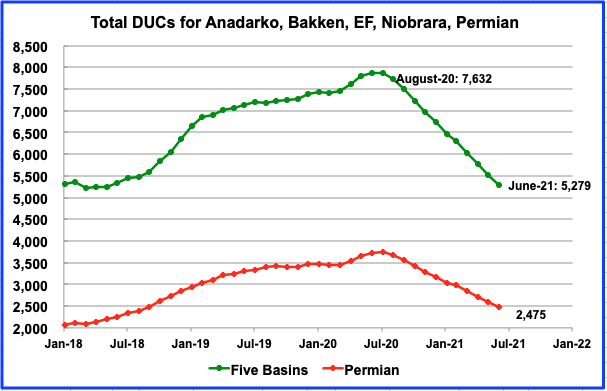 In these five mainly oil basins, DUCs are being completed at an average rate of close to 235 DUCs/mth. In the Permian the completion rate is close to 120 DUCs per month
3) LIGHT TIGHT OIL (LTO) REPORT
The LTO database provides information on LTO production from seven tight oil basins and a few smaller ones. The July report projects the tight oil production to June 2021.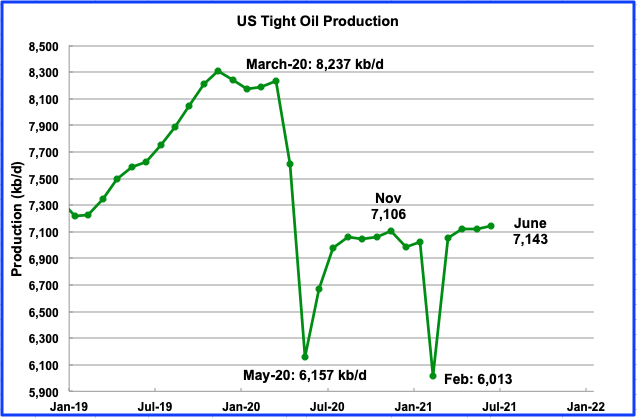 June's LTO output is expected to increase by 19 kb/d to 7,143 kb/d. In the July report, May's forecast output of 7,030 kb/d was revised up to 7,124 kb/d. It appears that the early estimates are always on the low side.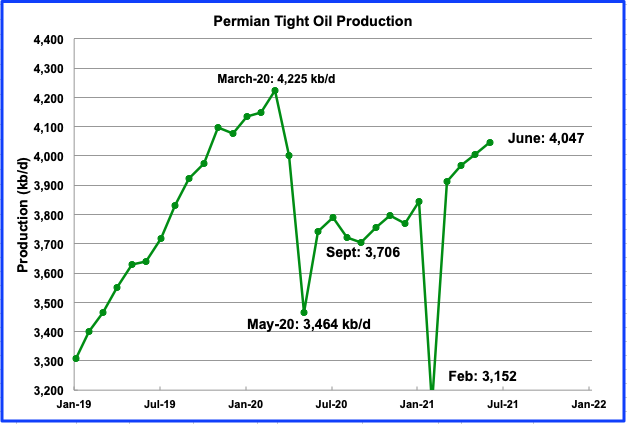 Permian LTO output in June is projected to increase to 4,047 kb/d, an increase of 44 kb/d.
From the September low of 3,706 kb/d, LTO output in the Permian is increasing at an average rate of 38 kb/d/mth. By December, the March 2020 peak will be exceeded if production growth continues at this rate. It should be noted that Permian DUCs are being completed at a rate if 125 DUCs per month.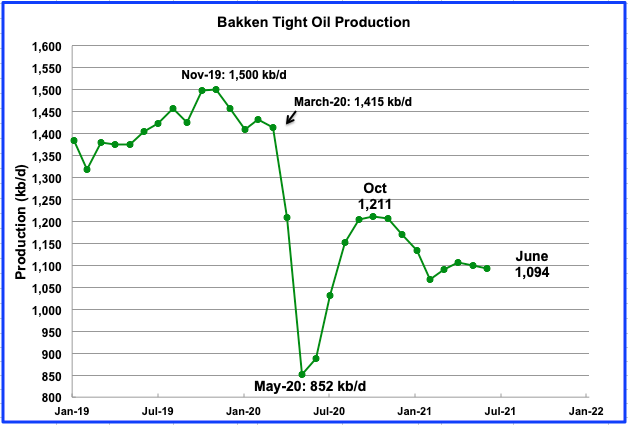 The Bakken's June output is forecast to decline. June's production is expected to drop by 8 kb/d to 1,094 kb/d.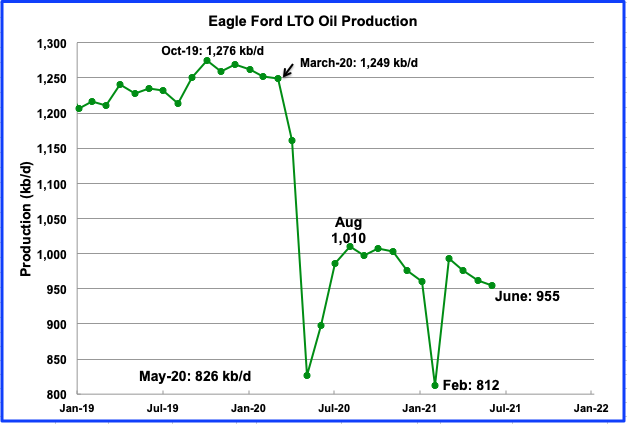 The Eagle Ford basin is expected to produce 955 kb/d in June, a decrease of 7 kb/d from May.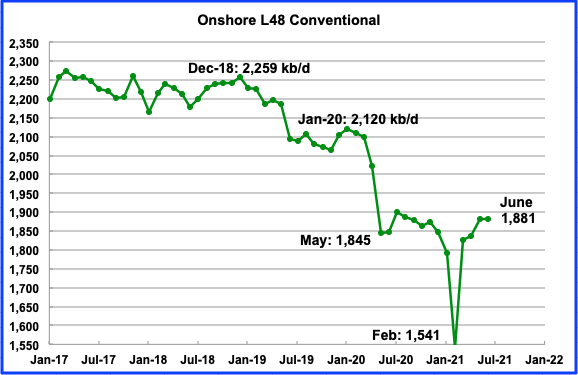 Conventional oil output in the On-shore L-48 is expected to remain flat in June at 1,881 kb/d in June 2021. This estimate is based on a combination of the June LTO output and the July STEO report that projects US on-shore L48 to May. 
In the July LTO report, May's output was revised up from 1,831 kb/d to 1,882 kb/d. Again the forecast was too low.
4) Rigs and Fracs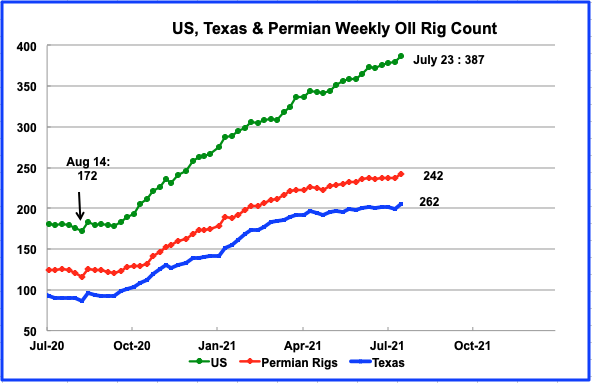 After a slow growth phase of close to two months, 7 oil rigs were added in the US in the week of July 23 for a total of 387. Five were added in Texas and all in the Permian. For the week of July 30, 2 oil rigs were taken out of service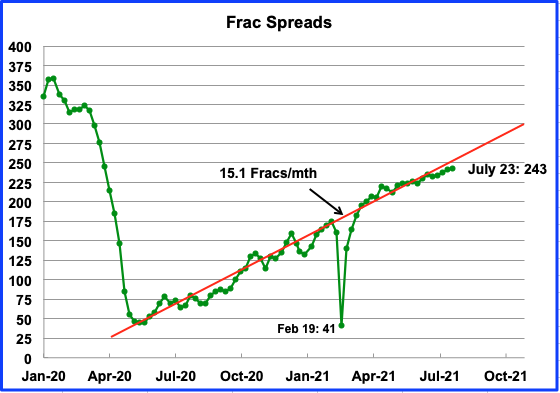 Frac spreads continue to be added at a rate of approximately 15 spreads per month but there is a hint of slowing in the past few weeks numbers. In the week ending July 23, 1 frac spread was added for a total of 243. For the week of July 30, 4 spreads were decommissioned for a total of 239. Possible slowing?
World Oil Production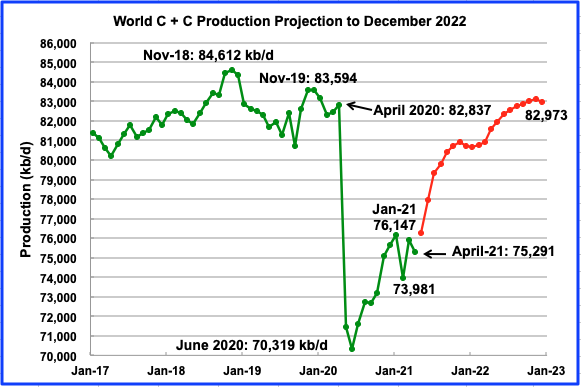 World oil production in April decreased by 617 kb/d to 75,291 kb/d according to the EIA. Of the 617 kb/d decrease, the biggest contributors were the Canada 452 kb/d, UK 218 kb/d and Libya 70 kb/d. Two of the biggest April increases were Russia 214 kb/d and Brazil 130 kb/d. Canadian production was down due to maintenance on a number of oil sands operations.
This chart also projects world production out to December 2022. It uses the July STEO report along with the International Energy Statistics to make the projection, red markers. It projects that world crude production in December 2022 will be close to 82,973 kb/d. This is 1,639 kb/d lower than the November 2018 peak of 84,612 kb/d. Note that the November 2018 peak has been lowered by 19 kb/d in the April report.