All of the oil (C + C) production data for the US state charts comes from the EIA's Petroleum Supply monthly PSM. After the production charts, an analysis of three EIA monthly reports that project future US production is provided. The charts below are updated to January 2020 for the 10 largest US oil producing states.
Note: This post is not an April Fool's joke. I really am publishing the latest official EIA information available, January production in April.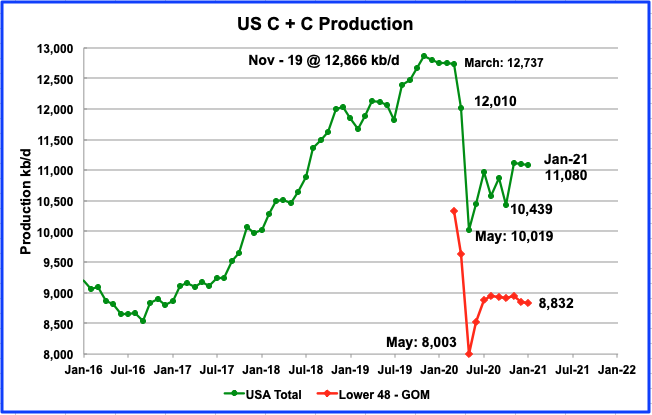 January's U.S. production decreased by 21 kb/d to 11,080 kb/d from December's output of 11,101 kb/d. The decrease was largely due to North Dakota's decline while being offset partially by Texas' and New Mexico's increase. Note that December's output of 11,063 kb/d in the February report was revised up by 38 kb/d to 11,101 kb/d in the current report.
Production decreased by 11 kb/d in the onshore L48, red graph.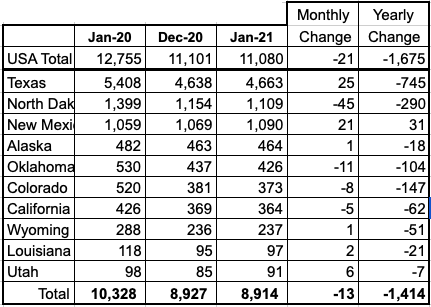 Listed above are the 10 states with the largest US production. These 10 accounted for (80.5%) of US production out of a total production of 11,080 kb/d in January 2021. 
Of all these 10 states, North Dakota had the biggest percentage drop, close to 4%, relative to December and could fall behind New Mexico in production ranking next month. On a YoY basis, New Mexico was the only state that recorded an increase in January.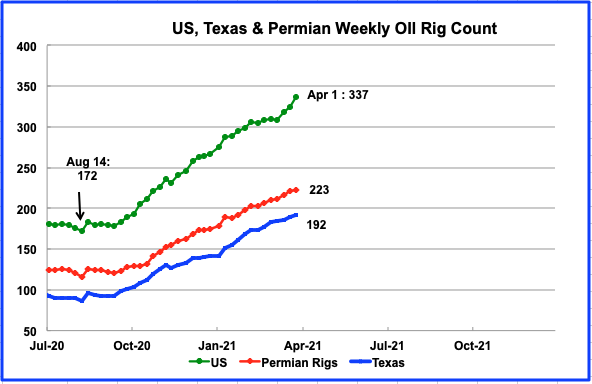 While significant rig additions continued in the US from the July and August lows of 172 to the beginning of April, there is no comparable increase in US oil output. During the week ending April 1, 13 oil rigs were added bringing the total 337.
The rate of adding rigs appears to have changed in the week of Mar 19. During February, approximately 1 rig per week was being added. On March 19, the rate increased to 9 per week. This was probably associated with the price of WTI moving above $60 in February,
Production by State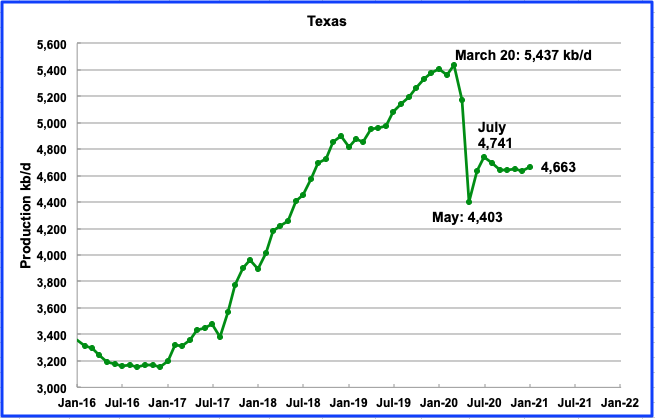 Texas production increased by 25 kb/d in January to 4,663 kb/d and still remains 78 kb/d lower than July 2020. In the meantime the number of oil rigs operating in Texas in January has gone from a low of 90 in July and August to 155 in January. There are currently 192 rigs operating in Texas in the week of April 1.
Will the increasing number of rigs in Texas be sufficient to increase production or just hold it at a steady level?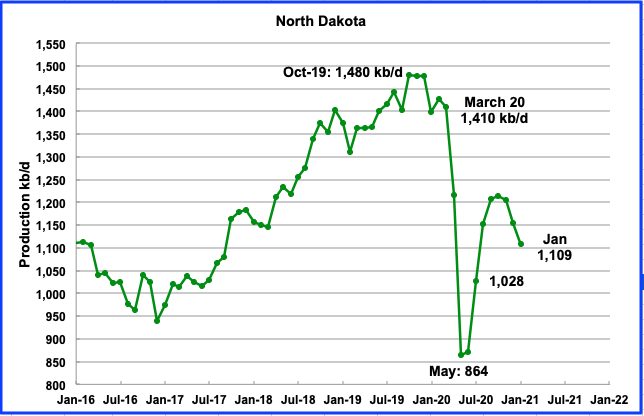 January's output was 1,109 kb/d day, a decrease of 45 kb/d from December. North Dakota's rig count was flat at 11 rigs in mid January. It then started to increase through February to 14 by the beginning of April.
In a recent statement, Helms noted North Dakota needs 60-70 completed new wells coming on each month to maintain production of 1.2 million b/d." The number of wells operating in the Bakken from December to January increased by 88 from 13,579 to 13,337, respectively, according to this source and production still dropped.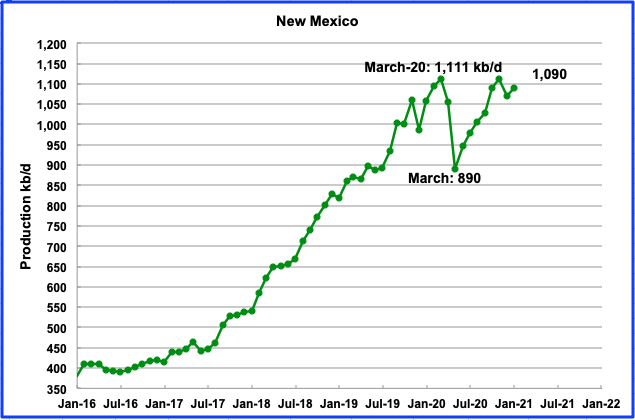 New Mexico's production increased every month from March to January except for December. January's New Mexico production increased by 27 kb/d to 1,090 kb/d. Can New Mexico's output increase be attributed to an increase in drilling in their part of the Permian? See next chart.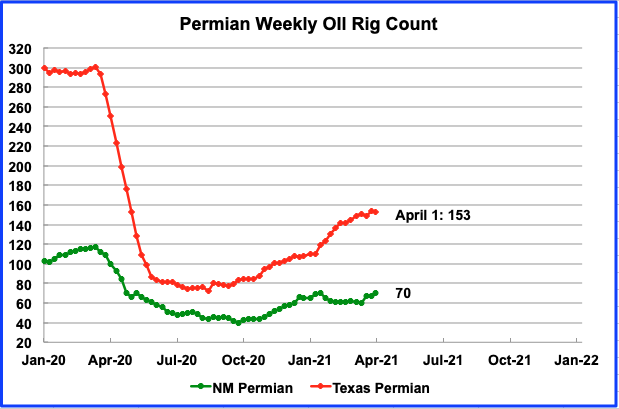 From March to September, the number of rigs operating in the NM Permian dropped from over 100 to a low of 42 in September. In the meantime oil output increased. Does this imply that DUCs were being completed during this time? After September, the oil rig count began to increase.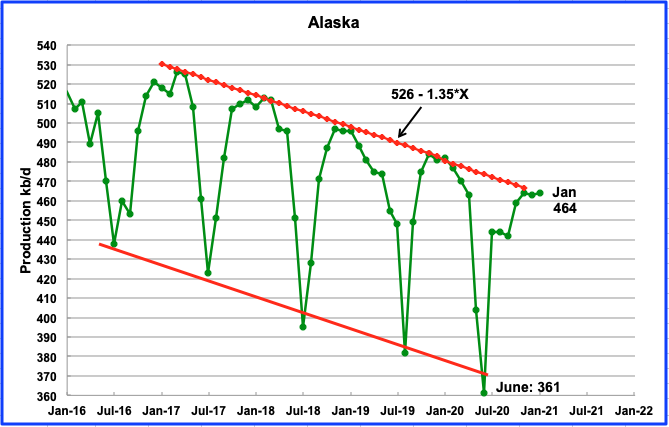 Alaska's January output increased by 1 kb/d to 464 kb/d. The EIA's weekly production report shows that output in March was closer to 450 kb/d.
According to this source, one new project, the ConocoPhillips' GMT-2, in the National Petroleum Reserve-Alaska is on track to be completed and in production in late 2021 with a peak rate of 35,000 b/d to 40,000 b/d.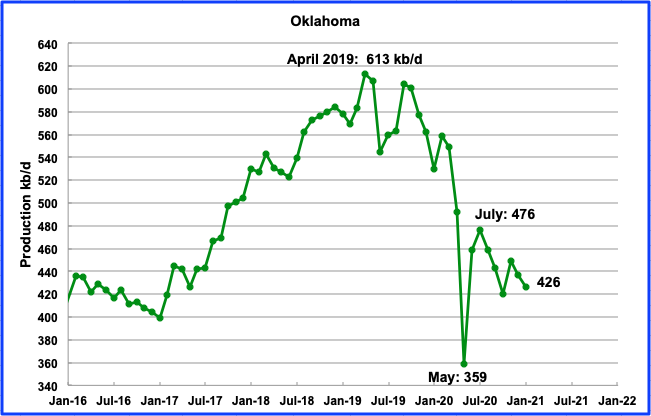 January's output decreased by 11 kb/d to 426 kb/d. During January, 17 rigs were operating. The number fluctuated around 17, +/- 1 up to late March but in early April, 2 more were added for total of 19.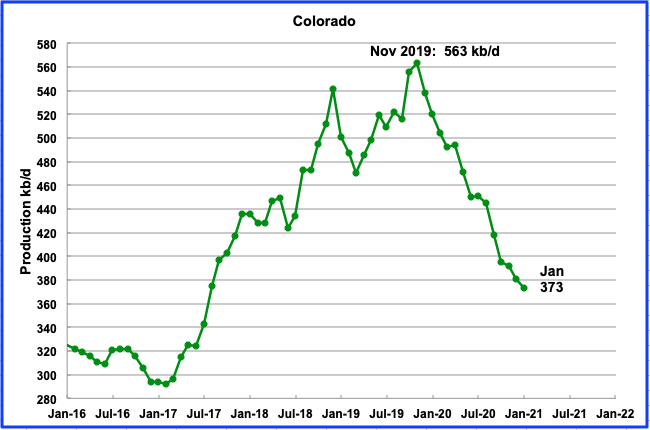 Colorado's January output decreased by 11 kb/d to 373 kb/d. Colorado had 7 rigs operating from mid-January to mid-March but increased to 9 in the first week of April. Declining production continues to be associated with the pandemic and new environmental regulations, according to this source. However one company , PDC Energy, plans to submit a 500 well program for the Denver-Julesburg basin.
"PDC also does not need to rush to get new drilling permits approved as it holds an inventory of 200 drilled-but-uncompleted wells and 300 drilling permits for new wells in Weld County, the core of the DJ Basin."
"Internal rates of returns in US shale basins, both crude and gas focused, look much more appealing in recent weeks with around $60/b oil at WTI and nearly $3/MMBtu at the Henry Hub. The DJ has jumped to 22% IRRs in the current pricing environment, according to S&P Global Platts Analytics."
"IRRs of at least 10% is the threshold typically needed to encourage operators to bring new wells online. Platts Analytics IRRs are based on a half-cycle, after federal corporate tax analysis, which excludes sunk costs such as acreage acquisition, seismic and appraisal drilling."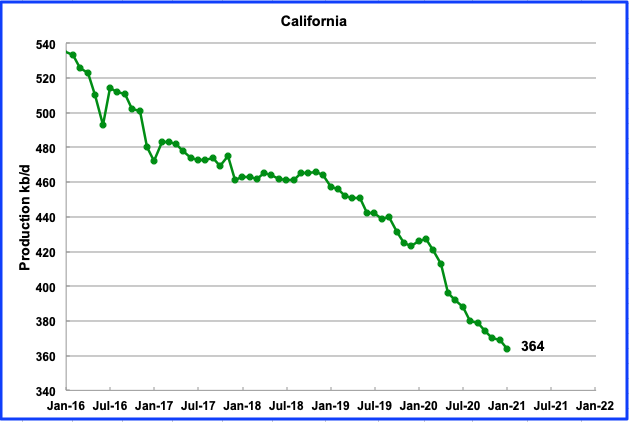 California's slow output decline continued in January. Its production dropped by 5 kb/d to 364 kb/d. From May 2020, output has dropped by 32 kb/d for an average of 4 kb/d/mth.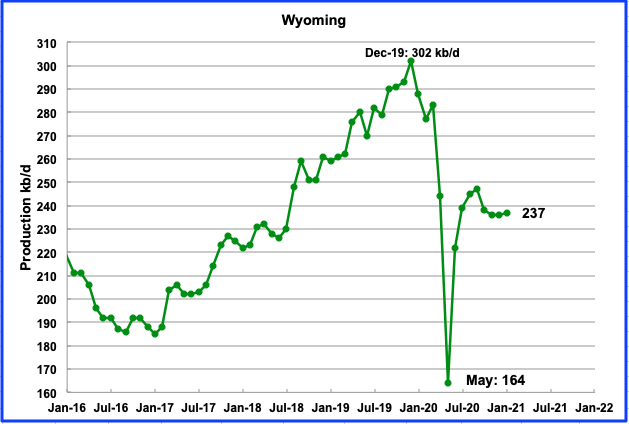 Wyoming's production in January increased by 1 kb/d to 237 kb/d. Wyoming had 3 oil rigs operating in January and they were increased to 4 in February through to the beginning of April. Wyoming's oil production appears to be stabilizing around 240 kb/d.
"Wyoming is one of thirteen states suing the Biden administration Wednesday (March 31) to end a suspension of new oil and gas leases on federal land and water and to reschedule canceled sales of leases in the Gulf of Mexico, Alaska waters and western states."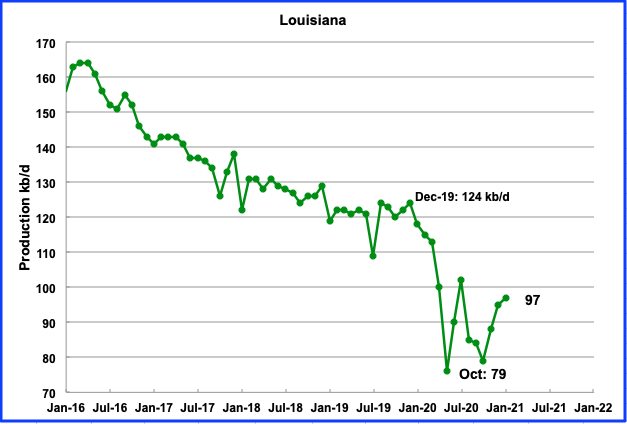 Louisiana's output increased by 2 kb/d in January to 97 kb/d. In January, Louisiana had on average 17 rigs operating. However more recently the number declined to 14 in early April.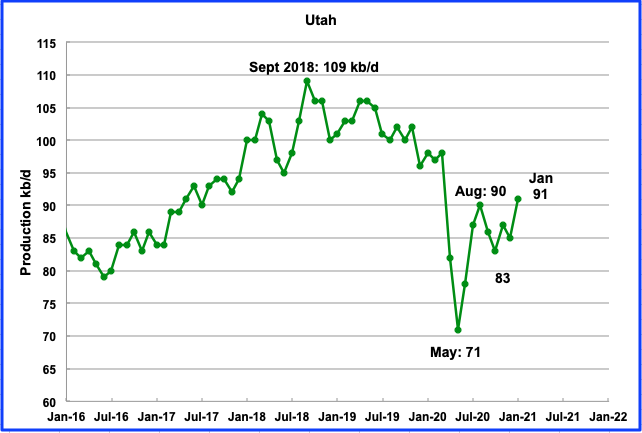 January production increased by 6 kb/d to 91 kb/d. Three oil rigs were operational from January to mid-March. However by the first week of April, they had doubled to 6.
Utah joined 12 other states Wednesday (March 31) in a lawsuit against the federal government challenging the Jan. 27 executive order issued by President Joe Biden to ban any new oil and gas leasing on federal land and offshore waters.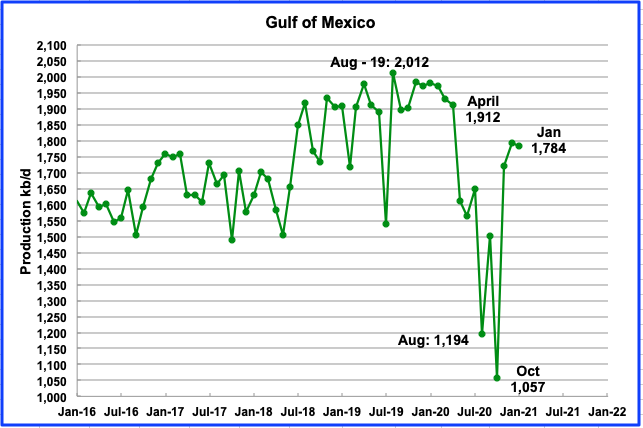 Production from the GOM dropped in January to 1,784 kb/d, a decrease of 11 kb/d. If the GOM were a state, its production would rank second behind Texas.
UPDATING EIA'S THREE OIL GROWTH PROJECTIONS
1) SHORT TERM ENERGY OUTLOOK (STEO)
The STEO provides projections for the next 13 – 24 months for US C + C and NGPLs production. The March 2021 report presents EIA's updated oil output and price projections to December 2022.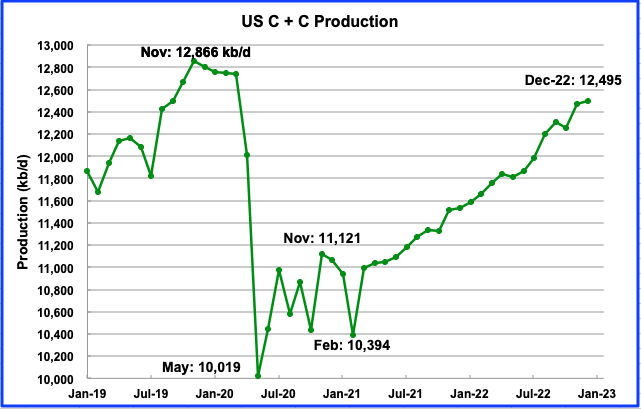 According to the STEO, US output is projected to increase in March 2021 after recovering from the February low of 10,394 kb/d. Starting in June 2021, the average projected rate of increase is expected to be close to 70 kb/d/mth. This larger rate increase was not projected in the February report and can be attributed to the projected price increase for WTI.
The STEO's January oil output projection of 10,942 kb/d does not compare well with the actual production which was reported as 11,080 kb/d in the first chart above. In general, the EIA appears to under estimate forward production since most production revisions are increases.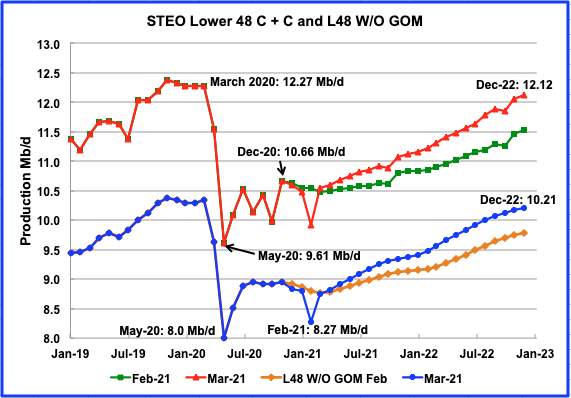 The March STEO output projection for the L48 states is dramatically higher from the one provided in the February. The projection reflects the current new higher WTI price environment. The EIA is now projecting a significant increase in production in the L48 starting in March 2021. From March 2021 to December 2022, the US will add 1.57 Mb/d, going from a daily production rate of 10.55 Mb/d to 12.12 Mb/d.
In the onshore L48, L48 W/O GOM, production starts to increase in March 2021 from 8.75 Mb/d to 10.21 Mb/d in December 2022, an increase of 1.46 Mb/d. The average monthly increase in production rate is 76.8 kb/d/mth.
How much will the drillers/companies have to ramp up their drilling activity to achieve this production rate. Maybe the EIA's model, based on pricing, indicates a significant increase in drilling activity and output. However, the issue that remains is "Will the company management allow increased production or will they just hold back to let oil prices strengthen.
It should be noted that the rate at which rigs have been added since March 18, has increased to 9 rigs per week. Throughout February, roughly 1 rig per week was being added. This could be related to the price of WTI moving above $60/b in February.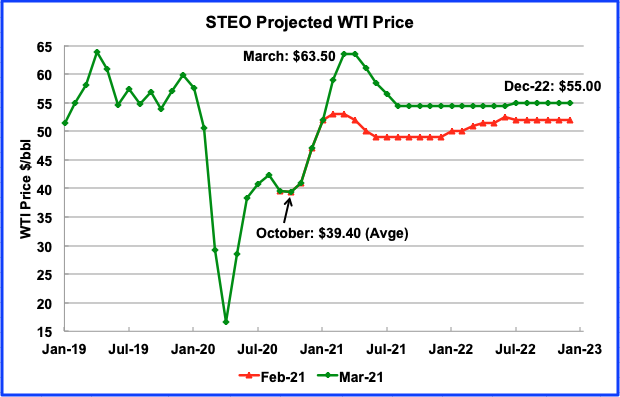 The 2021 STEO is projecting a WTI price of $63.50/bbl through March/April 2021 before beginning to decline back to $55/b in August, a $5.50 increase over the previous February report.
The May WTI contract settled at $61.45/bbl on April 1, $2 lower than the EIA projection.
To support oil prices close to $60/b, OPEC + on April 1 announced it would cautiously increase production quotas.
"The 23-nation coalition will boost output by 350,000 barrels a day in May, add the same volume again in June and increase by 450,000 barrels a day in July, Prince Abdulaziz told reporters after the meeting. On top of that, Saudi Arabia will roll back its voluntary extra 1 million barrel-a day cut, adding 250,000 barrels a day in May, 350,000 in June and 400,000 in July, he said."
2) DRILLING PRODUCTIVITY REPORT
The Drilling Productivity Report (DPR) uses recent data on the total number of drilling rigs in operation along with estimates of drilling productivity and estimated changes in production from existing oil wells to provide estimated changes in oil production for the principal tight oil regions. The following charts are updated to April 2021.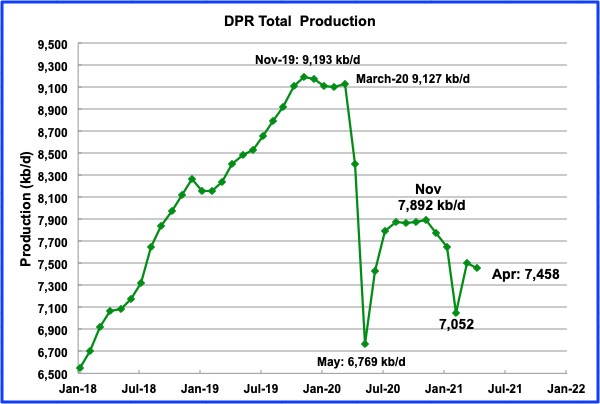 Above is the total oil production from the 7 basins that the DPR tracks. Note that the DPR production includes both LTO oil and oil from conventional fields.
After bottoming in May at 6,769 kb/d, production rose rapidly to November to 7,892 kb/d primarily by reopening shut in wells. However after November, drilling levels have not been sufficient to offset decline. The DPR is projecting output for April 2021 to be 7,458 kb/d, up 406 kb/d from February's snow storm induced drop.
Ignoring the February drop, the average decline rate since November has been close to 86.8 kb/d/mth. In the L48, close to 337 oil rigs are operating in the first week of April and these are projected to not be sufficient to increase LTO and conventional production in the seven DPR basins.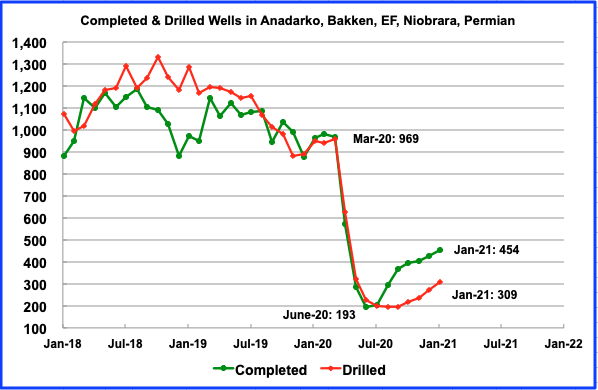 This chart shows that more wells have been completed than drilled in the DPR basins since July. It also indicates that the number of DUCs is falling and drillers are trying to reduce their costs.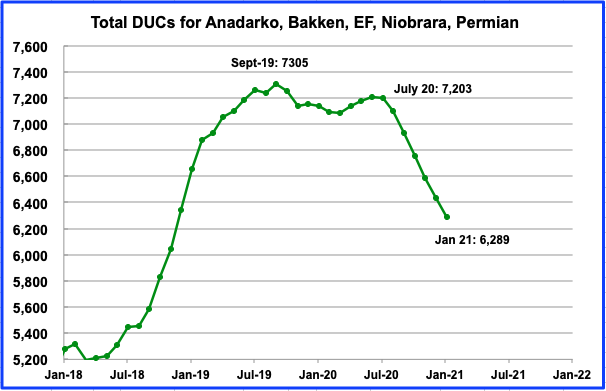 The total number of DUCs began to decline in August 2020. Since then, 914 DUCs have been completed. On average 152 DUCs have been completed every month since July. It is not clear from the DPR data whether the completions include both oil and gas wells.
The oil contribution from three of the DPR/LTO basins is shown in the charts below.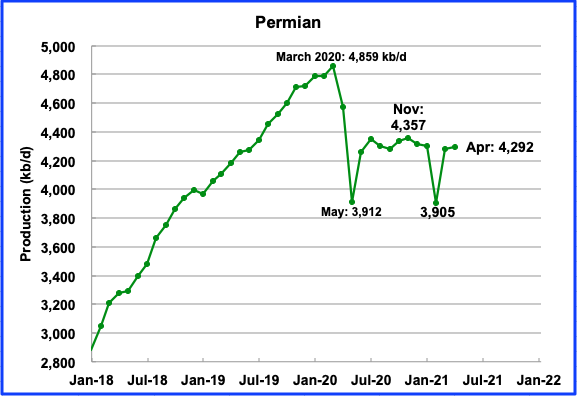 Permian output in April 2021 is projected to be 4,292 kb/d, up by 11 kb/d from March. The affects of the February winter snow storm show up in the the February drop of 396 kb/d from January to 3,905 kb/d.
In the week of March 12, 211 rigs were operating in the Permian, up from 100 in November. These 211 rigs appear to be sufficient to offset the decline from older wells since production is essentially showing no growth or decline. In the first week of April, the number of operating oil rigs had increased to 223.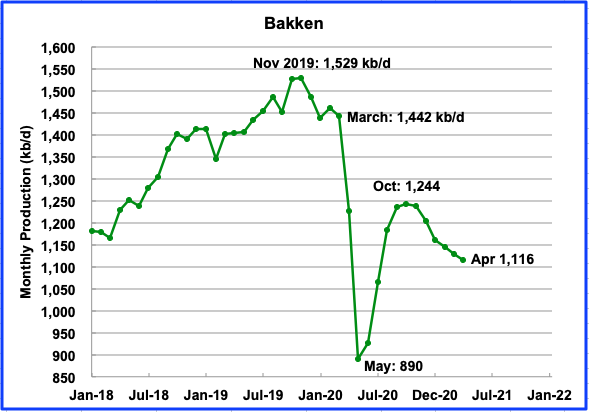 Bakken output in April is projected to be 1,116 kb/d a decrease of 12 kb/d from March.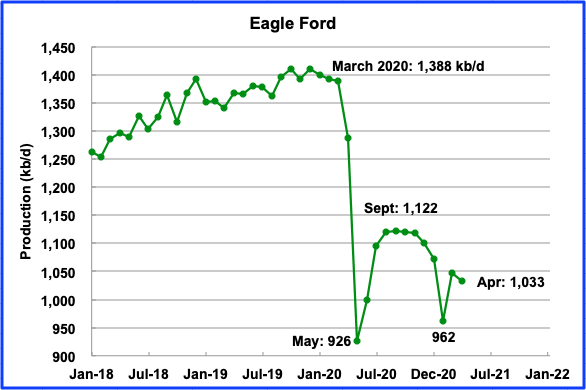 After bottoming in May, Eagle Ford's output reached a recent peak in September and then began to roll over. In April, Eagle Ford's output is projected to drop by 15 kb/d to 1,033 kb/d. Note that March's output in the February DPR was revised up by 39 kb/d to 1,048 kb/d in the current report.
3) LIGHT TIGHT OIL (LTO) REPORT
The LTO database provides information on LTO production from seven tight oil basins and a few smaller ones. The March report projects the tight oil production to February 2021.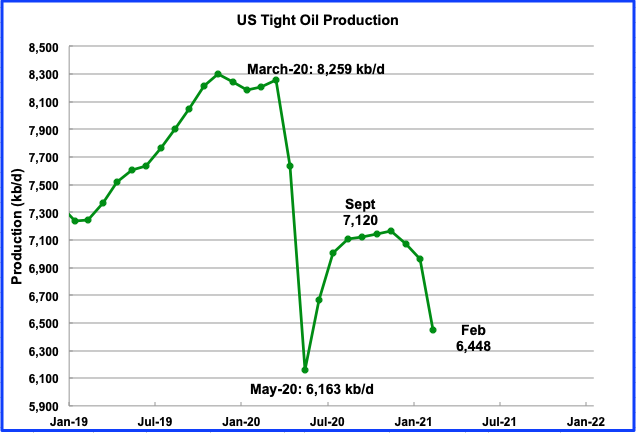 February's LTO output is expected to decrease by 512 kb/d to 6,448 kb/d due to the severe winter snow storm that hit Texas and New Mexico in February.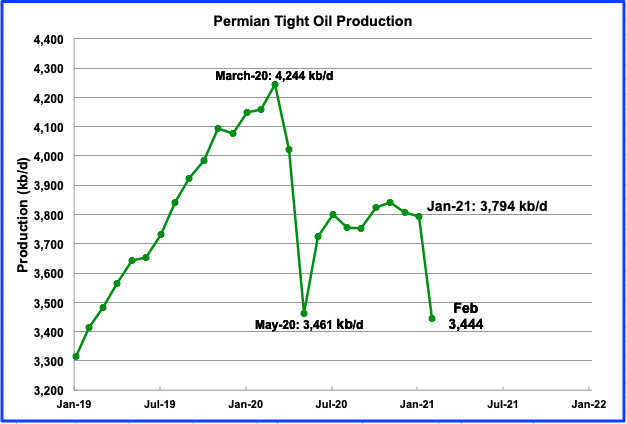 Permian LTO output in February is projected to be 3,444 kb/d, a decrease of 350 kb/d from January due to the severe winter snow storm that hit Texas. There were 187 oil rigs operating in the Permian in January. By comparing December and January production, it appears that 187 rigs are not sufficient to keep up with the decline.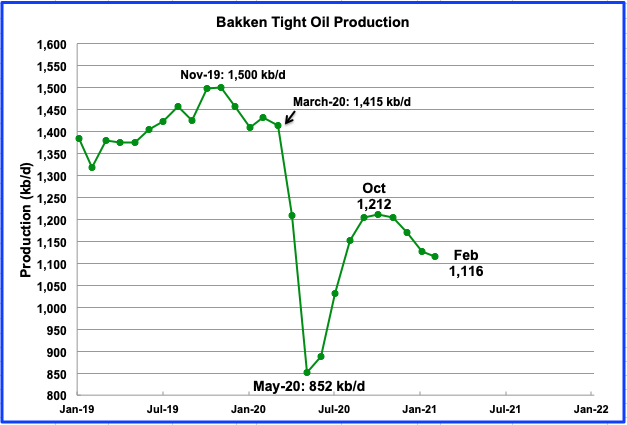 The Bakken's February output is projected to continue to decline after the recent peak was reached in October. February production dropped by 12 kb/d to 1,116 kb/d. In December and January, close to 11 rigs were operational and they increased to 14 in February.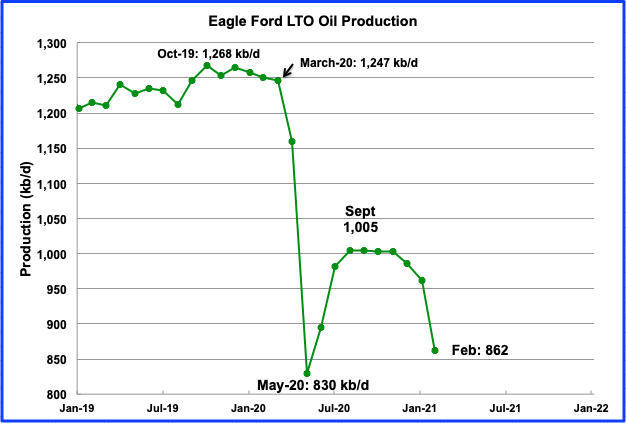 The Eagle Ford basin is expected to produce 862 kb/d in February a decrease of 99 kb/d from January.  EF output was also impacted by the severe winter snow storm that hit Texas.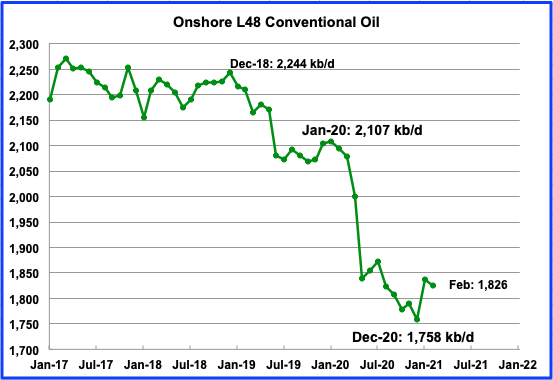 Conventional oil output in the On-shore L-48 is expected to drop by 11 kb/d to 1,826 kb/d in February 2021. This estimate is based on a combination of the March LTO report and the STEO March report that projects US on shore L48 to February. 
Fracs and Rigs
At the end of May 2020, 45 frac crews were active. In March 2021, 195 were active. Over the 10 months, 150 frac crews were added or 10 per month.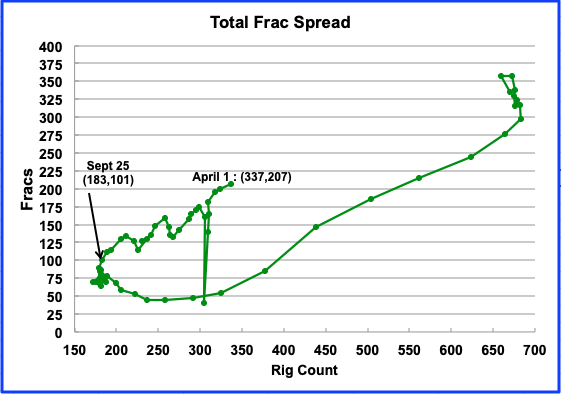 This chart relates the weekly oil rig count with frac spreads. Currently the relationship between frac spreads and rigs is on a different trajectory than earlier last year. From Sept 25 to April 1, roughly two frac spreads were added for every three rigs.