US April Oil Production Flat – Peak Oil Barrel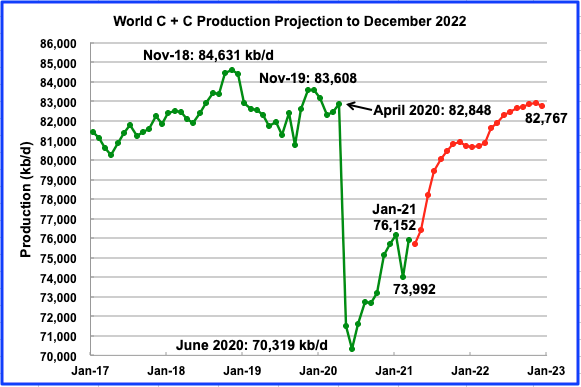 All of the oil (C + C) production data for the US state charts comes from the EIA's Petroleum Supply monthly PSM. After the production charts, an analysis of three EIA monthly reports that project future production is provided. The charts below are updated to April 2021 for the 10 largest US oil producing states.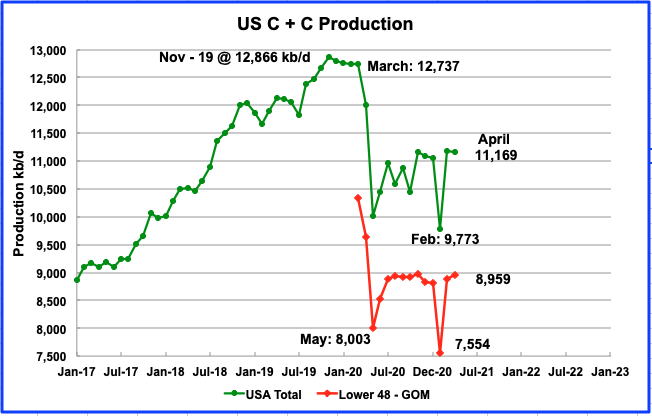 U.S. April production was essentially flat. It decreased by 19 kb/d to 11,169 kb/d from March's output of 11,188 kb/d. It was also 113 kb/d higher than January's.
The June STEO report forecasted US April output would be 11,082 kb/d vs the reported actual output for April of 11,169 kb/d, an under estimate of 87 kb/d. 
In the onshore lower 48, April production increased by 80 kb/d, red graph. The 99 kb/d difference between the US' decrease and the On-shore L48's increase was largely due to the 92 kb/d decrease from the GOM.
Ranking Production from US States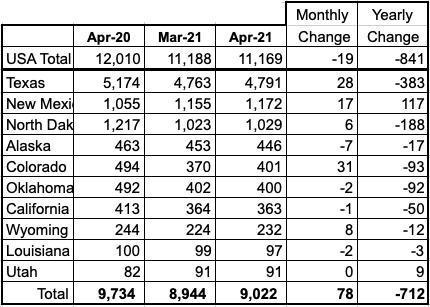 Listed above are the 10 states with the largest US production. These 10 accounted for 80.8% of US production out of a total production of 11,169 kb/d in April 2021. 
On a MoM basis, the largest barrel increases came from Colorado, Texas and New Mexico. On a YoY basis, all states except New Mexico and Utah had a lower output than last year. Note also that New Mexico's output surpassed North Dakota and moved into second place.
Production by State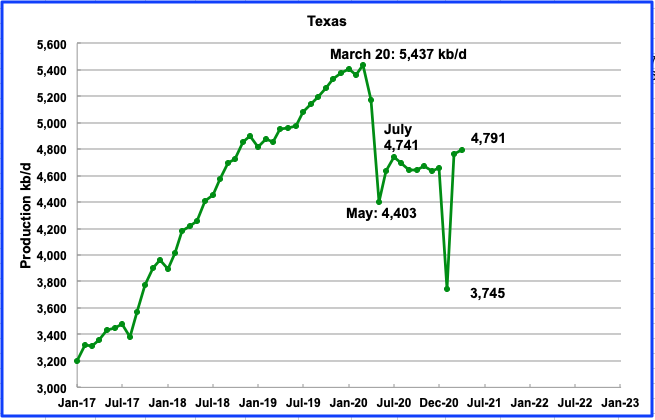 Texas production increased by 28 kb/d in April to 4,791 kb/d.  In the EIA's June report, March's output was revised up by 18 kb/d from 4,745 kb/d to 4,763 kb/d.
In April there were close to 194 oil rigs operation in Texas. By the fourth week of June 25, 201 were operating. From the end of April to the week of June 25, Texas added 7 oil rigs. It appears that the rate of adding rigs in Texas has slowed. See Rig chart in Section 4 further down.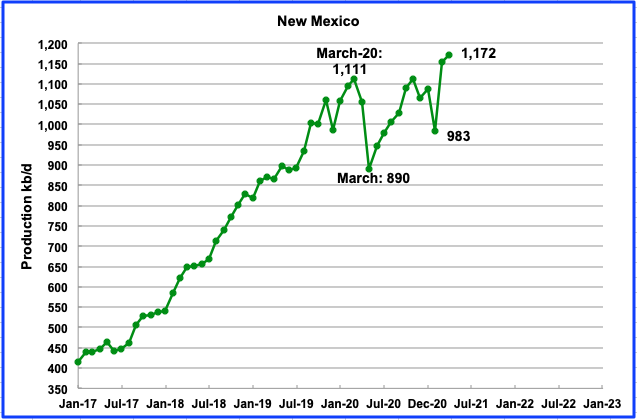 April's New Mexico production increased by 17 kb/d to 1,172 kb/d. April's output is a new record.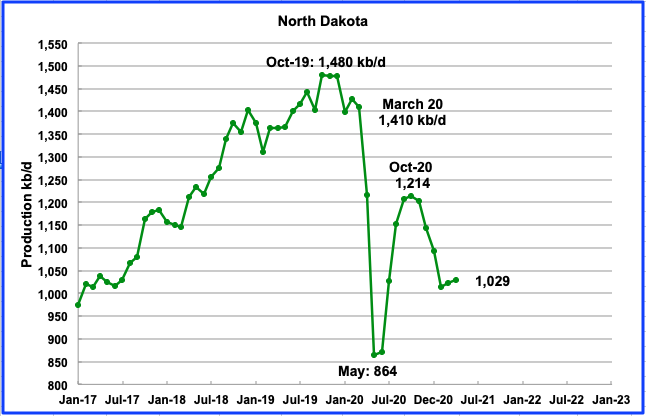 According to the EIA, April's output was 1,029 kb/d day, an increase of 6 kb/d from March. During April, North Dakota had 15 rigs operating and by the fourth week of June they had increased to 17.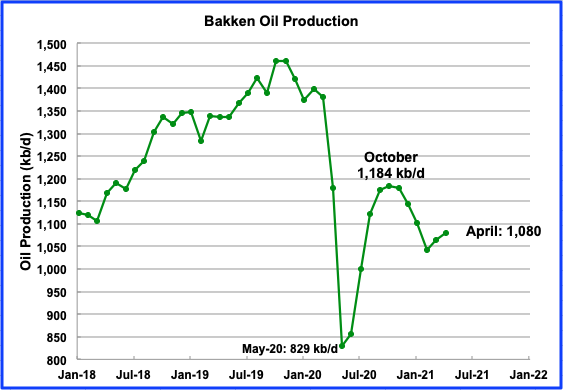 The North Dakota Oil and Gas division reported that April's output in Only the Bakken was 1,080 kb/d. It is surprising that the EIA reported total April output for North Dakota was 1,029 kb/d, 51 kb/d lower than the Bakken alone. Does ND include NGPLs in their report?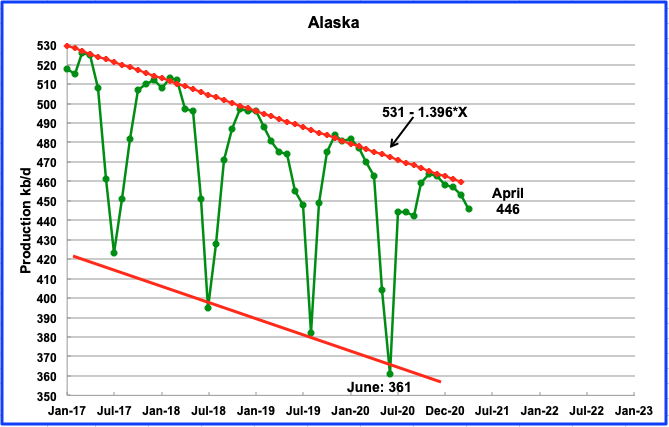 Alaska's April output decreased by 7 kb/d to 446 kb/d.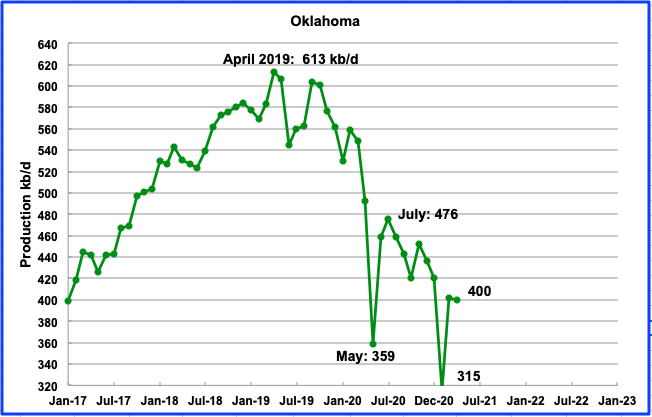 April's Oklahoma output decreased by 2 kb/d to 400 kb/d. In July 2020, Oklahoma had 10 rigs operating. During April, 21 rigs were operating. By the end of June they had increased to 27.  Even though 11 rigs were added from July 2020 to April 2021, production dropped by 76 kb/d.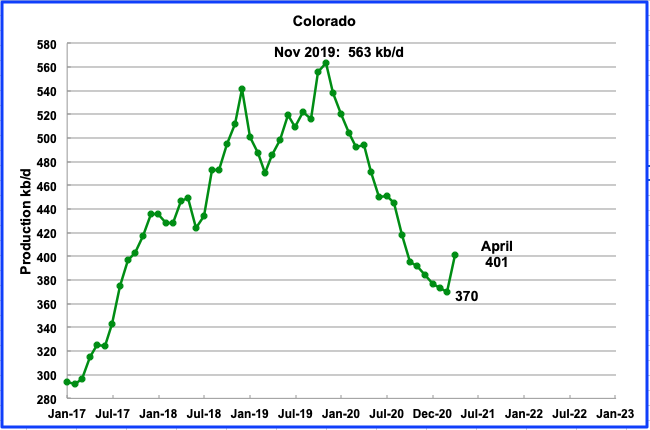 Colorado's April output increased by 31 kb/d to 401 kb/d. From March to April, Colorado increased their oil rig count from 7 to 9.
According to the EIA, most new oil production in Colorado comes from the Niobrara Shale formation located in the Denver-Julesburg Basin in northeastern Colorado, where oil production in one county, Weld, is the source of almost 9 out of every 10 barrels of crude oil produced in Colorado. The Wattenberg field, much of which is in Weld County, is the fourth-largest U.S. oil field based on proved oil reserves and ninth-largest gas field based on proved natural gas reserves. The Piceance Basin in the western mountain region is the other primary crude oil-producing area in Colorado.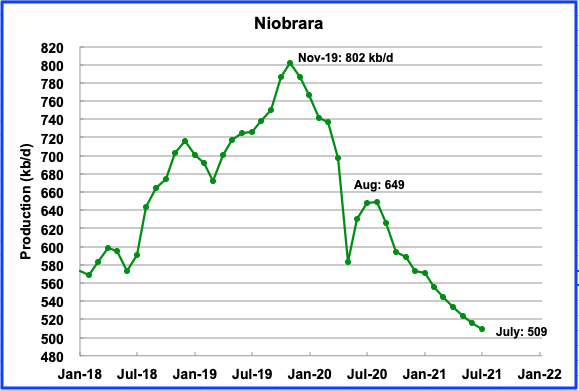 The June DPR shows steadily decreasing production from the Niobrara basin. Could the April increase shown in the Colorado chart above be due to shut wells being brought back on line?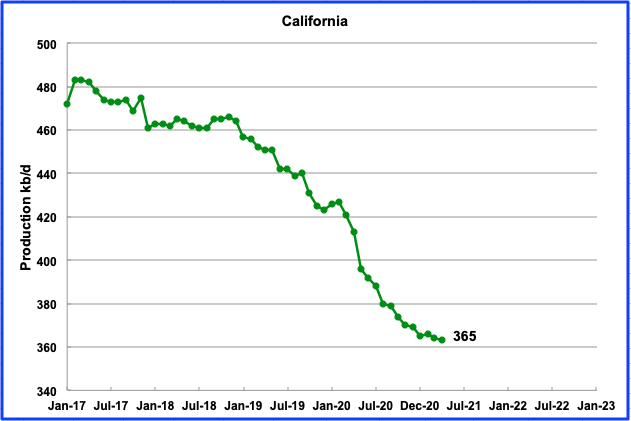 California's slow output decline continued in April. Its production decreased by 1 kb/d to 365 kb/d.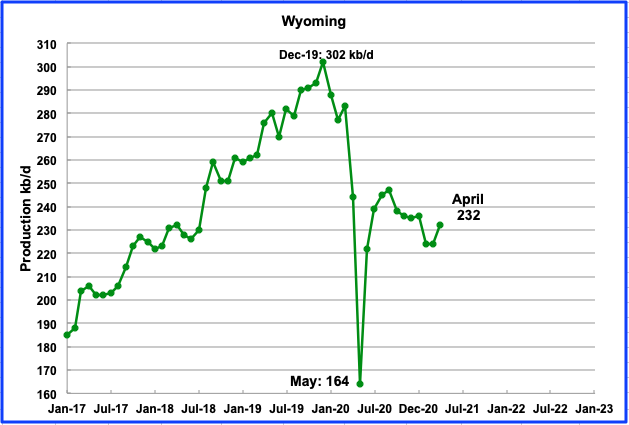 Wyoming's production in April increased by 8 kb/d to 232 kb/d. Wyoming had 3 oil rigs operating in April and they were increased to 9 by late June.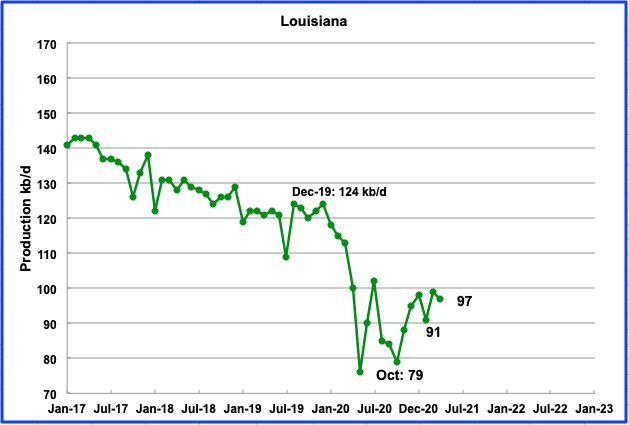 Louisiana's output decreased by 2 kb/d in April to 97 kb/d.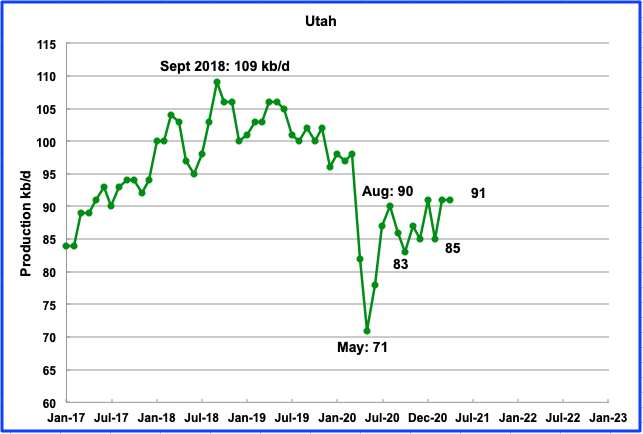 April's production was flat at 91 kb/d. Eight oil rigs were operational in April and were increased to 10 by the fourth week of June.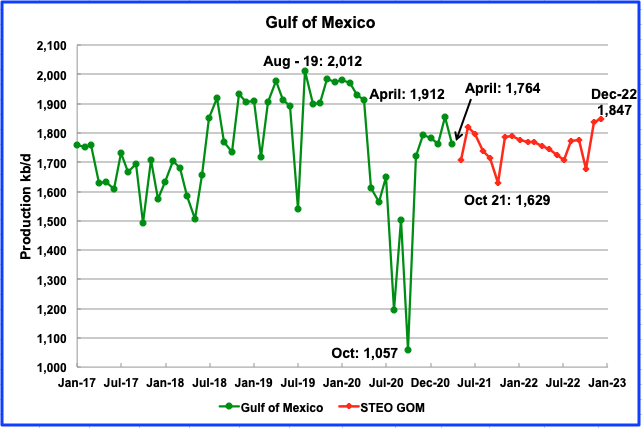 Production from the GOM decreased in April to 1,764 kb/d, a decrease of 92 kb/d from March. If the GOM were a state, its production would rank second behind Texas. 
The May STEO projection for the GOM output has been added to this chart and projects output to be 1,847 kb/d in December 2022. This is an increase/revison of 59 kb/d over the previous report.
1) Short Term Energy Outlook
The STEO provides projections for the next 13 – 24 months for US C + C and NGPLs production. The June 2021 report presents EIA's updated oil output and price projections to December 2022.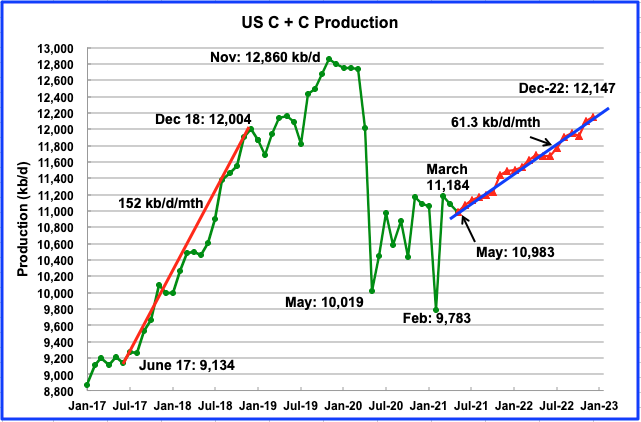 According to the June STEO, US output is projected to decrease in April 2021 to 11,082 kb/d and then drop further in May to 10,983 kb/d before beginning to increase in June.
The June STEO also revised down the December 2022 production forecast from 12,334 kb/d to 12,147 kb/d, a drop of 187 kb/d. Starting in June, the revised forecast drops the average monthly US output increase to 61.3 kb/d/mth from last month's estimate of 75 kb/d/mth. This rate is less than half the unprecedented rate from June 2017 to December 2018.
This should be welcome news to OPEC. If demand growth were to approach 1,000 kb/d in 2022, this would mean that OPEC would have room to increase their production, depending on what the rest of Non OPEC does, excluding the US.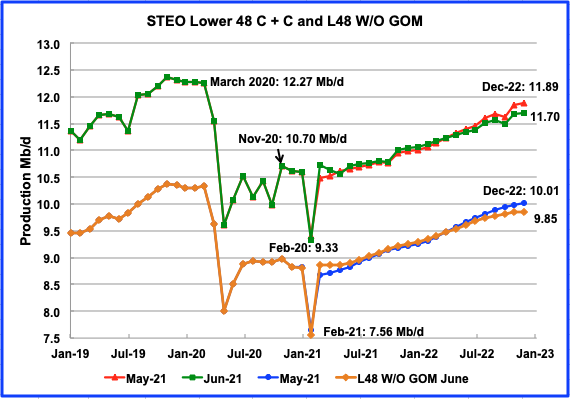 The June STEO output projection for the L48 states is very similar the one provided in the May report except for the output drop of 190 kb/d in December 2022 and the extra 240 kb/d in March 2021 which reached 10.73 Mb/d and exceeded the November 2020 level of 10.70 Mb/d.
The EIA continues to project a significant increase in production in the L48 starting in June 2021. From May 2021 to December 2022, the US will add 1.13 Mb/d by going from a daily production rate of 10.57 Mb/d in May to 11.70 Mb/d in December 2022.
In the onshore L48, L48 W/O GOM, production starts to increase in May 2021 from 8.86 Mb/d to 9.85 Mb/d in December 2022, an increase of 0.99 Mb/d. The average monthly increase in production rate from March 2021 to December 2022 is 47.1 kb/d/mth.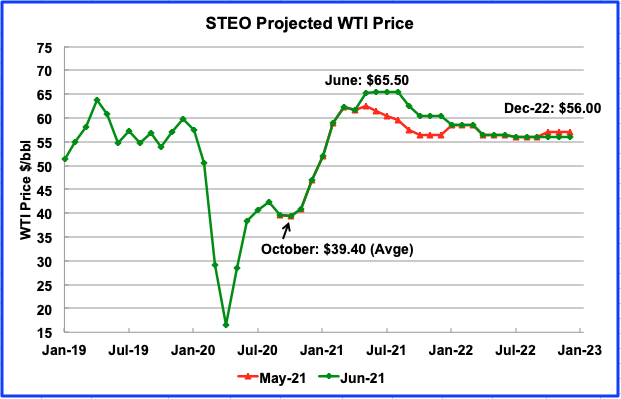 The June 2021 STEO price forecast was significantly revised up from the one in May. From May to August, WTI is expected to average $65.50. It drops to a low of $56.00/b in December 2022.
The August WTI contract settled at $75.16/bbl on July 2, higher than the EIA projection of $65.50. September Brent settled at $76.17/bbl.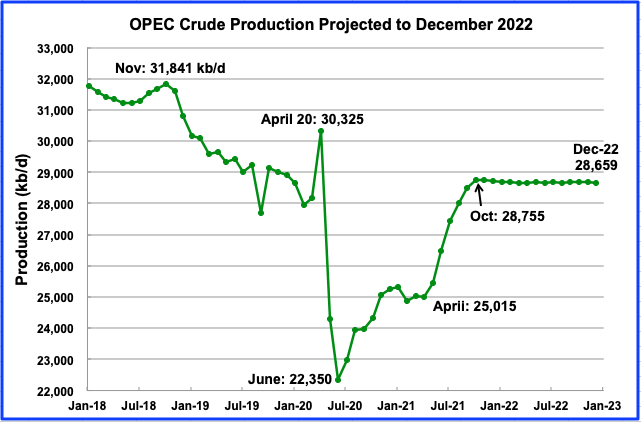 This chart shows the STEO's forecast for OPEC crude output to December 2022. OPEC's crude output is projected to increase from April to October by essentially 3,700 kb/d. After October output remains flat. The October output is virtually the same as OPEC's output on January 2020, just prior to the onset of the pandemic.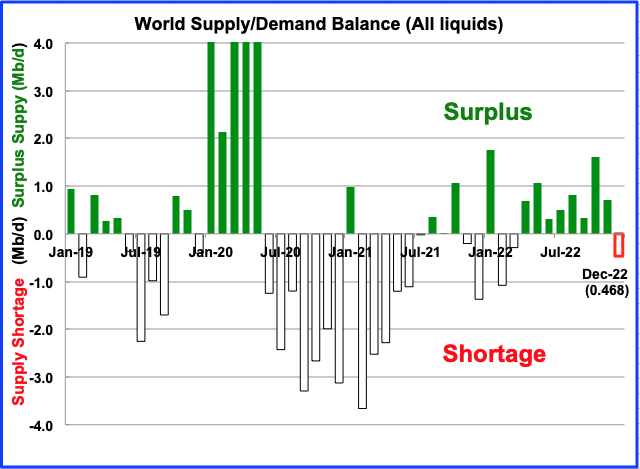 This chart show the historical supply/demand situation up to March 2021 and after that, the EIA's forecast out to December 2022. After the supply surplus from February to June of 2020, world oil supply was intentionally reduced by OPEC and its partners. The US also reduced its output but the reduction was related more to the low price of oil. 
From July 2021 to December 2022, the STEO is forecasting an average surplus of close to 322 kb/d. To get an idea of how this forecast changes, a record will be kept of the December 2022 shortage to see if it rises or falls. A recent report indicates that OPEC is concerned with the surplus shown after July 2022.
In the May report, the December 2022 deficit was 0.88 Mb/d. In the June report it has been reduced to 0.468 Mb/d.
2) Drilling Productivity Report
The Drilling Productivity Report (DPR) uses recent data on the total number of drilling rigs in operation along with estimates of drilling productivity and estimated changes in production from existing oil wells to provide estimated changes in oil production for the principal tight oil regions. The following charts are updated to July 2021.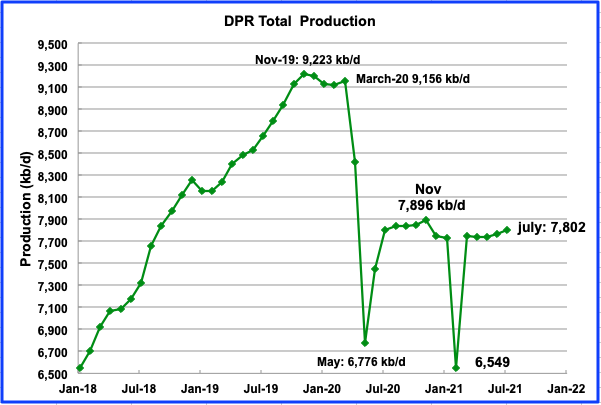 Above is the total oil production from the 7 DPR basins that the EIA tracks.  Note that the DPR production includes both LTO oil and oil from conventional fields
The DPR is projecting output for July 2021 to increase by 37 kb/d over June to 7,802 kb/d. From March to July, output in the DPR increased by 51 kb/d.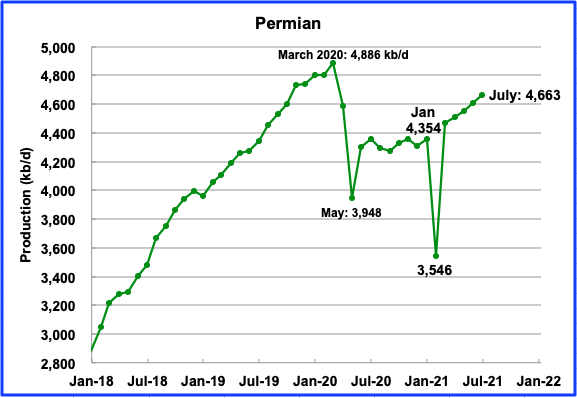 Permian output in July 2021 is projected to be 4,663 kb/d, up by 56 kb/d from June. From January to July production increased by 309 kb/d or approximately 51.5 kb/d/mth.
During June, 235 rigs were operating in the Permian, up from 100 in November.  These 235 rigs are clearly sufficient to offset the decline from older wells and are increasing production.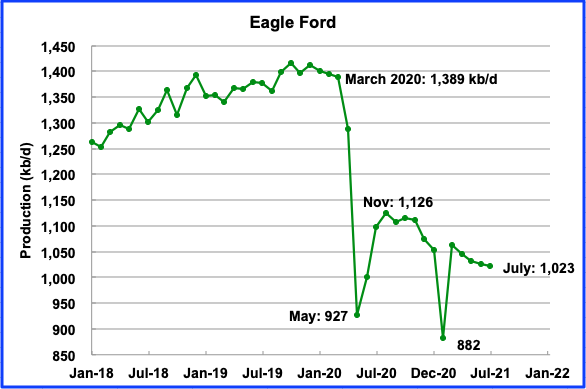 Eagle Ford's output reached a recent peak in November after shut in wells were brought back online and then output began to decline. In July, Eagle Ford's output is expected to drop by 4 kb/d to 1,023 kb/d.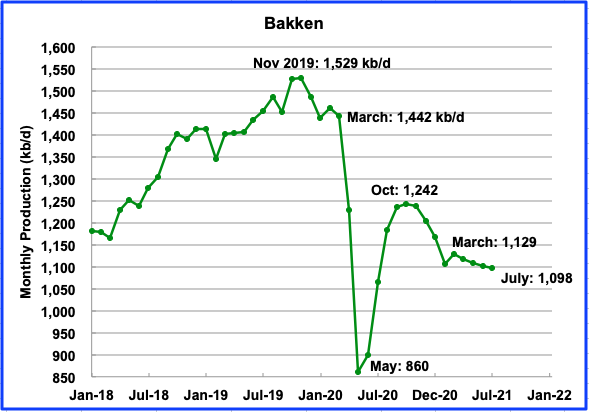 The DPR forecasts Bakken output in June to be 1,098 kb/d a decrease of 4 kb/d from June.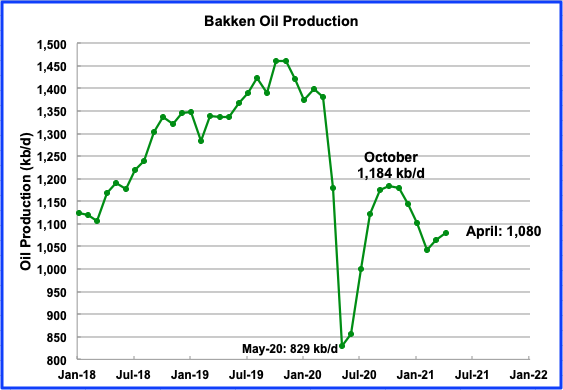 This chart shows Bakken oil production as reported by the ND Oil and Gas division. While the ND O & G division is reporting an increase of 6 kb/d in April, the DPR is projecting a decrease of 11 kb/d in the previous chart.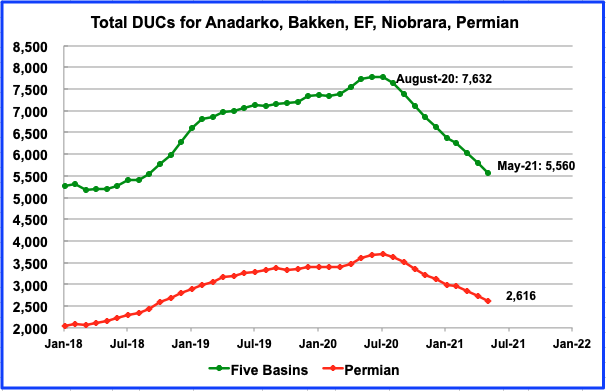 During May, 233 DUCs were completed in the five major oil basins as the DUC count fell from 5,793 in April to 5,560 in May. The average numbers of DUCs completed each month since August 2020 is 230/mth. Of the 233 completed DUCs in May, half, 115, were completed in the Permian.
3) LIGHT TIGHT OIL (LTO) REPORT
The LTO database provides information on LTO production from seven tight oil basins and a few smaller ones. The June report projects the tight oil production to May 2021.
June's LTO output is expected to decrease by 15 kb/d to 7,030 kb/d. Note that May's output is still lower than August 2020 output by 41 kb/d. In the June report, April's forecast output of 6,923 kb/d was revised up to 7,045 kb/d.
The June report revised February output further down from 6,028 kb/d to 5,952 kb/d.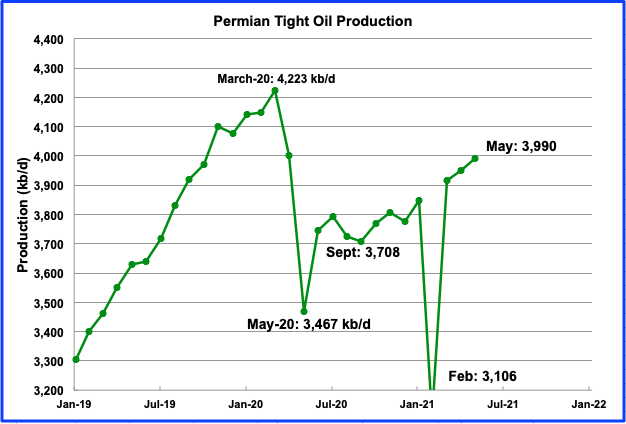 Permian LTO output in June is projected to increase to 3,990 kb/d, an increase of 39 kb/d. From the September low of 3,708 kb/d, LTO output in the Permian is increasing at an average rate of 35.3 kb/d.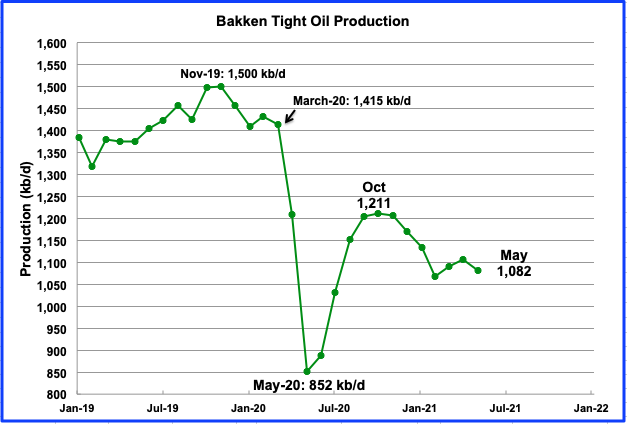 The Bakken's May output is expected to decline. May's production dropped by 24 kb/d to 1,082 kb/d.
The Eagle Ford basin is expected to produce 925 kb/d in May, a decrease of 11 kb/d from April. May's decline continues the trend that started in December 2020.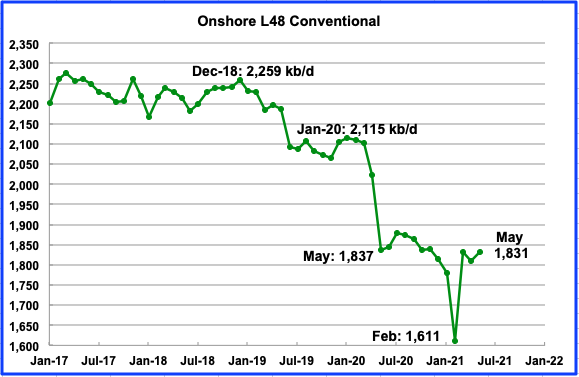 Conventional oil output in the On-shore L-48 is expected to increase by 22 kb/d to 1,831 kb/d in May 2021. This estimate is based on a combination of the May LTO output and the June STEO report that projects US on-shore L48 to May.
On a YoY basis, May to May, production of conventional oil is essentially flat, i.e. just down by 6/kb/d.
4) Rigs and Fracs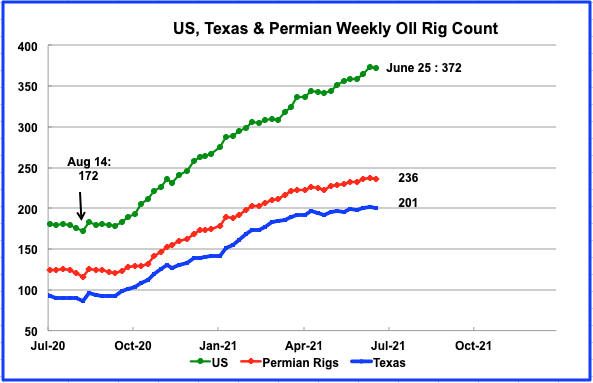 There is a hint that the addition of weekly oil rigs is slowing. It is most pronounced in Texas, from April to June 2021. From the end of April to the week of June 25, Texas only added 7 oil rigs. In the week ending July 1, 4 oil rigs were added in the US to raise the total to 376. The Permian added 1 to 237.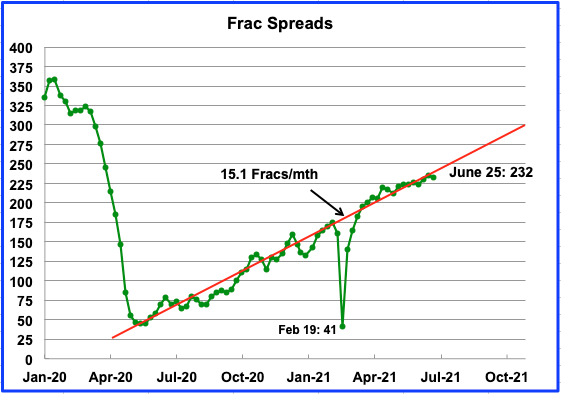 Frac spreads continue to be added at a rate of approximately 15 spreads per month. In the week ending July 2, 2 frac spreads were added for a total of 234.
World Oil Production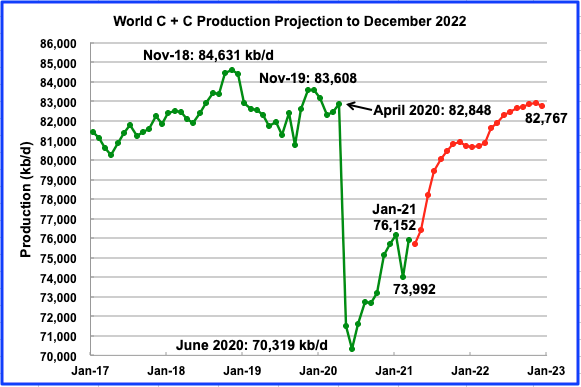 March's world oil production increased by 1,899 kb/d to 75,891 kb/d according to the EIA. The biggest contributors to the increase were the US, 1,401 kb/d, and Russia, 150 kb/d. The US increase was simply the recovery of oil output from the severe winter storm that affected Texas and other US gulf coast states in February.
This chart also projects world production out to December 2022, red graph. It uses the June STEO report along with the International Energy Statistics to make the projection. It projects that world crude production in December 2022 will be close to 82,767 kb/d.
Note that the December 2022 output was revised up from March's EIA's production report by 127 kb/d.