Welcome to the US oil production edition of Oil Markets Daily!
EIA's weekly oil storage report this week came in pretty much smack in line with our estimate once you take into account SPR. Implied US oil production came in around ~11.17 mb/d, making the last two-week average ~10.783 mb/d.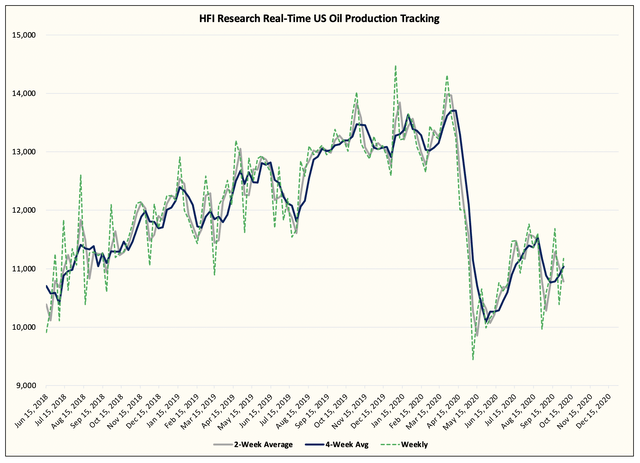 Source: HFI Research
We have created the real-time US oil production tracking chart above.
Now you can see the implied US oil production on a weekly, two-week average, and four-week average basis.
What you will notice is that the peak observed back in March was significantly higher than what EIA reported. We talked about this last week in our variant perception piece.
With September US oil production now set at ~11 mb/d average, the implied decline rate between August and September excluding shut-ins is around ~500k b/d.
This ~500k b/d is unlikely to be repeated in October as we suspect much of it is due to the initial pump-up in production right after the shut-in ended. But going forward, we are seeing the implied US oil production around ~10.8 mb/d for October, which would be directly in line with our estimate.
Now looking at EIA's recent update on US oil production, we've arrived at the conclusion that the team at EIA is going to be vastly off on the prediction of US oil production into the end of the year.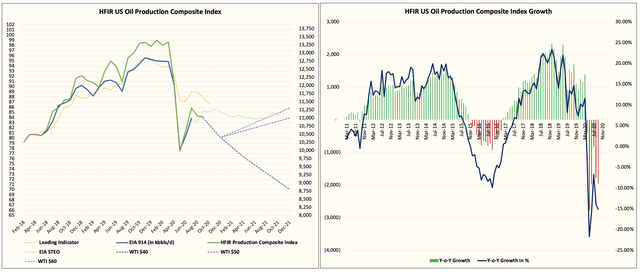 Source: EIA, HFI Research
As you can see, we already have September lower than what the EIA projected, and Oct/Nov/Dec will all be below EIA's estimate.
The stark difference will be reflected by Q1 next year, and given how off EIA already is, that means its exit 2021 production forecast is going to be off as well with the caveat that if WTI does rise to $60/bbl, then EIA will be right for the wrong reason.
This outlook, in our opinion, solidifies our view that oil prices have to go up or else the supply difference will be too large to overcome especially in a normalizing demand environment.
For now, we have US oil production falling to ~10.4 mb/d by year-end. This would represent a ~3 mb/d drop since March of this year or ~75% of estimated OPEC total spare capacity (assuming Iran returns 100%) as of Dec 2019.