Post Carbon Institute's LTO Reality Check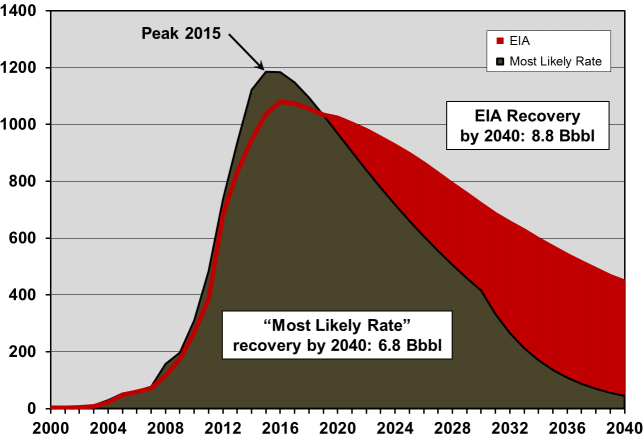 The Post Carbon Institute has just released a critique of the EIA's Light Tight Oil projections. It is titled DRILLING DEEPER. The report is highly critical of the EIA's projections and should be read by everyone interested in Peak Oil.
All data on all charts is in million barrels per day unless otherwise specified.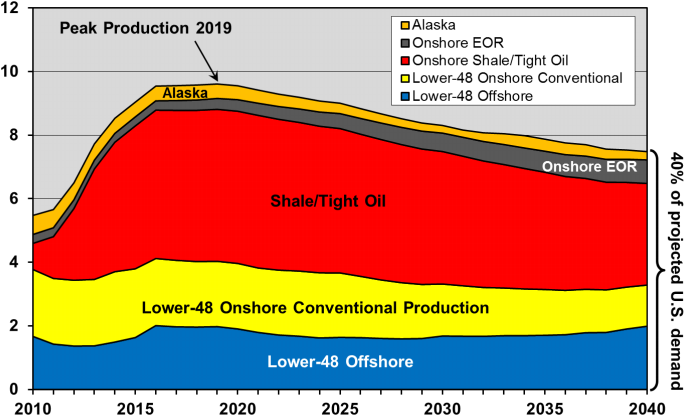 First a look at the EIA oil projections for US production from all sources. They expect offshore to increase to 2 million barrels per day by 2016, an increase of almost 600,000 bpd from current production. Also note that the EIA has US almost peaking in 2016 and increasing only slightly until the peak in 2019.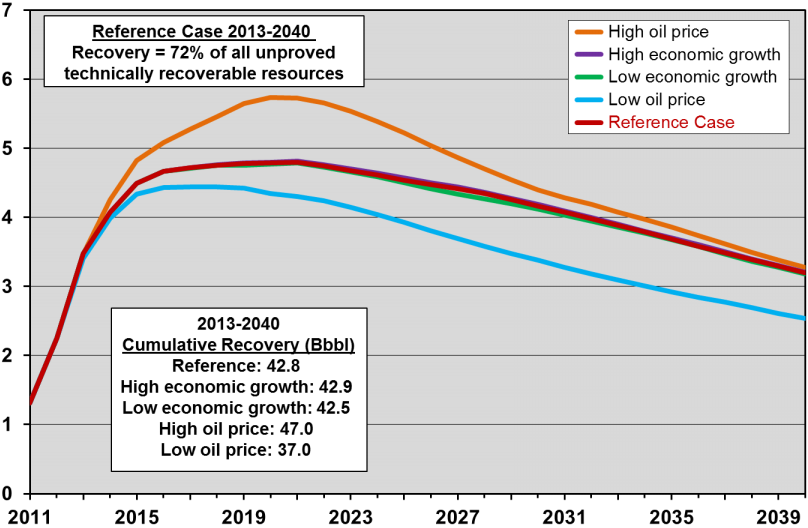 The EIA has several projections, covering all bases. However the reference, or most likely, will be the only one covered in this post.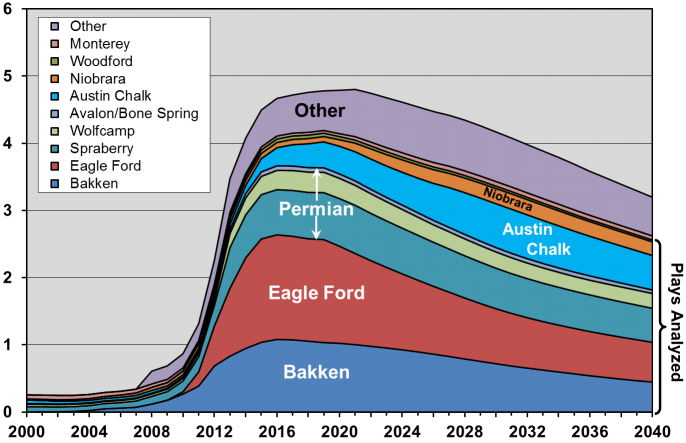 Here is where all the Light Tight Oil will be coming from. They have the Bakken peaking in 2016 at 1.1 million bpd and Eagle Ford peaking at about the same time at 1.5 to 1.6 million bpd.
While they have the Bakken and Eagle Ford peaking in 2016 all the rest continues to increase and peaks much later. And they have the rest declining faster than the Bakken and Eagle Ford.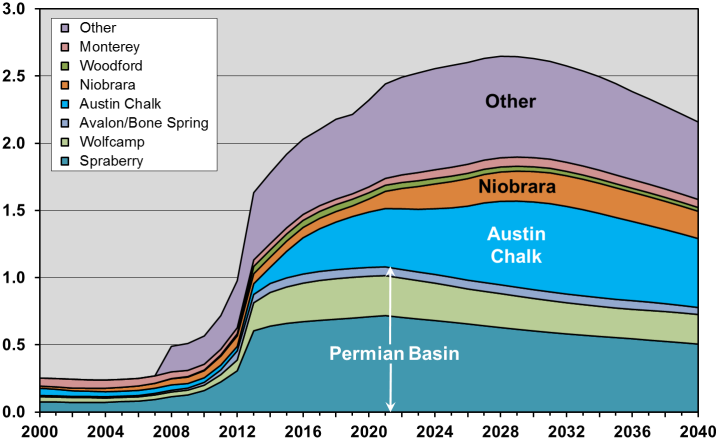 They have all other tight oil plays peaking in 2028 at about 2.65 million bpd with the Austin Chalk and "Other" growing the most.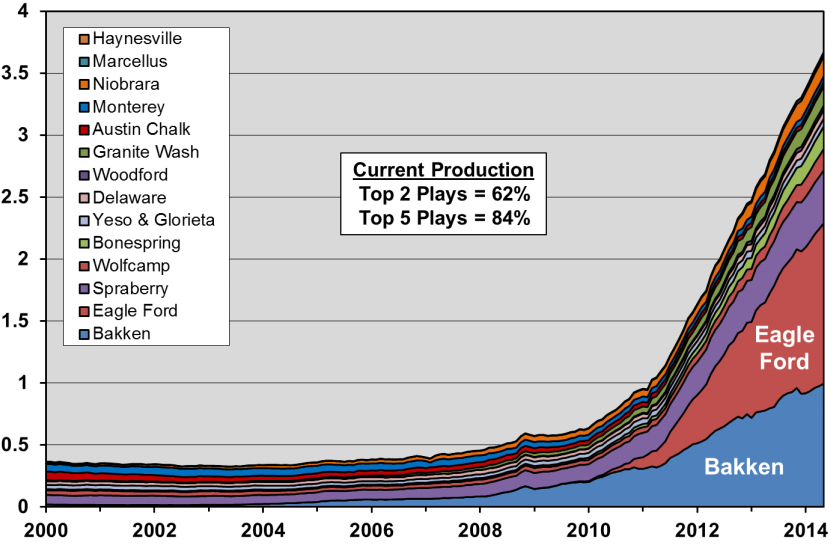 62% of all Shale oil is currently coming from the Bakken and Eagle Ford. But by 2028 the EIA says that will be reversed with over 60% coming from outside those two plays.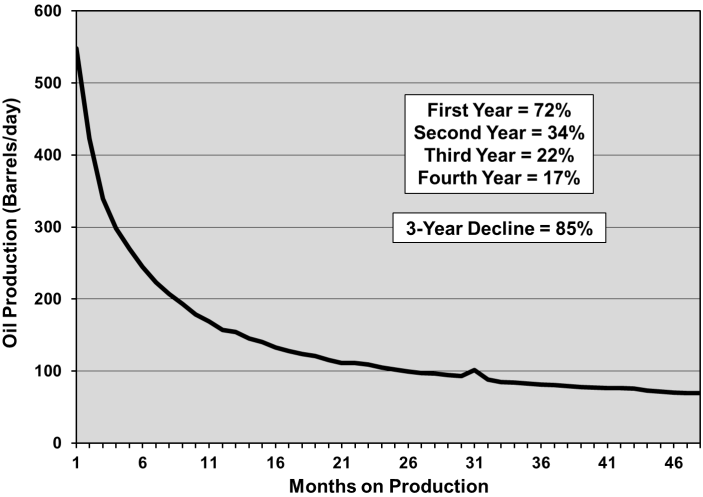 We now have a much better handle on the decline rate. It is far worse than we thought, declining 72% the first year.
The Post Carbon Institute's take on things are a little different. They have the initial production a little higher than the EIA but dropping off much faster.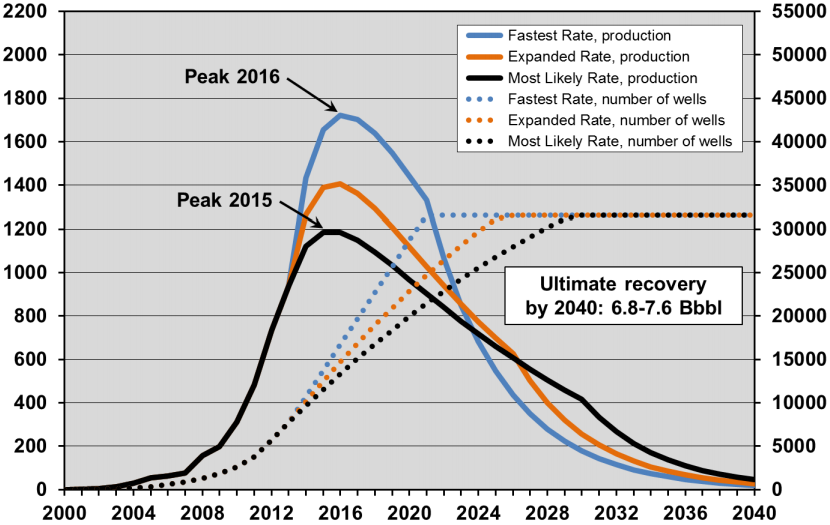 The Post Carbon Institute produced three cases, a Low Well Density Case, and Optimistic Case and a Realistic Case. And all three cases have three rates. In all cases the higher the initial production rate the faster the decline rate. I have posted here the Realistic Case.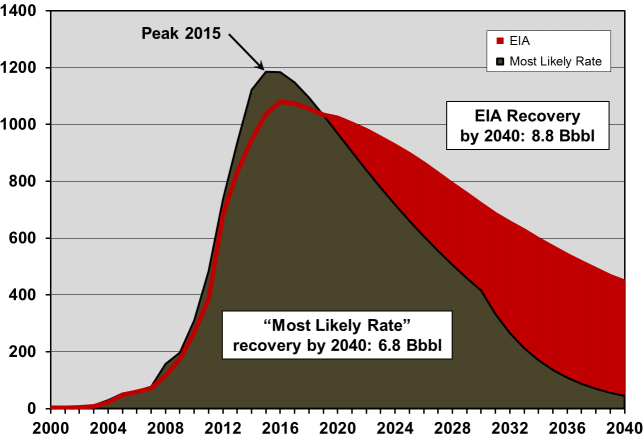 Here we can see the difference in what the EIA predits and what the PCI predicts. The EIA has production still going relatively strong by 2040 while PCI has both the Bakken and Eagle Ford petering out.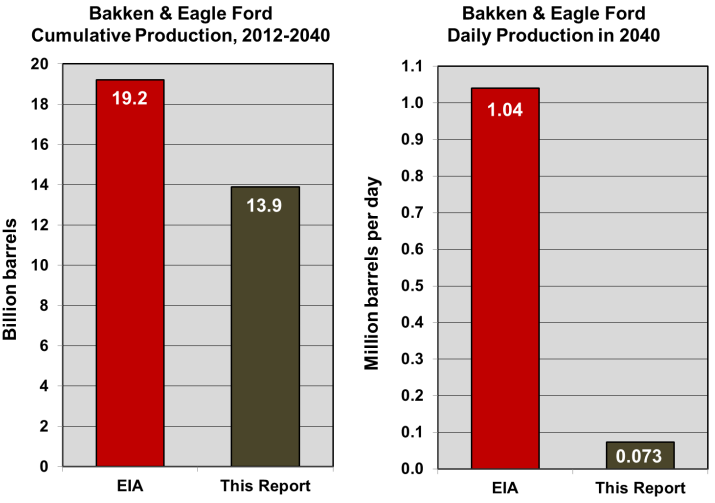 That difference is made more clear in this chart.
Bakken Conclusions
1. High well- and field-decline rates mean a continued high rate of drilling is required to maintain, let alone increase, production. The observed 45% per year field decline rate requires the drilling of 1,470 wells per year just to maintain current production levels.
2. The production profile is most dependent on drilling rate and to a lesser extent the number of drilling locations (i.e., greatly increasing the number of drilling locations would not change the production profile nearly as much as changing the drilling rate). Drilling rate is determined by capital input, which currently is about $16 billion per year to drill 2,000 wells, not including leasing and other ancillary costs.
3. Peak production is highly likely to occur in the 2015 to 2017 timeframe and will occur at between 1.15 and 1.77 MMbbl/d. The most likely peak is between 1.15 and 1.22 MMbbl/d in the 2015 to 2016 timeframe.
4. Increased drilling rates will raise the level of peak production and move it forward a few months but do not appreciably increase cumulative oil recovery through 2040. Increased drilling rates effectively recover the oil sooner, making the supply situation worse later.
5. The projected recovery of 6.8 billion barrels by 2040 in the "Most Likely Rate" scenario (2,000 wells/year declining to 1,000 wells/year) of the "Realistic" case (80% of play drillable, at 3 wells per square mile), agrees fairly well with the mean estimate of latest USGS assessment of the Bakken (including the Three Forks) of 7.4 billion barrels.
6. These projections are optimistic in that they assume the capital will be available for the drilling "treadmill" that must be maintained (roughly $188 billion is needed to drill more than 23,500 wells, exclusive of leasing and ancillary costs). This is not a sure thing as drilling in the poorer-quality parts of the play will require much higher oil prices to be economic. Failure to maintain drilling rates will result in a steeper drop-off in production.
7. Nearly four times the current number of wells will be required to recover 6.8 billion barrels by 2040 in the "Realistic" case.
8. Projections that the Bakken will continue to grow and then maintain a plateau followed by a gentle decline for the foreseeable future51 are unlikely to be realized.
I have to add this. Five-Year Outlook: North Dakota Oil Production to Grow Steadily
On average, North Dakota oil production, which surged past the 1 million b/d mark earlier this year, will continue to grow steadily at a rate of about 18,000 b/d each month through 2019, according to a study completed in September for the state legislature.
Commissioned last year by state lawmakers, Bismarck-based engineering/planning firm Kadrmas, Lee & Jackson (KLJ) completed the work in partnership with North Dakota State University, concluding that daily production could hit the 2 million b/d level during the period.
KLJ and the university used three approaches to forecast the sustainability of oil and gas production: economic analysis of the Bakken/Three Forks shale formation; projections on population, employment and housing needs; and potential for enhanced oil recovery (EOR).
Got that, Bakken production will increase by an average of 18,000 barrels per day for the next 5+ years. 18,000 bpd increase just happens to be almost exactly what the Bakken has been averaging for the last 3 years. Here is what that chart will look like if they are correct.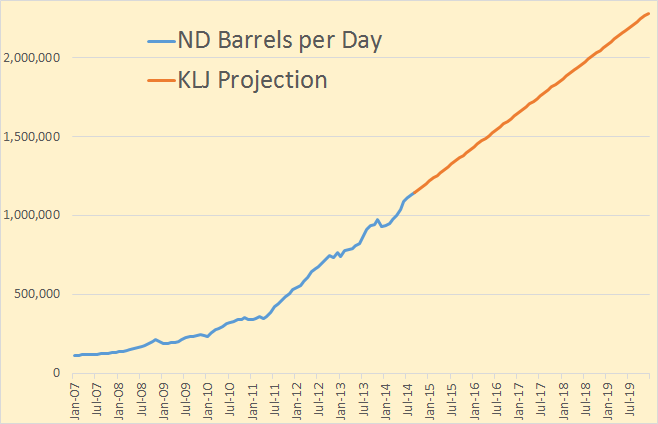 So how do they plan on keeping production increasing at 18,000 bpd every month? Easy EOR! From that report:
EOR using carbon dioxide (CO2) injections to get extra production out of mature wells has the potential to increase overall production in North Dakota, the study pointed out. "In conjunction with other non-traditional technologies, such as horizontal drilling and hydraulic fracturing, CO2 EOR should be recognized as part of a long-term production strategy for North Dakota oilfields. Modeling and analysis proves there is significant opportunity."
The primary challenges to EOR during the next five years, the study said, are the need to acquire sufficient volumes of CO2 and the oil/gas companies willingness to invest in EOR.
The study fails to mention that CO2 EOR has never been done on fractured non-porous reservoir rock. Here is how CO2 EOR works.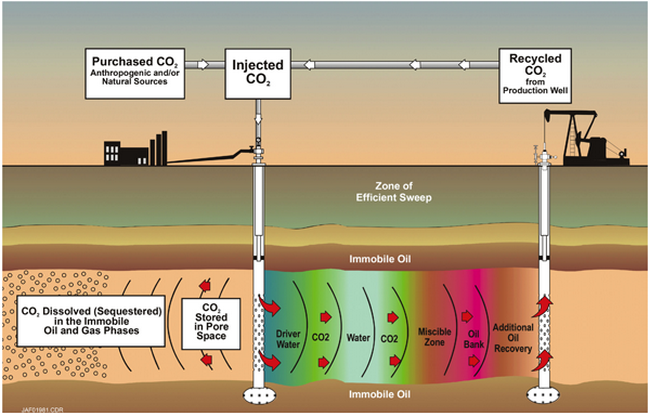 From an injection well you push CO2 into the reservoir. The pressurized CO2 combines with the oil and water and sweeps through the porous rock toward the well bore. But you can't do that in a light tight oil reservoir. There are no injection wells in the LTO reservoir. And if there were it still wouldn't work. The CO2 would hit one of the fractures in the rock and just channel all the CO2 right to the well bore and you would recover nothing but the CO2.
I did a little research and they tell me that the way they hope to do CO2 injection in a LTO field is just to push it down the original oil well bore under a lot of pressure, then let it come right back out. Okay but that sounds like it would be very inefficient. From what I read CO2 injection is already on the verge of being uneconomical.
But… there may be other ways of doing it. If you are in Atlanta from November 16th through the 21st then you can attend a seminar discussing just how it may be done. And you may be lucky. If they are looking for investors you may get in on the ground floor.
Evaluation of the EOR Potential in Shale Oil Reservoirs By CO2 Miscible Displacement Applied in Modified Zipper Fractured Horizontal Wells