Another week, another set of mostly good news for oil investors. Even though market participants right now appear to be mostly bearish or, at best, neutral regarding oil, bullish data continues to hit us on an almost weekly basis. In what follows, I will dig into some of these numbers and give my thoughts on why, right now, we could probably justify higher energy prices than what we are currently seeing.
Inventories took a tumble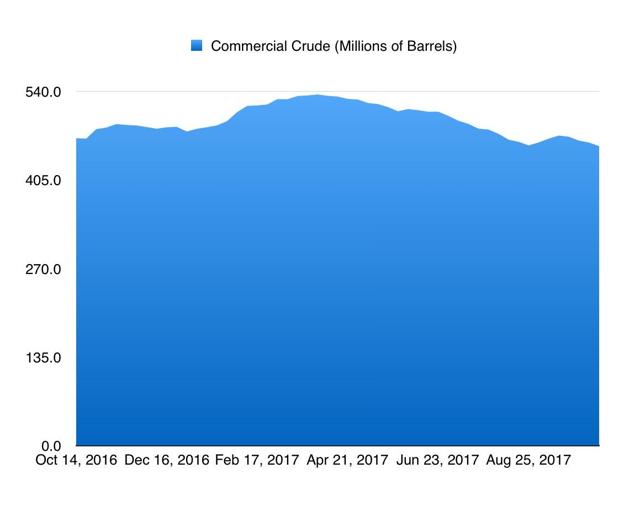 *Created by Author
In my mind, the single most important thing right now for the oil market is what inventories stand at. So far, the results are looking positive. If the EIA's (Energy Information Administration's) numbers are accurate, crude stocks last week managed to fall by 5.7 million barrels, dropping from 462.2 million barrels down to 456.6 million barrels. While this decline is smaller than the 7.1 million barrel drop estimated by the API (American Petroleum Institute), it was quite a bit bigger than the 3.2 million barrel decline forecasted by analysts. In the graph above, you can see the trend that stocks have taken over the past 52 weeks and, in the graph below, you can see the same graph but zoomed-in on so that you can more easily see weekly fluctuations.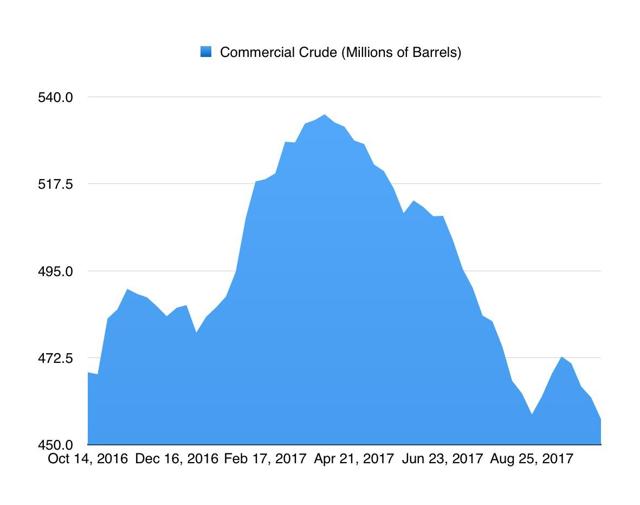 Interestingly, crude wasn't the only category to drop during the week. If the EIA's estimates are correct, the "Other" category of petroleum products saw stocks dip 1.5 million barrels down to 294.3 million barrels. This matched the 1.5 million barrel decline from kerosene-type jet fuel (down to 43.1 million barrels) and was a bit larger than the 1.2 million barrel drop in residual fuel, which ended the week at 34.6 million barrels. In last place, we had propane/propylene stocks, which declined 0.1 million barrels down to 78.8 million.
While all of this data is great, there were a couple of areas that worsened. According to the EIA, motor gasoline stocks managed to rise by 0.9 million barrels, closing out to 222.3 million barrels. In addition to that, they saw distillate fuel stocks inch up by 0.5 million barrels to 134.5 million. Fuel ethanol, meanwhile, saw its inventories end the week flat at 21.5 million barrels. Despite the noted increases in inventories, though, the decreases from elsewhere resulted in the sum of crude and petroleum product stocks falling by 8.6 million barrels from 1.2927 billion barrels down to 1.2841 billion barrels. This was all in spite of the fact that the US government unloaded 0.7 million of its own barrels onto the market during the week.
Interesting movements elsewhere
While inventory data was undeniably bullish, some areas were weak. Take, for instance, distillate fuel demand. During the week, the four-week average demand figure averaged 3.720 million barrels per day, a decrease of 6.4% compared to the 3.975 million barrels per day seen the same time last year. That said, motor gasoline demand, while weaker at 9.136 million barrels per day compared to the 9.480 million barrels per day seen a week earlier, was stronger year-over-year compared to 2016 when it averaged 8.798 million barrels per day. The four-week average figure, according to the EIA, came out to 9.345 million barrels per day, up 2.9% from the 9.083 million barrels per day seen during the same four weeks of 2016.
*Created by Author
Even though demand was mixed, production was quite positive. According to the EIA's numbers, domestic oil output came out to 8.406 million barrels per day. This represents a drop of 1.074 million barrels per day (or 7.518 million barrels for the week) compared to one week earlier when it came out to 9.480 million barrels per day. While this decrease is great to see, investors shouldn't get used to it because these results were affected by temporary shutdowns in Gulf of Mexico output caused by Hurricane Nate. In the graph above, you can see the trend that production has taken over the past 52 weeks and, in the graph below, you can see the same graph but zoomed-in on so that you can more easily see weekly fluctuations.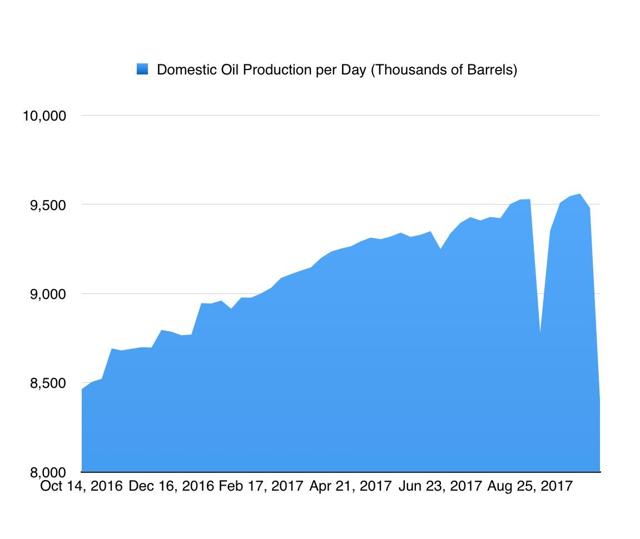 *Created by Author
Yet another drop in the rig count
In addition to the largely positive data looked at so far, I also examined data provided by Baker Hughes, a GE Company (BHGE). According to the firm, the oil rig count in the US fell by 7 units during the week, dropping to 736. This represents just the latest in a series of rig count falloffs this year, but it should be mentioned that we are still quite a bit above the 443 units in operation the same time last year. Meanwhile, in Canada, the oil rig count dropped by 5 units to 107. This too is positive, but it is still above the 69 units operating during the same week last year.
An interesting observation
One thing I noticed of significance about this data was that the sum of crude and petroleum product stocks, which came out to the 1.2841 billion barrels I mentioned above, is now below the 1.286 billion barrels the EIA thought it should be by the end of this year. This is odd because the EIA has been forecasting a pretty sizable drop in total inventories from the third quarter to the fourth, so I decided to look into things a bit more. In its latest Short-Term Energy Outlook, the organization stated that inventories at the end of the third quarter this year came out to 1.328 billion barrels.
This is odd because data thus far shows a far different picture from that. In the week ending September 29th, inventories totaled 1.2945 billion barrels. And in the week ending October 6th, they came out to 1.2927 billion barrels. So, unless we had a really large short-term spike, something's off. If this difference were caused by a change in the EIA's expectations regarding where inventories are today, I imagine those numbers would have been accounted for in the weekly numbers by now, but that is simply not the case. Instead, we are left with a scenario where, in its monthly report, stocks are being overstated by between 33.5 million barrels and 35.3 million barrels.
This data means, in my view, that if the weekly numbers are correct (and I can't see why they wouldn't be given the EIA's time to change them if they're not), it would be shocking if we don't see some sort of inventory drop moving forward. I echoed this stance in a prior article, but at that time I had not paid attention to the third quarter difference reported by the EIA. If my view on this is correct, I believe that we could see inventories approach the 1.25 billion barrel mark by the end of this year, meaning that we should average continued declines of around 3 million barrels per week for the rest of this year, if not more.
Takeaway
Based on the data provided, it's clear now that oil is recovery fundamentally. That said, we have seen no such change reflected in price that seems to recognize this fact. While not everything is perfect, and there's plenty of room for improvement, the fact of the matter is that matters are getting better and, in all likelihood, will continue to get better moving forward.