Oil prices continue to move higher and have been hovering around $50 per barrel after the EIA (Energy Information Administration) came out with a weekly report showing some mixed, but generally very positive, data regarding inventories, production and demand. In response to this, I've decided to look into the picture and discuss what it means for investors in companies like Memorial Production Partners (NASDAQ:MEMP), Approach Resources (NASDAQ:AREX), and Legacy Reserves (NASDAQ:LGCY), as well as for those in the United States Oil ETF (NYSEARCA:USO) and other oil-related ETFs.
Mixed but positive inventory data
The single most celebrated piece of data reported by the EIA for the week was the fact that crude inventories fell week-over-week. According to the organization, crude stocks came in at 537.1 million barrels for the period, down by 4.2 million barrels from the 541.3 million seen a week earlier. This is great news but markets initially reacted negatively (only to move higher again) because this was actually a smaller amount than the 5.1 million barrels estimated by the API (American Petroleum Institute) a day earlier. In the graph below, you can see the past 52 weeks of crude inventories.
(click to enlarge)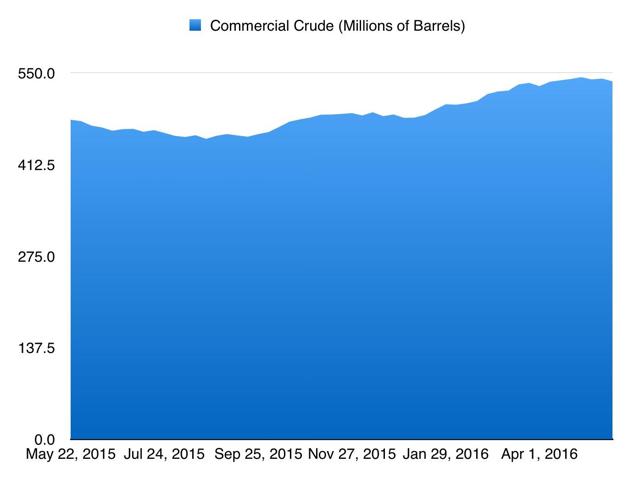 Fortunately, crude stocks weren't the only category to report a draw. According to the EIA, distillate fuel dropped by 1.3 million barrels for the week, falling from 152.2 million barrels to 150.9 million. Fuel ethanol managed to dip by 0.3 million barrels from 21.1 million barrels to 20.8 million. Meanwhile, kerosene-type jet fuel, residual fuel, and propane/propylene all managed to fall a very modest 0.1 million barrels for the week.
While this is good news, there were a couple of dim spots in the EIA's report. If their estimates are accurate, motor gasoline inventories grew by 2 million barrels from 238.1 million to 240.1 million. This is a major negative in my mind since motor gasoline is probably the most important supply category outside of crude itself. The only other category to increase during the week was the "other" category of petroleum products, which grew by 3.1 million barrels from 256.8 million to 259.9 million. Because of these two, total crude plus petroleum products declined by a paltry 0.9 million barrels from 1.3687 billion barrels to 1.3678 billion. Any drop is important but I would have liked to see the decline here be larger.
Production is falling and demand is staying strong
One very positive indicator, in my mind, was the weekly production number provided by the EIA. According to the data provided by the organization, domestic output came in at 8.767 million barrels per day. While this is still higher than it needs to be, it represents a decline of 24 thousand barrels per day (or 168 thousand barrels for the week) compared to the 8.791 million barrels per day seen the same period a week earlier. In and of itself, this decline is not large but the overall trend, as pictured below, shows that the market is quickly rebalancing. It should be mentioned, however, that some of the drop (a larger portion than the production contribution) can be chalked up to falling imports, which dropped by 362 thousand barrels per day (or 2.534 million for the week) thanks to supply outages in Canada in light of the Fort McMurray wildfire.
(click to enlarge)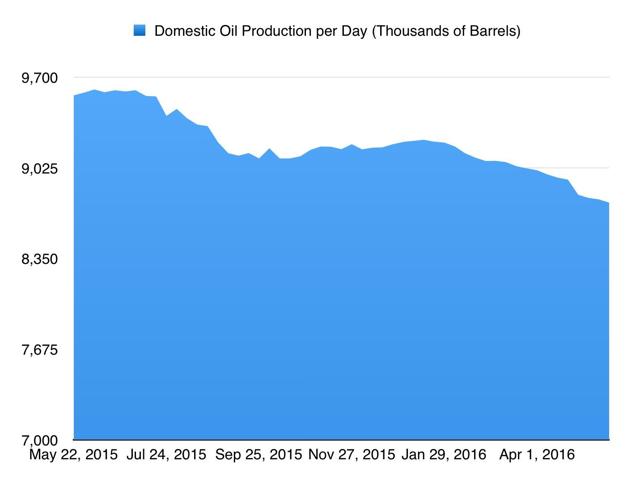 Demand also stayed firm but could have been better. During the week, motor gasoline demand averaged 9.516 million barrels per day. This is lower than what we saw a week earlier and is about 2.2% below last year's number, but the important indicator here is the four-week average. According to this metric, motor gasoline has averaged 9.608 million barrels per day, an increase of 3.9% from the 9.245 million barrels per day seen during the same four-week period last year. Despite having made up some ground recently, the four-week average for distillate fuel demand is about 4.094 million barrels per day, a decrease of 0.9% from last year's metric of 4.130 million barrels per day.
Rigs have resumed their fall
Although not significant, the number of rigs during the week resumed their fall after seeing a prior week where the count remained flat. According to Baker Hughes (NYSE:BHI), the number of oil rigs operating in the U.S. fell by 2 units to 316. This represents a decline of 51.1% compared to the 646 rigs that were operating the same time last year. Meanwhile, the number of rigs operating in Canada during the week fell by another 2 units to 14. This represents a decline of 68.2% from the 44 seen operating the same week a year earlier. Overall, these declines (especially for the U.S.) aren't that great but it is positive to see units continue to come offline, which should only result in lower production in the long run.
Takeaway
At this moment, Mr. Market is looking in a more and more optimistic light at the oil market. While I am concerned that there's a risk that oil prices are rising too quickly (which could, in theory, push production higher), the overall data is very attractive at this point in time. Eventually, we will need to see production fall further (something that is continuing to happen) and we will also need demand (domestic and foreign) to stay strong in order to rebalance, but I continue to remain bullish on crude for the foreseeable future.
Disclosure:I am/we are long MEMP, AREX.
I wrote this article myself, and it expresses my own opinions. I am not receiving compensation for it (other than from Seeking Alpha). I have no business relationship with any company whose stock is mentioned in this article.