Looking at North Dakota oil production by county, and historical production by county, gives a better  perspective of what is happening in the Bakken and the rest of North Dakota than just looking at total production.
The data is available here: ND Historical Barrels of Oil Produced by County You will notice it says:(Confidential Wells are Not Included). However the total North Dakota does include confidential wells. I have simply took each counties percentage of the total, and added that percentage to their total and came up with a very close estimate to their final production.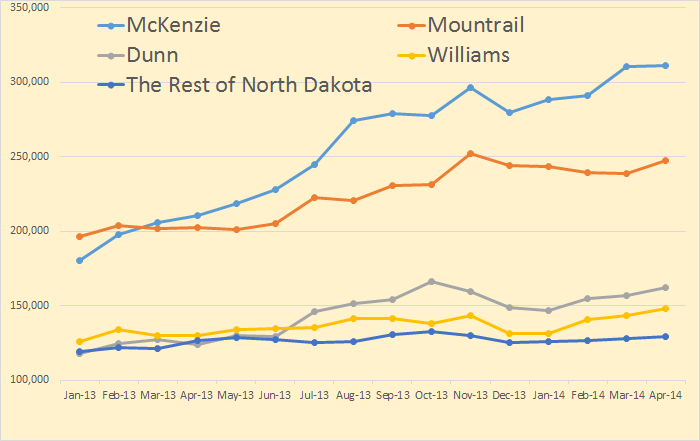 The above chart is after adjustment for confidential wells. Even the lowest producer of the big four, Williams County, outproduces the rest of North Dakota combined.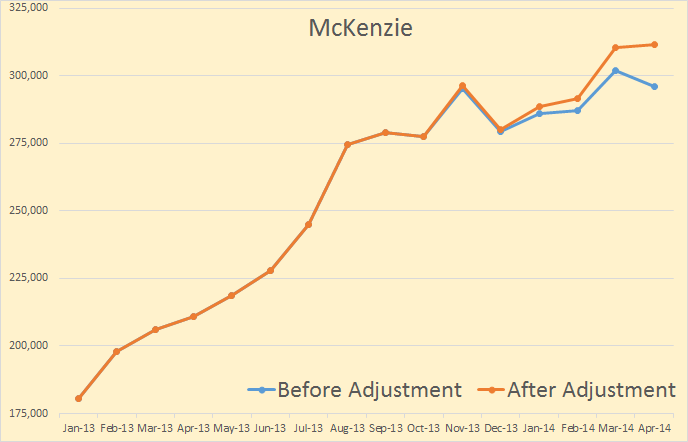 McKenzie surprised me a little this month. Although North Dakota production was up almost 24,000 barrels per day, their largest producing county was up only 942 bp/d after adjustment.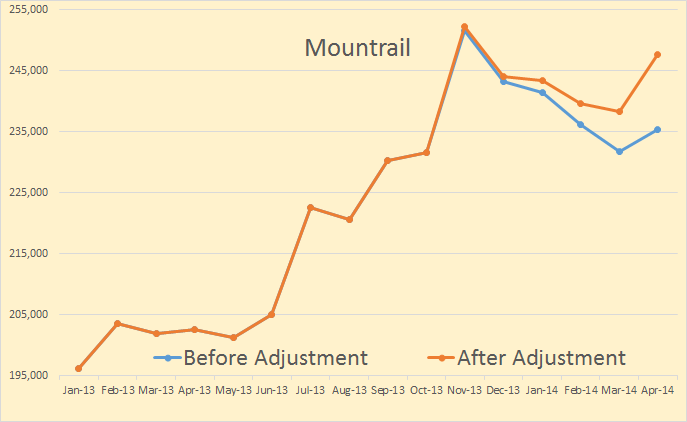 But the real surprise was Mountrail, up 9,222 bp/d after adjustment. I am confident that this high production, along with McKenzie is an anomaly. I will explain below.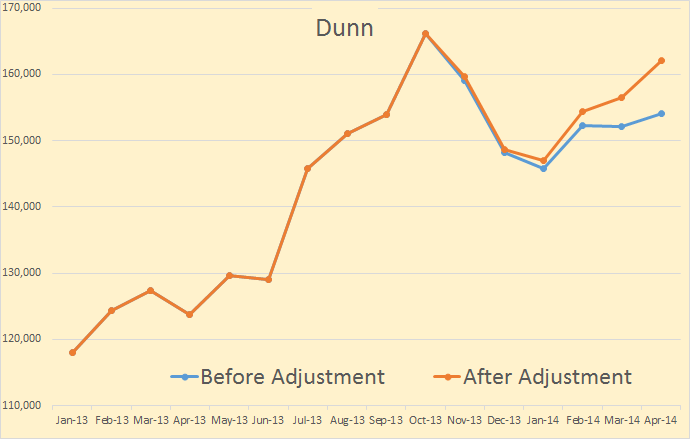 Dunn County was up 5,544 bp/p after adjustment.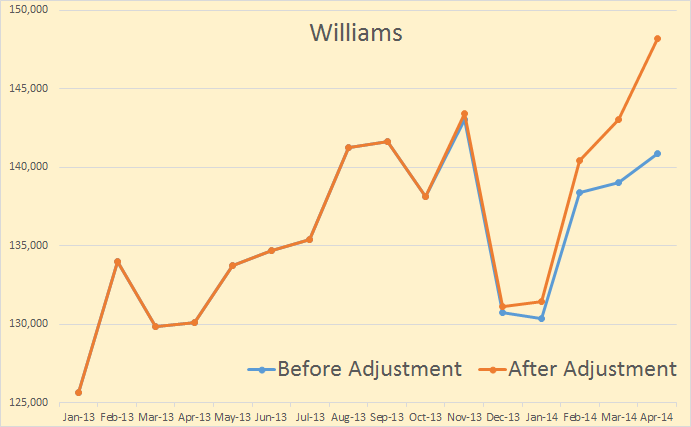 Williams County, the lowest producer of the big four, was up 5,135 bp/d after adjustment.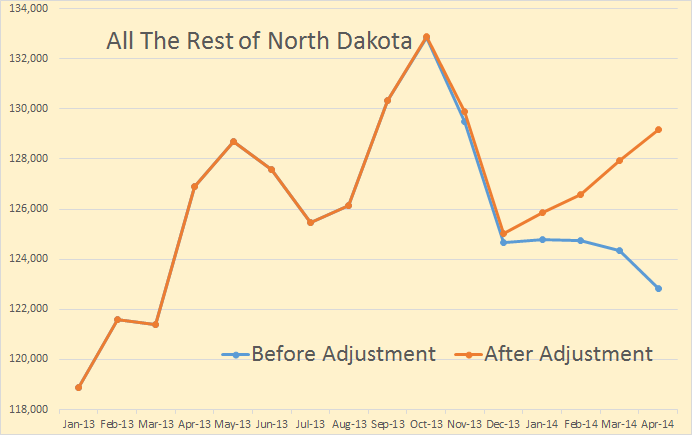 The combined production of all the rest of North Dakota counties was up 1,259 bpd after adjustment.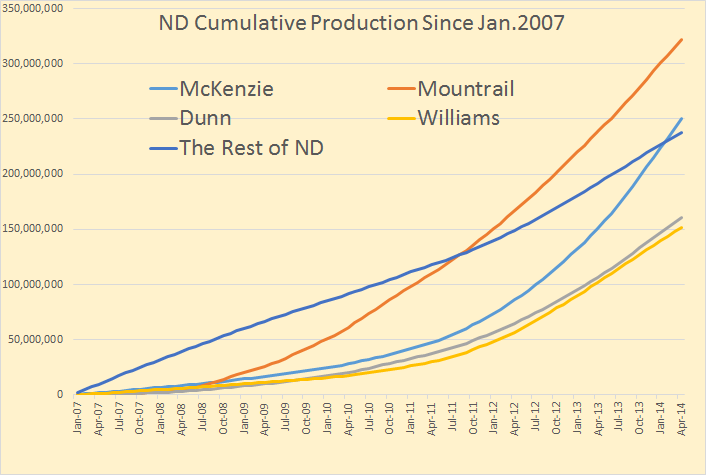 This chart is not total cumulative production but production since January 2007.  2007 is about the time, or slightly before the time, that heavy drilling and fracking started in the Bkken. From the start the big producer was Mountrail County and has, since 2007, outproduced McKenzie county by almost 72 million barrels. But Montrail county production has since slowed considerably.
Production in Mountrail County will continue to slow because only 17% of drilling rigs are working in that county while 37%, more than twice as many rigs, are working McKenzie County. 18% of North Dakota rigs are working Williams County, 14% are working Dunn County and 14% the rest of North Dakota.
The number of rigs in each county vary, but only slightly, from week to week.
A note of interest, North Dakota has produced 1,123,507,162 barres since January 1st, 2007.
On another subject, I had planned on a post based on the EIA's Petroleum Supply Monthly which just came out. But it was pretty boring. The EIA is still estimating Texas production to increase 48,000 barrels per day month after month. And I think they are estimating Gulf of Mexico production way too high.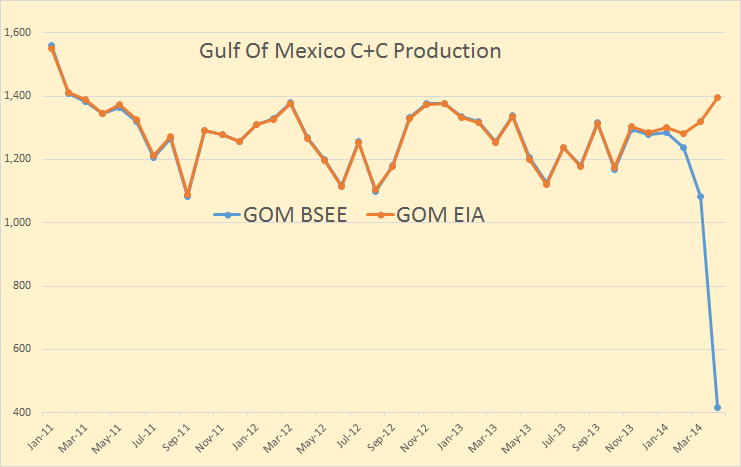 BSEE is a little like Texas RRC, their data is delayed. Except the RRC data is sometimes delayed up to two years where the BSEE data is pretty much in after three months. So the EIA just guesses at where the data will be when it all comes in. But I think that in the case of the GOM they are guessing way too high. They have the GOM up 38 kb/d in March and up 75 kb/d in April. They have US production up 165 kb/d in March and up 202 kb/d in April to 8,378,000 barrels per day. That seems a bit much.
The EIA is predicting the Gulf of Mexico will produce 2 million barrels per day by 2016. They may be trying to rush it a bit.
But there is finally something in MSM, The Washington Post in this case, that I can agree with.
James Woolsey, a former director of the CIA and self-proclaimed energy hawk, argues that the Organization of the Petroleum Exporting Countries (OPEC) has a grip on global oil and gasoline prices so tight that the United States will never be free of its influence. Like most people, Woolsey wrongly believes that OPEC is a powerful cartel.
In reality, OPEC rarely if ever influences its members' oil production rate. It has almost no impact on prices, except under rare conditions. OPEC has been coasting on a reputation gained in 1973, perpetuating – and benefiting from – a myth about its own importance. It is long past time that myth was dispelled….
The real cost of the OPEC myth is political. Politicians in oil-importing countries blame OPEC for manipulating world oil markets, especially during times of high gasoline prices. For instance, NOPEC (No Oil Producing Exporting Cartels) bills have been introduced to the U.S. Congress over a dozen times since 1999, though none has passed. These bills distract Congress and the public, thereby imposing an opportunity cost on the political system and contributing to congressional paralysis. (Worse still, some politicians seem to know full well that OPEC doesn't matter, but like a scapegoat for high prices.) The myth also causes U.S. diplomats to waste valuable political capital when they kowtow to various members of OPEC. Government officials are liable to defer to OPEC members and offer (modest) favors in exchange for changes in oil production.
All in all, the West would be better off if it stopped assuming that OPEC drives oil markets. It does not. Most of the credit or blame for rising oil prices in recent years rests with Asian customers, not diabolic moves by OPEC. With the price of oil set by market forces almost entirely outside of its control, OPEC is along for the ride like everyone else.
The article also points out that only Saudi Arabia has any spare capacity, that other OPEC members are pumping all the oil they can. Well… they were wrong on that point, at this time Saudi is also pumping all the oil they can.