Non-OPEC September Oil Production Flat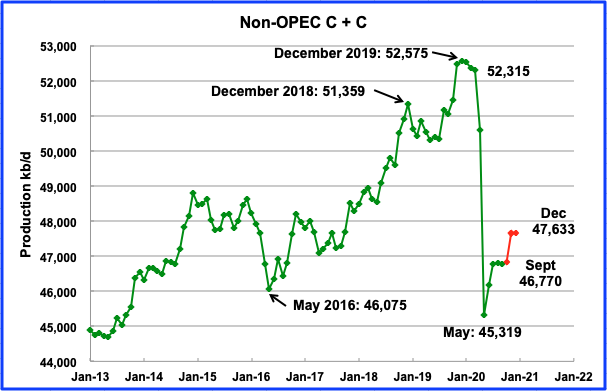 Below are a number of oil (C + C ) production charts for Non-OPEC countries created from data provided by the EIA's International Energy Statistics and updated to September 2020. Information from other sources such as OPEC, the STEO and country specific sites such as Russia and Norway is used to provide a short term outlook for future output and direction for a few countries.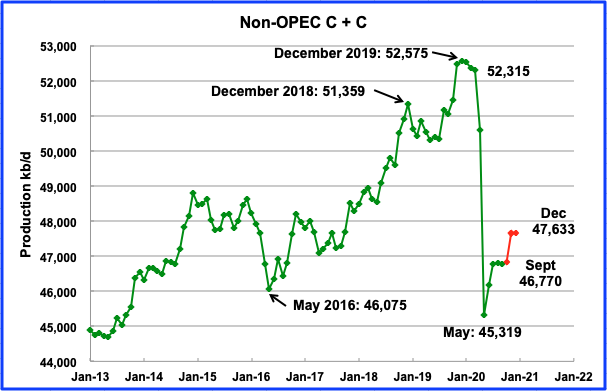 Non-OPEC production reached its current lowest production rate of 45,319 kb/d in May. According to the EIA, September output dropped 41 kb/d to 46,770 kb/d from August's output of 46,811 kb/d.
Using data from the January 2021 STEO, a projection for Non OPEC output was made to December 2020. December output is expected to be essentially the same as November at 47,633 kb/d.
Ranking Production from NON-OPEC Countries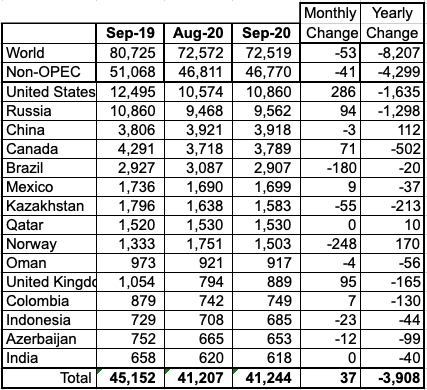 Above are listed the world's 15th largest Non-OPEC producers. They produced 88% of the Non-OPEC output in September. On a YoY basis, Non-OPEC production decreased by 4,299 kb/d while on a MoM basis, production was down by 41 kb/d to 46,770 kb/d.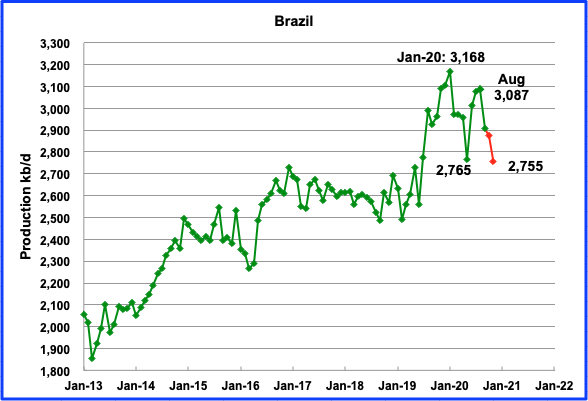 The EIA reported Brazil's September production was 2,907 kb/d, a drop of 180 kb/d from August due to maintenance and the presence of Covid on their sea platforms. According to this source, October's output dropped by 28 kb/d to 2,879 kb/d and then continued to drop to 2,755 in November. (Red markers).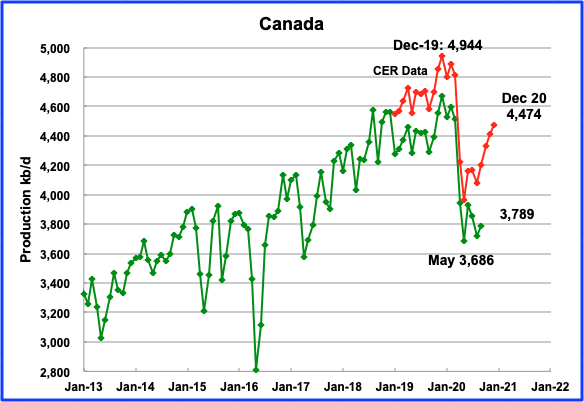 The EIA and the Canada Energy Regulator (CER) are is sync for September in that they are both showing an increase in output. The EIA is reporting that September output increased by 71 kb/d to 3,789 kb/d. The CER data is higher because it includes NGPLs in their estimates and is close to 6% of total output.
Exports by rail to the US in October were 92.8 kb/d, down from 94.4 kb/d in September and up from a low of 38.9 kb/d in July.
President Biden revoked the Keystone XL presidential permit on January 6, 2021. As the demand for Canadian heavy oil increases, the conventional and oil sands crude from Canada will be delivered by train rather than rail. However, transportation by rail is more polluting than transportation by pipeline but that doesn't seem to be an issue.
The EIA reports that China's September output decreased by 3 kb/d to 3,918 kb/d from August. This source reported crude output for October dropped by 71 kb/d and increased by 19 kb/d in November to 3,866 kb/d. (Red markers).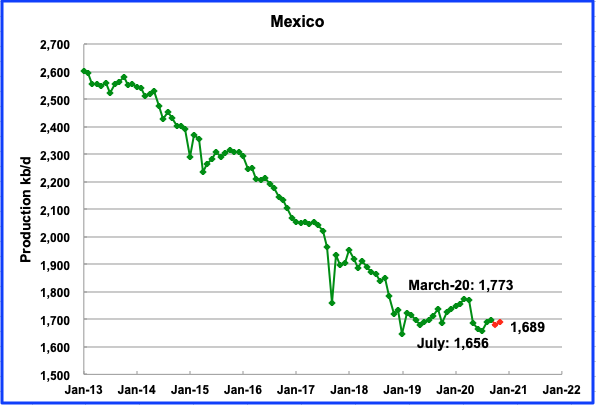 Mexico's production increased in September by 9 kb/d to 1,699 kb/d, according to the EIA. Data from Pemex shows that production in November was 1,689 kb/d, down 10 kb/d from September (Red markers).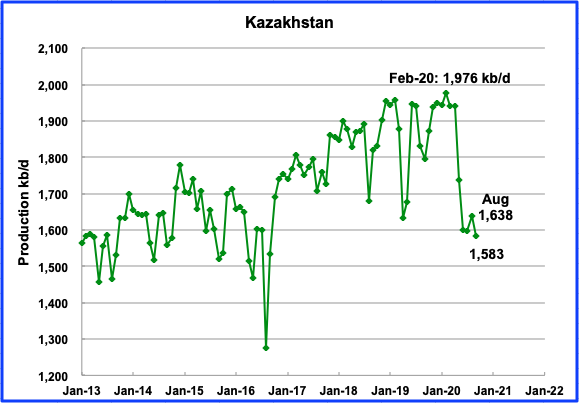 Kazakhstan's September output dropped by 55 kb/d to 1,583 kb/d. The big drops in May and June are associated with their commitment to reduce output to the members of the OPEC + pact.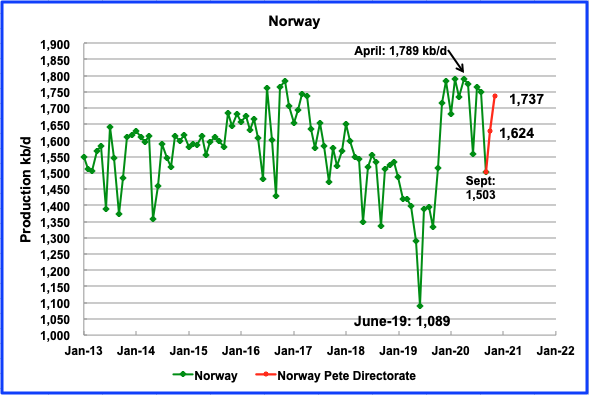 The EIA reported that Norway's September production was 1,503 kb/d, a drop of 248 kb/d from August due to annual maintenance.
According to the Norwegian Petroleum Directorate (NPD), oil output increased by 121 kb/d to 1,624 kb/d in October and a further 113 kb/d in 1,737 kb/d in November.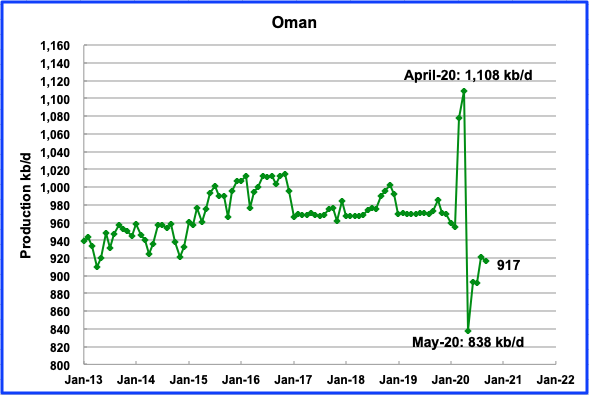 Oman's September production dropped by 4 kb/d to 917 kb/d.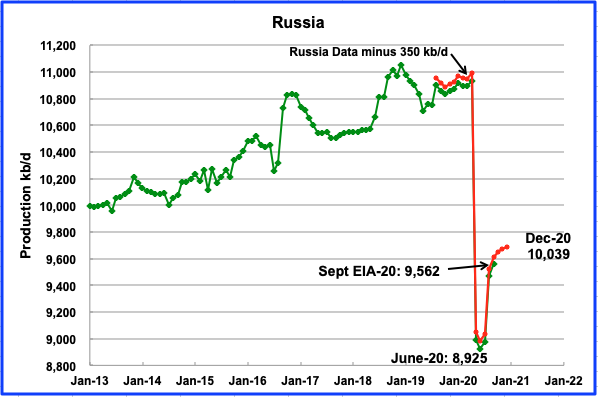 According to the Russian Ministry of energy, Russian production increased by 13 kb/d in December to 10,039 kb/d. The EIA reports that Russia's September production was 9,562 kb/d.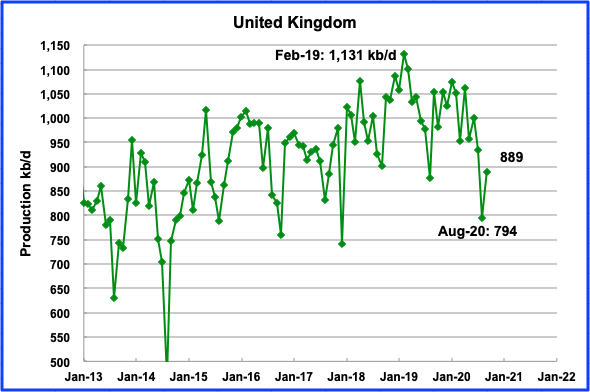 UK's production recovered by 95 kb/d in September to 889 kb/d. The recovery is due the the completion of some of the planned summer maintenance. According to OPEC, UK production is expected to stay essentially flat for 2020 and 2021 at slightly over 1,000 kb/d.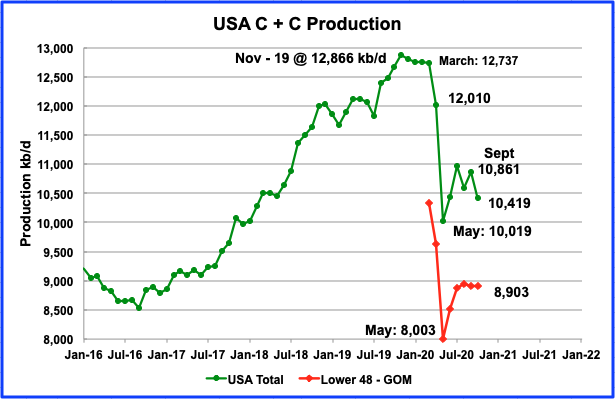 October's US production decreased by 442 kb/d to 10,419 kb/d from September's output of 10,861 kb/d. October's decrease was largely due to the GOM being shut due to hurricanes. This can be seen in the October onshore L48 production graph which has been essentially flat since July at 8,903 kb/d.  According to the STEO, November production is expected to rebound by close to 600 kb/d to 11,000 kb/d.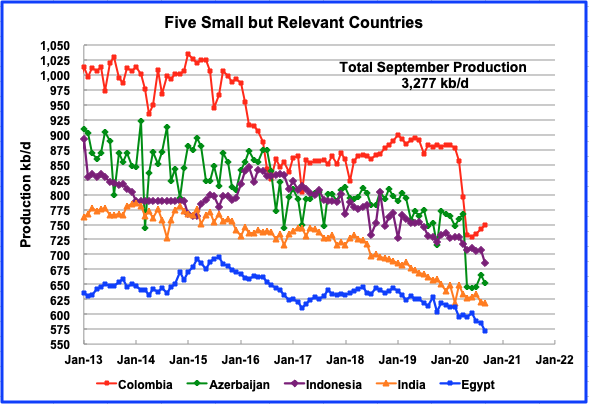 These five countries complete the list of Non-OPEC countries with annual production between 500 kb/d and 1,000 kb/d. All five are in overall decline. Their combined September production was 3,277 kb/d down by 43 kb/d from August's output of 3,320 kb/d. Columbia is recovering from its big production drop in April and reported production increased to 761 kb/d in November, according to this source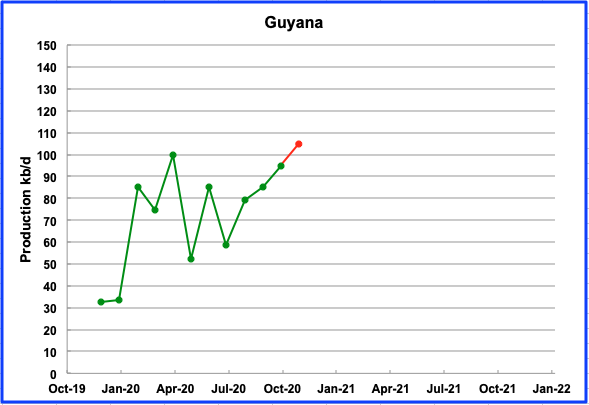 Guyana has been added as an extra this month since it will become a significant oil producer over the next 5 years, reaching 750 kb/d.
According to this source, crude oil production from the ExxonMobil-operated Stabroek block off Guyana has climbed to 105,000 b/d, while repairs to a natural gas injection system that suppressed output will be completed by end-November.
"The US major is projecting output from Stabroek to reach 750,000 b/d by 2026, a year later than originally planned following a protracted political impasse in Guyana and pandemic restrictions.
ExxonMobil announced new discoveries in September, and now says these have increased its estimated recoverable resources on Stabroek by 1bn barrels of oil equivalent (boe) to 9bn bl.
The second phase of the Liza project is scheduled to start up in 2022, delivering 220,000 b/d. This will be followed by the $9bn Payara project that will be commissioned in 2024 and will deliver another 220,000 b/d."
World Oil Production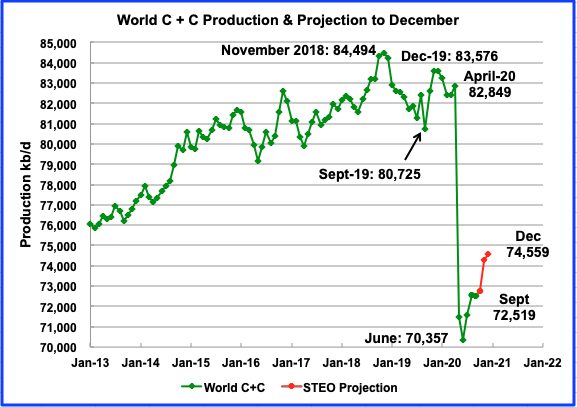 World oil production in September decreased by 53 kb/d to 72,519 kb/d according to the EIA.
This chart also projects world production out to December 2020. It uses the January STEO along with the International Energy Statistics to make the projection. It projects that world crude production growth will slow between August and October and then will recover to 74,559 kb/d in December from June's low of 70,357 kb/d, an increase of 4,202 kb/d.