Jean Laherrere has pointed out a huge discrepancy in in the Permian data from the latest EIA Drilling Productivity Report that I posted Wednesday and what has been posted, also from EIA data, in other places. Here, below, is a graph first posted in May and re-posted many places since, from: Outlook for shale gas and tight oil development in the U.S. This report was generated and posted by Adam Sieminski, an administrator with the EIA.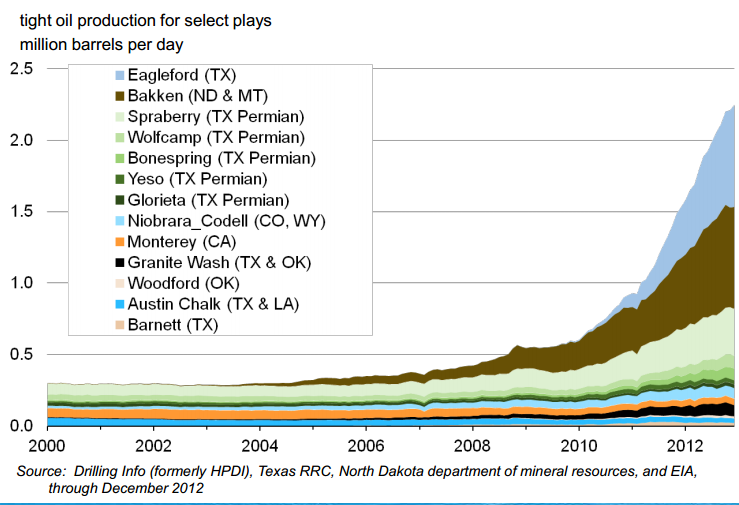 Now compare that, the Permian data, with the chart in my post from Wednesday. That chart starts with production from 2007 and eyeballing the chart above the EIA has the Permian at about .2 million barrels per day 2007 and at just a tad over .5 million barrels per day at the beginning of this year. But the report that came out of the EIA Tuesday, link above, shows the Permian at .82 million barrels per day in 2007 and at 1.25 million barrels per day at the beginning of the year. That is a difference of about .6 mb/d in 2007 and about .75 mb/d today.
Conclusion:
I really have no idea why the difference but I would bet it is because the latest EIA report that was discussed in the post below, they are counting about three quarters of a million barrels per day of conventional oil from the Permian. That is they are counting all oil from the Permian instead of just the tight oil. Well, that's my best guess anyway.
Concerning that report, link again, EIA Drilling Productivity Report, I am having serious problems with what they call "Production Per Rig". It has just gone through the roof. How is that possible? Consider the charts below: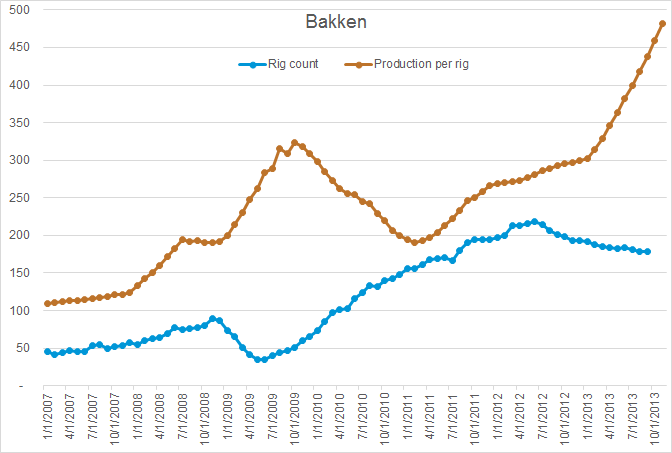 Production per rig, per month, in the Bakken, has gone from 110 barrels per day in 2007 to 482 bp/d in November 2013. That is an increase of 338 percent!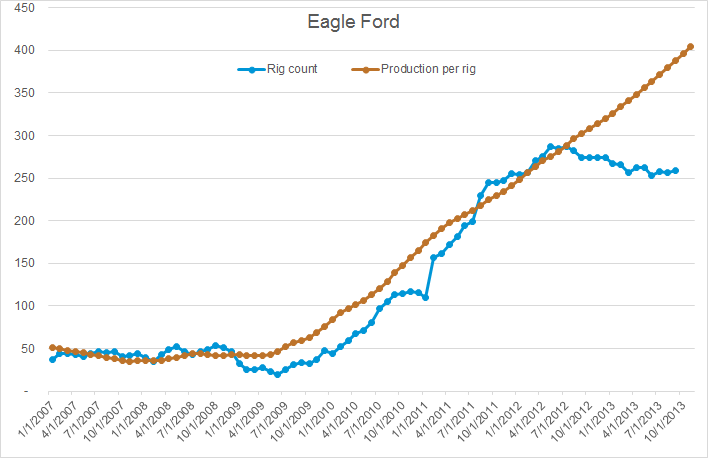 Production per rig in Eagle Ford hit a low of 35 bp/d in November od 2007 and in November of 2013 hits 404 barrels per day for an increase of over 1,000 percent.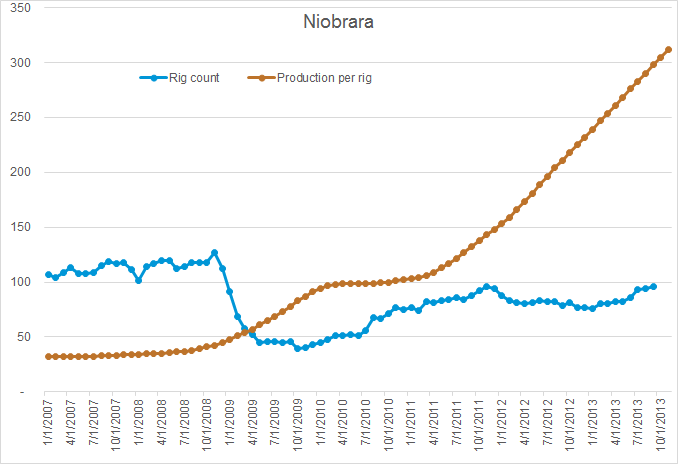 Niobrara had similar results. There production per rig went from 32 bp/d to 312 bp/d an increase of 875 percent.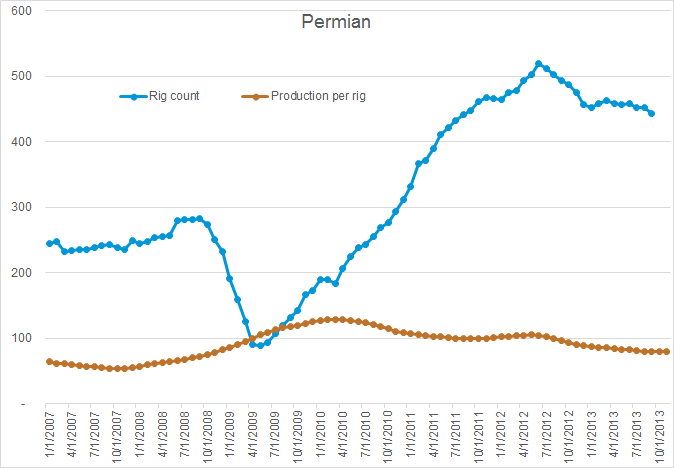 But pity the poor Permian. She went from a high of 138 bp/d in 2010 but now is down to only 79 bp/d. But you must realize the EIA is counting production per rig which also includes gas rigs. That is why the oil production per rig in Haynesville and Marcellus is down next nothing because the vast majority of rigs there are gas rigs.
But production per rig in the Bakken, Eagle Ford and Niobrara is just so strange. Does the data really support this? What is going on here? Please comment if you have the answer.