Ignore 'Breakeven' Oil Production Levels Published By The Media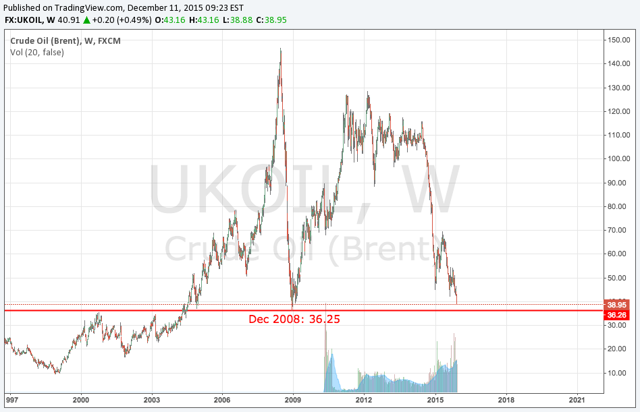 The market has been distracted by supposed "breakeven" levels of oil production published by various sources of the media. It was touted at $60 a barrel in October.
Focus your attention instead on the current price action, which is very bearish and could bring Brent crude down to test $36 a barrel in the near future.
With the dampener of 4th December's OPEC meeting for oil bulls out of the way, the upcoming event catalyst to watch out for is the FOMC meeting on 17th December.
The market is like a magician: It distracts you with noise and various paraphernalia, while the real action is clearly occurring right in front of your nose.
In the case of oil, various sources of the media have contributed to the noise. They have published supposed "breakeven" production levels of oil, helping to create a firm impression in the minds of investors that a fall in price below these breakeven levels would be unfeasible or unthinkable for producers or oil-rich sovereigns.
Just in October, an excerpt from the Wall Street Journal touts the breakeven level of Brent crude to be $60 a barrel:
"Nevertheless, there are reasons why $60 is, for now, a sensible assumption. Although higher than the current spot price of $48, it is the price where investors believe oil will be in two years from now. Futures markets point not to a fall, but to a slow, drawn out recovery for Brent crude. And $60 is the price at which analysts believe much remaining US shale oil and gas – up to 10m barrels a day of peak production, according to Goldman Sachs – could be economic."
Putting things into perspective, the article was published 28th October, less than 2 months before today's date. Brent crude's spot price was $48 then, and has fallen c. 18% to $39.25 at the time of writing. A c. 18% fall in price in less than 2 months is definitely not a "slow, drawn out recovery".
Next, the diagram below published 20th July shows breakeven levels for OPEC and non-OPEC producers. Notice the LHS scale shows $60 a barrel as the rock-bottom level. Well, oil is trading below $40 a barrel now, and OPEC countries are more than happy to maintain their production levels to contest market share as seen from their 4th December meeting, even if oil is trading below their supposed breakeven levels.
(click to enlarge)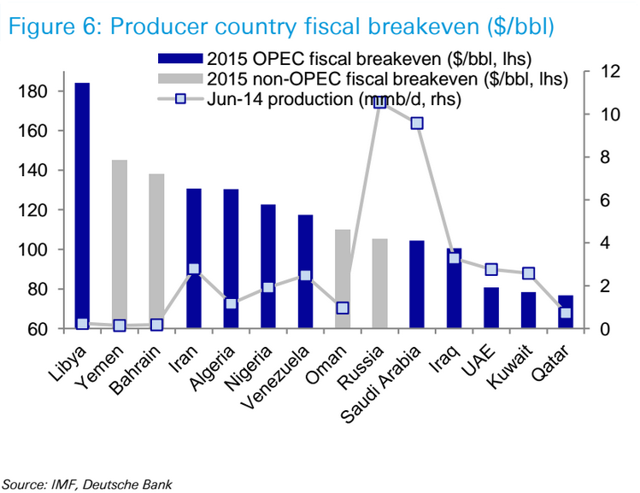 Breakeven levels are a side show, a distraction. An investor's focus should be on the price action, which is driven by market sentiment and genuine buyers and sellers in the market, instead of sell-side research analysts publishing papers from behind the desk. At the rate oil is selling off, you do not want to try to catch the lows hoping for an eventual retracement back to $60-a-barrel levels.
Oil found some short-lived strength going into the OPEC meeting, but the meeting was eventually a disappointment for oil bulls. The next event catalyst is the FOMC meeting on 17th December, where the starting of a rate hike cycle in the US, coupled with a faster-than-expected pace of rate hikes in 2016 due to a more hawkish FOMC (as detailed in my previous article here), could bring about a much stronger USD, and theoretically further downside for commodities.
Looking at the technical picture for Brent crude, the daily chart shows a bearish picture. There was some consolidation in the price action in late August, but a series of lower highs made between October to November, coupled with a break below the support level on 4th December itself after the OPEC meeting shows bearish momentum.
(click to enlarge)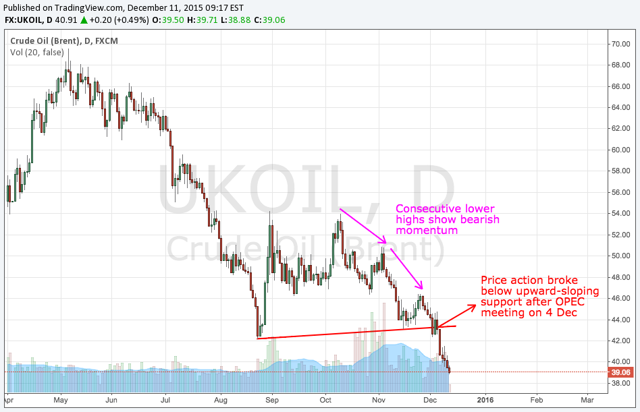 Now, which is the next level we are looking to test? Possibly December 2008's 36.25, as seen from the weekly chart below.
(click to enlarge)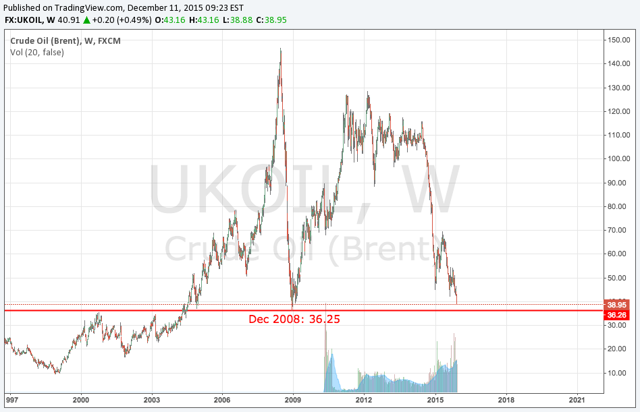 Yes, we are trading below supposed breakeven levels for oil producers, and even sovereigns, and the reiteration of these breakeven levels by the media and analysts from investment banks has made oil seem like a steal at current levels. However, do not be distracted, oil is currently a falling knife and currently has the momentum to test or take out December 2008 levels. With OPEC out of the way and a potentially much stronger USD in 2016, there could easily be more downside for oil.