A Closer Look at OPEC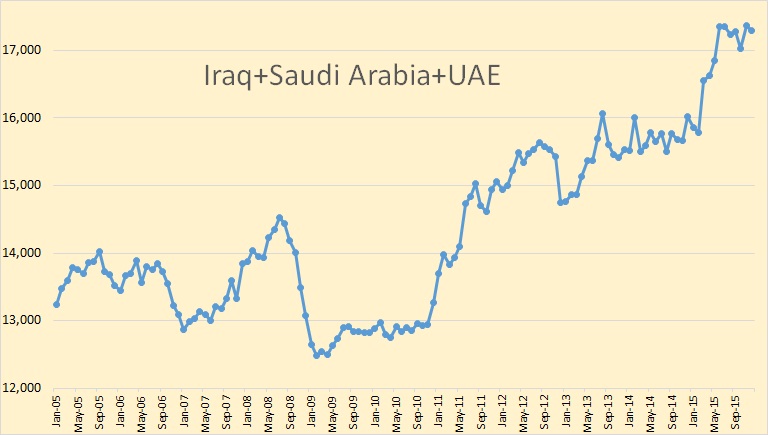 Taking a closer look at OPEC. All OPEC and price data below is through December. All production data is in thousand barrels per day.
Iran and Libya have had serious political disruptions in their production numbers. Simply adding them to the OPEC numbers distorts the picture. To try to figure out what has been happening to OPEC we need to look at OPEC without Iran and Libya.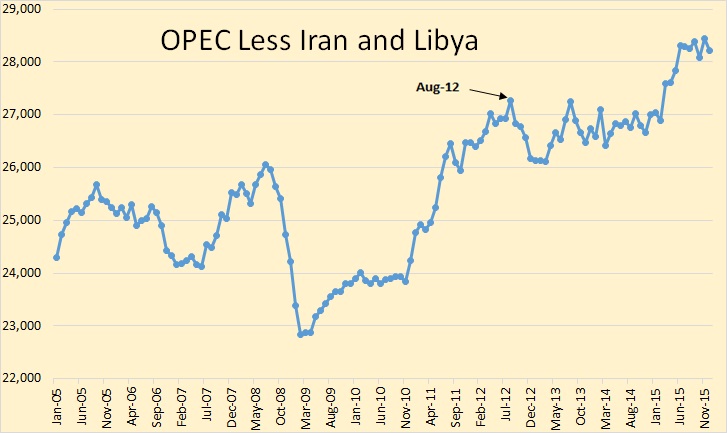 Here is OPEC less Iran and Libya, or the OPEC 10 if you will. I have marked August 2012 as what I call the "Price Peak". Not the peak in oil prices but the production peak that was brought about by the increase in the price of oil. That price increase began in early 2009 and by March 2011 was well above $100 a barrel. And the price of oil did not drop below $100 a barrel until late August 2014.
Here are is the production change from August 2012 to December 2015. As you can see the lions share of increase came from Iraq with a little help from Saudi Arabia and the UAE.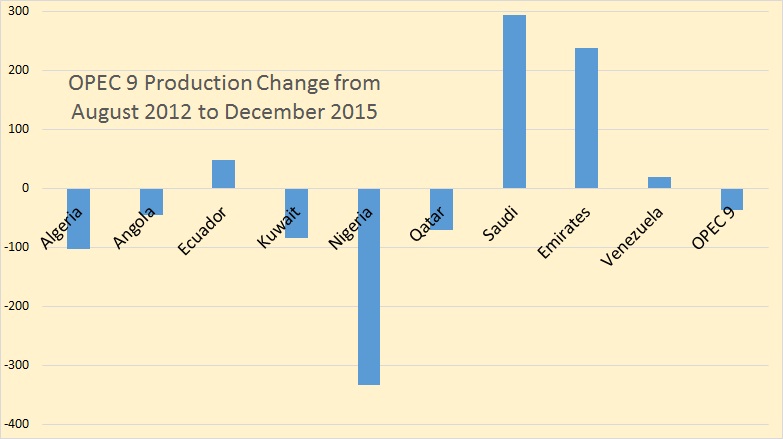 Removing Iraq from the mix and the remaining 9 OPEC nations were actually down during that period. Except for Iraq, OPEC production from August 2012 until the present, is actually down in spite of the price of oil being in excess of $100. And that is not even counting the huge decline from Libya during this period. The Iranian decline was prior to this period.
The price data in the chart below is from the Mundi Index and is the average of three spot prices; Dated Brent, West Texas Intermediate, and the Dubai Fateh, US Dollars per Barrel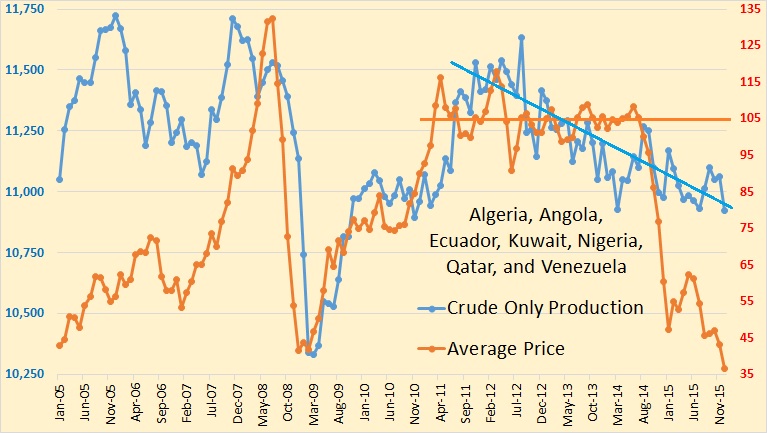 This is a chart of the combined production of Algeria, Angola, Ecuador, Kuwait, Nigeria, Qatar and Venezuela, seven of the 12 OPEC nations. The point I am driving at is that oil, averaging about $105 a barrel, could not stop the decline in the combined production of these seven OPEC nations. These OPEC nations have peaked and a return of $100 plus oil will not change that simple fact.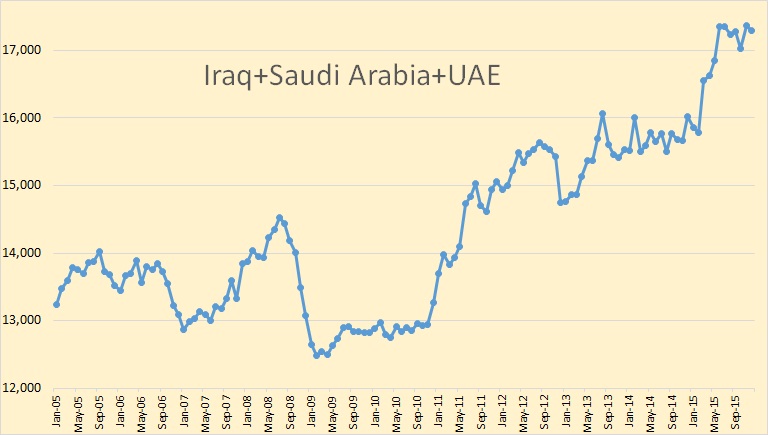 Barring the collapse of the Arab Spring and peace breaking out in Libya, any further increase in OPEC production must come from Iran and/or Iraq, Saudi and the UAE. Saudi and the UAE, I believe are producing at or extremely close to their peak, and I am not so sure about Iraq. At any rate the OPEC 10, in my opinion, has peaked. Any possible increase in Iraqi production will be offset by the decline in production of the other 9.
Crude oil production charts of all 12 OPEC nations can be found at the page OPEC Charts.