JODI, Iraqi Reserves and Ghawar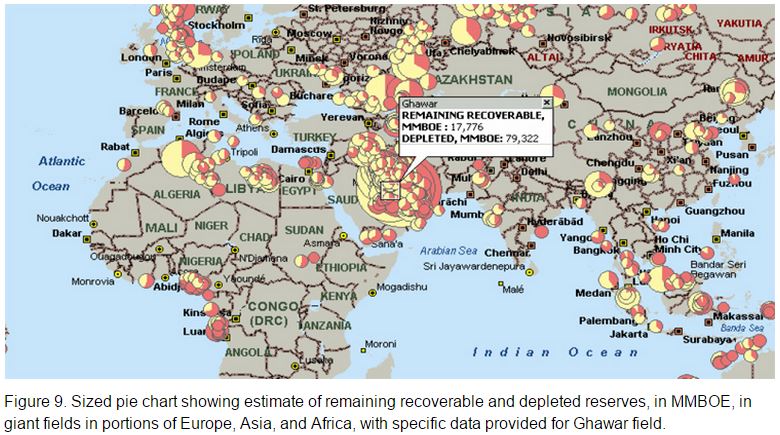 The JODI data just came in with production numbers for January 2015. I really don't like JODI all that much but they are about two and one half months ahead of the EIA with their world data. And their data is incomplete so I have to substitute the EIA data for the countries that do not report to JODI. So the data I use is about 95% JODI and about 5% EIA. The last data point is January 2015 and is in thousand barrels per day.
We peaked in December at 75,342,000 bpd but dropped 356,000 bpd in January to 74,986 bpd.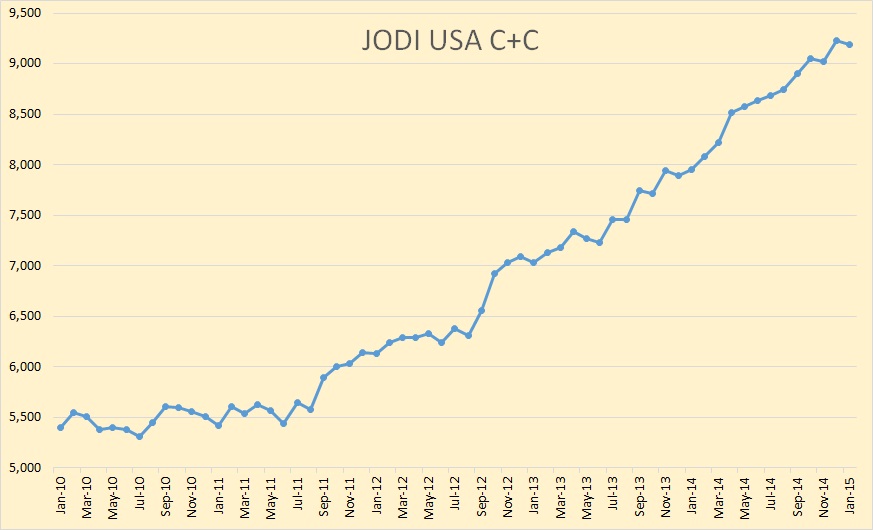 JODI has the US at 9,226,000 in December but dropping 34,000 bpd in January to 9,192,000 bpd. The US did not start its grand ascent until the summer of  2011 when the shale oil boom exploded.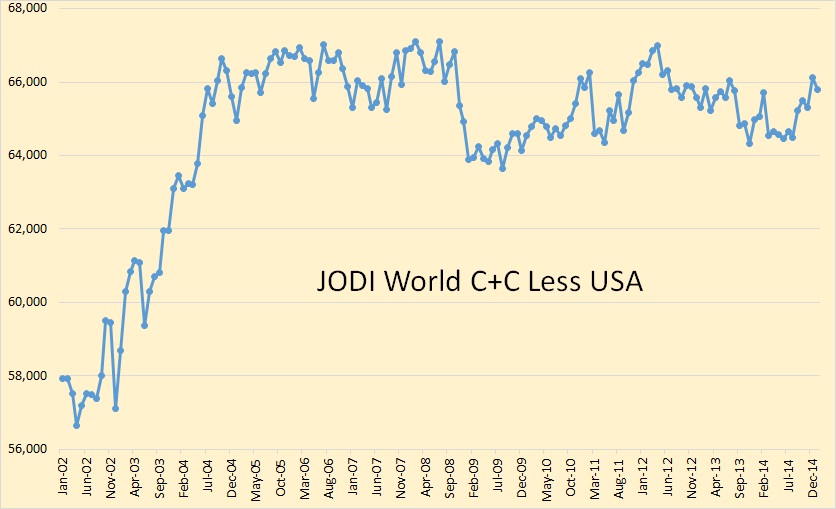 Without that shale surge in the USA here is what World C+C production looks like. Less USA production is down just over 1.3 million barrels per day from its July 2008 peak and down just over 1.2 million barrels per day from its April 2012 peak.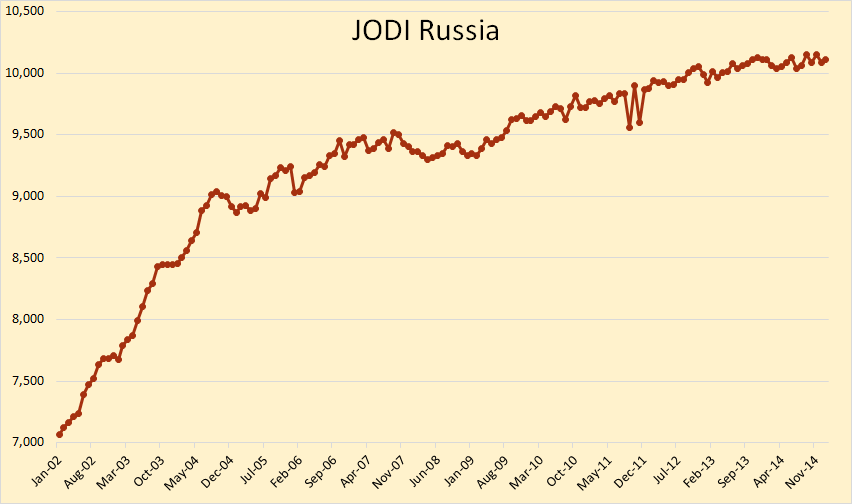 The only other JODI chart of note is Russia. Russian January production stood at 10,110,000 barrels per day. Expect Russia to be slightly down for the rest of the year then down a lot more in 2016.
Iraqi Dreaming
In late 2009 Iraq held a series of auctions for production service contracts at the largest fields. The Iraqi oil minister, Hussain al-Shahristani, estimated that Iraq will be able to produce 6m barrels a day by 2017 based on the deals announced to December 2009.  However, the country hopes to raise production to 12 million barrels per day over this period based on all deals it was negotiating at end 2009. 12 million bopd is around 15% of 2008 oil demand, and almost as much as the #1 producer, Saudi Arabia, could provide. These production forecasts seem optimistic, but significant increases remain possible. 
Imagine that, 12 million barrels per day. This announcement prompted Stuart Staniford to announce that Iraq Could Delay Peak Oil a Decade, and he created the below graph to show what just might happen.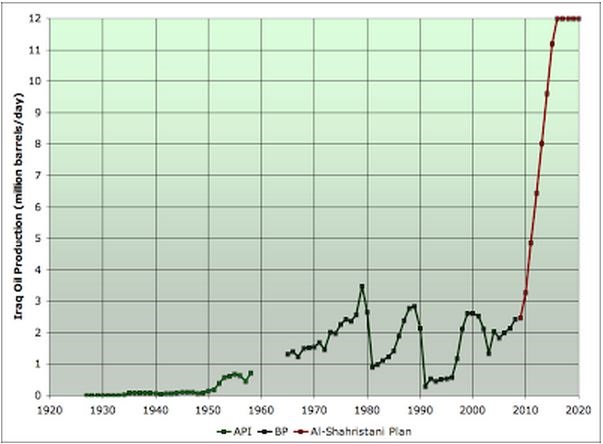 According to that graph Iraq should be producing about 9.7 million barrels per day right now. However they are just a tad over one third that amount today, they were at 3,320,000 bpd in February according to the OPEC MOMR. And it will never happen. Iraq will, very soon, begin to decline.
But according to the EIA, the IEA, BP and just about everyone else in the world, Iraq has vast, vast reserves. Wiki has this to say about Oil reserves in Iraq quoting the EIA: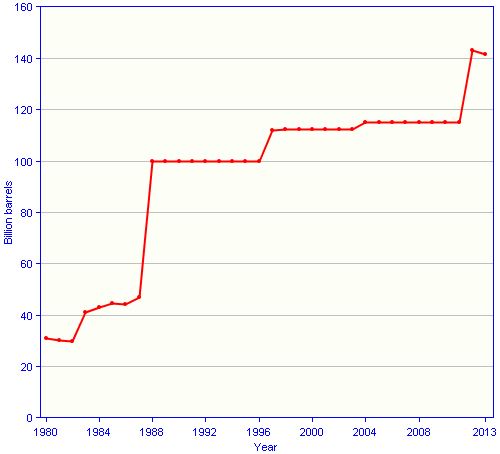 As a result of military occupation and civil unrest, the official statistics have not been revised since 2001 and are largely based on 2-D seismic data from three decades ago. International geologists and consultants have estimated that unexplored territory may contain vastly larger reserves.
The problem is that "international geologists and consultants had nothing to do with it. Iraqi officials in Bagdad decided that Iraq had far more reserves than was originally reported. Below is a field by field of Iraqi reserves.
A better view of Iraqi oil reserves can be found in this 2003 paper: GIS in an Overview of Iraq Petroleum Geology. And the entire caption to Table 1 turned out to be a link with every stat on every Iraqi field you would want. That is the location, depth, discovery year, type of trap, lithology, and a few other stats which I have no idea what they mean.
Table 1. Database of giant fields in Iraq, showing basic geologic features and estimates of ultimate recovery and reserves (from Horn, 2003 [with minor revision]). Basic data sources for Horn (2003): Halbouty et al., 1970; Carmalt and St. John, 1986; I.H.S. Energy Group, 1998, Selected giant field data (with kind permission to publish granted 2002); supported by 35 additional sources.
Here below is that chart.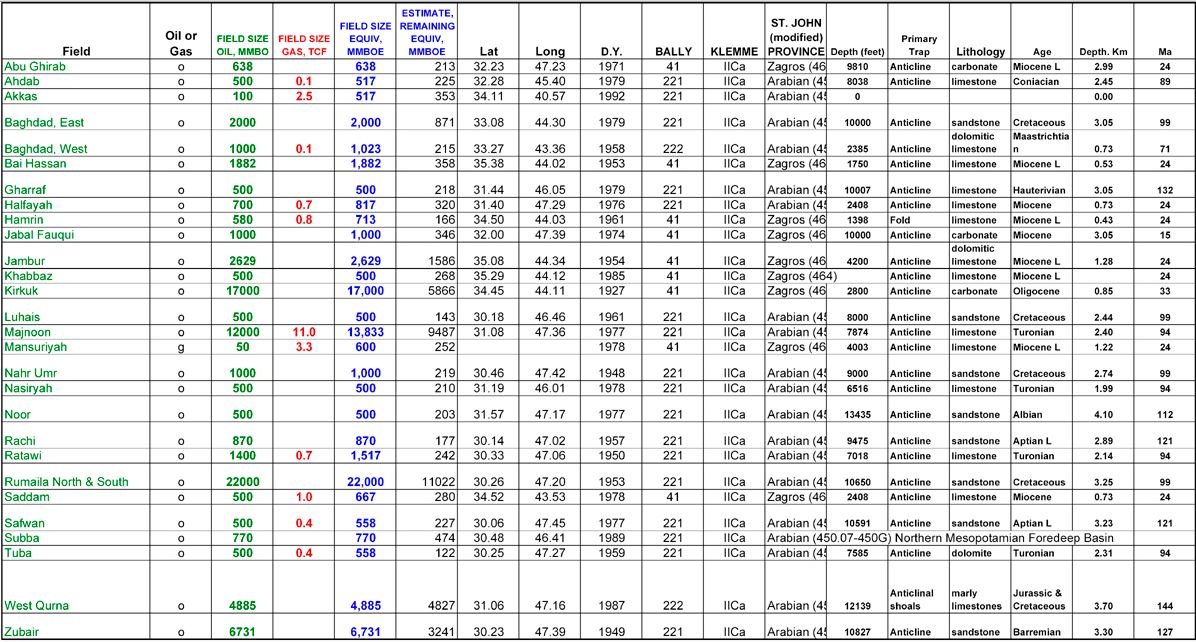 Of course the data is too small to read here but just click on the "Table 1″ link and it becomes very readable. I have copied the pertinent data below and added a few calculations.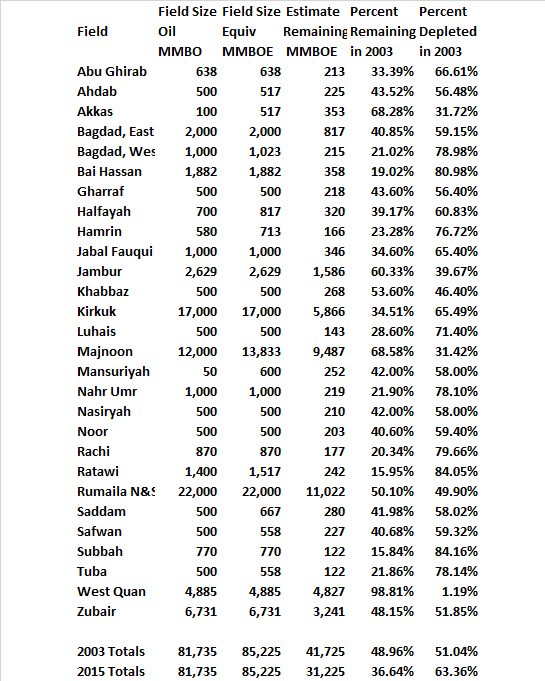 In 2003 Iraq was 51% depleted. In the 12 years since the end of 2002, Iraq has produced about 10.5 billion barrels. That means they have about 31.225 billion barrels of reserves left.
Every OPEC nation is in about the same position as Iraq including Kuwait and Saudi Arabia. In January of 2006 Petroleum Intelligence announced that Kuwait only had 48 billion barrels of remaining reserves. But it said the data it had seen show that of the current remaining 48 billion barrels of proven and non-proven reserves, only about 24 billion barrels are so far fully proven — 15 billion in its biggest oilfield Burgan.
Saudi has the world's largest oil field, Ghawar, and it is severely depleted. This 2004 paper, Selected Features of Giant Fields, Using Maps and Histograms, has a wealth of information on the discovery and depletion of giant oil and gas fields.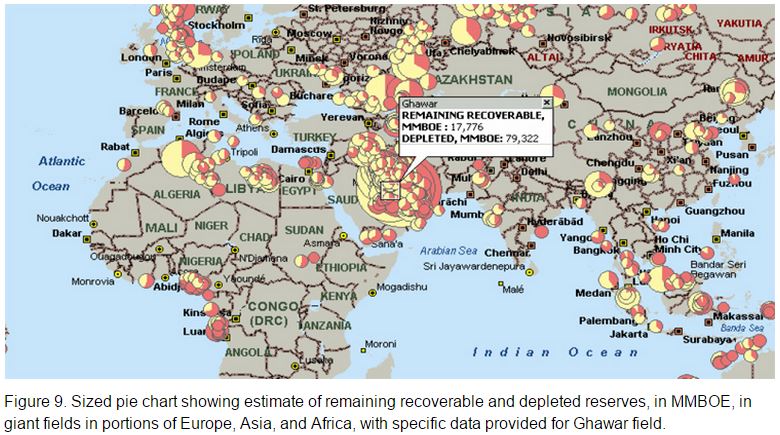 Do the math, this 2004 chart says Ghawar started with 97 billion barrels of oil and was, in 2004, over 81% depleted. Of course the rest of Saudi is not that depleted. They have three fields that have been producing only a few years, Khurais, Manifa and Shaybah. These three fields, along with their other old giants, have enabled Saudi to keep production between 9 and 10 million barrels a day. But it is highly likely that they are about two thirds depleted.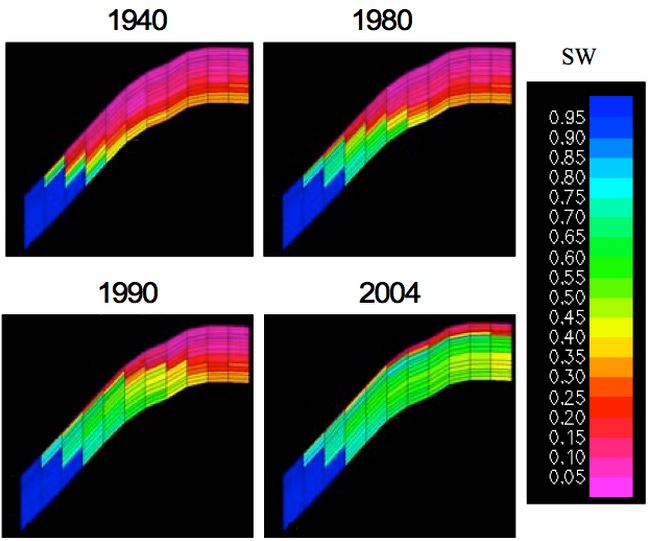 Western flank cross section of North 'Ain Dar. Source: Figure 9 of Alhuthali et al, Society of Petroleum Engineers Paper #93439, March 2005.
The above was posted by Stuart Staniford The Status of North Ghawar. The the legend on the right is "percent water". Ain Dar is the north most section of Ghawar. Saudi, along with every other Middle East, North Africa OPEC country, has only one third or less reported reserves remaining.
But how can this be so? How can so many countries be way past 50 percent depleted and still be producing at or very near their peak production. The answer is simple, massive infill drilling with horizontal wells right at the top of the reservoir. From a 2009 Seeking Alpha article Alex Burgansky: Russian Oil and Gas Industry Surprises Analysts:
Russia is a very mature producer. If you exclude all the drilling activity taking place every year, then Russian organic decline in production is close to 19%. To compensate for that organic decline, Russia drills somewhere between 5,000 and 6,000 wells every year.
And from a 2006 Saudi Article:
• Without "maintain potential" drilling to make up for production, Saudi oil fields would have a natural decline rate of a hypothetical 8%. As Saudi Aramco has an extensive drilling program with a budget running in the billions of dollars, this decline is mitigated to a number close to 2%.
Massive infill horizontal well drilling has made it a new ball game. They enable a country like Russia or Saudi Arabia to keep production from declining any great amount until its fields are around two thirds depleted or more. But then when decline finally does set in it will be steep, very steep. Their production profile will resemble a Seneca Cliff.
How many countries are approaching this Seneca Cliff? I have no idea but I would guess most of the big produces like Saudi and Russia are very near hitting that point.