Is Eagle Ford Peaking?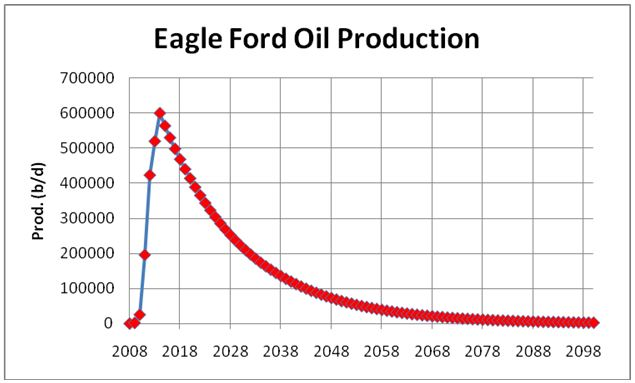 This page Texas Oil and Gas Production was last updated on February 18. However the data on this page has been updated. And the January production has been updated also: Oil and Gas Production Data Query then check "Lease", "Both", Statewide and then punch in the appropriate dates. Then when the next page comes up click on "Monthly Totals". This brings up the updated monthly totals for Crude, Casinghead Gas, Gas Well Gas and Condensate.
There were revisions going back to July 2010 but only 2013 had any major revisions though there were some 2012 revisions also as the chart below shows.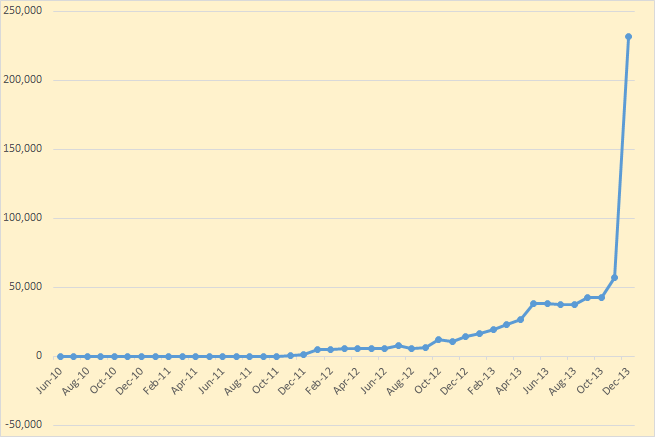 The earlier revisions were smaller and there were some of them that were negative. That is the figures were revised downward.
This chart compares Texas with North Dakota. This is all Texas not just Eagle Ford. The last data point for all is January 2014.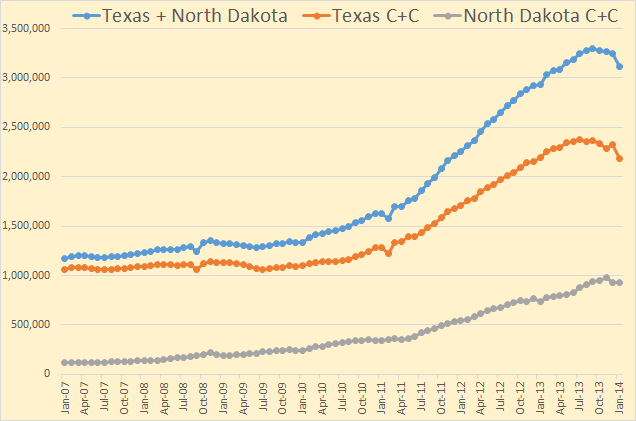 Though there is a lot of conventional production in Texas, the increase is nevertheless about all tight oil. And these two states produce perhaps 95% of all tight oil produced in the United States. And that is about 2  million barrels so far if the Texas RRC is close.
But the EIA's Drilling Productivity Report tells a different story. They have Texas alone increasing by about 2.8 mb/d since the middle of 2010.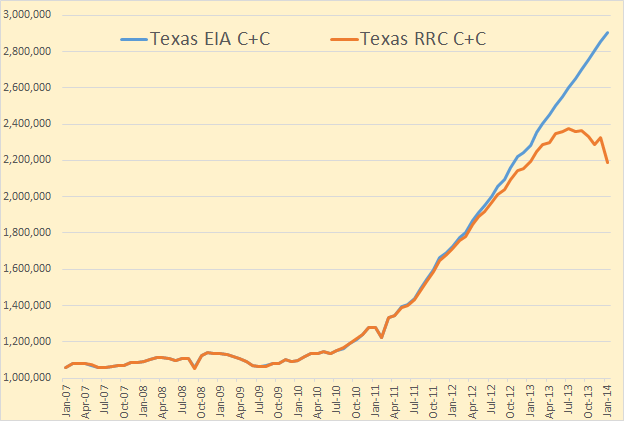 Now I know most will say that the RRC data will be revised upward.  Yes it will but I think most revisions after the first month will be negligible.
But here is the chart I found most interesting, Texas condensate production.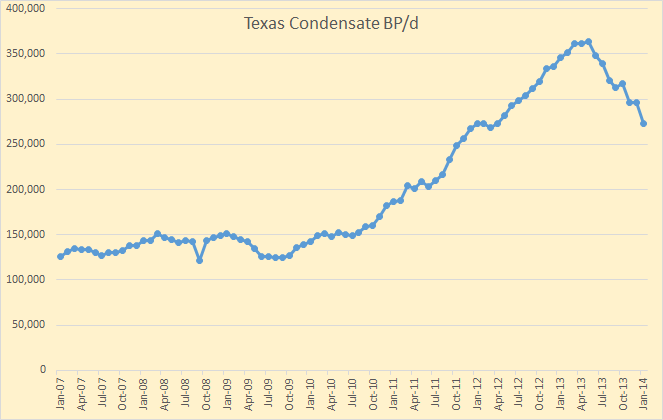 The December condensate data has already been revised upward along with the December Crude which was revised upward by 56,237 barrels per day. A lot of condensate means a lot of oil from Eagle Ford which has a very high percentage of condensate. Falling condensate numbers means primarily falling production from Eagle Ford.
But even if there are revisions the percentage of condensate should not change with the revisions. That is if both crude and condensate are revised upward the percentage of condensate should remain relatively the same. So if the percentage of condensate is falling then Eagle Ford production is falling in relation to the rest of Texas.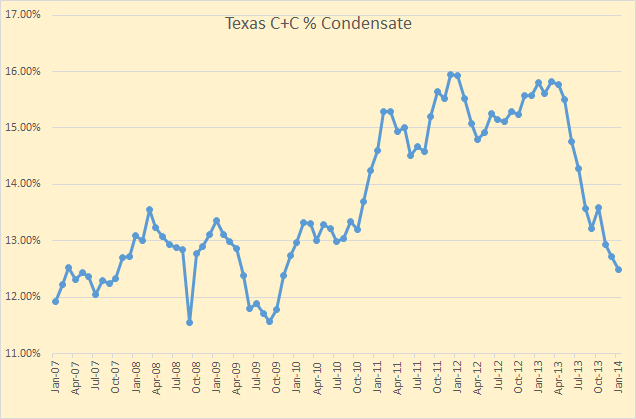 Bottom line, I believe Eagle Ford is very close to peak. I predict a peak in Eagle Ford in 2014 if it hasn't already happened. I seldom make outright predictions but I am making an exception in this case.
Check out Roger Blanchard's post of one year ago. Thanks to Jean Laherrere for calling my attention to this.
Commentary: Texas and Eagle Ford – Where the Action Is
I first recognized a discrepancy between US DOE/EIA and TRC data in early 2012. At the time, I attempted to contact both the US DOE/EIA and TRC to try and determine the source of the discrepancy. I was informed by a representative of the TRC that they send their data to the US DOE/EIA but he wasn't sure why their posted production figures differed from those of the US DOE/EIA. I received no response from the US DOE/EIA.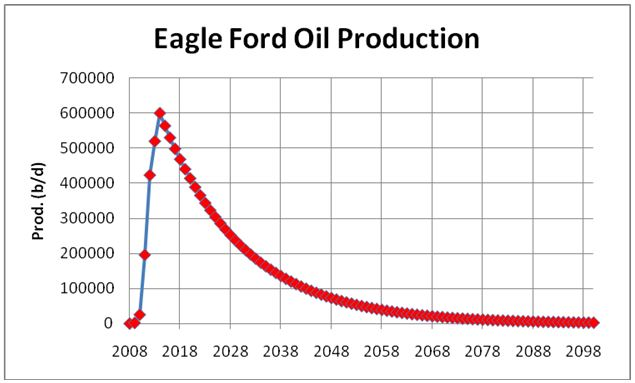 Roger, in the above chart posted in March 2013, has Eagle Ford peaking this year, 2014, at 600,000 barrels per day. Of course there is a very large discrepancy between what Roger's data and he EIA's data. And there is an even larger discrepancy between what the EIA's Drilling Productivity Report says.  They have Eagle Ford averaging 1.05 million barrels per day in 2013.
In 2012, according to Roger's data, Eagle Ford averaged 423,875 bp/d while according to the data published by the Drilling Productivity Report, Eagle averaged 628,193 bp/d in 2012.
I believe Roger is pretty close on his peak date for Eagle Ford. His decline rate of 6%per year is apparently based on drilling continuing in Eagle Ford. If drilling stops however the decline rate will be many times greater.
Jean Laherrere posted this chart of Texas production from different sources.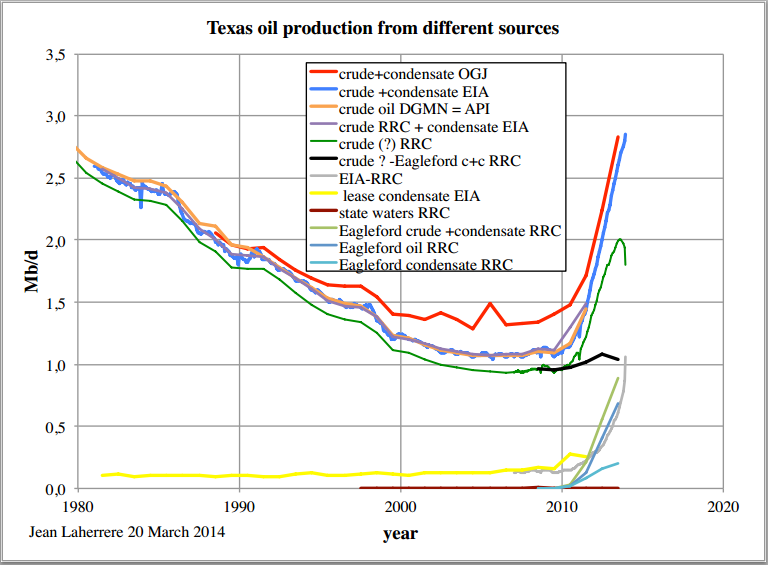 Rigzone used one of my charts and failed to give me credit. Oh well.
Musings: It's Official – Oil Industry Enters The New Era Of Austerity
It is near the bottom of the page with the caption:
Exhibit 2. Rising Oil Expectations Could Be At Risk   Source EIA
True the EIA was the source of the data but their data was in Quadrillion BTU per year. I converted it to barrels per day and created the chart. It is here:
Will US Light Tight Oil Save The World?
At any rate this Rigzone article is really great. They are starting to sing the same song as peak oilers. Capex is going through the roof while production is at a standstill.