From Whence The Fine Tuned Universe
The case that the universe is fine-tuned has been made convincingly by many of the giants of physics, including Leonard Mlodinow, Luke Barnes, Geraint Lewis, Leonard Susskind, Robin Collins, Paul Davies, Martin Rees, John Barrow, John Leslie, Alan Guth, Brian Green, Roger Penrose, the late Stephen Hawking, and many others.
However, there are still a small minority of physicists, and cosmologists, perhaps ten percent or so, who have reservations about declaring the universe fine-tuned. Why? Well, Lawrence Krauss, in his book, "A Universe From Nothing", page 124, tells us there are only two conclusions one can draw concerning the origin of the universe:
One, drawn by Newton himself, and earlier espoused by Galileo and a host of other scientists over the years, was that such order was created by a divine intelligence responsible not only for the universe but also for our own existence and that we human beings were created in her image (and apparently other complex and beautiful beings were not!).
Notice that Krauss is referring to the Biblical God here. The "her" instead of He, is just a bit of sarcasm on his part. But the "in her image" is a definite reference to the God of the Bible. (Genesis 1:27)
Whether they realize it or not that, that is the primary reason that those who still deny the very obvious fine-tuning of the universe do so. That is, it lends credence to the Bible banging Christians who declare that the fine-tuned universe proves, not that some kind of creator exists, but that their version of God exists. That is an old man who sits on a throne in the sky and sends fire and brimstone, worldwide floods, or genocide to kill all the evil people on earth and will torture forever all those who do not believe all that bullshit.
And that is also the reason so many cosmologists who realize they cannot deny the obvious, opt for a thing called "The Multiverse". That is, if there are trillions of trillions of universes, odds are, one of them would have all the laws, particles, and constants that would be just right to create the universe as we know it. As Martin Rees so bluntly put it, concerning the multiverse, "It gets rid of God".
Dr. Krauss' second conclusion: "It is the laws themselves are all that exist. These laws themselves require the universe to come into existence, to develop and evolve, and we are irrevocable by the product of these laws. The laws may be eternal, or they too may have come into existence, again by some yet unknown but possible purely physical process."
That is a remarkable conclusion. Who or what wrote those laws? They just popped out of nothing or were caused by some physical process that just popped out of nothing. I get back to that later but now back to God.
The problem is that the idea that the universe might have been created by some kind of conscious entity has been hijacked by organized, primarily fundamentalist, religion. Their logic goes something like this.
"Science has determined that the universe had a beginning. They call it 'The Big Bang'. Nothing happens without a cause. Therefore, God caused the Big Bang. God tells us exactly how he did it in the Bible. Though this not absolute proof of the existence of the Biblical God, it certainly lends credence to Him and His book, the Holy Bible."
Of course, it does nothing of the sort. The Big Bang theory no more supports the god Yahweh than it supports any other god, be it Thor, Zeus or Poseidon. In fact, the Big Bang theory, and how the universe evolved billions of years later, completely contradicts almost every detail in the Genesis creation myth.
That being said, I will make no further attempt to debunk any religion created by man. That has been done over and over again by men from Thomas Payne to Richard Dawkins and hundreds in between. And largely to no avail. Those who hold dogmatic religious beliefs are well beyond logic or reason so I will make no attempt to use those tools to convince them of anything.
Here is perhaps the most important point when dealing with epistemology, that is why people believe what they believe. When one accepts any dogmatic world view, be it anything from Christianity to Naturalism, they already believe they know the absolute truth. And if you are already in possession of absolute truth, you will refuse even to examine any evidence that contradicts your dogma. Any evidence that contradicts your worldview would be not worth your valuable time to examine. If anyone tries to present to you any such evidence, just give them the bum's rush and move on.
Okay, back to the fine-tuning argument. First, a very brief explanation of what is meant by the fine-tuned universe. First, there are the forces of nature. There is the gravitational force, the electromagnetic force, the strong nuclear force, and the weak nuclear force. If any of these four forces were only slightly different then the universe as we know it would not exist. Lately, there has been the addition of another force, dark energy. More on that force later.
Then there are the constants of nature. Here are just a few of them.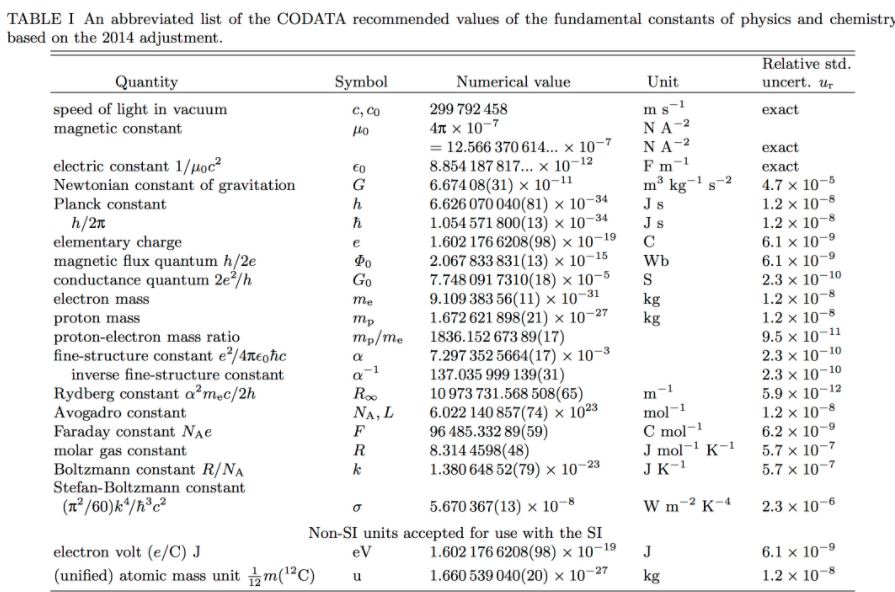 But there are at least two dozen more such as the resonance of the carbon atom. Fred Hoyle figured out it has to be exactly what it is, else there would not be enough hydrogen created in stellar nucleosynthesis or way too much hydrogen and not enough oxygen.
And third, there are the initial conditions of everything created at the Big Bang. Initially, in the first fraction of a millionth of a second, there were only quark and gluon plasma. Then there formed, from this plasma, protons, and neutrons. The mass of the neutron had to slightly greater than the proton else all protons would have quickly decayed into neutrons and that would have been the end of everything.
But we have hardly gotten started. Out of all, this would spring all the other elementary particles of nature. There are seventeen of them, counting the recently discovered Higgs Boson.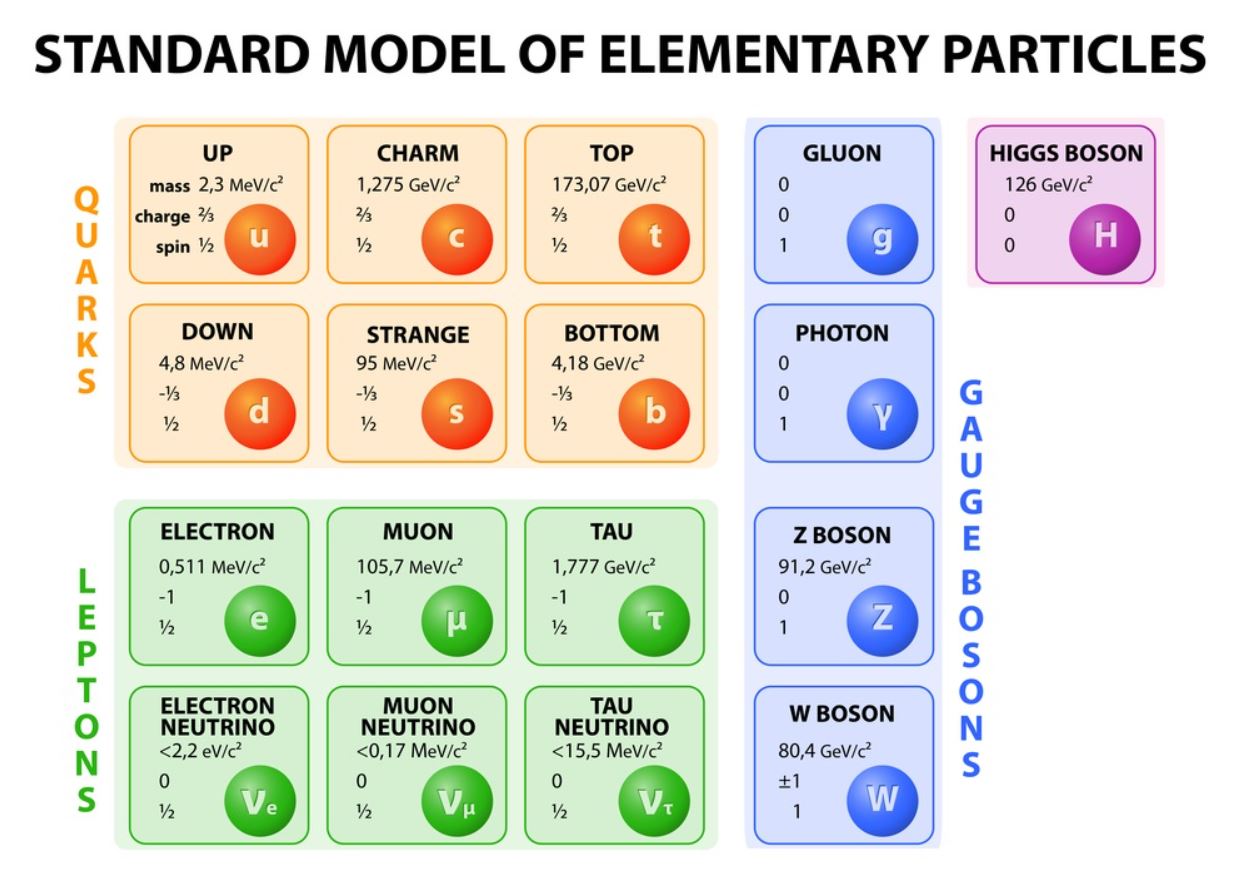 I have noticed that virtually all fine-tuning arguments, pro, and con, seem to totally ignore the elementary particles of nature. It is just assumed that they all just popped out of nothing and only the constants of nature are argued. But it is my argument that the elementary particles are an integral part of the debate. After all, how many possible subatomic particles could there be that is not an up quark with two-thirds the charge of the electron but in the opposite direction? The obvious answer is there is an infinite number of possible other subatomic particles that are not an up quark with all the characteristics it has. And ditto for all the other subatomic particles. And all these particles, as fine-tuned as they all are, with the exact charge and mass they possess, just popped out of nothing either at or shortly after, the Big Bang.
There are two other very important facets of the fine-tuning debate, dark matter and dark energy.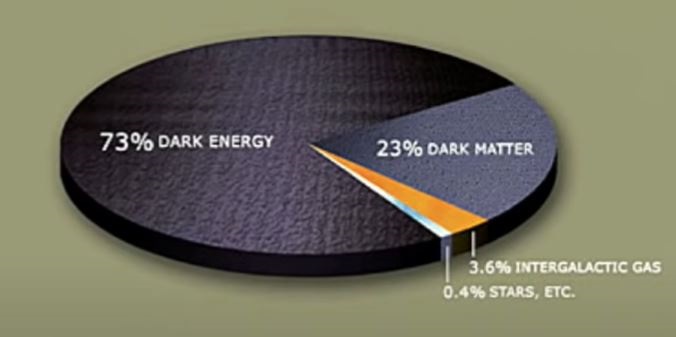 Dark Matter
As you can see from the diagram above, dark matter and dark energy, combined, make up from 95 to 96 percent of everything created at the instant of the Big Bang. Estimates of both vary by one or two percent, but all estimates are very close. And the stars, planets and stuff we can see make up less than one percent of the total universe. The rest of the ordinary matter is intergalactic gas.
But what is dark matter? Well, we don't really know. But we do know what it does and how it behaves. The only thing dark matter has in common with ordinary matter is that it has gravitational properties. It causes galaxies in galactic clusters to move much faster than they would otherwise. It bends light around the galactic clusters and causes "Einstein Rings" around the clusters. And it holds stars within their galaxy and causes them to rotate much faster around the galactic center than they should according to Newtonian principles.
Computer models have shown that galaxies are created when dark matter merges and clumps together. In other words, without dark matter, there would be no galaxies, no planets, and no life. However, this dark matter is nothing like ordinary matter. It has no electrical or magnetic properties. It will not reflect or absorb light. But most importantly it will not mix with ordinary matter. If it would mix then four-fifths of stars would be dark matter, which would not fuse and produce energy in the process. Stars would not burn if they were a mostly dark matter. And the dark matter will not clump together with itself. Else dark matter would form clumps like stars and black holes. No, dark matter particles, if it is a particle, must repel themselves from other dark matter particles if they get too close together. Dark matter must remain as a cloud or halo around galaxies but never form clumps as ordinary matter does to form stars. In other words, dark matter is itself extremely fine-tuned.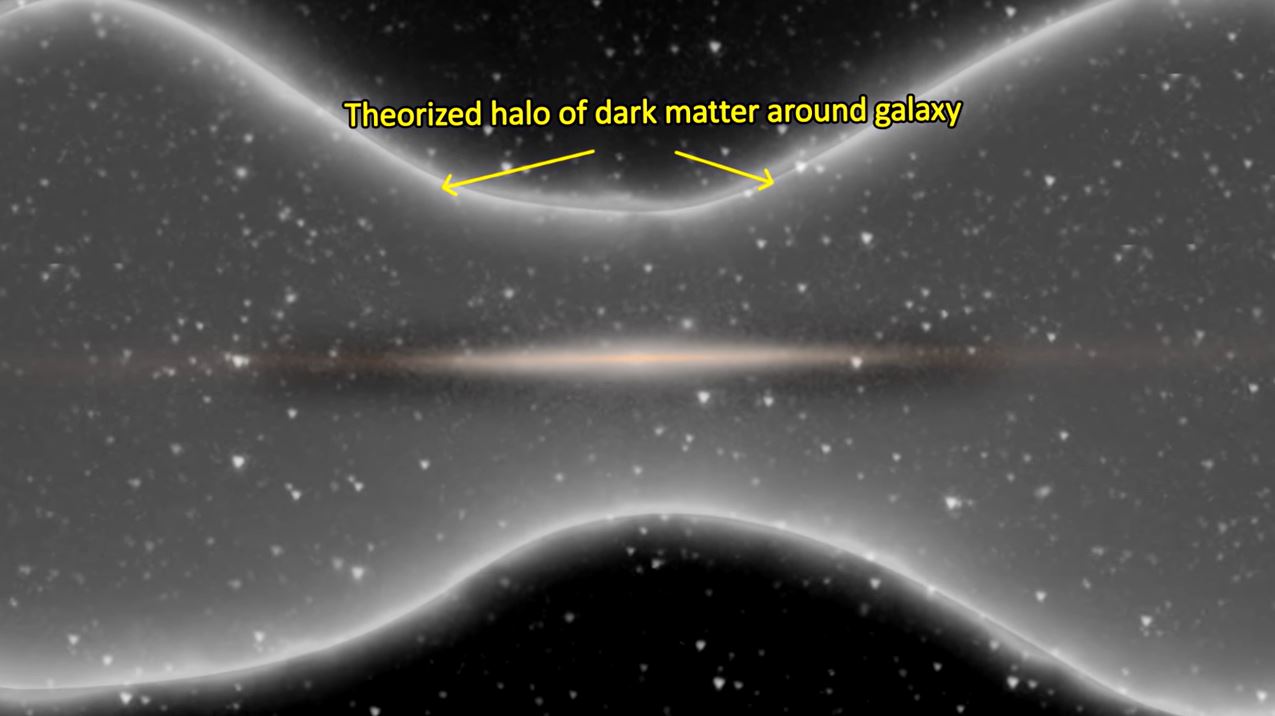 The above is Arvin Ash's depiction of dark matter. Some physicists and cosmologists may have a different concept of how dark matter clouds form around galaxies. But the important takeaway is there would be no galaxies without dark matter. Dark matter, though created at the Big Bang, would have no role to play until 300 to 500 million years after the Big Bang, when the first galaxies were formed.
Approximately 73% of everything created at the Big Bang was dark energy. According to Einstein's equation, E = mc², matter, and energy are basically the same thing. So dark energy makes up almost three-fourths of the mass/energy of the universe.
Cosmologists tell us that the amount of dark energy in the universe is critical. The value is known as lambda, (λ), is extremely small when measured in Planck units. It is .000000000000000000000000000000000000000000000000000000000000000000000000000000000000000000000000000000000000000000000000000138 That is a decimal point followed by 123 zeros and a 138. If it were 122 zeros then 1, or ten times stronger, the universe would fly apart before stars would have had time to form. Or if it were 124 zeros, 10 times weaker, then the universe would have collapsed back on itself before stars would have had time to form.
The Big Bang seemed to plan ahead. All the important stuff, the formation of stars, galaxies, and the explosion of the large first-generation stars that would spread every natural element in the periodic table throughout the galaxies, would not happen for almost a billion years later. But the seed, that is the recipe, for all that sprang into existence, apparently from nothing, in the first few seconds of the Big Bang.
That the universe is fine-tuned is a real no-brainer. It is such a no-brainer that almost every physicist and cosmologist in the business now admits it. But they are almost all atheists who loathe admitting any kind of supernational entity into their theory of how the universe came into being. So, they have an out, the Multiverse.
Even the very few outright deniers of the fine-tuned universe, Sean Carroll, Lawrence Krauss, and the late Victor Stenger all still opt for the multiverse as an explanation for fine-tuning. Dr. Stenger, on page 227 of his book "The Fallacy of Fine Tuning" writes:
"Modern cosmology strongly suggests, although it does not prove, the existence of multiple universes in a greater system called the multiverse. If they exist, multiple universes provide a no-brainer solution to the fine-tuning problem by way of the weak anthropic principle. There are many universes out there with different parameters, and we just happen to be in the one with those parameters that allowed our kind of life to evolve."
So, there you have it. Almost every cosmologist on the planet, who is not a theist, opts for the multiverse as an explanation for the fine-tuning of the universe. (One, Sabine Hossenfelder, does not, but she has another story that I will not cover in this essay.)
However, the multiverse fails miserably as a fine-tuning explanation. It has a very obvious fatal flaw which when you see it, it will knock you over with its simplicity. I will start with Dr. Brian Green's multiverse fine-tuning explanation.
In an enthralling Ted Talk, https://www.youtube.com/watch?v=Vx2RcUQNh6Q "Is our universe the only universe?", Dr. Green deals with the unlikely event that the cosmological constant would be so fine-tuned in our universe. He says that there is an infinite number of universes out there. He displays the number, a decimal point followed by 123 zeros then 138. Anyway, he says one of the infinite numbers of universes just has to have the correct universal constant to keep the universe from flying apart or collapsing on itself. And we find ourselves in just that one. Fine-tuning problem solved. We just won the infinite lottery, that's all.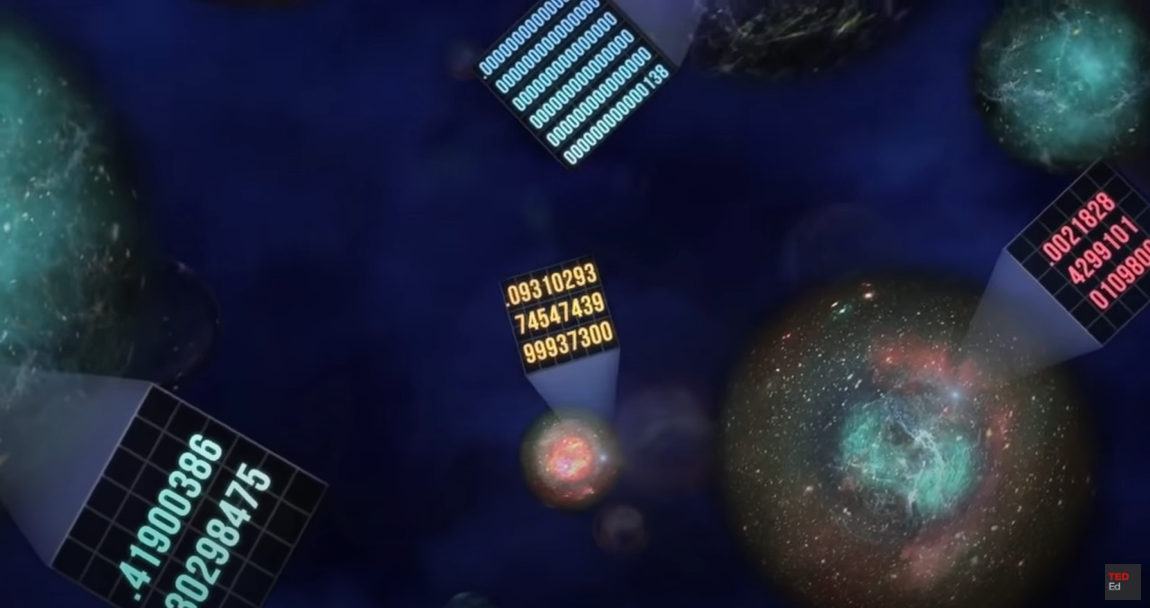 The above is Dr. Green's example of random cosmological constants. The top one is the correct one, the rest are all failed universes.
But there is a hole in this theory you could drive a truck through. First, let me introduce you to the infinite number lottery. Suppose you were asked to write a number, from zero to infinity on a lottery ticket. And you are told there exists a winning number, also from zero to infinity. What is your chance of winning? Well, virtually zero. But if an infinite number of people played that lottery, someone could possibly win.
However, one number is not enough. There are at least fifty laws, constants, and particles and you must get them all correct, on the same drawing. You must draw, from an infinite number of possibilities, fifty times and draw a winning number every time. The odds against you winning would be1times10 to infinity, times infinity, times infinity, at least fifty times. Not just one time as Dr. Green proposes.
But just sit back and think about what the multiverse advocates are proposing. That is, it is reasonable to believe that trillions of trillions of universes just pop out of nothing. And it is reasonable to believe that they will all have the same particles and laws that this universe has. And they claim that only the value of constants could vary. But out of almost an infinite number of universes, one of them will get lucky and have all the correct constants, all in the same universe, come out just right.
That is an absurd assumption on every level. But they believe all that bullshit just to avoid the possibility that some kind of conscious entity started it all. And it is driven by this bullheaded dogma that they cannot yield an inch to the theists. They must get rid of the idea that some kind of intelligence started the whole thing. If they would only realize that this conscious entity, this god-like being, or whatever you might choose to call it, need bear no resemblance to any theist's idea of God. It no more supports the Christian God than it supports the God of the Aztecs. Both gods were created in the mind of man in times when all acts of nature like floods or volcanic eruptions were explained as acts of their personal god.
Philosopher Dr. Jason Waller, in what I consider the very best book ever published on the subject, "Cosmological Fine-Tuning Arguments", points out that there are really only three possible explanations as to the origin of the universe.
1.   Brute fact
2.   Multiverse
3.   Minimal theism*
*By "minimal theism" he explains he means "god-like-thing".
Having already dealt with the multiverse hypothesis, I will try to now deal with the brute fact hypothesis.
Brute fact means that it just is. That the universe just exists as a brute fact, no explanation is necessary. Naturalists and theoretical physicist, Dr. Sean Carroll, in an interview in Salon.com, put it this way: "There is certainly no reason to think that there was something that 'caused' it; the universe can just be."
Nowhere in science is this explanation accepted for the existence of any other type of phenomena, yet Dr. Carroll posits it here as if it were a perfectly logical explanation.
I will compare Dr. Carroll's theory to that of William Paley who theorized that if you were walking in a meadow and came upon a watch lying in the grass, you would not assume that the watch just appeared from nothing, you would theorize it was designed and created by a watchmaker. Paley was referring to the human body. It is so well designed that it had to have been created by a creator.
This position was countered, very effectively, by Richard Dawkins in his book, "The Blind Watchmaker". Dawkins explained how the human body, along with every other living thing in the world evolved. The blind watchmaker was evolution. And I agree. I am emphatic in my opinion that anything that can be explained by evolution should be explained by evolution. Evolution is a hard fact. There is no need to imply that there exists any kind of intelligent design in the evolution of life. Yes, the DNA molecule is extremely complex. But DNA had over three billion years to evolve.
But the universe did not evolve. According to the Big Bang theory, the very fine-tuned universe just poppedout of nothing. It would be beyond absurdity to assume that Paley's fine-tuned watch just popped uncaused out of nothing. So why is it less absurd to assume that the fine-tuned universe just popped, uncaused, out of nothing?
The question is, was the universe caused, and if so, what caused it? Or was the universe uncaused, did it just pop uncaused out of nothing? This is not a scientific question, since neither can be proved or falsified by science. This is a philosophical question. Neither science nor philosophy can prove either that the universe is just a brute fact or that its existence was caused. But philosophy can help us decide which is most probable.
But first, we must deal with what I call "The Dawkins Objection." Richard Dawkins has claimed that accepting that the universe "just happened" is more probable than believing that it was created by God. That is because, even though the universe is fine-tuned, any type of god would have to be even more fine-tuned. Therefore, he claims, that it is more likely that the universe just popped out of nothing than a fine-tuned god just popped out of nothing.
It is my contention that this is not the case. There is no reason to insist that this, to use Dr. Waller's term, "god-like-thing" just popped into existence with full knowledge and ability to create the universe. While it is true that something had to come, uncaused, into existence, or always existed, I have no way of knowing which, but it did not have to, from the beginning, have the knowledge nor the ability to create the universe. It could have gained knowledge and ability over almost eternity it would have existed. That is, it could have evolved.
Of course, this is all just philosophical musings. There is not, nor can there be, any hard proof of any of this. But my point is that it is far more probable that some kind of god-like thing gradually came into existence than a fully fine-tuned universe just popped into existence out of nothing.
But why is this important? Why should we believe that it is likely that some god-like thing started it all? Well, there are two very important reasons. And the second reason is, by far, the most important.
1.   It is what a preponderance of evidence supports.
2.   There is a purpose behind our existence.
Make no mistake, I am not implying that the purpose behind existence is "us" earthlings. Not by a long shot. Though earth-like planets are likely extremely rare in the universe. Perhaps only 1 of every 100 billion stars there orbits an earthlike planet. By the latest estimates, there are likely 1 x 10 to the 24th stars in the universe. If only 1 out of every 100 billion stars has a planet where life could evolve, then there would still be 10 trillion planets that would permit the evolution of life.
But why, why, why are so many of the highly educated academia so opposed to accepting the concept that some kind of conscious being was responsible for the formation of the universe? It is because of their concept of the word "God". No, it is not Dr. Jason Waller's "god-like-thing" that they oppose. It is the God of the Bible that irks their emotions. No, there was no worldwide flood, there was no Adam and Eve, there was no Jesus who will save your soul and whose daddy will burn you in hell forever and forever if you don't believe it. No, they say, don't come here with your God bullshit, we know it is a crock and that settles it.
It is a psychological thing. The biblical concept of God has been pounded into their heads since they were babies. God is, whether they realize it or not, etched into their psyche as the God of the Bible. And that is what pops into their heads at any mention of the word. Their brains have been poisoned by fundamentalist religion.
Here is Victor Stinger's dedication page from his book, "The Fallacy of Fine-Tuning: Why the universe is Not Designed for Us"
To Christopher Hitchens,
Whose courage and brilliance I esteem
And whose friendship I treasure.
I am a fan of the late Christopher Hitchens as well. But the God Hitchens assails is clearly the biblical God and bears no resemblance to any kind of conscious being, or god-like thing that may have created the universe.
The "God & Cosmology" debate between Sean Carroll and William Lane Craig is a perfect example. Carroll puts the debate as a debate between "Naturalism vs. Theism". The theism that Carroll assails is of course the same theism that Craig champions, Biblical theism. If God did it, Carroll stresses, the universe would be kind and perfect and not the mess we see today. After all, the Biblical God is omnibenevolent and omnipotent and therefore would have only created a perfect loving universe.
You can easily prove that any type of being does not exist if you are the one describing the qualities it would have if it did exist.
It is just so easy to be an atheist. Shooting down the God of the Bible is like shooting fish in a barrel. I did it for half a century and it was such damn fun. But I will not engage in any more of that hilarity here. It has already been done by Thomas Paine, Christopher Hitchens, Richard Dawkins, Robert Ingersoll, and hundreds of others. Dogma, set as in concrete when a child, is almost impossible to remove as an adult.
For the scientific world, and even the philosophical world, the problem is, the biblical concept of God has poisoned and will continue to poison, any philosophical concept of a deity. Any mention of Dr. Waller's "god-like-thing" and the reaction is, "that smells of religion". The reaction is then the same as that of Luther, to "shut your eyes and stop your ears for nothing else needs to be seen or heard". Religion poisons everything.
Conclusion
It is the naturalists' position that the universe is just a brute fact. That our extremely fine-tuned universe could just pop, uncaused, out of nothing is, on the face of it, absurd. And the concept of the multiverse fails miserably as an explanation for how the universe began. That leaves us with only one option, some kind of "conscious entity" or "god-like-thing" that started it all. At least this has to be the most probable conclusion. Of course, that is only a philosophical conclusion as a scientific proof is impossible.
But if one does accept that the universe was created by some kind of conscious entity, then it seems obvious that it, (sorry but there is no pronoun for a genderless being), did it for a purpose.
That is, it strongly suggests that the universe has a purpose.
As to what that purpose is, we can only speculate. Perhaps we are destined to become perpetual seekers, always searching for the meaning of life, always advancing our knowledge, but never arriving at any final answer. However, we should always continue our search. To quote Socrates, "The unexamined life is not worth living".
That search is ongoing at the University of Virginia, School of Medicine, Division of Perceptual Studies.
There are several other universities and private organizations with similar programs.
While most people are very comfortable with one kind of dogma or another dominating their worldview, there are still many who are not.
Peak Oil Barrel