The US government has no problem meeting its debt obligations currently nor do most countries which was why I asked the question which countries were at risk of default. But apparently since you didn't understand the conversation you wanted to change topics.
It's all part and parcel of the same economy. If individuals aren't in a position to pay the taxes, where TF will the Federal Government get the revenues to pay the interest on $22+ trillion (and rising) debt???
Not sure why you would want to bring up my own debt situation as I have none, haven't had any for a couple of decades. I buy what I need and what I can afford. If everyone did that they wouldn't have a problem either.
I also have zero debt, but that is not the case for most Americans. Not a problem??? YET. But in your extremely obtuse manner, you choose to ignore the link I provided that shows that debt WILL become a problem for many if things continue as they are (either way in reality) .....
https://www.forbes.com/sites/johnmauldi ... e598f37fc5
Maybe all of these non-geologists are wrong.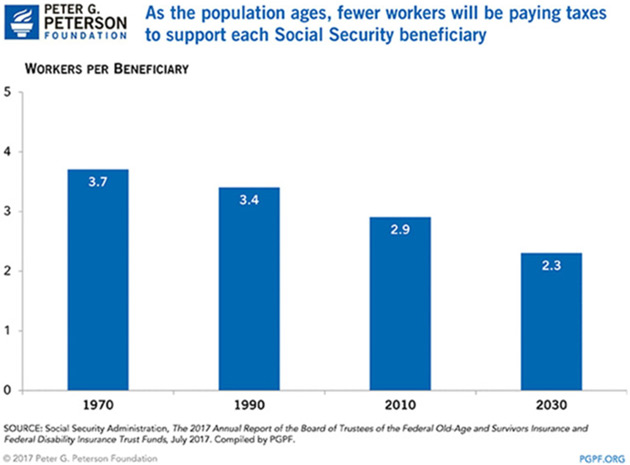 .... and that's just a reference to Social Security. The declining work participation rate + an aging populace will affect all sectors of our highly leveraged economy, along with declining overall purchasing power, government services being cut, increasing healthcare costs,,,, I could go on, but methinks your mastery of self-delusion is complete. So go about your business and stop pretending the rest of us are, as you've called so many of us, "morons".
And Billionaires' schemes? Really? They'll suck up your wealth as well because that's all they'll have left to take. You're nothing but a piss-ant to them.
You really are utterly out of touch with how the other ~300+ billion live.
Implying that it's THEIR problem is indicative of deep socioapathy and a lack of systemic thinking.