But what about peak oil?
So after a decade and a half Exploring Hydrocarbon Depletion where are we? We've been down every side road. Imagine all the energy used tapping into this site in the last 14 years! Coulda made lots of bitcoin!
When is peak and how will it affect me?
—
My WAG, to borrow a phrase, is you're soaking in it.
Not sure if it's truncated, shark-finned, or merely obscured by politics and techno-econo gyrations but we didn't come out of the last crunch with a bunch more big reservoirs as I think usually happens, we came out with essentially a secondary recovery technique being used as the primary. Either Rock here might agree we didn't come out with discoveries, we came out with reserve growth.
Hubbert guessed tech would improve, but didn't think it would be fast enough to increase the peak or move it substantially, but that it would perhaps slow the rate of decline post peak. I'm thinking that is where we are, it's just that this particular tech worked exceptionally well and super fast. It is skewing the peak that might well have happened without LTO.
The bad part of LTO is it lowered the price of oil right at the time the price signal was affecting consumption, alternatives, lifestyle, and how we thought about oil. But now, after a couple of years of low prices, major automakers are canceling cars! Ford will only make the Mustang and trucks/SUVs on truck chassis of various sizes. The US will be the largest oil exporter! Woot!
The worst thing about LTO is it is actually encouraging us to burn the remaining C+C as fast as possible, faster than if high price had continued and forced us to conserve. Mark one down for the Shark.
Politics will get screwier before we get the Peter Principle President out the door, until then who knows what is going to happen. Currently we're all paying a Stick-it-to-Obama Iran premium when we fill up, could be lots more of that. I'd give a new Muslim war somewhere in the sand about an even chance–all he's waiting for is the excuse (at least we know it won't be with russia).
But the economy is heating up, especially with the corporate person and give-the-rich-a-hand (out) tax break. We all know 3 things precede a recession: overvalued stocks, inflation and high oil price. So a recession is likely fairly soon, says me, and with recession comes easing on oil markets so at least another cycle of oil price at these levels.
Lots of unknowns, political uncertainties, economic inevitabilities, tech Eurekas! and maybe hidden gems like Alaska and the North sea were in the day. But somewhere up this road there is the hard place where geology becomes apparent, in maybe the next 5 years we just might see over the edge and need to drop down a gear or three.
Any guesses?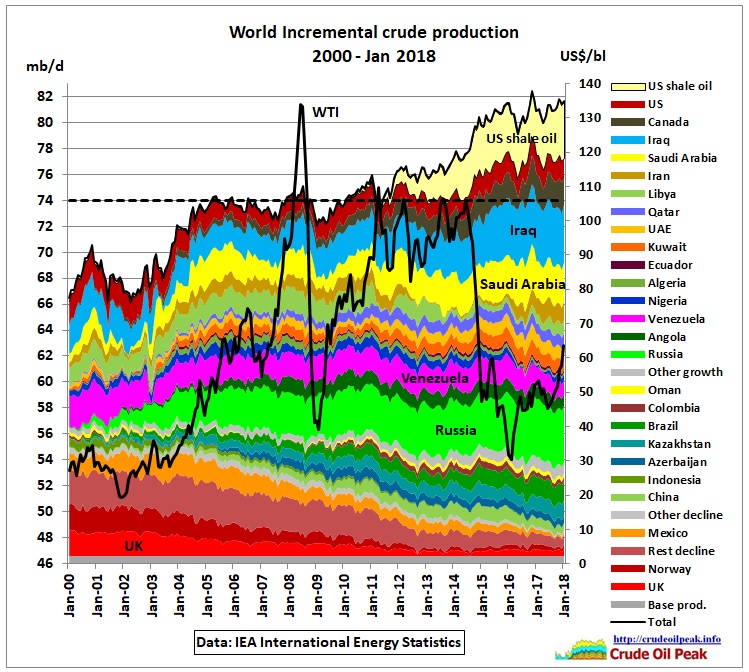 http://crudeoilpeak.info/latest-graphs