vtsnowedin wrote:-snip-
That is an awfully big saltbox for a retired couple. How many grandkids do you have coming to visit?
That was just an image I grabbed from the web. The actual house will be about 1800 square feet plus an unfinished basement and will probably have a "five window" front facade versus the larger "nine window" shown above. Something like this:
Although the exterior will be strict early colonial saltbox (from the 1700's), it is in most respects an entirely modern house. The other exception being the timber frame, which is an original colonial construction method:
...mortise and tenon joinery held together with hickory pegs, covered with "SIPs" (Structural Insulated Panels):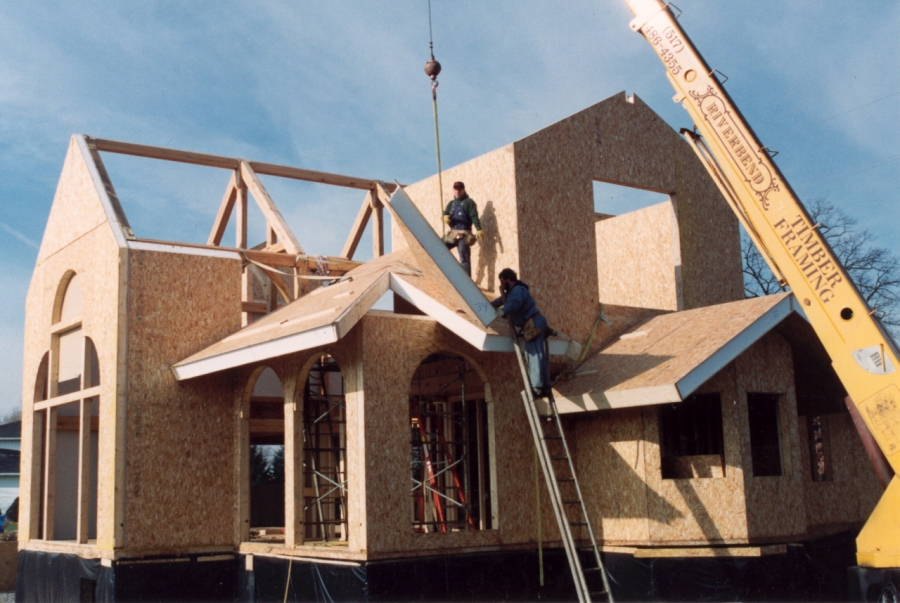 ...superinsulated foam/osb panels and erected over an ICF (insulated concrete form) basement:
Then finished with a Tesla roof (tempered glass in the appearance of period-correct slate) and weatherproof fiber-concrete (i.e. Hardiplank) that mimics colonial white pine siding that is completely fireproof, but has color all the way through, and does not need painting ever.
Such is the state of technology that today one picks a standard home design and works with a graphic designer to make any customizations, rather than an architect. Then when the excavation and ICF foundation/basement are complete (including the vital foam insulation under the basement slab), the timber frame and the SIPs are manufactured on CNC machinery, trucked to the site, and erected in approximately one week. Then roofing and windows make for a weatherproof shell, and several months of electrical/plumbing/drywall/HVAC/misc commence.
Compliance with the "PassivHaus" standard costs about 30% more than a building code compliant structure, but IMHO one would be foolish to build anything else except an off-grid, all electric, super-insulated home. In actual fact, a contractor building code-compliant residences is building the worst-quality homes that can legally be built.
In answer to your question, the wife and I had one daughter who in turn had twins, so I am blessed with two grandchildren, one boy and one girl aged 19 months.