Ibon wrote:This represents a cultural shift of values. This comes up today really only in wealthy nations where individuals, jaded with consumer culture, make individual choices to increase well being by consuming less.
The problem in even talking about "growth", as we've always said, is the metric. GDP as commonly used assumes all spending is additive and higher is always better: crime, war, insurer profits, money-for-nothing from any rentier activity, etc, etc, all add to gdp.
Much of the disaffection, alienation and feeling "left behind" today is because we've been hearing for 50 years right up to
yesterday
that "GDP growth is so strong!" but when we open that checking account app our balance doesn't look so strong.
Rentier capitalism refers to monopolization of access to any (physical, financial, intellectual, etc.) kind of property, and gaining significant amounts of profit without contribution to society. Compare that to the period from say the 30s-80s where income distribution was much flatter, most of GDP was about producing things rather than profits.
At the same time pollution, resource depletion and better vehicle safety don't count... in fact "gdp" would increase if seat belts disappeared because injuries and so medical expenditure would rise creating jobs and investment opportunities and of course profit.
GDP stopped being relevant, if it ever was, when "growth" decoupled from happiness and you'll notice this picture looks just like the wages/productivity chart which reflects the rise of those same rentier activities as well as the Reagan revolution which put an end to when America was great by returning to the regime of all gains trickling up.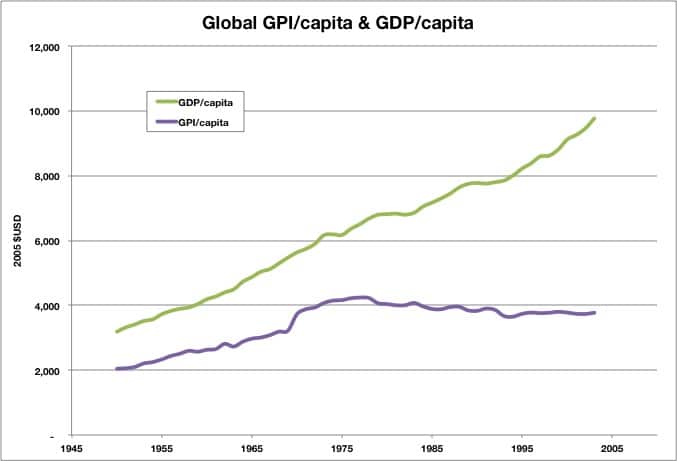 GPI
Unfortunately, the reason this type of metric, GPI or similar, will not be replacing GDP anytime soon mainly because it adjusts for income distribution, and in our society the less income is distributed the better it is for the people buying the decisions and making the headlines. Imagine CNBC breathlessly reporting
GPI Stagnates 43rd Year!