I debated putting this message in the thread " What effects of political change in US? " before I created a new thread. Although it was tempting, I decided this topic deserves a thread of it's own. Not in the least because IMHO there is not going to be a major change in US politics. In fact, there never is and probably never will be a major change, in politics by the American Oligarchs and for the American Oligarchs.
Of course, many of you are already jaded political junkies. Many of you are also amused observers of the manipulation of the American public by the media. This thread will not be news for you. Now I begin.
This man is DOOMED:
Actor Kieth Carradine as POTUS Conrad Dalton in

Madame Secretary
NO, I'm not talking about actor Kieth Carradine, younger half-brother of David Carradine (
Kung Fu
) who happens to be one of my favorite character actors - I'll never forget his portrayal of Wild Bill Hickok in
Deadwood
. I'm talking about Conrad Dalton, the President of the United States, in the second season of the popular TV series
Madame Secretary
. At the end of this season, he will die, but not until AFTER he appoints his wildly successful Secretary of State, who happens to be a slim and attractive blonde woman, as his VP:
Actress Tea Leoni as the newly appointed Secretary of State in

Madame Secretary
The "hidden message" is as subtle as being slapped briskly with a 2X4: It's GREAT having a woman POTUS!". (Even though Hillary NEVER looked as good as Tea Leoni.)
I know this because it has already happened once before. Before Barack Obama popped up and wrested the Democratic candidacy from Hillary last time, this woman was POTUS because of the same sorts of political shenanigans: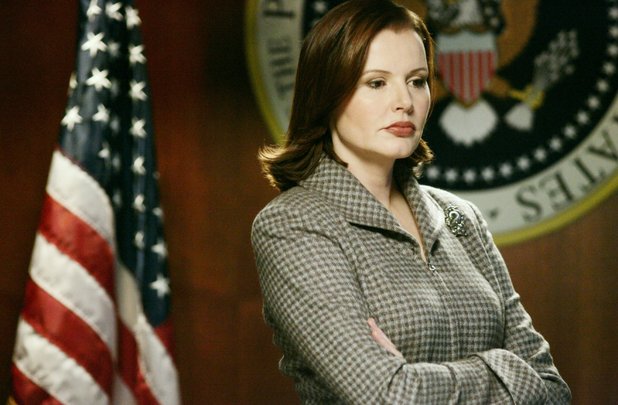 Geena Davis as POTUS MacKensie Allen in

Commander in Chief
Geena Davis and Tea Leoni are both popular stars, not "drop dead gorgeous" in the Hollywood tradition, but very attractive, very personable, slightly over the prime age for Hollywood, and both actresses just NAILED the part of a smart, sexy, and above all competent woman. And just in case you missed the parallel the first time, she will be Secretary of State before she becomes a VP and then the POTUS. As Secretary of State, she will be wildly successful, which is something Hillary was not. This time, Hillary will not be asked to step aside so that a Black Man can go first.
If you have not been watching
Madame Secretary
, you should be. The weekly topics bear an incredibly close resemblance to current events in the Middle East and Russia in particular. The major difference being that the USA "wins" every time, and everybody feels good, and the Administration has yet to be investigated by Congress.
If you are reading this, and you are an American with a TV, you probably have smiled at this already. But if you are functionally illiterate, don't read a newspaper or blogs or even have an interest in the news, you are about to receive instructions on how to vote. Bill and Hill are going to Washington for a third term in the Big White House.
The whole thing kinda reminds me of another time when a Republican was POTUS, and a weekly television show called
The West Wing
was gently chiding us about electing a Republican, and showing us how we really would have been happier and richer and more popular had we elected a Democrat:
Martin Sheen as POTUS "Jed" Bartlet in

The West Wing
...or that movie that came before the TV show:
Michael Douglas as POTUS Andrew Shepard in

The American President
The saddest comment of all: We deserve the politicians we elect.