The OPOC Engine, 100 mpg?
Engine Production Expected To Begin In 2014
$200 Million Deal to Build OPOC Engine Plant
Zhongding Power and EcoMotors today announced the closing of a commercial agreement to produce the opoc® engine, a breakthrough technology that has the potential to be the world's cleanest, most efficient, lightweight, and lowest cost internal combustion engine. One of the largest automotive component conglomerates in China, Zhongding will finance and construct the first opoc® plant in the Anhui Province. The plant represents an investment by Zhongding of over US $200 million and will have a capacity of about 150,000 engines per year – over US $1 billion in revenue potential. High-volume production is expected to begin in 2014.

The opoc® engine technology developed and owned by EcoMotors can deliver the same power level as conventional engines at half the size, a lower cost, and lower emissions. With the potential for 20-50% better fuel economy compared to a state-of-the-art, conventional turbo-diesel engine, EcoMotors' opoc® engine has the potential to revolutionize the internal combustion engine.

The inaugural opoc® plant has received the full support of key Chinese government bodies, including the Xuangcheng government and Anhui provincial authorities; a second Zhongding production site may be announced at a later date. Zhongding plans to supply opoc® engines to a broad range of customers, including GenSet engines, off-road and commercial vehicles. A key provision of the agreement allocates a portion of the plant's output to EcoMotors for sale and distribution to its own direct customers.

full article at

http://www.ecomotors.com/zhongding-powe ... gine-plant
OPOC: Opposed Pistons, Opposed Cylinders
Bill Gates and fellow billionaire Vinod Khosla announced that they were investing $23 million in EcoMotors, a Michigan company that has promised to produce an engine that would convert far more of its fuel energy into useful work, and in doing so crack 100 mpg.

In its key operating range, a diesel OPOC could convert as much as 48 percent of its fuel's energy into work, beating today's best diesels. Moreover, an OPOC engine is just half the size and weight of a comparably powered conventional engine, which reduces the burden of moving its own mass.
This design configuration eliminates the cylinder-head and valve-train components of conventional engines, offering an efficient, compact and simple core engine structure, resulting in a type of engine that is lighter, more efficient and economical, with lower exhaust emissions compared with conventional designs.

the EM100 diesel model, which has a cylinder bore size of 100mm and weighs 134 kilogrammes, it is capable of producing 325hp at 3500rpm along with an incredible 900Nm of torque.
I first read about this engine here on PO.com years ago. Lately, I have looking at old subjects to see whatever became of them.
Well, the OPOC engine is scheduled to begin production in China in 2014. Seems like
everything
is beginning production in 2014.
When I first read about EcoMotors OPOC engine, I thought, "Hmmm... this should be a reality in just a few years. It's incredible how long you have to wait for things. Even things that don't seem all that difficult to produce.
Strangely, this sort of design was first invented in the 1920s by Robert Bourke:
The Bourke engine
Bourke is to engines as Tesla is to alternators, this was no accident, Robert Bourke taught engine maintenance at the Unites States Air Service School at Kelly Field, Texas in 1918. He fully understood the theoretical limitations of the Otto 4 cycle and sought a simpler design and for years worked on the problem until 1932 when he built a working prototype. Bourke set out to overcome the complex design of gasoline engines, he succeeded. The Army Air Force was impressed and awarded him a contract to build an aviation prototype. According to legend he did and connected a wooden prop to the crank, when he gunned the engine the torque was so great the prop sheered, the blades could not keep up with the engine RPM acceleration.

No real pilot ever complains about too much thrust, the rapid acceleration of a Bourke engine can be overcome with a gear box or throttle acceleration limiter.

The Bourke design is considered by some to be a 'one-stroke' engine. Every half turn of the engine, or 180 degrees of revolution, the engine has a power stroke, this is compared to a 2-stroke engine that fires every 360 degrees and 4-stroke every 2 revolutions, or 720 degrees.  Bourke's engine is simple compared to high performance aircraft radial engines: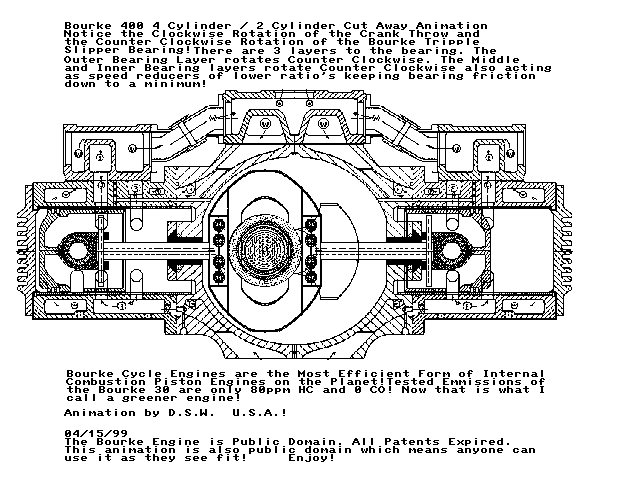 And it has taken all this time for it to be adopted. Why?