pstarr wrote:

Plantagenet wrote:Metal worker debunks argument that burning jet fuel can't cause steel to become weak

angry-metal-worker-makes-video-debunking-jet-fuel-cant-melt-steel-beams-911-

Enough with the endless arguments over whether or not jet fuel can weaken steel beams. Yes it can.

This metalworker guy proves burning jet fuel can turn steel into putty---right before your eyes in a youtube video

CHEERS!

Impressive credentials. An angry metalworkers vs 1,000 professional trained engineers. Sorry Planty, I have to go with the experts. Neither the NIST politically-appointed flacks nor the metalworker know squat compared to the experts.
There were an army of NIST Ph.ds who did the US Government report on the 9/11 building collapses. These people are probably the best in the world at what they do. The NIST scientists and engineers had access to the site, access to all the wreckage, and they had every instrument you can imagine and an unlimited budget to do tests on the materials. And the "angry" metalworker might just be one guy, but he proved that steel becomes malleable from the heat produced by burning jet fuel and made a youtube video to show the world. Its just a fact that the heat from burning jet fuel is capable of weakening steel to the point it fails.
If the "1000" experts who doubt the official story on 9/11 have proof of anything suspicious or underhanded then they should take it to court. They should file a class action suit for billions of dollars in damages on behalf of off the victims or all Americans or some group or another and sue the heck out of NIST or the Bush family or the airline companies or the NYC fire department or the US government. They should sue whoever they blame and present their evidence in court. They could even file for damages in civil court, where the level of proof is much lower then in criminal court, if they have evidence that damage or death resulted from some plot.
Thats how our society works---things are decided in court.
The fact that the 9/11 truthers won't take their "truth" to court----not even to civil court--- shows that they don't have anything that will stand up in court.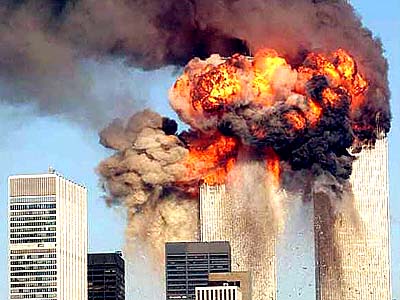 The 9/11 truthers claims won't stand up to examination in court