World Exports versus Consumption, The ELM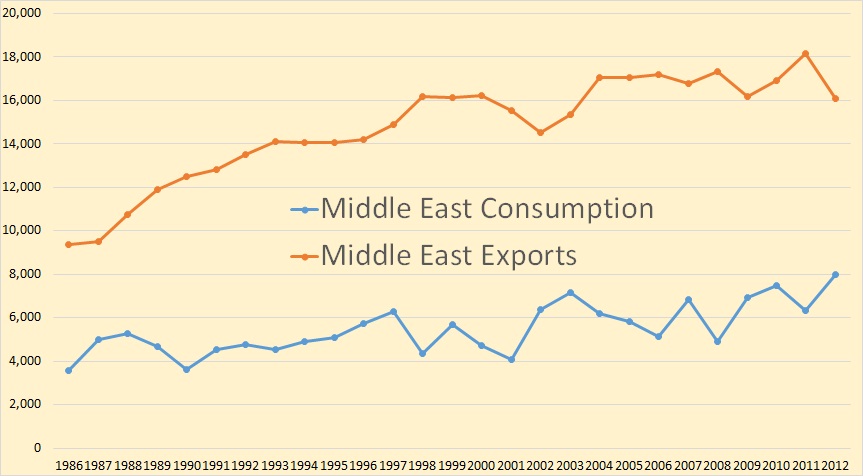 The EIA has updated their International Energy Statistics with annual production numbers through 2014 and export data through 2012. Sometimes these stats can be confusing as they include several types of production and exports. But for production I use only "Crude plus Condensate" and for exports I used "Crude Oil Exports" which I assume includes condensate as well.
Also the export data is not exact, just close, because some importers are also exporters. For instance in 2001 the US exported 59,000 barrels per day. In 2012 the US exported 629,000 barrels per day. The exporting of condensate is allowed in the US and since the Shale boom condensate exports have increased quite dramatically because Light Tight Oil is rather top heavy with condensate.
To get exports versus consumption for exporting nations I simply subtracted their exports from their production. The difference was what they consumed. Similar data can be found on the Energy Export Databrowser.
I think the data clearly endorses Jeffrey Brown's Export Land Model.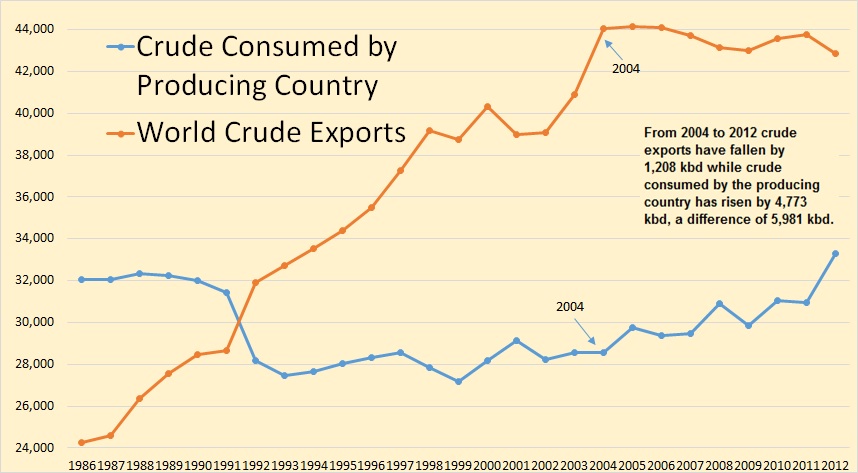 In 2012 76,160,000 barrels of C+C were produced per day. Of that 76 million barrels 42,845,000 barrels were exported while the other 33,315,000 barrels was consumed by the producing nations. That is this is oil that was never exported.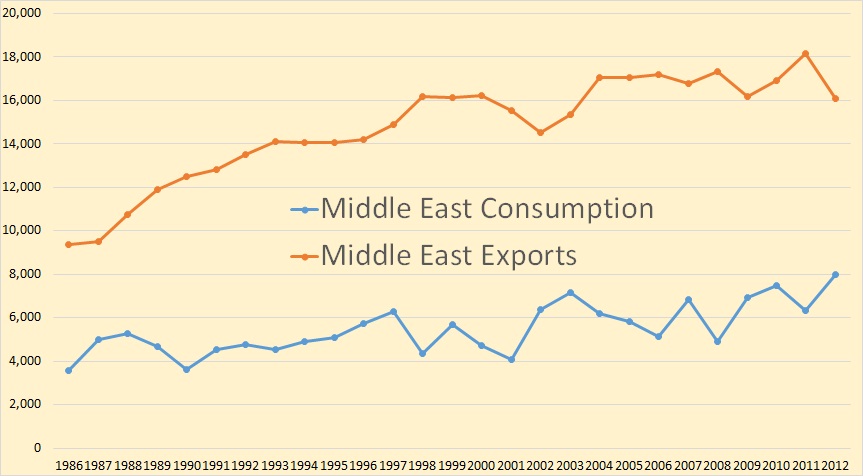 The Middle East is the world's largest exporting geographical area. However in 2012 their exports dropped by 2,056,000 bpd while their consumption increased by 1,650,000 barrels per day. Obviously some Middle East countries were net importers however it is very likely that all Middle East imported oil was also produced in the Middle East so the above chart should be relatively accurate.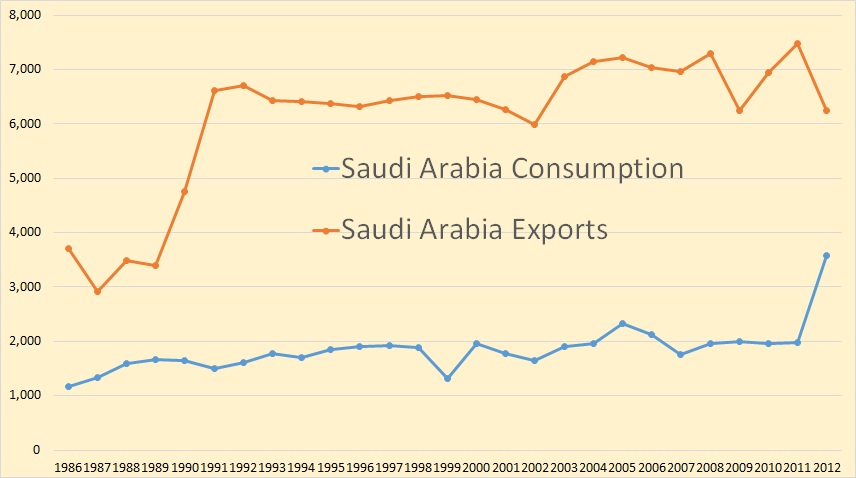 Saudi Arabia is the world's largest crude oil exporter. The EIA says, in 2012, their exports dropped by 1,227,000 bpd while their consumption increased by 1,600,000 bpd.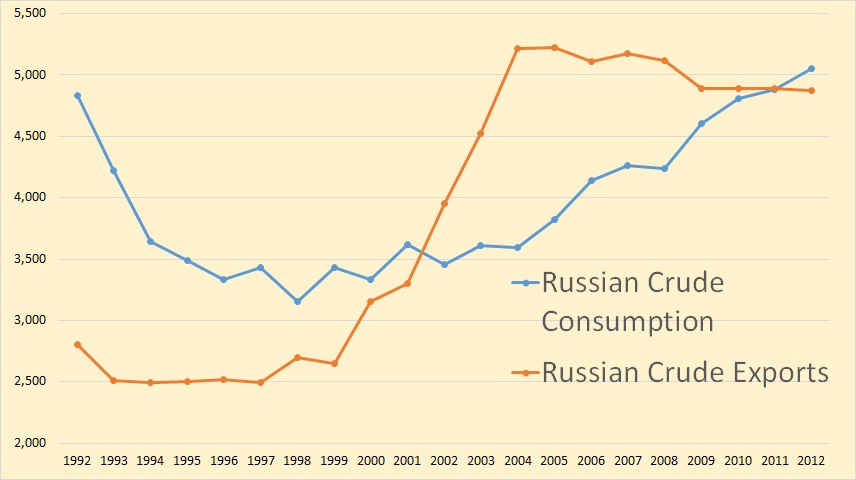 Russia is pretty well tied with Saudi Arabia for the world's largest producer of crude oil. But in 2011 Saudi exported 2,585,000 barrels per day more than did Russia. But in 2012 that difference dropped to 1,379,000 bpd. Well that is if the EIA's data is correct.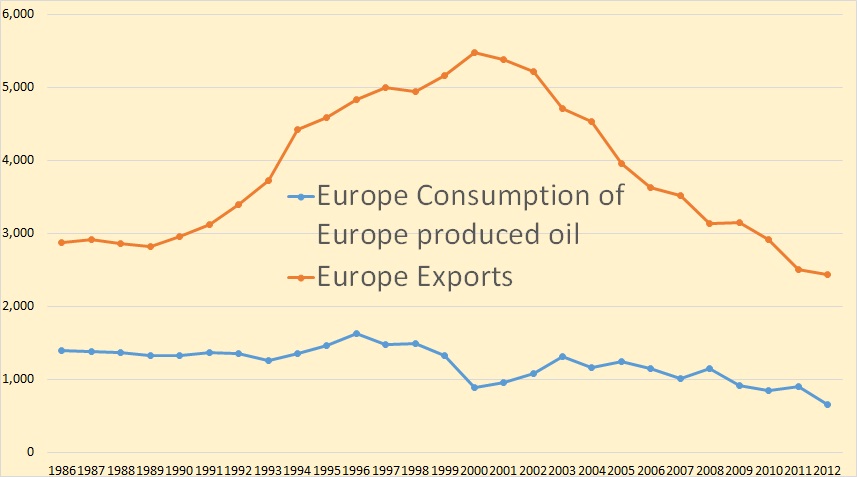 Of course Europe's exports, of which almost 100 percent if from the North Sea, have been declining since they peaked in 2000. This chart only reflects the European oil that was not exported. It does not reflect total European consumption. Most of European consumption is from imported oil.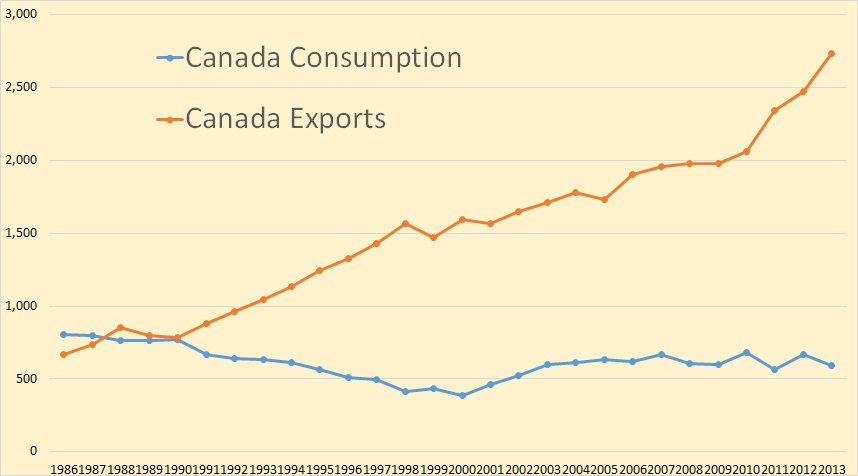 Canada is on of a very few places in the world where exports are increasing.
AAR Reports Rail Traffic  Crude Oil Carload Update
The AAR also reported U.S. Class I railroads originated 113,089 carloads of crude oil in the first quarter of 2015, down 17,982 carloads or 13.7 percent from the fourth quarter of 2014.
I did the math. Using an average of 700 barrels per carload that works out to be 879,581 barrels per day in the first quarter 2015, down from 997,279 bpd by rail in the fourth quarter a drop of 117,698 barrels per day. Because the fourth quarter had 92 days as opposed to 90 days in the first quarter, that works out to be 11.8 percent instead of the 13.7 percent stated above. However an 11.8 percent decline in crude oil rail traffic is one hell of a drop in the first quarter.
And it was mostly Bakken Oil!  Moving Crude Oil by Rail
North Dakota, and the Bakken region more generally, have accounted for the vast majority of new rail crude oil originations. According to estimates from the North Dakota Pipeline Authority, around 750,000 barrels of crude oil per day were moving out of North Dakota by rail as of mid-2014, equivalent to more than 60 percent of North Dakota's crude oil production.
Ancient Bacteria Sweat Fuel Under New Mexico's Desert Sun
Under the desert sun of New Mexico, scientists have engineered ancient bacteria to produce carbon-neutral ethanol using just the sun, waste carbon dioxide and non-potable water. The fuel that results could one day be cheaper than oil. Bloomberg's Ramy Inocencio reports from outside the oil town of Hobbs.
Alga, in this case cyanobacteria, the most primitive of bacteria, they say, can be turned into ethanol at the rate of 25,000 gallons per acre per year. That works out to be 595 barrels per acre per year. But looking at this operation it looks like a very expensive operation. Please watch this 3 minute 22 second video and give us your opinion in the comments section.
Texas' oil and gas industry lost 8,300 jobs in April — the most in nearly 30 years
Although oil prices have rebounded about 36 percent in the last month to about $59, many companies are still going through with previously announced plans for layoffs and reduced capital spending this year. That's affecting job growth in Texas — the nation's top oil production state — and other states.
The last time Texas lost this many oil and gas jobs was in 1986, with a drop of 9,000 jobs. That was also during the last big oil crisis.
Goldman Sachs sees $45 oil by October
The downturn in activity sparked optimistic sentiment among oil traders that the markets have adjusted, and could be on their way back up.
Not so fast, says Goldman Sachs. The investment bank argues in a new report that not only is the oil rally a bit premature, but that the rally itself will be "self-defeating." The rally could bring drillers back, but that would merely contribute to a reversal in price gains. More drilling and more production worsen the glut that has not yet been resolved, and prices could be in for a double dip (or triple dip if you count the price declines from February to March 2015).
The Goldman Sachs report says that the problem is not just from a surplus of crude, but also a surplus of capital. Access to cheap finance has allowed production companies to stay in the game and continue to drill new wells. Even companies that have seen their cash flows dry up or have run into liquidity problems have still been able to find investors willing to pony up fresh capital.
 Quote of the day. The U.S. is definitely losing its train of thought
Several surprising forces are gathering to take down the Happy Motoring matrix. Peak oil is actually not playing out in the form of too-high gasoline prices, but rather a race between a bankrupt middle class unable to pay the total costs of motoring and an oil industry that can't make a profit drilling for hard-to-get oil. That scenario is plain to see in the rapid rise and now fall of shale oil.
While browsing on Google News I saw the above quote and thought "Damn, that says it far better than I ever could. That hits the nail squarely on the head."
Peak Oil Barrel by Ron Patterson