In Part 1 of this series, we explained why Electric Vehicles (EV) while strong will unlikely make a dent in existing demand for more than a decade. Here, we examine a big future demand factor being ignored. India.
India is the seventh largest country in the world by area and has the second largest population. The last 7 years have seen strong GDP growth, with IMF expecting similar numbers for the foreseeable future.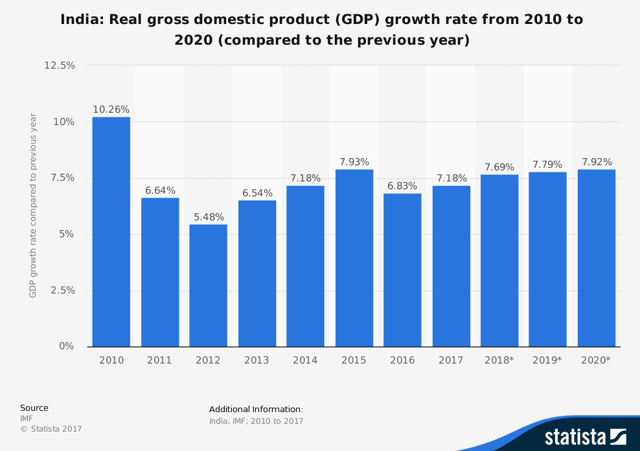 India's oil demand, though starting off a really small base, has been one of the fastest areas of growth globally. Between 2005 and 2015, India's oil consumption grew 4.9 percent while global growth was 1 percent.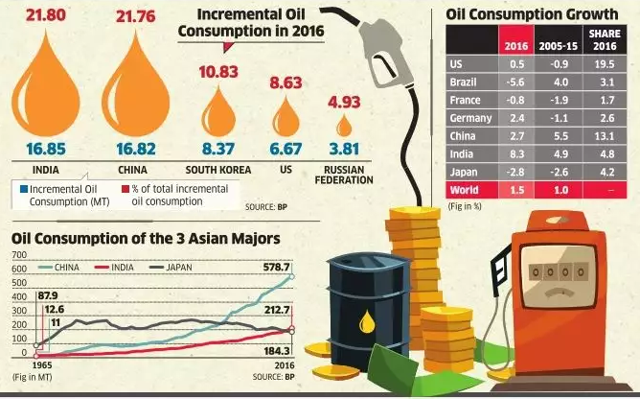 Source: Economic Times
The total demand from India exceeded 4 million barrels per day in 2016. The demand growth from India surpassed that from China for the third consecutive year. This is really interesting as India is producing such large incremental demand numbers off a really tiny per capita base.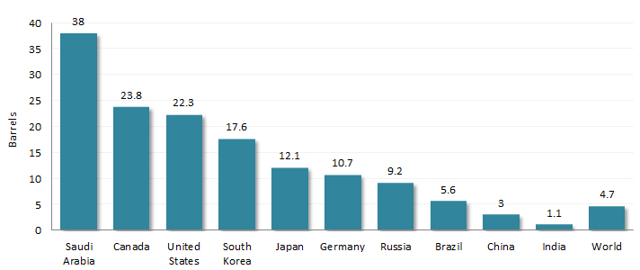 Source: Eniscuola.net
What is even more interesting is that vehicle ownership in India is still at extremely low levels.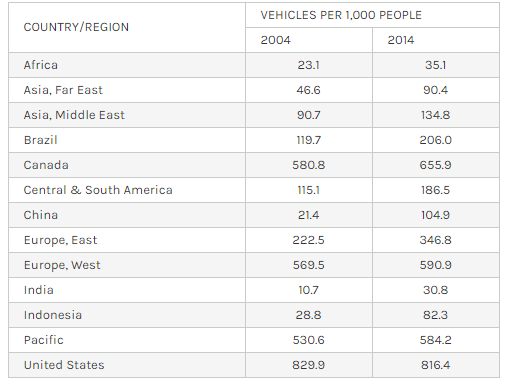 Source: Energy.gov
While it has tripled off its 2004 levels, it still is one third that of China and less than 4% that of the US. While car sales are extremely lumpy with big variances from month to month, overall percentage growth is still on track for high single digits for 2017.
The big picture
With India's GDP growth on track for close to 8%, we see car ownership increasing at an even faster rate. Correspondingly, we see oil demand increasing at between 350,000 barrels per day, in 2018 and averaging 400,000 barrels per day increases 2020 onwards. There is significant upside potential to these forecasts. For example, if India consumed the same amount of oil per capita in 10 years as China does today, demand would increase 700,000 barrels per day per year. Just as the world underestimated China's oil demand at the turn of the century, we believe India's potential demand is severely underestimated. A good example of this can be seen in the predictions from 2010 where it was estimated that India's oil demand in 2030 would be just 4.7 million barrels/day.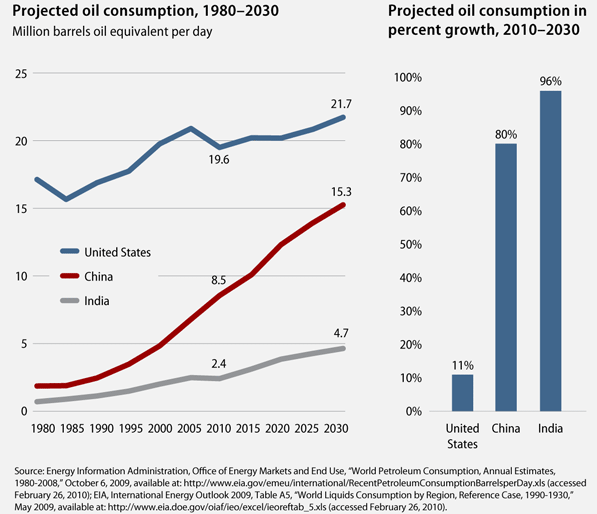 Based on the current trajectory, this consumption level will be reached prior to 2020, a whole decade ahead of schedule.
Even after another set of revisions to align to the reality of the situation projections put India's demand growing at a mere 6.5 million barrels per day in 2030 while currently, demand is growing at more than 2X that trajectory.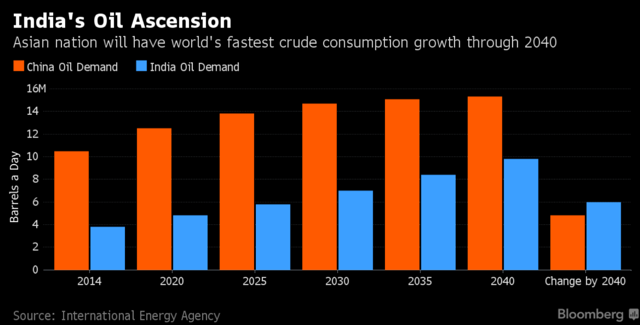 But are they not going all-electric?
While India has produced stellar GDP growth, its political system frequently makes claims that have zero basis in reality. There was one such silly prediction made recently.
Minister of State for Power and Renewable Energy Piyush Goyal said the centre is preparing a roadmap to ensure that only electric vehicles will be produced and sold in the country by 2030.

The automobile industry is warm to the idea and has responded positively, said Mr. Goyal, adding that the shift from petrol and diesel fuelled vehicles will reduce India's dependence on oil and the cost of import. Besides, it will strengthen the rupee and the current account deficit would disappear. But, above all, the air will be cleaner and will be an "end-to-end solution to address the issues of climate change", he said.
There are many hurdles for India to come anywhere close to this. Beyond the severe lithium and cobalt raw material limitations that apply to all EVs, India's electric grid is about half a century behind that of US and other developed countries. While we don't doubt that the next 13 years will improve this, the biggest challenge will be just keeping up with regular demand growth of 8-10% compounded on progressively larger numbers. Added to this, India's per capita GDP is about 3% that of the US.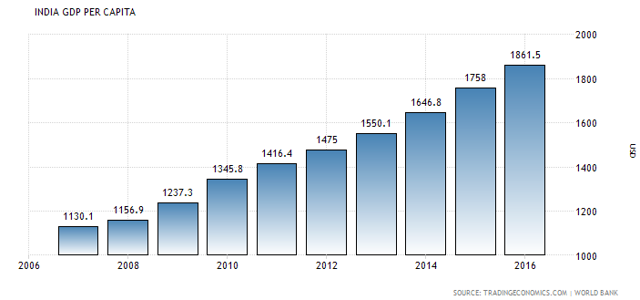 Even assuming two doublings, this will be around 12% that of the US in 2030. Even with all the cost improvements in the world, this is not a country that will be going all-electric while matching US GDP per capita in the year 1950.
Conclusion
Energy investments have had a terrible 2017 in spite of oil prices actually increasing. This has further entrenched the belief that $60/barrel represents a ceiling rather than base of which prices can move higher. That is incorrect in our view. The stage is now set for a big bull market lasting several years as supply falls short and demand continuously surprises on the upside. For 2018, buy energy.