What The Peak Oil Demand Group Is Missing
Summary
Demand for oil has increased every single year since the 2008 recession.
In spite of EV sales, the global non-EV fleet keeps increasing.
Rapid, or even rabid, growth will take a long time to stop the ICE fleet from expanding.
The market makes the news. Negative price action begets negative stories, and vice-versa. The media is hooked on causality and will go to great lengths to establish a link. The last 6 months have seen oil prices remain steady in spite of OPEC cuts leading to the "Peak Oil Demand" stories. The argument there can be summed up in 3 main points.
Renewable energy push will decrease demand for oil.
Banning of internal combustion energy (ICE) vehicles will decrease demand for oil.
Global oil consumption has likely peaked, and coupled with increasing shale oil supply, will keep prices depressed forever.
In all likelihood, oil prices will be significantly higher down the road, and we predict 24-36 months at most till "peak oil" stories make their appearance.
Let's look at the data.
1) The crystal clear chart
Looking at oil consumption statistics to date, there is absolutely no evidence that demand is reversing.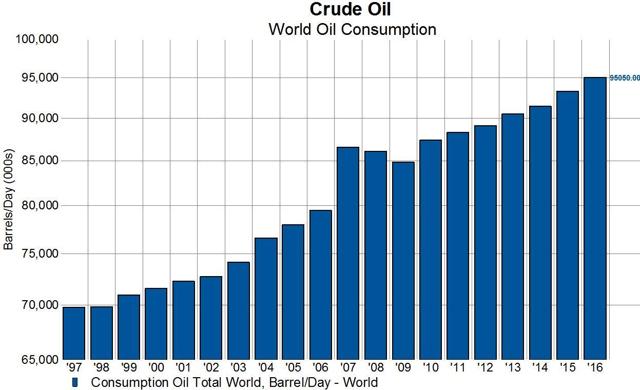 Source: EIA
What is notable about the chart is that oil prices were quite high by recent standards between 2006-2008 and again between 2010-2014, and did little to actually slow down consumption.
2) The drop in the bucket known as EV sales
Global EV sales are on track to have a banner year. Current trends show that this may be the first year that sales cross 1 million vehicles annually. What does that look like in terms of global vehicle sales?

While that is one scintillating trend, it does not appear remotely ominous.
3) The global ICE fleet is going to keep getting bigger
EV sales in 2017 will increase about 30% from 2016 levels. While that is good growth number, it is less than the percentage increases in both 2015 and 2016. To model the size of the global ICE fleet, we made the following assumptions.
Total EV sales increase 30% annually every year till 2030, which itself took a huge dose of optimism.
Total vehicle sales increase 3% annually every year till 2030.
60% of total vehicle sales are replacement vehicles, and the rest are new vehicles added to the global fleet. This is about in line with what gets us to the 2 billion global fleet total by 2030.
Total ICE vehicles added to the global fleet is calculated as (60% of Total Vehicle sales) – (Total EV sales).
At a 30% growth rate in EV sales, the number of new vehicles being added to the global fleet first starts decreasing in 2026.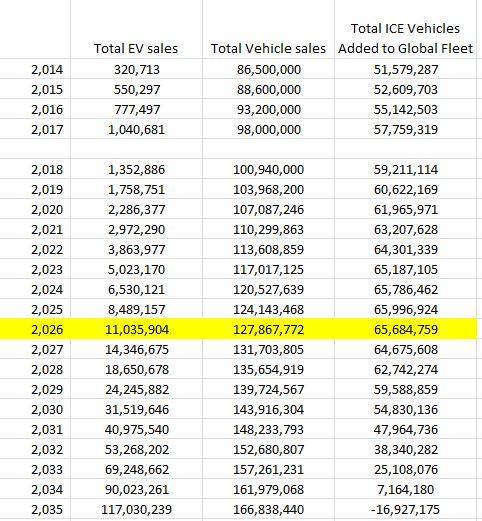 Take a second to assimilate this. This is not the point at which the global ICE fleet starts decreasing. It is the point at which the rate at which we add to the global ICE fleet will decrease. It will be all the way ahead in 2035 when we start reducing the actual ICE fleet from a point much higher than today's numbers. Of course, that assumes continued 30% compounding, which would be a bit silly. But this extrapolation goes to show how much time the world has even in the absolutely best case. Even with pedal to the metal growth, we are likely to hit constraints in the form of lithium and cobalt availability no later than 2025.
4) Do we want to bail out Detroit again?
Unless Amazon (NASDAQ:AMZN) and Tesla (NASDAQ:TSLA), two companies that take special pride in being run as not-for-profits, take over the entire auto industry, even 30% growth rates are likely to be a very painful pill to swallow for automakers.
As automakers struggle to achieve the EV sales figures required by regulatory bodies, they stand to lose thousands per sale; GM will lose $9,000 per Bolt, while Fiat loses $14,000 for every 500e sold.
Sure, costs will come down gradually, but to go from a $9,000 loss to $5,000 in profits which GM makes on average on every car will take a long time. Don't expect automakers to push this fast. Also in 2019, GM will hit its Federal subsidy cap, which should itself be a big slowdown force to contend with.
5) What about hybrids?
The US fleet fuel economy is improving, albeit very slowly. In a recent comprehensive set of tests done by Emissions Analytics, an independent U.K.-based company, the last 4 years have produced almost no gains.
The results of the tests cast a cloud over an era of purported progress in fuel economy. Four years of results in the U.S. show no actual improvement in overall fuel economy and no decrease in CO2 emissions, according to EA.

Vehicles with engines smaller than 2 liters have seen essentially no change in fuel economy; vehicles with engines 2 to 3 liters (the most common) have seen fuel economy decrease by around 8 percent, while vehicles with engines 3 liters or larger have seen an 8 percent increase in fuel economy.

This decrease among the most common vehicles is magnified in the U.S. because Americans are commuting longer distances without switching to smaller vehicles.
Hybrids also consume large amounts of lithium, and the more they steal from a tight market, the harder it will be for pure EVs to grow.
Conclusion
The global macro backdrop of fast economic growth, coupled with spending cuts across the board on oil & gas exploration, is setting up the stage for significantly higher prices down the line. The media is still driving looking in the rear-view mirror. We think there are some fantastic opportunities today in the oil & gas sector, like this one which we recently wrote about. In Part 2, we will explore why even the regular increased demand forecasts could be extremely conservative.