The Oil Slump : Why We Aren't Going Back To The 1980's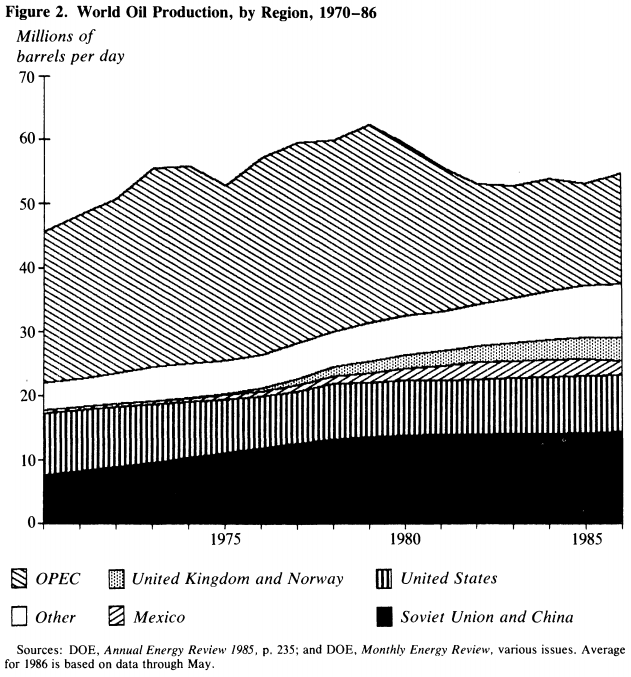 The world is a very different place today than in the 1980's. The demand growth from China in the early 2000's completely changed the demand picture.
OPEC, namely Saudi Arabia, doesn't have the spare capacity it once had to flood the market.
The shale plays in the United States require constant investment to maintain production, much less grow production.
The mega-fields like Samotlor and Prudhoe Bay have already produced the vast majority of their reserves. It is very difficult to maintain production in old assets as water cut increases.
Oil and gas stocks look to be a great investment if you have a longer time frame than 6 months.
There have been a lot of articles recently on why oil prices will be "lower for longer" and how history is repeating itself a la the 1980's oil glut. In my opinion, it's just sensational journalism and doesn't take into account how different the world is now. This statement isn't from a perma-bulls mouth, the market is absolutely oversupplied right now and I expect oil prices to break down to $40/bbl or lower through Q1 of 2016. However, by Q2 I fully expect we are back to $55/bbl or higher with the distribution of outcomes skewed to the upside.
Going Back In Time to the 1980's
OPEC's actions in 1986 were shocking to say the least and a lot of great research was done on the event. Dermot Gately wrote a fantastic paper on the 1986 price collapse entitled "Lessons from the 1986 Price Collapse" and it can be read here.
During the 1970's, OPEC started to flex their muscle regarding the global price of oil. In 1973, some of the OPEC countries refused to export oil to the United States causing prices to quadruple. In 1979, the Iranian revolution and OPEC curtailing production led to the price of oil doubling. The high prices led to increased exploration and development in other countries and caused OPEC to have to continually cut back production to sustain the price levels they set.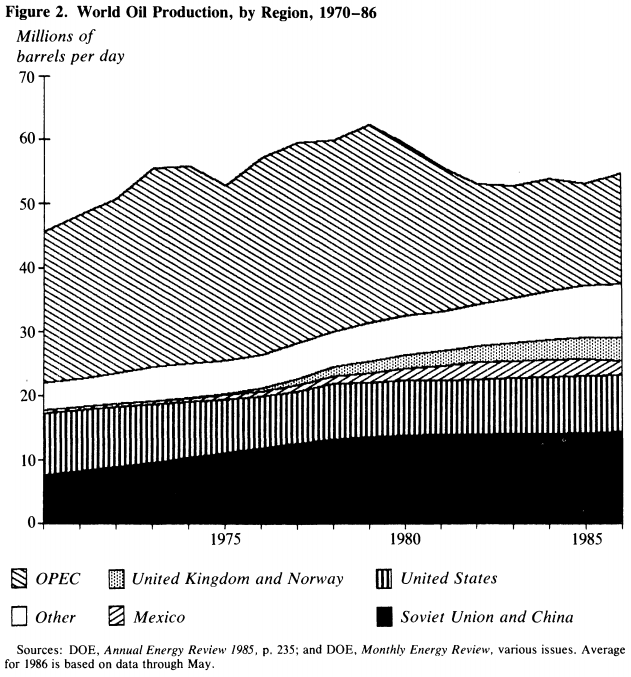 Source : Lessons from the 1986 Price Collapse
In 1986 it all changed when Saudi Arabia broke away from the cartel and increased production from 2.5 to 4.7 MMBOPD by the middle of 1986. Kuwait followed suit and also increased production from 0.9 to 1.4 MMBOPD. This supply increase caused the price to collapse by 50% until the rest of the OPEC countries could agree amongst themselves to cut back production. However prices remained low for the next 10 years because of the new fields and reserves that were developed in the price run up.
The big conventional fields are in decline
Samotlor Field and Prudhoe Bay are two of the largest fields in the world and both had peak production in the 1980's. Samotlor peaked at 3.2 million bbls/d and is currently producing ~750 thousand bbls/d while Prudhoe Bay peaked at ~2 million bbls/d and is currently producing 300 thousand bbls/d. Large conventional fields produce for a long time at peak rate due to facility constraints until production begins to decline. All of the onshore "conventional" super major fields were put on production before 1980 and are in decline. The untapped basins of the world are only found offshore or are "unconventional" in nature. Both of which require high commodity prices to develop.
The demand for oil and gas has never been greater
The global demand for oil and gas has increased by 1.1% year over year from 1980 to 2010 as the standard of living continues to improve across the world. ExxonMobil projects very large standards of living increases across the world which will continue to increase demand for all energy demands including oil and gas.
(click to enlarge)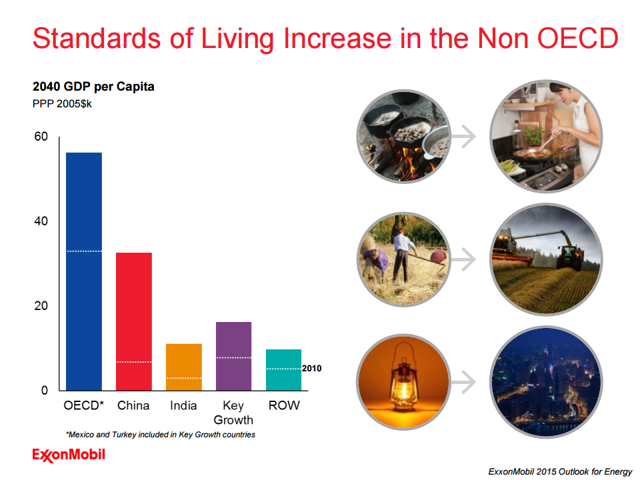 Source : ExxonMobil's 2015 Outlook for Energy Report
Both the EIA and OPEC are also projecting world demand to continue to increase. With supplies from conventional fields shrinking the world will begin to rely more and more on unconventional production as well as more development in countries like Iran and Iraq.
(click to enlarge)
Source : EIA International Energy Outlook 2014

Source : OPEC's 2014 World Oil Outlook
Chinese Oil Demand
If anything, Chinese demand is understated due to the construction of their own strategic petroleum reserve. With the construction of phase two completed, they now have to fill 170 million barrels of storage. This is in addition to their domestic demand which has been growing steadily since 2001.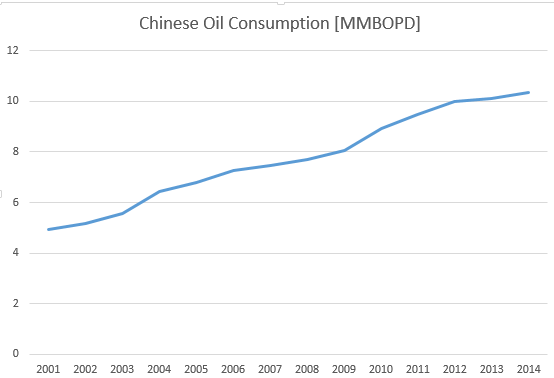 Source : Chinese Oil Demand
One of the things that some investors forget is that China is still a centrally planned government that is seen as a key driver for global growth. What this means is that other countries will permit and even encourage them to devalue their currency if there are signs of a slowdown. The financial crisis in the US and the current crisis in the Eurozone are great examples of how loose monetary policy is the medicine the doctor ordered.
Where we go from here
We certainly aren't going back to the 1980's and "lower for longer" no longer applies. The underlying producing assets of today's oil and gas production are vastly different than the assets that were producing in the 1980's. Demand will continue to grow and the current oil price will have to increase for new supply to make it to market. The disconnect between current prices and future prices has never been higher. We are still currently oversupplied right now so I think we will see more weakness but if you have greater than a 6 month time frame I can't imagine a better investment than oil and gas stocks.