A little over a year ago, I put my thoughts together on why I think we will reach peak oil demand soon — and the effects that will have on commodity prices.
A Terminal Decline
Peak oil supply or demand has long been a topic of discussion in commodities. In the past year, we have seen new information and a continuation of existing trends that have removed any doubts from my mind. Investing in oil companies today would only be a smart view if investors have a short time horizon and a high appetite for risk. While large companies such as Shell (RDS.A) and Exxon Mobil (XOM) will continue to exist for decades to come, they will lose a substantial percentage of their valuations when terminal price decline hits.
History has proven that demand does not even need to stagnate to cause terminal price decline, and oil will be no different. The OPEC Cartel has already shown its inability to raise prices substantially and has defaulted to a price range around $50/bbl.

Source: IEA Medium Term Coal Report
The reasons are straightforward and simple, and while I am cognizant of my own biases I have been right about oil prices for the last two years, and this should provide a small amount of confidence in my predictions. I can also count on some vocal Seeking Alpha readers to vehemently disagree and challenge my ideas.
An Improbable Ban
Many countries have proposed diesel, and petrol car bans over the next two to three decades. While this prohibition will be politically impossible to enforce when the time comes, market forces will have done much of the governments work for them. Today's European administrations are making a major decision that resonates with their political base, but will not have to deal with the major issues of actual implementation. History has shown time and time again that modern governments will just unwind any legislation that has a noticeable and immediate effect on consumers wallets. When we consider trends in EV cost, renewable energy cost, clean air policy, and the general movement towards a more sustainable future, we will meet terminal price decline without any government action.
History has shown time and time again that modern governments will unwind any legislation that has an obvious and immediate effect on consumers wallets. The only 'successful' legislation that has been passed (measuring success by achieving its goal rather than by its good for society) is legislation that has a moderate effect spread over a longer period. Thus a sudden vehicle ban will fail just as reducing pensions for burdened systems, increasing retirement age has failed around the world.
How Cheap Can EV Get?
When we consider trends in EV cost, renewable energy cost, clean air policy, and the general movement towards a more sustainable future, we will meet terminal price decline without any government action. Even as Trump exited the Paris agreement many companies, cities, and states openly stated their willingness to follow the accord.
Lithium-Ion battery prices continue to fall at a relatively constant rate of 15% – 21% per year depending on the analyst and study. This follows the general trends we have seen over the history of mass production. We saw this with the Model T, solar, wind, and thousands of other mass produced products over time. It is a difficult argument to make to say that batteries will be on few products in history that do not follow historical patterns for mass production. Furthermore, the abundant research that goes into incremental improvements in batteries could easily cause a sudden drop in prices, efficiencies, storage, or all three that turns the industry on its collective head.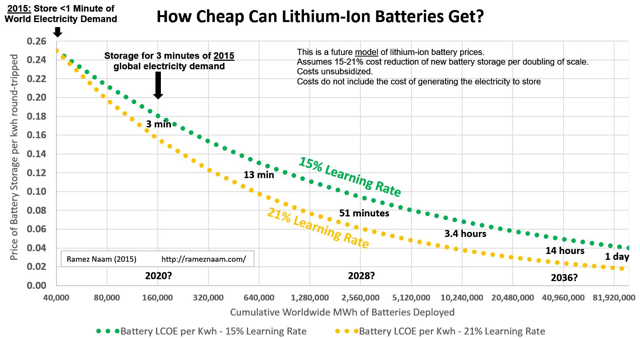 This translates into a near identical chart for EV. Hybrid vehicles and fully electric vehicles are set to make up a rapidly increasing share of on road vehicles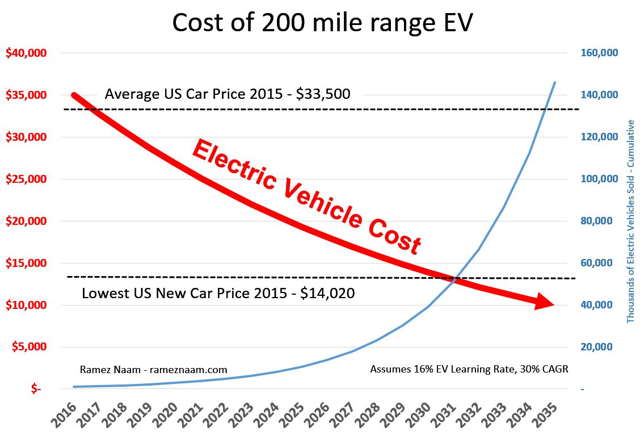 Constant Improvements in Combustion Engines
Let us say you completely disagree with everything I said so far. After all, past performance is not an indicator of future performance. Perhaps we hit a sudden cliff in battery production; maybe we run out of lithium. Even with that assumption, oil is still doomed to terminal decline.
The last 10 years have seen massive improvements in combustion engine efficiency due to consumer behavior and government regulation.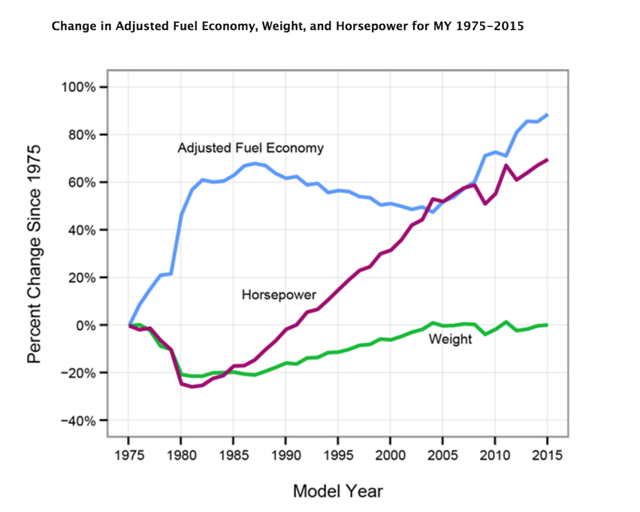 Source: United States EPA
There is no reason this trend should also not continue. Developed countries across the world are regulating more efficient vehicles. Most governments expect an increase fuel efficiency by approximately 50% through to 2020 considering incremental improvements in typical combustion engines and lightweight vehicles.
However, incremental improvement is not always the case. Sudden improvements can come – and they are. A new engine from Mazda promises to increase fuel efficiency by 35-45%. It is also expected to be on the road by 2019. It would not be a stretch to see family sized SUVs reaching 45 mpg.
Driverless Vehicles
The last important note is the inevitability of driverless cars. If a fleet of taxis can be managed remotely, and without drivers, the cost would plummet. If the expense of a cab or an Uber drops by 90%, it would hardly make sense for many young adults to purchase a vehicle. We can argue about the timing, but driverless cars will make a very slow penetration into the market in the next ten years – at some point, it will take off and quickly reach a substantial percentage of road traffic. In Europe today, many young people already delay owning vehicles until well into their thirties.
Investor Takeaway
The most important thing to understand is that terminal price decline in a commodity does not mean we do not require it anymore. Coal demand continues to grow slowly despite societies view that we don't use it much anymore. Base power generating technology takes much longer to displace, and as with oil, it will still be many more decades before coal consumption ceases.
Oil prices, oil demand, and oil supply are undoubtedly a pillar of modern society. However, it is more susceptible to trends than many other raw commodities for a variety of reasons. A 5% reduction in oil demand would fundamentally cripple the oil price for half a decade. From the trends I see occurring, a 5% reduction would just be the beginning. I would stay away from any long-term approach to oil, and ultimately liquidate my holdings connected to the commodity before the end of the current decade.