France Taps Emergency Fuel Stocks as Strikes Hobble Production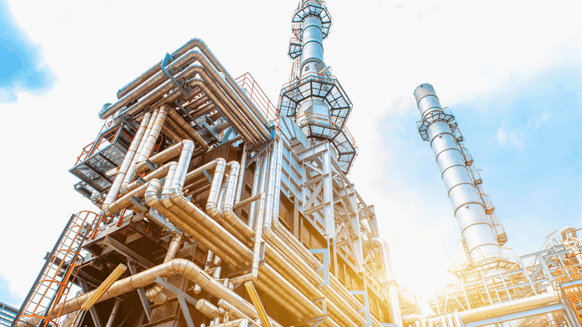 France is dipping into strategic stockpiles of fuels like gasoline and diesel for at least the third time in a year, with strikes over pension reforms decimating production and hampering logistics.
The country has released more than 10 million barrels of oil since the latest spate of labor action started just over three weeks ago. The release includes mainly gasoline, diesel and aviation fuel and is equivalent to more than a week's demand.
As the protests drag on, the government is moving to conserve jet fuel, asking carriers to refuel at airports in places where there's no shortage, including overseas. Flights are being canceled, with air traffic controllers among those taking action. About 11% of filling stations are out of at least one type of motor fuel, Energy Transition Minister Agnes Pannier-Runacher said, an improvement on the previous day's 15%.
The current round of French strikes is into its fourth week, with workers deciding every few days on whether to stay the course. A vote at Lavera, one of France's six hobbled oil refineries, is scheduled for Friday. Another nationwide day of strikes and protests against President Emmanuel Macron's planned reforms is set for April 6.
The disruption extends to ports, with millions of barrels of crude recently floating off the country's shores unable to discharge. Strikes at Lavera and Fos oil terminals in the south — which refineries rely on for oil supply — were extended until further notice. Liquefied natural gas terminals are also affected, cutting supply of re-gasified fuel into the local grid.
On the shortages at filling stations, Pannier-Runacher told Sud Radio that there is "a slight improvement across France, with some regions still struggling." Exxon Mobil Corp. said previously that parts of the west coast and the area around Marseille on the Mediterranean had suffered shortages.
The nation tapped its emergency supplies last year around June, as part of a globally coordinated stock-draw. That was followed by another later in 2022 when a previous round of strikes forced the closure of a swathe of oil-refining capacity and added pressure to an already tight diesel market.
The International Energy Agency's member countries, such as France, are required to ensure oil stock levels equivalent to no less than 90 days of net imports.
More on strikes, disruption and the fuels release:
About 9.4 million barrels of diesel, gasoline and jet fuel has been made available so far this month, more than a week's demand
French consumption of refined products, everything from LPG to diesel and jet fuel, is about 1.5 million barrels a day, according to the IEA.
The release also includes about 940,000 barrels of crude oil.
Exxon is shutting a petrochemicals unit Thursday at its Gravenchon complex

Gravenchon is one of four French oil refineries that are offline. Two others have cut runs.

Three French LNG terminals operated by Elengy SA — Montoir, Fos Tonkin and Fos Cavaou — have been blocked since March 6.
The country's fourth terminal, Dunkerque LNG, was also blocked by strikes earlier this month before resuming operations. Sporadic protests have cut its shipments of re-gasified fuel into the local grid at times, including this week.