A combination of two major trending stories from the past few years provided for a very powerful one-two punch against the whole peak oil supply theory. On the supply side, we have the U.S. shale revolution, which brought an additional 5 mb/d on the global market since 2008. On the demand side, we have had increasing speculation in regard to EVs killing oil demand going forward. As a result, peak oil demand replaced peak oil supply as the main predominant narrative in regards to our oil future. More and more, we have peak oil demand forecasts coming from reputable sources, such as this latest one from Goldman Sachs. The demise of peak oil supply theory in the public sphere has become so absolute in the past few years that it is becoming increasingly hard to even suggest that serious attention still needs to be paid to the global supply situation. No one even bothers to discuss it, as increasingly the conversation turned to speculation in regards to which countries and companies will be caught with most reserves that they will never be able to produce, as demand will not be there to necessitate its production. What I want to do with this article is show that a case still exists for the other side of the argument and point out the fact that it may be stronger than the prevailing consensus may suggest.
My own view on peak oil
Before I get into the details of the current situation in regards to where we stand on oil supply prospects for the future, I want to briefly share my own personal views on the subject, which have not changed all that much in the past decade or so. In fact, my first article written on Seeking Alpha was on this subject back in 2013. My overall view of the subject starts from the obvious geological reality, namely that oil is a finite resource, and how much of it can be extracted is largely a function of how high our long-term oil price economic threshold is. That threshold is itself subject to change. For instance, following the 2008 economic crisis, our threshold increased, due to the fact that low interest rates for a prolonged period of time provided for a period of declining interest rate burdens throughout the economy. Given that we are now basically done re-financing debts at the lower rates, the trend of continued relief is over. Therefore, our ability to absorb an oil price increase is lower than it was in the years after the economic crisis triggered a sustained global decline in interest rates. In other words, oil prices rising above $100/barrel at this point in time would most likely lead to a global recession. I really don't believe that we would be able to sustain oil prices at that level as we did in the 2010-2014 period.
I also believe that the marginal cost of producing that extra barrel of oil is constantly increasing, because we naturally produced the least challenging reserves first, and we are gradually moving on to more and more challenging new projects and also to more challenging projects within older fields in order to retrieve the last remnant barrels. There are some who like to argue that technological advances tend to prevent an increase in production costs, even as we move into more and more challenging projects, but the historical evidence does not support that thesis. For instance, oil prices were in the $10-20/barrel range for much of the decade in the 1990's. Today, most oil producers would either go bankrupt within a relatively short period of time if prices were to drop to $30/barrel, or at least they would put many of their more costly projects on hold. At $10/barrel, most of the industry would collapse within a few years. The quarterly reports we have been seeing in the past year or so, with prices in the $50/barrel range are proof of this fact. In many ways, the best way to view peak oil supply is as a measure of what is the price of oil that the economy can sustain versus the cost of getting that marginal barrel out of the ground. It is basic supply/demand economic theory.
Global conventional reserves
BP puts total global reserves at 1.7 trillion barrels. Personally, I believe that it is worth taking a very close look at the components that make up of those reserves.
Gulf region oil reserve inflation.
The controversy in regards to a number of OPEC members inflating their reserve numbers in order to gain an advantage in terms of their quota allocations is relatively well known to most who have been following the global oil industry and the peak oil argument. I will not go into great detail here in regards to why I believe the Persian Gulf region oil reserve inflation issue to be real. If it is true, it means that about 250 billion barrels we assume to be there are in fact only available on paper. The number above is not only my own view, since there are some estimates which suggest that total OPEC reserves may have been overstated by as much as 450 billion barrels.
There are of course those who will argue that the increase in reserves we have seen in the region is justified by new discoveries as well as enhanced recovery. But if we were to only look at Saudi Arabia as an example, it quickly becomes apparent that these numbers cannot be justified by those explanations. We know that in the 1970s, estimated oil in place in Saudi Arabia was around 530 billion barrels. We also know that there were few major discoveries since then. Therefore, the current oil in place tally cannot be higher than about 600 billion barrels. If that is the case and we consider the fact that Saudi Arabia already produced about 150 billion barrels and it claims a further 270 billion barrels in reserves, it would mean that it would take a recovery rate of 70% in order to make it happen. Given today's technology and more recent price range history, I believe a 50% average recovery would be a more realistic assumption.
Venezuela
Venezuela currently claims to have 300 billion barrels in oil reserves, which is the largest reserve in the world. Yet, as we know, it is suffering a continued long-term trend of production decline, and there is a reason for that. Most of its reserves are very expensive to produce and upgrade. In addition to that, there is the political climate, which in effect renders the country's reserves out of reach for intensive development, even if prices were to rise to a level which would make extraction of those reserves profitable. I do not want to over-analyze the complex situation in regards to Venezuela's oil reserves. A Forbes article suggested that given current prices, its reserves should be downgraded by about 220 billion barrels, and I will go with that in regards to my calculation here. I should point out that the downgrade would still leave it with the same reserves as Russia's, yet any suggestion that Venezuela could potentially match Russia's current production level in the foreseeable future is frankly lacking much credibility. I do believe that Venezuela's massive potential oil reserves will come into play at some point, but it will likely happen when we will have oil prices we cannot afford.
North American unconventional resources
In addition to some of the alleged paper reserves of OPEC, we also have about 180 billion barrels of unconventional oil reserves in North America. I by no means want to dismiss these reserves or pretend they do not exist. I do want to subtract it from the real conventional reserve tally, because I think it is useful to separate the two, in order to concentrate on what is happening with what is by far the most important source of crude oil and liquid fuels, namely conventional crude reserves. The conventional crude reserves production is responsible for about 70 mb/d out of about 80 mb/d in total. Therefore, it is the determining factor in terms of where future oil production is headed. So, if we are to subtract the Persian Gulf area resources that are thought to be fictive of about 300 billion barrels, as well as 220 billion barrels thought to be currently un-economical in Venezuela, as well as the 180 billion barrels in unconventional resources from North America, we end up with only about a trillion barrels in conventional resources, while we already produced about 1.2 trillion barrels.
Given past estimates of total conventional oil in place of about 5 trillion barrels, and total resources produced plus yet to be produced proven reserves totaling about 2.2 trillion barrels, we get a current recovery rate of about 44%, which is what would be expected to be the current average recovery rate given primary, secondary, and tertiary production methods available and current prices. It should be noted that a sustained oil price increase to over $80/barrel would most likely increase the recover-ability rate to about 50% most likely, giving us a total of about 1.3 trillion barrels in conventional reserves. There are also still new discoveries happening, but they are well below current production rates, which has been especially problematic in the past decade and a half or so. In the past five years, however, things have become severe in this regard, with only a small fraction of reserve replacement taking place.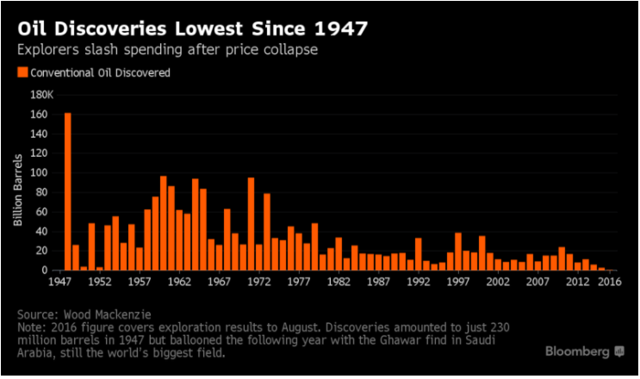 Source: Bloomberg
Since about 2010, we are discovering about 5 billion barrels per year on average, while we are producing about 25 billion barrels from the conventional reserves available. This means that every year, we are producing about 20 billion barrels more than we are discovering in new reserves.
Some may be tempted to look at this number and conclude that it is no big deal, because if we are to take the assumption of roughly 50% recoverability from conventional fields, there are still 65 years' worth of reserves left, given the net decline of about 20 billion barrels per year. Of course, the problem is not when we run dry but when this resource enters terminal production decline. Personally, I am not sure whether the Hubbert curve that peak oil theorists have been using to promote the idea that peak oil is imminent is a good model to predict this. A lot of time has passed since that prediction was made, and it did not include certain factors such as price, in my view. For instance, if we were to find out that the global economy can only sustain oil prices in the current range of around $50/barrel, I believe that we would see a peak in oil production within the next few years, which would include unconventional as well, given the fact that they are the higher-cost producers.
I am assuming that average oil prices will rise from this point, and we will be able to cope with a higher price for a while at least. I am therefore going with the assumption that conventional reserves are in the 1.3 trillion barrel range. If that is the case, we are right now more or less at the halfway point of the Hubbert curve, at least when it comes to conventional oil.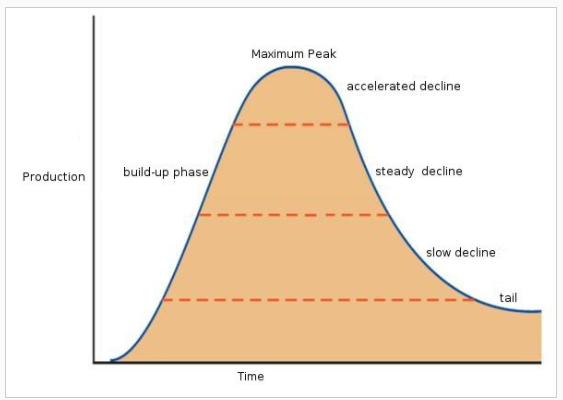 Source: Conspiracywiki.com
My personal take on the Hubbert curve is that in the end, oil extraction is a human activity, and as such, we can defy a model based on geological realities to some extent. One thing we can do is distort the economics of extraction to both change the shape of the curve and also expand the area of the curve, in other words, add to reserves. I believe that we are already doing that right now. One good example of it is the global low interest rate environment, which makes costs of borrowing cheaper for both oil producers, as well as oil consumers, which makes oil cheaper to produce, while it gives consumers a higher capacity to support higher prices, both of which are supportive of enhanced oil recovery efforts.
While our ability to change the economic environment in order to facilitate more oil production, whether through direct or in-direct stimulation can change the timing of eventual decline, in reality, we cannot do so to a great extent in terms of timing or ultimate volume. The only factor which would potentially change the outcome is if we were to see a great increase in the conventional oil base, or oil in place. Based on recent discovery trends, however, it seems that odds of that happening are rather low at this point. While there may still be some significant discoveries yet to be made, large discoveries are now becoming fewer and smaller. Odds of new discoveries changing the overall trend by a great deal are low, in my opinion.
Given what we know so far, I think it is rather sensible to assume that conventional global oil production may in fact start declining within the next decade or so. In fact, the last decade has seen very little in terms of conventional production growth.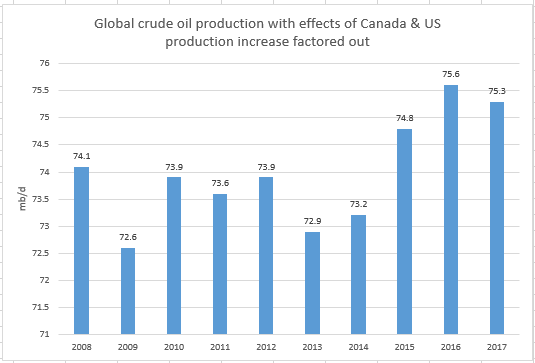 Data source: EIA
I should note that 2017 data is only for the first four months of the year. My guess is that by the end of the year, the production average for the year will be below the 2017 average presented in my graph.
As we can see, it was not until the half decade period of near $100/barrel oil stimulated extra production by 2015 that the 2008 production level was surpassed. The increase over a decade's time amounts to about 1.5 mb/d, which is hardly a production boom. If we would have had a more prolonged period on the $100/barrel plateau we saw between 2010 and 2014, perhaps we would have seen a more robust increase in production going forward, but as things stand right now, it looks like things are stalling out. What this tells us is that at $100/barrel and rock-bottom interest rates, we have not reached peak conventional oil production yet. It is questionable, however, whether we can sustain such a high price economically speaking, given that the post-2008 era of refinancing high interest debt is now over, and we will not have any more debt-servicing relief, allowing us to afford to pay more for oil. If interest rates will rise, perhaps due to an increased perception of risk, it will also make it harder for oil producers to get as much oil out of the ground, even if oil prices were to rise to $100/barrel again. And then, we also have to remember that with every year that passes, we are producing about 20 billion barrels net of discoveries, so eventually, we may need prices above $100/barrel to get more and more oil out of the ground. For these reasons, I do believe that conventional oil production is near its peak. I cannot say for sure when it will happen, given not only geological but also economic factors, but it is possible that it may even be here right now. Or perhaps it will happen a decade from now.
Unconventional to the rescue?
While the increase in oil production between 2008 and 2016 was 1.5 mb/d when we exclude the gains from Canada and US, which came courtesy of oil sands and shale production, when including the increase from these two countries, we have an increase of 6.6 mb/d according to EIA data, which was basically the increase we needed to keep the economy going at the relatively weak pace of global growth we have experienced during the period. In the absence of these unconventional resources, it goes without saying that we would have likely been in trouble. The post-2008 recovery would have never taken place in the absence of the necessary oil supplies needed to make it happen.
Going forward, most people seem to be convinced that unconventional oil can repeat the global economic savior role. We should keep in mind, however, that in the past decade, we still experienced a slight increase in conventional oil production. Once conventional oil goes into collective global decline, we could easily be looking at a yearly decline rate of 1 mb/d or more, which will be relentless. While we have seen years of oil sands and shale production increase which did surpass the 1 mb/d per year level, I don't believe that such an increase from these sources is realistically sustainable over a period of many years or decades. Not to mention that in order to support a healthy global economy, we currently still need a relatively significant increase in yearly total oil supplies. In my view, it needs to be at least 500,000 b/d per year on average in the longer term, when including possible recession years. Based on what we see currently, during recovery years, we may need to see a total global oil production increase of about 1-1.5 mb/d per year during the recovery years. Looking at it in terms of a decade from the point when a hypothetical peak in conventional oil will occur, it would mean that Canadian oil sands and US shale oil would have to add at least 15 mb/d in extra production in order to keep the global economy humming along at a more or less healthy pace. Then, there may need to be another 10-15 mb/d supplied in the next decade, and who knows how much more beyond that, if we were to claim that we have permanently banished the threat of peak oil supply.
We should also keep in mind the fact that shale oil in particular is no longer an emerging industry, but rather one which matured rather fast. As I pointed out in the past, Eagle Ford's best-producing county of Karnes is now most likely heavily saturated with wells, as it was responsible for about a fifth of all oil produced cumulatively from the field. In the Bakken, where it all really got started in terms of the shale oil revolution, we have a total of roughly 3,000 square miles where one can say that drilling has proven to be potentially profitable, mostly concentrated within four counties.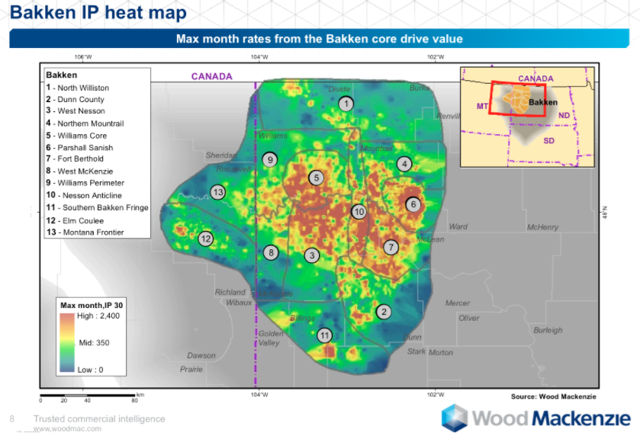 Source: The million dollar way
In this area of roughly 3,000 square miles where it is really worth drilling, we now have about 10,000-11,000 wells producing based on North Dakota government data, meaning that we are now seeing a saturation of about 3.5 wells per square mile on average. There is obviously more room to drill for many years and even decades to come, depending on how fast we will drill, but clearly, there are limits to how much production we can see from such fields. Some well-spacing data may suggest that on average, we may see as many as 10 wells per square mile within the profitable zone of the field. If that is the case, we may still see as many as roughly 20,000 additional wells that are yet to be potentially drilled in the field. It is probable, however, that we will see declining returns per well as even within the profitable space, there are more profitable and less profitable areas, with the more profitable acreage generally targeted first. There is also the issue of well interference to consider as the profitable acreage becomes more and more saturated with wells.
My personal take on the shale oil story is that two of the three main fields have already seen their permanent peak occur about two years ago, and those two fields are Eagle Ford and Bakken. Even if that will prove not to be the case in the future, I don't believe that any new peak in either of these two fields will be much higher than the last one. The Permian field still has some potential left, but it questionable just how much potential there still is in that field as well. It is entirely possible in my view that within a decade, US shale oil fields will be more likely to contribute to a potential overall decline in global production, rather than helping stem the decline.
If there is to be a longer term unconventional rescue of a potential conventional crude decline situation, it will likely be courtesy of Canadian oil sands, as well as Venezuelan unconventional reserves entering the market. These resources are far more vast than US shale, and given their relative size, it could be argued that they are underproduced, meaning that there is room to grow. We should remember, however, that Canadian oil sands operations are also already extensive and it is unclear just how much of it can be produced at a profit at an oil price level that would also allow for decent global economic growth going forward. As for Venezuela, if it ever comes down to us having to rely on its resources to keep things going, we need to keep in mind that oil production there will be a political decision, which may lead to Venezuela actually wishing to limit production to a level which will keep global oil prices significantly above its unconventional production break-even levels, in order to benefit from those resources from an economic point of view. While these resources may be massive, by the time we will get to the point of having to rely on them for our global economic well-being, our well-being will most likely not look all that bright, given the likely price we will have to pay to get our oil resources needed to keep us afloat.
Peak demand to the rescue?
The overwhelming consensus at this moment is that we will see a peak in global oil demand before we will see a peak in oil production. One of the main factors that many are looking at is the rise of EVs. In this regard, I wrote a recent article pointing out the fact that global EV sales will probably reach about 1 million units this year, which is about 1.3% of total sales, while there are currently about twice as many cars being sold each year than there are being scrapped, meaning that the total number of cars on the global roads is currently increasing by about 38 million units per year. Aside from that, we have continued growth in jet fuel demand for air travel, increasing demand in various land and maritime transport services, as well as in other needs, where EVs will not help stem the increase. I do believe that EVs will play an increasing role in dampening oil demand growth in coming years and decades. Having said that, I do not believe we are anywhere near the point where EVs will cause global oil demand to peak.
If there is one factor which could potentially cause a peak in global demand that factor is the economy. If it ends up downshifting significantly from its current rate of growth that is already rather anemic, then it can definitely cause a peak in demand, at least for as long as the economic downturn persists. That, however, is no reason for anyone to be cheerful. It is entirely possible that we will see a combination of production peaking and the economy being weakened perhaps due to higher oil prices, which will in turn cause a drop in demand. Such a potential situation might lead us to the wrong conclusion that it is demand which in fact peaked and not supply. While the current mainstream consensus is that peak oil demand is more likely to happen before supply, I think there is plenty of evidence to suggest the opposite is the case, it is just that the peak demand theory is now so trendy that it is defying the evidence to the contrary, through its self-evident truth status. If the supporting facts turn out to be wrong, however, self-evident truth can only go so far.
Disclosure:I/we have no positions in any stocks mentioned, and no plans to initiate any positions within the next 72 hours.
I wrote this article myself, and it expresses my own opinions. I am not receiving compensation for it (other than from Seeking Alpha). I have no business relationship with any company whose stock is mentioned in this article.