What Makes $1 Billion a Year and Oils the Global Economy While Rebuilding Its Reputation?
It's a quiet scene, but there's more to it than meets the eye. The Estia, a 751-foot-long oil tanker, is loading gasoline on a breezy afternoon at port in Vadinar, a town in northwest India. The Bahamas-flagged ship has journeyed from Singapore to this hulking dock on the Arabian Sea, where a relentless afternoon sun bakes the concrete jetty. Through pipes connected to loading arms reaching some 66 feet high, the Estia is taking on 55,000 tons of gasoline from one of Asia's largest and most modern oil refineries.
The 40-hour-long loading operation is just one of the hundreds of daily tanker movements that underpin the multibillion-dollar global petroleum market. Yet this one isn't being undertaken by any of the household names that dominate the oil industry of the popular imagination—Exxon Mobil, say, or Chevron or Royal Dutch Shell. The jetty, the ship, and the giant refinery they serve are all controlled by a little-known private partnership that trades in oil, coal, iron ore, and metals: Trafigura Group Pte.
Trafigura is one of the hidden companies that power the world economy, linking suppliers and consumers of raw materials. If the company is known for anything, it was an incident a dozen years ago involving hazardous waste that landed its boss in an African jail and shredded its reputation. These days, having striven to burnish its image, Trafigura is one of the biggest middlemen in the global commodities supply chain. Owned by 600 top employees, most of them based in a discreetly luxurious office block in Geneva, the trading house has been grinding out annual profits of about $1 billion for the past half-decade.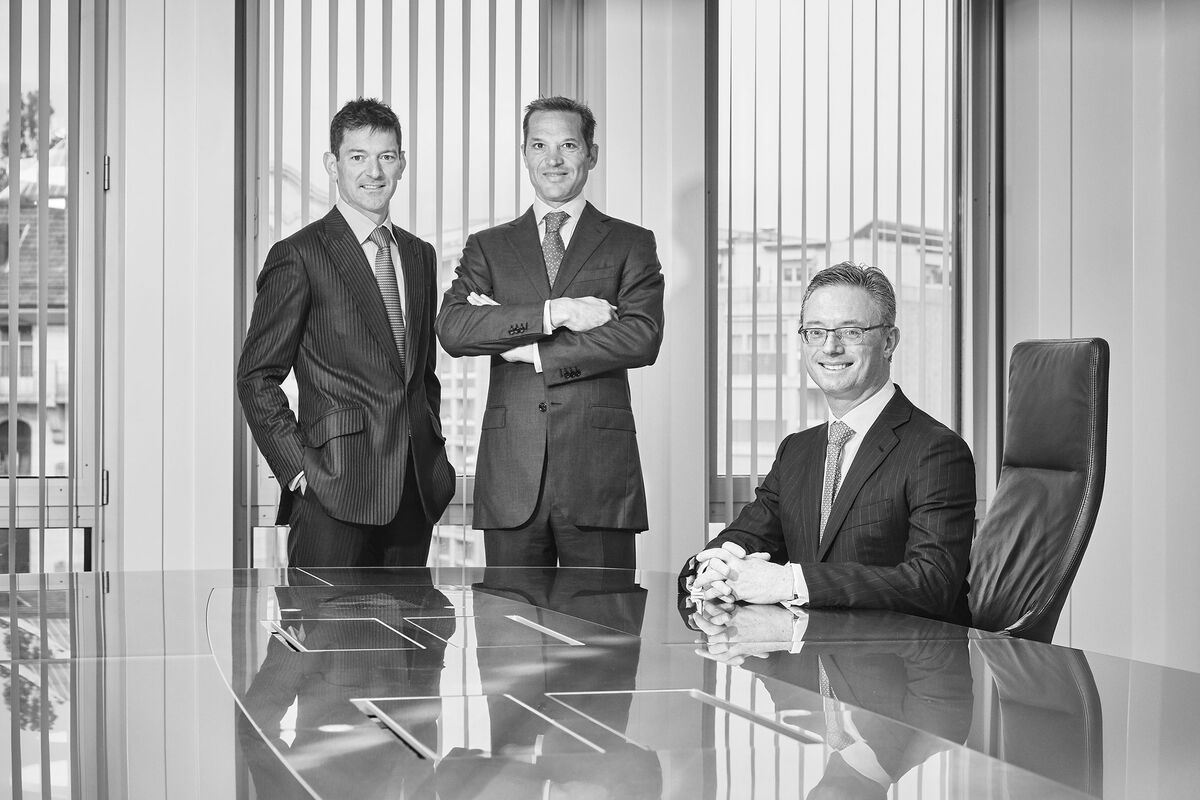 The Estia's voyage, one of 4,500 by Trafigura-chartered tankers this year, signals the company's expanding reach up and down the oil chain. Trafigura is a major owner of a massive nearby refinery complex that produced the fuel delivered via pipeline to the jetty. The refinery was, in turn, the crown jewel in a blockbuster $13 billion acquisition that, at the time, represented the largest foreign direct investment in India's history. The deal, done in conjunction with Russia's state oil company, Rosneft Oil Co., marked Trafigura's coming of age. "Ten years ago, we were sitting outside the door," says Jeremy Weir, the company's chief executive officer, in an interview in Geneva, the de facto capital of the energy trading industry. "Today, we're at the table."
Being at the table is more important than ever. The internet and other advances have made once-proprietary knowledge available to almost anyone with a smartphone. That's forced the biggest traders—such as metals mammoth Glencore Plc, not to mention Trafigura, its closest rival—to bulk up on assets, secure more long-term supply with national oil companies, and streamline trading operations. For Trafigura at least, it's working. According to bond prospectuses and financial filings, it's paid its employee-shareholders $5.4 billion since 2010 via share buybacks. "The company has made a lot of people wealthy beyond their wildest dreams," says Christopher Cox, a board director at Trafigura and former head of metals.
Trafigura barely managed to make it to where it is today. Led for more than two decades by its charismatic co-founder, a dapper, hard-driving Frenchman named Claude Dauphin, the company embodied commodities trading of the old-school, take-no-prisoners style. Dauphin learned at the knee of industry godfather Marc Rich, the onetime fugitive from U.S. justice whose eponymous company would morph into Glencore. But Trafigura's swashbuckling culture eventually caught up with Dauphin. In 2006 he spent five months in an Ivory Coast jail after Compagnie Tommy SA, a contractor hired by Trafigura, spilled a load of toxic oil waste. The next year, to secure Dauphin's release, Trafigura shelled out $198 million to the Ivorian government for cleanup costs and compensation to more than 95,000 victims who said they had fallen ill. "It was just stupidity," says Mark Crandall, a former oil trader and one of Trafigura's co-founders. "It's like a Formula One driver who's going too fast and then hits the wall."
The incident became the defining moment in the company's corporate adolescence. Since then—initially under Dauphin, who died in 2015 after a battle with cancer, and now under Weir—Trafigura has fought aggressively to regain and refurbish its standing. If nothing else, the scandal "was a catalyst for change," says Mike Wainwright, Trafigura's chief operating officer, who's been with the company since 1996. "We moved from adolescence to adulthood."
"From maverick and pariah, Trafigura has become a respected player in its field and—who would have believed it?—the most transparent one in the industry," says Jean-François Lambert, who as former global head of commodity and structured trade finance at HSBC dealt extensively with the company. Many of the company's critics are not convinced. "Since its inception, Trafigura has continuously shown an appetite for risky markets," says Oliver Classen of Public Eye, a Swiss nongovernmental organization that favors greater regulation of the commodity trading industry. "That strategy enabled it to grow in less than two decades into one of the world's most powerful trading giants."
While it has battled aggressively to shake off its controversial past, trouble has continued to follow Trafigura. In the past year, Mariano Marcondes Ferraz, a board member who resigned in 2016 after being arrested in Brazil in a bribery and money laundering scandal, was sentenced to 10 years in prison on corruption charges. Trafigura has denied any involvement in the matter saying Ferraz acted on his own and it wasn't involved in the deals.
Commodity companies inhabit a world thick with logistical peril and corrupt political regimes. Oil-trading giant Vitol Group pleaded guilty to grand larceny in 2007 for paying kickbacks to the Iraqi government in connection with the United Nations oil-for-food scandal there. BP Plc and Exxon Mobil paid huge fines and suffered crushing blows to their reputation over oil-spill disasters such as Deepwater Horizon in 2010 and the Exxon Valdez in 1989. Glencore has been beset by a string of scandals, including most recently over its business dealings with Dan Gertler, an Israeli businessman sanctioned by the U.S. in connection with allegedly corrupt deals in the Democratic Republic of Congo.
As part of its corporate face-lift, Trafigura has been among the most aggressive of its peers in scaling back questionable practices and enhancing public disclosure. In 2015 the company temporarily halted a controversial petroleum swaps deal in Nigeria amid allegations of government corruption and increased scrutiny from its lenders. In 2013 it became one of the first large private traders to publish an annual report that disclosed its financial results in detail. In 2014, Trafigura was the first trader to join the Extractive Industries Transparency Initiative, an anticorruption program that requires signatories to disclose certain oil payments to governments.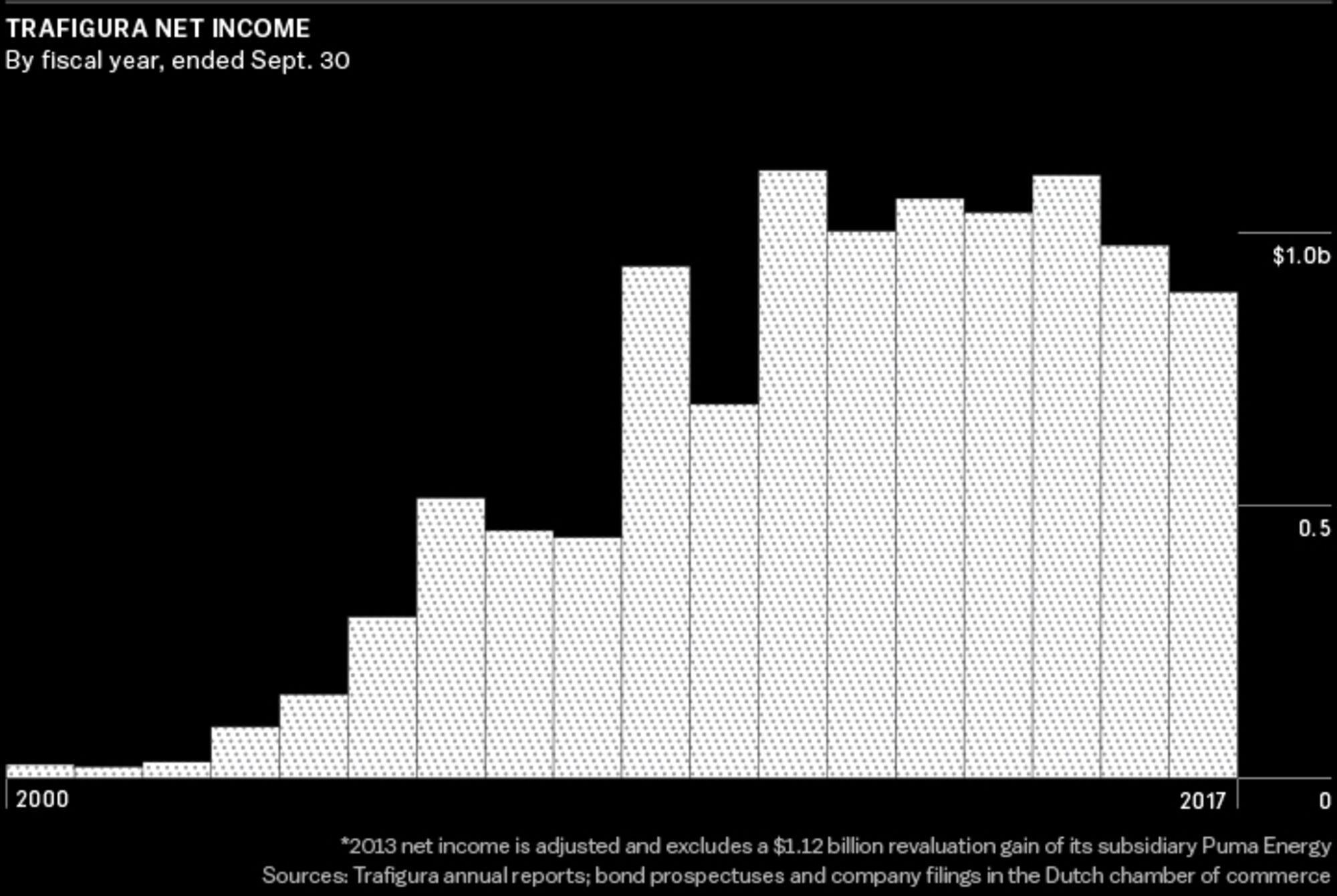 That Trafigura hasn't only endured but also thrived says much about the survival instincts of its new leadership. Led by Weir and a management committee recently expanded from three to nine members, it's grown to become the second-biggest metals trader—behind only Glencore—and the third-biggest independent oil trader, neck and neck with Glencore and behind Vitol. Trafigura, which celebrated its 25th anniversary in April, has never suffered an annual loss. Profits surged from a tiny $3.65 million in 1994, the first year with full annual results, to a record $2.2 billion in 2013, according to documents reviewed by Bloomberg Markets. The company's equity has surged, from the $12 million that its six founders put up to start the company in 1993 to more than $6 billion last year.
A relative latecomer to that top table that Weir likes to talk about, the company still pictures itself as the scrappy insurgent. "Being a trading company means you can't get lazy," says Raoul Bajaj, a protégé of Dauphin's and a Trafigura executive since 2006, who's now the head of its rapidly growing India unit. "It's always good to be an underdog."
That's one way of putting it. How Trafigura achieved its success, and how at times it almost lost its way, has been reconstructed by Bloomberg Markets through interviews with current and former executives, including the four surviving founders, as well as others in the industry, and through previously unreported financial and legal records.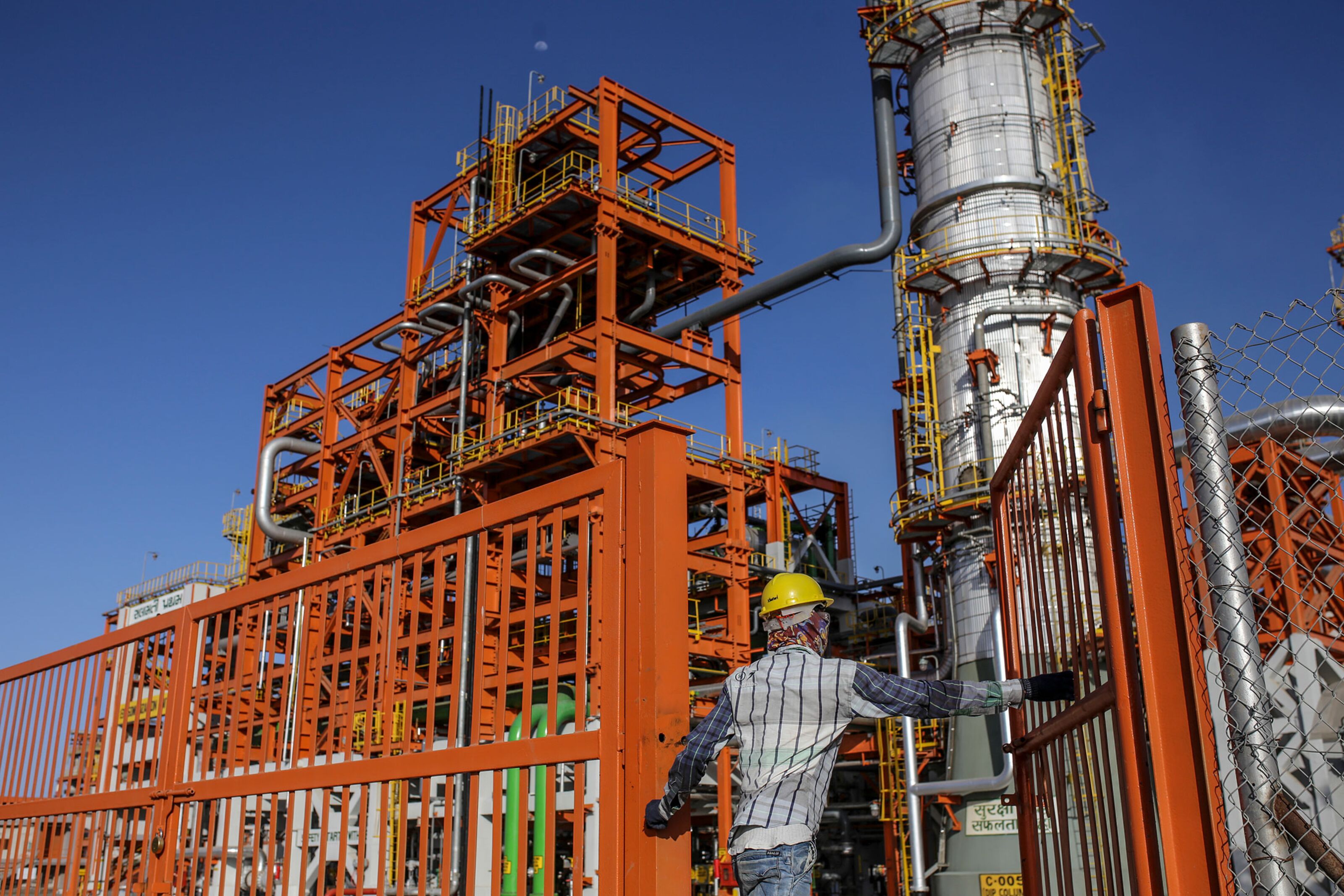 It all began with a phone call that not only ended badly but also eventually led to a divorce that would create two commodities giants: Trafigura and Glencore.
It was 1992, and things weren't going well at Marc Rich + Co. U.S. authorities wanted Rich for tax evasion and trading with Iran, still under sanctions following the 1979 hostage crisis. An attempt by Rich's company to manipulate metals prices by cornering the zinc market had gone awry, with the company running up losses of about $170 million. On the personal side of the ledger, Rich was in the middle of an expensive divorce from his wife, Denise.
With his Zug, Switzerland-based empire in trouble, Rich was increasingly running the two-decade-old company as his personal fiefdom, antagonizing his four lieutenants—Dauphin, Willy Strothotte, Manny Weiss, and Daniel Dreyfus. He fired Strothotte after a clash in June 1992. Not long after that, Dauphin, tired of the constant internal battles, resigned to return to his family's scrap metals business in France following his father's death. Within weeks, Weiss and other top executives had gone, too.
Rich, under pressure from his banks, mulled over an exit strategy. Dauphin and others drew up a buyout plan. The various parties tried to reach an agreement whereby Rich would sell his shares over time and the company would be rebranded. Then the mercurial Rich decided he wanted to change the terms. That's when the phone call came. He rang Dauphin to try to renegotiate a couple of details, including keeping his name above the office door. But Dauphin had had enough. "Claude was mightily irritated," Crandall recalls. "He said, 'We are going to be negotiating with Rich until we are dead.' "
Dauphin decided to go his own way. Five others joined him: Danny Posen and Antonio Cometti, who would co-run metals at the new business; oil traders Graham Sharp and Crandall; and Eric de Turckheim, who would become the company's first chief financial officer. Striking out on their own entailed risks. They'd leave behind the comfort of Rich's long-established relationships and trading networks as well as his banking lines, such as they were.
The six executives, most of them in their 30s and 40s at the time, hired a law firm to set up their venture in 1993. They bought a couple of dormant Dutch-registered companies to quick-start the business. By then, Sharp, the oil trader, had secured the company's first deal: buying a cargo of gasoline from the Romanian state-owned petroleum company. Bucharest wanted to sell, but it needed to know to whom. It needed a name. The co-founders were forced to choose quickly between two of the Dutch companies they'd bought: Trafigura and Skydiver. Everyone agreed Skydiver was not an ideal name for a highflying commodities trader. So Trafigura it was.
Although Trafigura began life as a Dutch company that did (and still does) most of its business from Switzerland, in 2015 it fully relocated its registration to Singapore—like Switzerland, a low-tax jurisdiction. The employee-partners own all of Trafigura's shares and control the business through a shell company called Farringford NV, which is registered in the Caribbean tax haven of Curaçao.
The first few years were difficult. Low demand for raw materials and depressed, stable prices meant profitable deals were hard to find. "We underestimated the value of scale, how hard it is to build a business from scratch," Sharp says. What's more, a competitor was gaining on them. Strothotte, the exec Rich had defenestrated, borrowed the blueprint Dauphin was going to use to buy the company and applied it to what remained of Marc Rich + Co. He christened it Glencore in 1994.
For years, Trafigura treaded water. From 1993 to 2000, its profits averaged only $20 million to $30 million a year. The company's oil business, run out of a tiny office in London's swanky Mayfair neighborhood, was quickly a moneymaker. But the metals operation, occupying a two-room suite in Lucerne, Switzerland, struggled for years to get in the black. That business was more challenging because metals contracts are long-term, requiring patience to build a book, whereas oil contracts and tenders turn over quickly. It was touch and go. "In the first five years," Posen says, "there were moments that we questioned what we were doing."
Then along came a savior from the East. The phenomenal growth of the Chinese economy, especially from 2000 on, drove a relentless demand for almost all commodities. The next eight years were a halcyon period that would later become known as the commodities supercycle. The price of copper shot up from about 61¢ a pound to $3.80; oil prices increased more than tenfold, eventually exceeding $120 a barrel.
At the same time, many of Trafigura's biggest petro-rivals were disappearing. In 2000, France's Total merged with rivals Fina and Elf Aquitaine in a three-way deal. Although Total SA remains a major oil trader today, the merger reduced competition, particularly in Africa, where Elf dominated. Enron, the era-defining U.S. energy trader, filed for bankruptcy after cooking the books and undercutting rivals' profit margins for years. Meanwhile, Big Oil mergers were thinning out the competition. Exxon bought Mobil. Chevron took over Texaco. Neither Exxon nor Chevron possessed the deep-rooted trading culture of the companies they acquired. As a consequence, once-mighty trading arms rapidly withered.
All the commotion benefited a company that as a partnership not beholden to pesky outside shareholders was "thinking ­long term," de Turckheim says. Trafigura's net income stood at $25 million in 2000. In 2004 it surged to triple digits for the first time, reaching $152 million. By 2006 the company was making a half-billion dollars. It pocketed more than $1 billion for the first time in 2011.
As meteoric as the rise was, it hid just how competitive the world of commodities trading had become. Trading margins are razor-thin today because competition is stiffer and market information more transparent. Even as Trafigura sinks more capital into assets, including refineries such as the one in Vadinar, returns and margins are falling—a problem affecting the whole commodities trading industry. The company's return on equity, a measure of profitability compared with the money that partners have invested, dropped last year below 15 percent, down from an eye-watering 39 percent in 2009, according to calculations based on the company's regulatory filings and bond prospectus. Trafigura earns only 1 percent to 2 percent on its revenue, requiring turnover in excess of $100 billion to generate profit. That means it has to move huge amounts of commodities. On any given day, it has about 115 vessels on short-term lease plying the seas.
Even so, given market conditions, the prospects of another dramatic boost in profit are slim. The company carries significant debt, much of it to pay for the sheer movement of commodities. And some of its more recent investments, in particular in ports and other infrastructure in Colombia, haven't performed as well as executives hoped they would. All of which is manageable as long as Trafigura can steady the ship and keep it on course, says Chief Financial Officer Christophe Salmon, who joined from French bank BNP Paribas SA, one of the company's key original lenders. "We want a business that can yield a base of $1 billion, some years a bit more, some years a bit less," he says.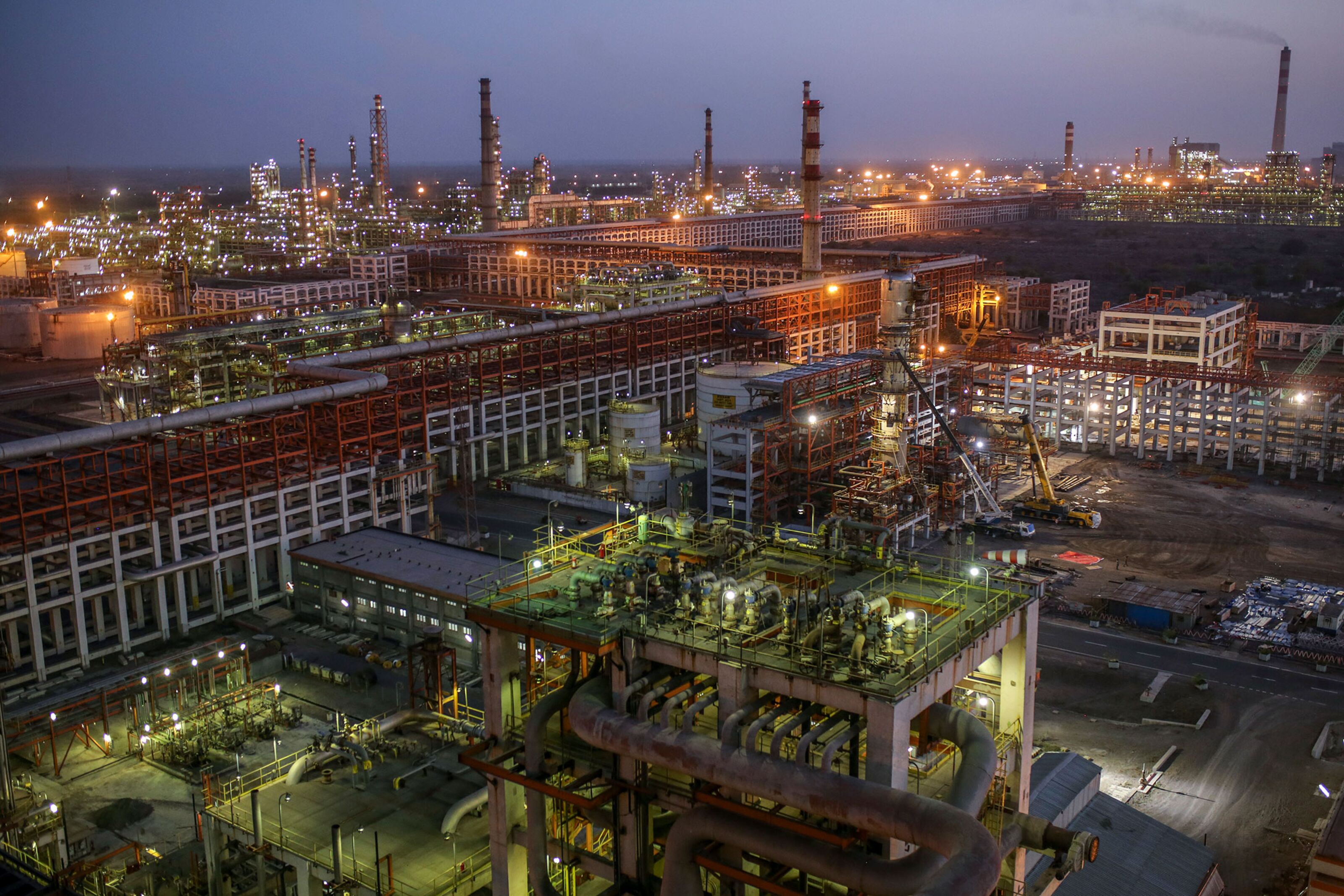 On July 2, 2006, the Probo Koala, a double-hulled tanker that Trafigura chartered, arrived in the Port of Amsterdam to change crew, refuel, and discharge oil waste material called "slops" in industry jargon. Then it was due to sail for Paldiski, Estonia, and take on a gasoline cargo to be delivered to Nigeria. But a dispute with a Dutch contractor abruptly halted the discharge. The ship headed to Estonia with all of the waste still on board. After several frustrated attempts to offload the slops, and having delivered the gasoline at port in Lagos, the Probo Koala headed to its next stop, Abidjan, the commercial capital of Ivory Coast.
Trafigura says a port agent there chose a recently licensed local operator named Compagnie Tommy to discharge the slops beginning on Aug. 19. According to Trafigura, Tommy —"in ­flagrant breach of their obligations"—dumped about 139,500 gallons of the toxic waste at "17 or 18 locations" around Abidjan. Within days, residents of Abidjan began complaining of a foul smell. By early September tens of thousands of people were visiting hospitals amid allegations that the slops had caused serious illnesses and fatalities.
Dauphin, always one to confront a problem head-on, didn't hide from the gathering scandal. He put together a team and went straight to Abidjan. Once there, he was swiftly arrested and incarcerated by the Ivory Coast government, and Trafigura's reputation spiraled into a public-relations abyss.
Dauphin hated publicity. And yet only a PR blitz was going to salvage Trafigura's reputation. After the Probo Koala disaster and until his death eight years later, he slowly transformed the way Trafigura presented itself to the world. It went from a notoriously secretive company that hid its accounts from the general public to one that suddenly, in 2013, started publishing a glossy annual report disclosing reams of financial details.
Born in 1951 in Houlgate in Normandy, Dauphin went to work for the family scrap-metal business after high school, learning about commodities from the bottom up. Following 10 years or so working with his father, Dauphin went to work in London for Brandeis Goldschmidt, a broker at the London Metal Exchange.
A few years later, Dauphin met Felix Posen (the father of future Trafigura co-founder Danny Posen), who was head of nonferrous metals at Marc Rich + Co. Dauphin landed a job there and moved to metals-rich Bolivia, where he learned Spanish and started a long and profitable love affair with Latin America. He was back in London and head of oil when he broke with Rich. By the time he founded Trafigura, Dauphin was in his 40s. He mixed charm and attention to detail with remarkable energy, keeping to a grueling travel schedule even after his cancer diagnosis.
Six men may have co-founded Trafigura, but nobody embodied the trading house more than Dauphin. His company obituary was close to the mark when it eulogized him as "an inspirational mentor, even a father figure" to others at Trafigura. "Claude was special," says Crandall, one of the co-founders. Not only did Dauphin have the long-term vision to make Trafigura a reality, Crandall says, but he also often acted as a "peacemaker" among the ultra-competitive types who gravitate to this sort of business.
"The big question for Trafigura," Crandall says, "was what happened after Claude: Nobody knew the answer."
The industry was rife with talk that Dauphin's death would ignite civil war at the top of Trafigura and destroy it. Three years later, that's looking like a poor prediction. Weir, who took over as CEO in 2014, has recently consolidated his power, assuming the additional title of executive chairman. Trafigura's head office is a less hierarchical place, even if that leads to what Weir and head of oil José Larocca both jokingly call "animated" discussions.
Executives and traders have a huge incentive to avoid disagreements and preserve a long-term vision because their wealth is linked to the company's fortunes long after they leave or retire. As a rule, though it has the option to defer payment indefinitely, Trafigura buys back the stake of each departing employee in five installments over a four-year period.
What isn't changing is a desire to remain private, eschewing the initial public offering route followed by Glencore, for example. Weir says remaining private is "sacrosanct." Still, Trafigura has toyed with the idea of bringing in an outside investor. In 2015, Rosneft, for example, put forward a proposal to take a 20 percent stake, according to people familiar with the matter. It was rejected.
As its Indian deal with Rosneft suggests, Trafigura is open to investing jointly with others in assets such as ports, fuel stations, and mines. It's already forming a partnership with Mubadala Investment Co., the United Arab Emirates sovereign wealth fund, in a mining project. It co-invests with the Angolan national oil company Sonangol Holdings in Puma Energy Holdings Pte., which owns more than 3,000 fuel stations across Africa, Latin America, and Australia. Most recently it mandated Citigroup Inc. to find co-investors for its Impala unit, which operates ports and warehouses, according to people familiar with the matter.
This is old school: A trader based in Geneva, Singapore, or Houston is typically flanked by a team of operators performing so-called middle-office functions for each physical transaction, whether logging deals, executing hedges, or securing vessels—the day-to-day nuts and bolts of a physical-commodity trading operation. Trafigura began doing things differently in 2012, saving millions of dollars a year. Under the direction of Dauphin and Wainwright, it began relocating middle-office operations outside of its main trading hubs into three lower-cost locations in Mumbai; Shanghai; and Montevideo, Uruguay. Today, deals-desk teams in these cities do more than half of Trafigura's middle-office functions and executions.
Which explains the presence of Pujal Doshi at a modern glass-and-metal building in Mumbai's Bandra Kurla Complex. This is now Trafigura's biggest office, with more than 600 employees. "We started off small, and there was a whole lot of skepticism," says Doshi, one of the team's first hires in Mumbai, a regional deals-desk manager for metals. A forceful 30-year-old, Doshi says her team was particularly busy in April. Aluminum and nickel markets swung wildly after the U.S. sanctioned Russia's United Co. Rusal Plc, one of the world's biggest aluminum producers. "Sometimes when the markets are bad, the traders can be very snappy," she says with a laugh.
The Mumbai move was controversial in some quarters because it broke the physical link between traders and operators that many commodities executives say is critical to avoiding mistakes. But the math is hard to argue with. A middle-office worker in Mumbai with two-and-a-half years' experience earns an average of $23,000 in salary, says Tejinder Hara, a former officer in the Indian army who runs Trafigura's global services unit. In Geneva the same employee would make at least five times as much.
And yet the reorganization of the deals desks, Weir says, has allowed Trafigura to double oil trading volumes in a half-decade to more than 5 million barrels a day while keeping its back- and middle-office costs the same. That's saving money and making journeys such as the Estia's more efficient.
It's all part of a relentless forward momentum as Trafigura seeks to break from the past. "Claude had a certain style," Weir says. "What we have done is enable people to grow and develop. That's important, and that process has modernized the organization."
Hoffman covers commodities in Geneva. Blas covers energy in London.