The point of this article is two-fold. I would like to comment on the poor economics of the shale oil producers, and I would also like to point out the wildly different valuations between shale oil producers and offshore oil producers, two subsectors of the same industry. On one hand, you have shale, which is quite popular and priced for perfection yet seems incapable of producing free cash flow. On the other hand, you have offshore, which is priced for failure yet has a long history of producing and returning cash to shareholders under normal market conditions.
Most investors are aware of the classic valuation methods that include discounted cash flow analysis, dividends, and free cash flow. We all understand that the ability of an asset to produce cash for its owner is the reason to own it. Somehow, the momentum and excitement surrounding new technologies can suck large amounts of investors into cash burning companies that do not, and likely will not, produce meaningful amounts of cash that can ever be returned to shareholders. As has always been the case, Wall Street will underwrite anything it can sell, but once it realizes it cannot sell something, funds dry up. Should investors in these shale companies no longer find themselves willing to buy newly issued shares or lend money to companies that have a terrible history of sustaining profits or returning cash to shareholders, chances are the industry will struggle. To make matters worse, most shale wells suffer from enormous depletion rates, meaning that if the companies in the industry are not generating cash and cannot access new cash, they cannot replace reserves, in which case, they die. I believe it's time for investors to walk away from shale while prices are high, and reallocate into offshore, where the opportunity to make a ton of money now exists.
Pick a fracker, any fracker. Chances are the company has a market valuation that exceeds the market value of all of the offshore drillers combined. To highlight this I point out Pioneer Natural Resources (NYSE: PXD) which has a market value of $22 billion, and Diamondback Energy (NASDAQ: FANG) which has a market value of $8.9 billion. For comparison's sake, let's look at the combined market values of all the major offshore drilling companies. Transocean (NYSE:RIG), Ensco (NYSE: ESV), Diamond Offshore (NYSE:DO), Noble Corp (NYSE: NE), Rowan (NYSE: RDC), and Atwood Oceanics (NYSE:ATW) . These companies combined market values total $8.6 billion. In other words, one could acquire nearly the entire offshore drilling industry for less than the cost of one average fracking company.
Where it gets really fascinating is when you take a look at the ability of these companies to produce free cash flow and to pay dividends. After all, let's be honest, the only thing that should matter in the life of a company is its ability to produce cash and distribute cash to its owners. Bloomberg recently published an article highlighting the fact that fracking companies have been unable to produce free cash flow no matter the price of oil. The chart below shows the cumulative cash burn of 33 oil companies focusing on shale.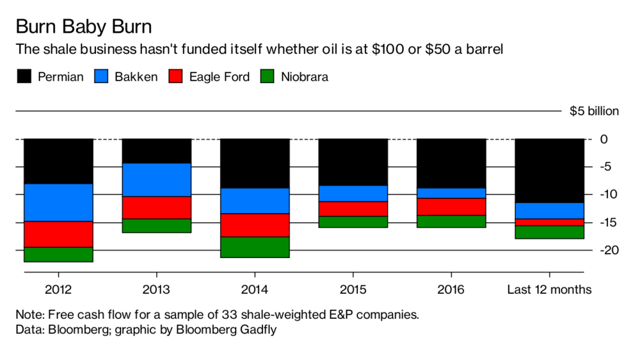 Source: Bloomberg
Let's not forget that in 2014, oil prices were more than double their current levels.
Now let's look at a couple specific companies.
Pioneer Natural Resources is a good example. This is a company that is purely involved in US oil production, with a focus on shale. This company has a market value of $22 billion, yet they have reported negative cumulative free cash flow over the past three calendar years totaling $3.247 billion.
How has this been funded? Through $3.6 billion of equity and net debt issuance. Critics of this article will point out that the negative cash flow has been the result of investments in production growth and therefore they are not bad. To that point I would respond by asking "Where are all the GAAP profits then?" Pioneer has lost money in two of the past three years, and has cumulative GAAP profits over these three years of only $101 million. If we look at the first two quarters of 2017, Pioneer lost money in Q1, and made money in Q2. Finally, even if we isolate 2014, which was a good year for Pioneer, with profits of $930 million, the current market value would be almost 25 times that level of profits, and that is after the stock has declined 34%. For investors who think the stock will go back to $200 per share, those investors will be holding a stock that is at 42 times earnings even if Pioneer returned to its 2014 profit levels.
A quick glance at these figures would lead one to believe that the stock is outrageously overpriced. Amazingly, the stock, currently trading at $130, is down from $200 per share earlier this year, which gave the company a then market value of $33 billion.
Diamondback Energy is another shale producer that has cumulative cash burn over the past three fiscal years of $2.6 billion. Over those same three years Diamondback Energy has issued $3.6 billion of equity and $600 million of net debt. Year to date, Diamondback has had cumulative cash burn of $1.8 billion. To be fair, this is almost entirely due to the acquisition of a leasehold interest in 76,319 acres in the Delaware Basin. To replenish their depleted cash levels, Diamondback just last month announced the pricing of an additional 3 million shares of stock.
The graph below highlights the constant need for equity issuance over a ten year period.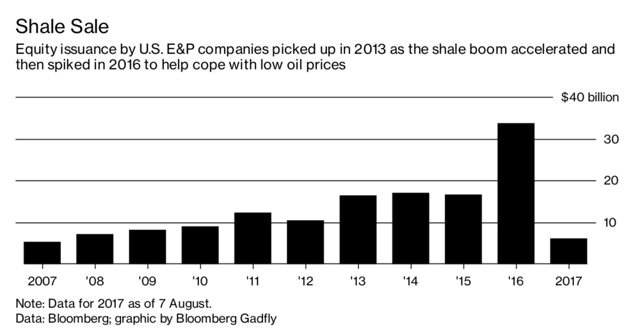 Source: Bloomberg
With the constant need for equity issuance to fund drilling costs, there is little in the way of hope for any meaningful dividend or distribution of cash from these companies. Pioneer Natural Resources pays a semiannual dividend of just 4 cents per share, a level that has been the same since 2009. For their $130 per share investment, investors can expect to receive 8 cents annually back in cash. In other words, investors in Pioneer Natural Resources are making a bet purely on the price of the stock moving higher. Diamondback Energy pays no dividend at all.
For comparison's sake, let's look at a couple of offshore drilling companies. Diamond Offshore (NYSE:DO) and Noble Corp (NYSE:NE). These companies are involved in the ownership and leasing of offshore drilling rigs only. The actual drilling is performed by rig operators, who often rent these rigs for hundreds of thousands of dollars per day. One simple look at the dividend history of Diamond Offshore shows that while the company is currently struggling like so many others in the oil space, the company has flooded shareholders with cash over time. During the same time period that Pioneer Natural Resources has paid their 8 cents annual dividend, Diamond Offshore has distributed $27.75 per share in cash dividends to shareholders, more than double the current stock price. A quick look at Noble Corp's dividend history shows that Noble paid dividends totaling nearly its entire current stock price in just the three year period between 2014-2016. To be fair, both companies have currently suspended cash dividends and are focusing on preserving cash and repaying debt. By doing so, they set themselves up for a brighter future. The most important thing to note is that both companies are very much free cash flow positive.
The fact that shale producers are unable to generate positive cash flow at today's prices, and they were unable to generate positive cash flow at $100 oil prices tells us that at some point, investors are likely to give up on the sector. If investors give up on the sector, the companies will be cut off from the spigots of Wall Street cash they have become so used to tapping and they will be forced to cut spending to stay alive. Unfortunately, it's not as simple as cutting spending with shale. Depletion rates are so high that these companies have to spend like crazy in order to maintain constant production levels. If they lose their funding from equity and debt issuance, they will crumble as high depletion rates eat them alive.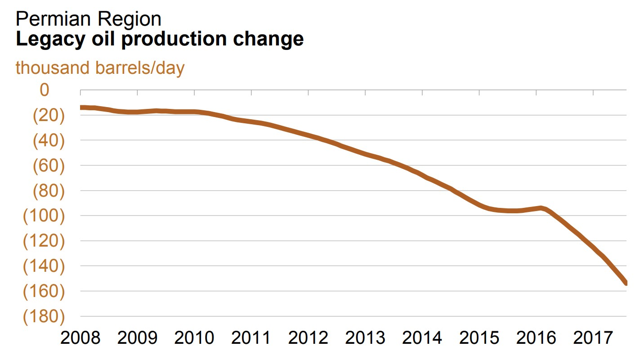 Source: OilPrice.com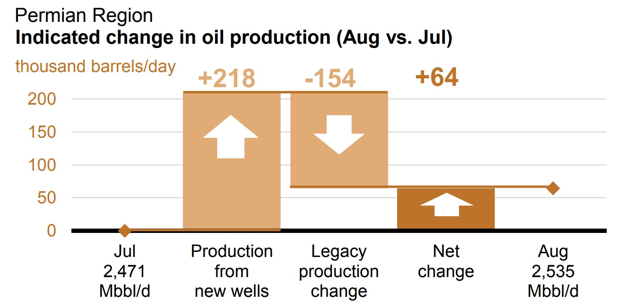 Source: OilPrice.com
The charts above show that in the Permian Basin alone, the month to month decline in production is averaging around 154,000 barrels per day. In other words, drillers must replace that much production each month just to maintain production levels constant. Easy to do when billions of dollars are being thrown at you from Wall Street, but perhaps impossible to maintain if they lose their funding.
I believe that the market has priced the companies in the shale and fracking world at prices that are completely irrational when considering their cash burn, lack of dividends, as well as their ongoing need to dilute shareholders in order to fund their operations. Wall Street does this when they get excited about growth. Investors should remind themselves that all the growth in the world is meaningless if there is no ability to distribute the cash to shareholders. As a contrarian play, investors should consider buying into the most beaten down sector out there today. Offshore drilling is a perfect contrarian opportunity. At one-third of global production, the sector is vital to the global economy, and investors can select best of breed companies and buy them at severely distressed prices. In time, the popularity contest that is Wall Street will give way to true fundamentals, and investors could achieve spectacular returns by putting themselves in the appropriate companies.