For some time now, natural gas producers in the Permian and the Eagle Ford have been counting on rising pipeline exports to Mexico to help absorb a lot of the incremental production in their plays. Their hopes have been bolstered in the past couple of years by the build-out of a number of new pipelines from the Waha and Agua Dulce gas hubs to the U.S.-Mexico border. Gas pipeline development south of the border hasn't kept pace, though, mostly due to regulatory and construction delays. Also, a recent dispute over tariffs on a newly completed large-diameter pipeline, extending from the southern tip of Texas to key points along Mexico's Gulf Coast, had left the pipe sitting empty this summer. That tiff has since been resolved and gas is flowing on the new pipeline, allowing those piped southbound exports to hit a daily record high near 5.9 Bcf/d earlier this month and average above 5.5 Bcf/d this month to date. Plus, progress is being made on other planned Mexican pipes too. This all leads us to ask, is the long-promised surge in U.S. gas exports to Mexico just around the corner? Today, we look at the latest developments regarding Mexico's natural gas pipeline infrastructure additions.
We've covered the natural gas pipeline infrastructure build-out in Mexico from almost every angle, from initial planning to pipeline-by-pipeline reviews, to a look at Mexico's increasingly open gas market. Today, we'll provide an overdue update, including a discussion about what's been happening with one of the biggest long-haul pipeline additions: TC Energy and IEnova's 2.6-Bcf/d Sur de Texas-Tuxpan Pipeline (STP), whose in-earnest start-up was set back for months by a stand-off between the Mexican government's then-new administration and the project's developers over the pipeline's rates — the government said they were too high, and TC Energy and IEnova said a deal's a deal. (More on this in a moment.) First, let's take a big-picture look at the current status of gas pipeline development down Mexico way.
Probably the most important new pipeline infrastructure in Mexico, certainly as it relates to moving more gas from West Texas, is the Fermaca network of pipelines that is being built from the border to Central Mexico. As we covered in Before The Deluge, the first part of this network has been finished to El Encino in the state of Chihuahua and includes the Tarahumara Pipeline (yellow line in Figure 1), which is supplied largely by the Roadrunner Pipeline (orange line) from Waha to the border. While the Roadrunner-Tarahumara combination can move volumes south to El Encino, moving gas from there further south into Mexico won't be possible until three additional pipelines are completed to Central Mexico (dashed black and yellow lines). The first of those is the El Encino-to-La Laguna Pipeline, which will supply power plants near the cities of Torreon and Gomez Palacio (labeled "La Laguna-area" in Figure 1) and also supply gas to the La Laguna-to-Aguascalientes Pipeline. Volumes on that pipeline will go to serve demand near Aguascalientes and to supply the Villa de Reyes-to-Aguascalientes-Guadalajara Pipeline, which interconnects new and existing power plants and pipelines in Central Mexico.
While these Fermaca pipelines had been expected to be completed in May 2019, construction delays have pushed that timeframe out to late this year or early next year. It is also our understanding that the Fermaca pipelines have been completed all the way to Aguascalientes, although gas is not flowing on those sections, as there is currently no power plant load connected to those parts of the pipeline. Fermaca also spent time this year negotiating with the Mexico government over tariff issues similar to those experienced by the partners in STP, although it isn't likely those discussions are related to the recent delays in construction. Once complete, the Fermaca system, sometimes referred to as the "Wahalajara Pipeline" for its Waha and Guadalajara beginning and end points, will provide a much-needed outlet for Permian gas looking to access big demand markets in Central Mexico. If all goes well, we will be back in this space early next year detailing those impacts (fingers crossed!).
Now back to STP. While telling the full story of the squabble would take a whole blog, the short version is that Mexican President Andrés Manuel López Obrador (AMLO) believed that the prior administration had signed contracts to build the pipeline — as well as numerous other new pipelines in Mexico — at rates that were simply too high. The government, arguing on behalf of its state-owned power-generation utility, Comisión Federal de Electricidad's (CFE), wanted the tariffs trimmed, while pipeline developers like TC Energy and IEnova said the agreements were entered into fair and square. At the end of the day, a compromise was reached that lowered nominal rates on STP, which the government wanted, while adjusting the contract terms, which proved beneficial to the companies building the pipelines. We won't pick a winner here, but it's fair to say both sides got what they wanted.
So, for those who don't know, what is STP and why is it so important? Sur de Texas is an almost entirely submarine pipe (solid red line in Figure 1) that runs from the Brownsville area in South Texas to three delivery points along Mexico's Gulf Coast. As a little background, the contract to build STP was awarded to TC Energy (formerly TransCanada) and IEnova, a Sempra subsidiary, in 2016. The 42-inch-diameter pipeline was designed to move up to 2.6 Bcf/d of natural gas from South Texas to Mexico and was supported by long-term contracts with CFE. Originally anticipated to have an in-service date of late 2018, Sur de Texas encountered various delays but was finished only a few months behind schedule in early 2019. However, commercial service on the pipeline would have to wait until negotiations between the pipeline's builders and the Mexican government were concluded, a process that finished up just a few weeks ago.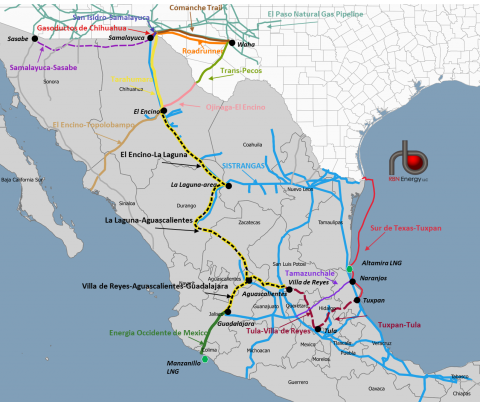 Figure 1. Mexico Natural Gas Pipelines. Sources: SENER, RBN and Electronic Bulletin Boards (EBB) (Click to Enlarge)
Since then, exports from South Texas on STP have averaged around 500 MMcf/d (see Figure 2), with peaks close to 700 MMcf/d. That average increase has been slightly offset by a drop of about 250 MMcf/d over the same period on the other pipelines moving gas from South Texas to Mexico. (While we won't discuss those pipelines and their volumes today, we do cover all the pipe flows in our weekly NATGAS Permian report.) The three delivery options for gas flowing south on Sur de Texas begin with a point near Altamira in the state of Tamaulipas. There, STP soon will interconnect with the SISTRANGAS pipeline (blue line in Figure 1), which is currently the only pipeline supplying local power plants near Altamira. (SISTRANGAS, for "Sistema de Transporte y Almacenamiento Nacional Integrado de Gas Natural," is the relatively new name for Mexico's legacy pipeline system.) Current plans call for STP to provide gas supply to the Altamira V power plant, a 1,300-megawatt (MW) plant capable of burning about 200 MMcf/d. SISTRANGAS also receives gas from the Altamira LNG terminal, which is an LNG import/regasification facility that Mexico relies on to alleviate shortages of pipeline gas. For most of this year, the terminal has been averaging about 400 MMcf/d of gas supply to SISTRANGAS, a level that may soon drop now that STP is in operation.
Gas on STP not delivered at Altamira makes its way farther south along the coast to an interconnect with the Tamazunchale Pipeline (purple line in Figure 1) at the town of Naranjos in the state of Veracruz. At present, all of the gas flowing on Sur de Texas is making its way to this interconnect, where it has replaced gas that was previously flowing in from the SISTRANGAS pipelines. Once on the Tamazunchale Pipeline, natural gas is either delivered to power plants along the pipe or back into the SISTRANGAS pipeline in the state of Querétaro. A third delivery point on the STP lies even farther south at Tuxpan, where the Tuxpan-Tula Pipeline (dashed maroon line in Figure 1) is being built by TC Energy. Once the Tuxpan-Tula Pipeline is complete, gas from STP could be used to supply the Tuxpan 2 and 5 power plants, each of which burn about 80 MMcf/d. What's left over could then move into Central Mexico on the Tuxpan-Tula pipe. STP will also deliver gas to SISTRANGAS at Tuxpan via the Monte Grande interconnect, although no volumes are currently flowing there. Establishing flows between STP and SISTRANGRAS at Monte Grande will be key to alleviating a shortage of natural gas that currently pervades most of Southeast Mexico, including the Yucatán Peninsula, which currently relies on oil-based products to fully supply the region's power plants.
Figure 2. Mexico Exports on Sur de Texas-Tuxpan. Source: TC Energy Electronic Bulletin Board (Click to Enlarge)
While the start of Sur de Texas is certainly encouraging, should we look at the 500 MMcf/d or so of flow as just another new pipeline to Mexico operating well below its capacity (2.6 Bcf/d in this case) or the beginning of a new surge in exports south of the border? As is usually the case, the answer likely lies somewhere in between, and the timing of an imminent surge remains a little opaque. On the less optimistic side of the ledger, one could easily point to the fact that the 500 MMcf/d on STP has been offset by about 50% due to export drops on other pipelines leaving South Texas. So, the incremental export increase to Mexico has been only 250 MMcf/d.
That said, there is reason for optimism. For one, all of that incremental 250 MMcf/d has gone to provide more supply to existing power plants. Those gains have likely resulted in some reduction in the consumption of fuel oil in the Mexico power sector, which averaged about 700 MMcf/d in gas terms last year, and reducing the consumption of oil products in the power generation sector was one of the key goals behind the construction of the new gas pipelines. Some of the incremental power demand supplied by the gas flowing on STP has also likely relieved power supply shortages in Central Mexico, which have been a nagging problem in Mexico for many years.
Also, while Sur de Texas volumes will eventually help replace all of the imported LNG that Mexico now consumes, most of the recent increase on STP has occurred in addition to steady imports at the Altamira LNG terminal on the Gulf of Mexico. That should change over time, once Altamira works off its current inventory of stored LNG, built up during the period of tariff negotiations when quite a few cargoes were delivered. Further increases in STP flows could also come once the necessary infrastructure within Mexico is completed to supply more natural gas to Southeast Mexico and replace LNG imports at Manzanillo. Those changes, which we will discuss in a future blog, could see STP volumes spike significantly higher. Take all that together and, while challenges linger and timing will likely remain opaque, we see a heightened potential for meaningful increases of natural gas exports from South Texas now that STP is in service.
"I Feel It Coming" was written by Abel Tesfaye (a.k.a. The Weeknd), Thomas Bangalter, Guy-Manuel de Homem-Christo, Martin McKinney, Henry Walter and Eric Chedeville. It appears as the 18th cut on The Weeknd's third studio album, Starboy. It was released in November 2016, and went to #2 on the Billboard Hot R&B/Hip-Hop Songs chart and #3 on the Billboard Hot 100 chart. The single was awarded Song of the Year at the 2018 BMI R&B/Hip Hop Awards. "I Feel It Coming" has appeared in five network television shows, a commercial for Nintendo Switch and in the video game, Just Dance 2019. The Weeknd says he wrote the lyrics to the song in one hour after being presented with the demo of the music in Paris by Daft Punk. The song was produced by Daft Punk, Doc McKinney, Cirkut and The Weeknd.
The album, Starboy, was recorded at Conway, Henson, MXM and Westlake in Los Angeles; Downtown and Matza Ball Studio in New York City; Gang Studio in Paris; MXM and Wolf Cousins in Stockholm; and The Treehouse X in Suffolk, UK. The LP was produced by Abel Tesfaye (The Weeknd), Doc McKinney, Ali Payami, Ali Shaheed Muhammad, Ben Billions, Benny Blanco, Bobby Raps, Cashmere Cat, Cirkut, Daft Punk, Diplo, Frank Dukes, Jake One, Labrinth, Max Martin, Mano, Metro Boomin, Prince 85 and Swish. The Weeknd is featured as lead vocalist on the album. Released in November 2016, the album went to #1 on the Billboard Top 200 Albums chart and the Top R&B/Hip-Hop Albums chart. It has been certified 3x Platinum by the Recording Industry Association of America. Starboy won a Grammy Award for Best Urban Contemporary Album in 2018.
The Weeknd (Abel Tesfaye) is a Canadian singer, songwriter and record producer. His music has been described as alternative R&B. He has released three studio albums, two compilation albums, one EP, three mix tapes and 43 singles. He has won three Grammy Awards, eight Billboard Music Awards, two American Music Awards and nine Juno Awards. The Weeknd still records and tours.