Dispelling The Oil Storage Myth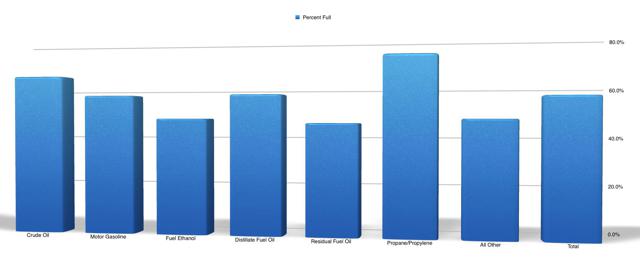 Summary
One concern hitting many investors recently has been the possibility that the U.S. is approaching full oil storage capacity.
If true, this would certainly result in firesale energy prices at some point, throwing oil and other products down much lower than they are today.
Upon digging into this, however, I discovered something that should dispel the concerns investors have regarding peak storage capacity that should allow long-term oil bulls to sleep at night.
One thing that some of my readers have brought up on a regular basis has been the question of how much of this nation's oil storage capacity is full since commercial crude inventories are at 80-year highs. At first glance, this may not seem like an important topic but it's actually exceedingly important to oil investors for one particular reason; if we were to max out our storage capacity, the price of crude and other petroleum products would plummet since it would create a scenario where companies in this space would need to sell off their products at firesale prices since new output would continue (you can't just turn off the tap in this environment if you want to survive).
Under this nightmare scenario, it wouldn't be unthinkable to see oil drop to $10 per barrel or lower and many businesses in this industry, like Linn Energy (NASDAQ:LINE) / LinnCo (NASDAQ:LNCO), BreitBurn Energy Partners (NASDAQ:BBEP) and Approach Resources (NASDAQ:AREX), would have next to no chance of survival. In order to soothe the concerns of readers who may be worried about this outcome, I decided to dig into the numbers in order to show that the inventory concerns (from a storage side) are nothing to lose any sleep over.
Some notes of importance
Before I begin, I should inform you how I'm looking at capacity. According to the EIA, they keep track of two types of storage capacity in the U.S.; net available shell capacity and working storage capacity. The first type, net available shell capacity, includes the capacity provided by tank bottoms, working capacity, and contingency space, while the latter looks solely at working storage space. A detailed description of these differences, courtesy of the EIA, can be seen in the image below:
(click to enlarge)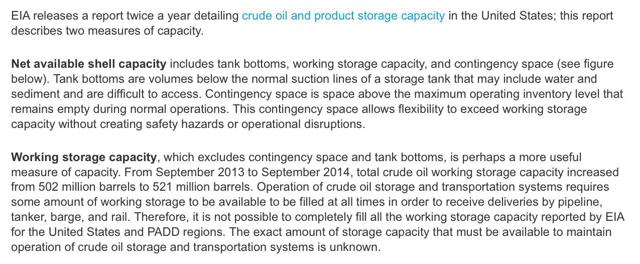 In the next image, you can see a visualization of the two types of capacity in the U.S. While it may not seem like a big difference on the image, the numbers are quite staggering. If you use net available storage capacity for crude plus petroleum products in the U.S., as opposed to the more conservative working storage capacity, the potential storage space soars by 303.36 million barrels (plus an extra 72.80 million barrels if you consider idle capacity that could be brought on within 90 days). While net available shell capacity could be used if push came to shove, I like to remain conservative in my analysis so I'm opting to use the working storage capacity, which will result in less available space than the other approach would.
(click to enlarge)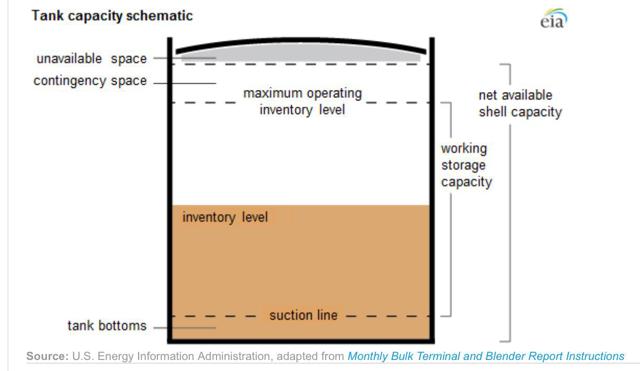 Looking at the big picture
At this moment, the EIA believes that there's about 476.6 million barrels of oil in commercial storage in the U.S. This is well above the 359.8 million barrels that constitute "normal" inventory levels but is also lower than the 490.9 million barrels the organization estimated earlier this year. Despite the fact that inventories have been declining since peaking, the trend these past couple weeks has been toward slightly higher inventories, driven by refinery shutdowns and a slight uptick in production. All of this may sound scary but when you look at how much capacity the U.S. has, the probability of a firesale-like scenario is unbelievably slim.
In the table below, you can see what the current storage capacity is for crude. Using storage data from September of 2014 (the most recent that's available but updated numbers are coming out in November), you can see that capacity in the U.S. stood at about 540.6 million barrels. With oil inventories at 476.6 million barrels, this implies that storage in the U.S. is about 88.2% full. This may seem alarming, but the EIA also reminds us that about 120 million barrels of crude is being held in pipelines or some other form of transit, so they shouldn't be factored into storage figures (the EIA follows this mindset in their analysis). Adjusting for this, crude held in storage should be about 356.6 million barrels, which implies that storage capacity is at about 66%.
(click to enlarge)

* numbers are in millions of barrels
Now that we have crude figured out, what about the other petroleum products? If crude is at a level that isn't even near critical while the products it makes are, it's still very possible that we could see a firesale for crude. In the graph below, I show what the picture looks like for motor gasoline, fuel ethanol, distillate fuel oil, residual fuel oil, propane/propylene, and the "All Other" categories. Using this data, it becomes clear that there really aren't any concerns anywhere.
(click to enlarge)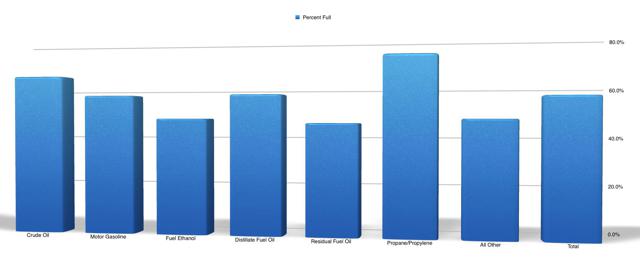 The category with the highest amount of free space available is residual fuel oil, which stands at just 46.3% full, while propane/propylene is the worst at 74.1%. In aggregate, total crude plus petroleum products is just 57.4% full at 1.19 billion barrels (1.31 billion if you add back the pipeline fill and other product that is in transit). With nearly 2.06 billion barrels of total storage available in this country (excluding the strategic petroleum reserve) and another 376.16 million barrels if push came to shove, there's still so much capacity in the market that investors don't need to worry about firesale any time soon.
Takeaway
I certainly understand the concerns of investors who are worried about the oil market when it comes to storage capacity. In theory, a move much higher that would leave tanks around the nation flooded with crude and other petroleum products would be disastrous for the energy sector but the fact of the matter is that we don't look even remotely close to critical mass at this point in time. This, in my opinion, isn't bullish for energy by itself but it definitely does dispel the fear and paranoia that is plaguing the minds of many investors.