No doubt you've heard people speak of an energy transition from a fossil fuel-based society to one based on renewable energy–energy which by its very nature cannot run out. Here's the short answer to why we need do it fast: climate change and fossil fuel depletion. And, here's the short answer to why we're way […]
Daniel L. Davis is a field grade officer in the United States Army, having served four combat deployments (Desert Storm, Operation Iraqi Freedom, and Afghanistan twice). He has a master's degree in International Relations from Troy University. He has been writing on oil and energy issues in major national publications since 2007, but has been […]
Tehran: An Iranian energy official said Iran will start supplying natural gas to neighboring Iraq by the summer of 2013, the semi-official Fars news agency reported Sunday. Managing Director of National Iranian Gas Company Javad Oji said Iran has completed more than 25 percent of a pipeline to Iraq that could carry up to 25 […]
The stars lined up – almost – for Shell Oil to drill exploratory wells this year in waters off Alaska's north coast. The Arctic Ocean was on record pace for low sea ice. The Obama administration gave a qualified green light to drilling. Two drill ships and a flotilla of support vessels were staged off […]
The theme of these posts, over the past eighteen months, has been to look at the leading producer nations that provide crude oil to the world, and see whether it is realistic to anticipate significant increases in their production. Posts have now looked at North America, Russia, Saudi Arabia and China based on the original […]
I've always thought of myself as a smart guy. There I was, at 30 years of age, producing award winning advertising, designed to manipulate people – through fear, envy and stupidity – into consuming more and more, exponentially. Pretty smart, right? Many people would wish for such a career, just to improve their income or […]
A new mashup of documentaries and interviews analysing the rise and fall of humans. Featuring: Professor Albert A. Bartlett Ray Kurzweil David Attenborough Professor Tim Dyson Mike Ruppert Richard Heinberg Michael Meacher MP Dr. Michio Kaku youtu.be
Unchecked human population growth could be a recipe for doom for the planet and its inhabitants. And it has reached staggering levels in recent years—the number of people on the planet has doubled from 3.5 billion to seven billion in just a half century. While we've made great strides in educating people around the world […]
Nate Hagens from The Oil Drum answers questions on people's acceptance of peak oil, its seriousness, EROEI, the credibility of biofuels and the role of the market. Association for the Study of Peak Oil and Gas Interviewee: Nate Hagens
U.S. oil production surged last week to the highest level since January 1997, reducing the country's dependence on imported fuels as new technology unlocks crude trapped in shale formations. Crude output rose by 3.7 percent to 6.509 million barrels a day in the week ended Sept. 21, the Energy Department reported today. America met 83 […]
Last week brought the news that this summer the Arctic icecap shrank to an all-time low of roughly half the size it was in 1980. While this is the lowest ever seen since satellite monitoring began 33 years ago, some experts are saying that the summer of 2012 was probably the smallest the icecap has […]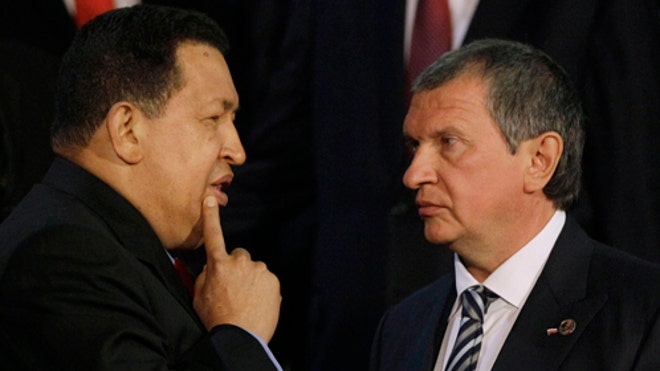 To thank President Hugo Chávez for signing an agreement with Russia to tap new oil fields in the Latin American country, Russian Prescient Vladimir Putin gave his Venezuelan counterpart a special gift – a puppy. Venezuelan and Russian officials signed eight agreements to boost cooperation in energy projects Thursday. Igor Sechin, the CEO of Russia's […]
The two reports released by the U.S. Geological Survey (USGS) Wednesday provide no evidence that hydraulic fracturing has created impacts to groundwater, an EnCana Corp. spokesperson told Rigzone Friday. "Furthermore and more importantly, [Environmental Protection Agency] has provided no sound scientific evidence that drilling has impacted domestic drinking water wells in the area," said spokesperson […]
Both China and Russia suffer from deep, structural problems which threaten the long-term viability of their respective governmental organisations. Many of China's problems can be symbolised by the ongoing spate of collapsing buildings, bridges, tunnels, power lines, railways, and other types of hasty construction and engineering. Business Week Nearly every month brings news of […]
Petrobras' oil and natural gas output fell to its lowest level in 22 months in August, slipping 0.3 percent from July to an average 2.54 million barrels a day from fields in Brazil and abroad, the company said in a statement on Friday. Crude oil output in Brazil, the company's principal source of production, fell […]
A U.S. judge handed an 11th-hour victory to Wall Street's biggest commodity traders on Friday, knocking back tough new regulations that would have cracked down on speculation in energy, grain and metal markets. Judge Robert Wilkins of the U.S. District Court for the District of Columbia threw out the U.S. Commodity Futures Trading Commission's new […]
Chapter 8 Consequences of the Oil Decline.
PEC crude oil output has fallen in September because of reduced exports from Angola and Nigeria, a Reuters survey showed on Friday, and as Iranian output slipped back to its lowest in more than two decades. The drop in output from the Organization of the Petroleum Exporting Countries may worry consumer countries, already concerned that […]
An energy analyst has concluded that the key factor causing the world's economic woes is "high-priced fuel syndrome" which induces sluggish growth and range of other ailments. Peak oil expert Gail Tverberg has written a lengthy report for Our Finite World in which she observes that lofty fuels costs are stymieing the growth of the […]
The biggest, baddest engines in the world, long chained to diesel fuel, are on the verge of a mass transformation because of cheap natural gas – with oil field equipment holding particular potential, executives said Thursday during a summit of heavy fuel users and producers. "Here's the first reason that large engines are going gas," […]
Seven individuals were reportedly arrested for allegedly trafficking uranium and weapons in a breakaway region of Moldova. The unnamed group had been detained last week in the separatist enclave of Transnistria, according to Moldova's interior ministry, Reuters reported. The group had allegedly been involved in shipments of hand grenades, Kalashnikov assault rifles, rocket propelled grenade […]
Israeli Prime Minister Benjamin Netanyahu said Iran was on track to build an atomic bomb by summer of 2013 and exhorted the U.S. and other global powers to set a strict limit on Tehran's fuel production as the clear "red line" that would trigger military strikes. The speech at the United Nations General Assembly on […]
Coal: India's plans for coal-fired power plants soar — study[emphasis added]: India is poised to contend with China as the globe's top consumer of coal, with 455 power plants preparing to come online, a prominent environmental research group has concluded. The coal plants in India's pipeline — almost 100 more than China is preparing to […]
"Risk is what's left over when you think you've thought of everything." — Carl Richards The world is full of risks. There's no shortage of them today: Deficits are enormous, Europe is cracking, and pension funds are underfunded. These are serious risks. Some will turn into crises. But we love to exaggerate and extrapolate. Nine […]
This is part I of a guest post by Jean Laherrère, long term contributor to The Oil Drum. Jean worked 37 years for TOTAL on exploration and production of oil and gas, and has since his retirement worked tirelessly to keep analysing the world's oil & gas data and developments. Leonardo Maugeri is an economist […]
Oil becoming an increasingly less accessible resource for the modern industrialized world.
Marathon Oil Corp. is putting its natural gas-rich acreage in the Marcellus Shale formation up for sale as it trims non-core assets, people familiar with the situation said. Marathon Oil is putting about 80,000 acres in West Virginia and Pennsylvania up for sale because the company doesn't consider them central to its growth plans, a […]
With crude oil accounting for 65% of the price of gasoline, there's typically a high correlation between the price of oil and gasoline. However, there's been a disconnect between the two for the most part of this year. The main reason for the disconnect is the divergence of supply market fundamentals. Chart data source:  US […]
Worried about "peak oil?" Never fear, the world also may be reaching "peak car," to borrow a phrase coined this summer by Scientific American. The average American is driving less and less each year — a trend matched by the citizens of economically advanced democracies across the globe, from France and Spain to New Zealand […]
Governments and economists around the world have not figured out that what the world economy is suffering from, to varying degrees, is "high-priced fuel syndrome". High-priced fuel syndrome has a number of symptoms: Slow economic growth, or contraction People in discretionary industries laid off from work High unemployment rates Debt defaults (or huge government intervention […]