Welcome to PeakOil.com, an online community exploring oil depletion.
The major French daily Le Figaro on Thursday published a bombshell story which reports the Saudi royal family is actively considering a replacement to crown prince Mohammed bin Salman (MbS) as next in line to succeed his father King Salman as the kingdom finds itself under the greatest international pressure and scrutiny it's faced in its modern history over the murder of journalist Jamal Khashoggi — widely believed to have been killed on orders of MbS himself. The Li Figaro report's unnamed diplomatic source says the Allegiance Council, which is historically the body responsible for approving the order of succession to the throne, is currently meeting in secret (translation from the French): For several days, the Allegiance Council for the ruling Saudi family is meeting in the utmost discretion, says a diplomatic source to Le Figaro in Paris. The information has been confirmed by a Saudi Arabian contacted in Riyadh. Composed ...
Electricity-generating fusion power plants — one of the biggest inventions in history — might be safe, efficient, reliable and environmentally responsible. But, how far are we from turning science fiction into reality — meaning a world where nuclear fusion energy will be powering our day-to-day lives? Some 60 years. The upcoming International Thermonuclear Experimental Reactor (ITER), the world's largest fusion reaction research facility in Saint-Paul-les-Durance, some 35 km north of Aix-en-Provence in southern France, aims to develop fusion technology to make commercially-viable fusion energy, the world's clean energy, a reality by the second half of this century So, what is fusion energy? With its high-energy yields and low carbon primary energy source, fusion, the same source that powers stars, could provide an alternative to conventional energy sources like coal-fired power plants. Scientists say the ITER facility aims to fuse two isotopes of hydrogen — tritium ...
The gap is growing between global food demand in the future and the projection on the rate of growth for agricultural production, a new report shows. The 2018 Global Agricultural Productivity (GAP) Index, put together by the Global Harvest Initiative, continues to highlight that food production is not growing fast enough to sustainably feed the world in 2050. This is the fifth-straight year the report has shown a wider spread between future food supply and future demand. The report warns that if this trend isn't reversed, the world may not be able to provide the necessary food, feed, fiber and biofuels for a growing global population. The productivity gap for food production is more pronounced in low-income countries, which are not growing food production nearly enough to keep pace with future demand. "Total Factor Productivity" in low-income countries is growing at 0.96% annually, ...
The oil shocks of 1973/74 and 1979/80 are now mainly remembered for the disruption and hardship they caused in the major oil-consuming countries. FILE PHOTO: Oil pours out of a spout from Edwin Drake's original 1859 well that launched the modern petroleum industry at the Drake Well Museum and Park in Titusville, Pennsylvania U.S., October 5, 2017. REUTERS/Brendan McDermid/File Photo But they marked a lasting inflection point in the development of the oil market and almost all the changes were adverse to OPEC in the long run. Following the oil shocks, global oil consumption grew more slowly while non-OPEC production rose more rapidly. Members of the Organization of the Petroleum Exporting Countries initially benefited from a gusher of windfall revenues, but in the long term the oil shocks were disastrous. OPEC's market share fell and its members were left with excess production capacity that remained ...
Major OPEC producer Iraq would like to know how and where its oil will be used, as demand rises for Middle East cargoes to replace shipments from fellow group member Iran. Iraq's state-run Oil Marketing Co., known as SOMO, is asking buyers of its Basrah crude to specify the final destination country for its cargoes, people with knowledge of matter said, asking not to be identified because the information is confidential. That aims to curb cargo resales, a practice under which companies reroute the oil to other firms who may offer a better price. The demand for final destination details coincides with growing fears of a crunch in the Middle Eastern crude market, as impending U.S. sanctions on Iran squeeze the Persian Gulf state's exports. With uncertainty rising over whether other regional producers will be able to fill a potential supply gap, ...
"The OEHHA chronic benzene REL considers several studies published after USEPA's 2002 benzene assessment, which found increased efficiency of benzene metabolism at low doses, decreased peripheral blood cell counts at low doses (800−1860 μg/m3)…" It takes another 20 words — with terms like "metabolic enzymes" and "benzene detoxification" — to close out this sentence from a recent University of Colorado study that looked at the potential health impacts of Front Range oil and gas operations. Thousands of equally abstruse passages fill hundreds of other studies from around the world examining the effects of drilling and hydraulic fracturing on human health. Welcome to the science behind Proposition 112, the oil and gas setbacks measure that will likely be among the most complex ballot issues to ever go before Colorado voters. The initiative aims to increase the required distance of any newly drilled wells from homes, schools and ...
At 10:30 p.m. on an 85F August night in Penwell, West Texas, a 69-year-old repairman is hammering away at the frame of an 18-wheeler in the forecourt of an abandoned truck stop. The song Free Bird by Lynyrd Skynrd blares from the radio. "I'm making more money than I ever did," says Don Suggs, who spends nights inside a vacant, graffiti-covered shop nearby, where he sleeps in a hammock. Just six weeks earlier he was retired, living near Dallas. He's here now, he says, "for one last hoo-rah." Suggs's sole employee, Bo Bennett, a heavily tattooed native of Waco, Texas, beds down in what used to be the shop's freezer. The only sign of a home comfort is a hanging punch bag. "This is the new West," says Bennett with a smile. Suggs Photographer: Matthew Busch for Bloomberg Businessweek The Permian Basin is six ...
Both the Indians and Russians had high hopes from the recent visit of President Vladimir Putin to Delhi. Surprisingly, it wasn't about the much hyped S400 Air Defense System deal signed between the countries for a whopping $5.1 billion. The chutzpah was regarding another strategic asset, which has been derailing the Indian growth story and threatening to maul its macroeconomic stability. No guesswork here as all eyes were on Russian oil assets as the October meeting concluded with a strategic push pertaining to Indo-Russia joint development of Siberian liquefied natural gas (LNG) and oil fields. Russia also reportedly offered India strategic access to its Arctic assets and its northern sea route (through the Kara strait). Despite these feel good announcements however, nothing concreate was discussed about uninterrupted supply lines. Perhaps, the arrangement which has been extended to the Chinese in ...
A Saudi mission to interrogate and possibly abduct journalist Jamal Khashoggi in Istanbul was organized by a high-ranking officer with the General Intelligence Presidency, Saudi Arabia's main intelligence service, three sources familiar with the case told CNN. One of those sources describes the officer involved as close to the inner circle of Crown Prince Mohammed bin Salman. It is unclear whether the crown prince authorized an interrogation or abduction. CNN has previously reported that several US officials have said that any such operation could not have happened without the prince's direct knowledge. A second source said the officer had assembled and sent his own team to interrogate Khashoggi. They suspected Khashoggi of having ties to the kingdom's arch rival, Qatar, the source said. There has been no evidence to substantiate Khashoggi had such ties. Another source told CNN the mission's organizer was not transparent ...
The macabre case of missing journalist Jamal Khashoggi raises the question: did Saudi rulers fear him revealing highly damaging information on their secret dealings? In particular, possible involvement in the 9/11 terror attacks on New York in 2001. Even more intriguing are US media reports now emerging that American intelligence had snooped on and were aware of Saudi officials making plans to capture Khashoggi prior to his apparent disappearance at the Saudi consulate in Istanbul last week. If the Americans knew the journalist's life was in danger, why didn't they tip him off to avoid his doom? Jamal Khashoggi (59) had gone rogue, from the Saudi elite's point of view. Formerly a senior editor in Saudi state media and an advisor to the royal court, he was imminently connected and versed in House of Saud affairs. As one commentator cryptically put it: "He knew ...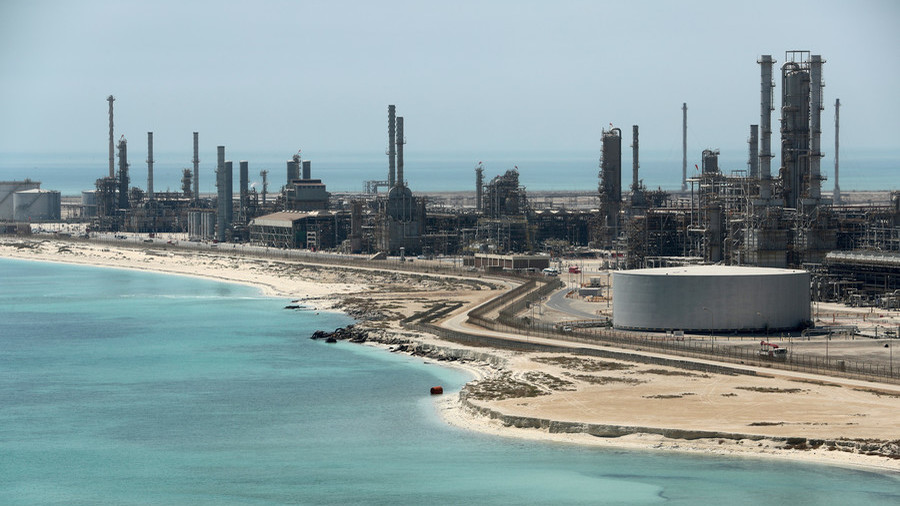 Oil priced $400 in yuan, Russian military base – Saudi insider says kingdom mulls 30 anti-US moves
If the US imposes sanctions on Saudi Arabia, it will "stab its own economy ...
Kunstler: Lost in Space
   Speaking as a black woman… wait second! Can I do that? Well, ...
Oil Demand Is Cooling. Just Don't Expect Prices to Follow
The world's two big intergovernmental energy groups have updated their outlooks for the oil ...
The World's Fragile Economic Condition – Part 2
The world economy can appear to be operating quite well but can be hiding ...
More News By Topic...