Welcome to PeakOil.com, an online community exploring oil depletion.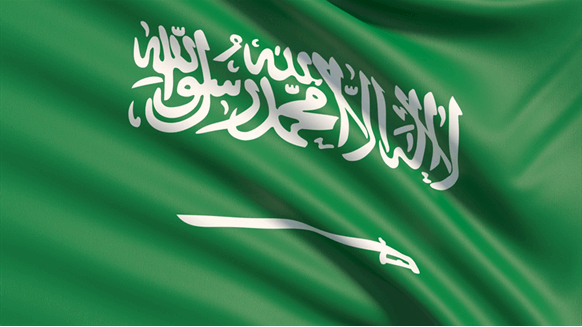 Saudi Arabian Oil Co. has the experience and infrastructure it needs to keep crude flowing should supply through the Strait of Hormuz be disrupted, according to the chief executive officer of the state-run producer. "We are increasing our readiness," Amin Nasser said in an interview in Seoul on Tuesday. "We can supply through the Red Sea and we have the necessary pipelines and terminals." Brent crude has jumped about 8% since mid-June as worsening relations between the U.S. and Iran have magnified fears that shipments could be disrupted through the Strait of Hormuz, a narrow choke-point through which about one-third of all seaborne crude flows. There have been a series of attacks on tankers over the past few weeks and the downing of an U.S. Navy drone, which American officials have blamed on Iran. "It's a concern for the whole world because that ...
"At some point in the next 20 years, it's likely we're going to see oil demand peak. Our own view at Wood Mackenzie, is around 2035, 2036," Wood Mackenzie chairman Simon Flowers said in an interview with CNN Business. The International Energy Agency, which monitors energy supply for the world's richest countries, said earlier this year that there was "no peak demand on the horizon." A potential peak in oil demand is one of the central questions hanging over the energy industry. The timing could impact trillions of dollars of investment decisions and play a major role in the trajectory of greenhouse gas emissions. Flowers said that there is already very little demand growth in the European Union, and "in time" demand in America will also drop off. Almost all of the demand growth for oil is now concentrated in emerging economies. China, India, ...
Consider this extraordinary item for a moment: The population of the planet is greater than at any other time in human history. Chances are you already know this, but it is not on your mind every day. The rock band, Genesis, was thinking about it back in 1986 with their hit single, Land of Confusion.* "There's too many men, too many people, making too many problems. And not much love to go around. Can't you see this is a land of confusion." Three decades have passed since, but the message still applies. Here are some things to ponder about living among the masses inside constantly expanding artificial environments. Long Ago in a Galaxy… Not Far Away Source: Steve R. / Flickr For the first five million years of hominid history, our ancestors lived in small, nomadic bands of hunter-gatherers. On average, group size was likely maintained ...
The Baby Boomers ruined America. That sounds like a hyperbolic claim, but it's one way to state what I found as I tried to solve a riddle. American society is going through a strange set of shifts: Even as cultural values are in rapid flux, political institutions seem frozen in time. The average U.S. state constitution is more than 100 years old. We are in the third-longest period without a constitutional amendment in American history: The longest such period ended in the Civil War. So what's to blame for this institutional aging? One possibility is simply that Americans got older. The average American was 32 years old in 2000, and 37 in 2018. The retiree share of the population is booming, while birth rates are plummeting. When a society gets older, its politics change. Older voters have different interests than younger ...
Since the days of Thomas Malthus, we've worried that overpopulation is about to overwhelm our planet. Those fears haven't gone away. A further two billion people will be added to the current world population of 7.7 billion by 2050, the United Nations Population Division said in a report this week. Numbers will still be rising as the total approaches 11 billion people in 2100, according to the UN's central forecast. Agricultural productivity has confounded Malthus's predictions by keeping the world's population well fed despite its headlong growth in the past century. Still, a further 40% increase in the number of humans would put fresh pressure on the globe's 33 million square kilometers of agricultural land – not to mention a climate that's already at risk from population levels. At the same time, signs are starting to emerge that this picture may be too pessimistic. Malthus's key error was his failure to ...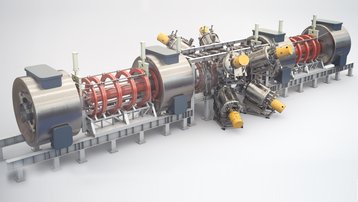 It's been called a fantasy, a pipe dream, a quixotic quest whose goal is always ten years away. And yet, there are those convinced that scalable fusion power generation could become a reality, allowing humanity to harness the energy of mini-suns, dramatically changing how we produce power. As CEO of TAE Technologies, the world's largest private fusion reactor company, Michl Binderbauer is one of those who believes that fusion power could be on the near horizon - and is using artificial intelligence co-developed with Google to help make it a reality. A quest for power – TAE Technologies "A ballpark number of when you would see the first electrons on the grid from a system like ours is probably on the order of a decade. If we're absolutely lucky, perhaps a little bit sooner, but I think that's a good sort of mile marker," ...
San Francisco, June 22 Tesla CEO Elon Musk''s grim forecast of humanity suggests that a "population bomb" would lead to a worldwide collapse in humans in the coming decades and everybody would start to see the evident effects by 2050. Musk''s prediction was triggered by a tweet from a page called World of Engineering that said: "1950 (historical) world population - 2,556,000,053. Current world population - 7,712,343,478. 2050 (projected) world population - 9,346,399,468." Replying to that tweet on Friday Musk wrote: "Real issue will be an ageing and declining world population by 2050, *not* overpopulation." Musk also shared a Wikipedia link to an article titled, "Projections of population growth". "Yes, demographics, stratified by age, will look like an upside down pyramid with many old people and fewer young," the multi-billionaire entrepreneur wrote further. The SpaceX CEO''s theory believes that when an increasingly-elderly global population clashes ...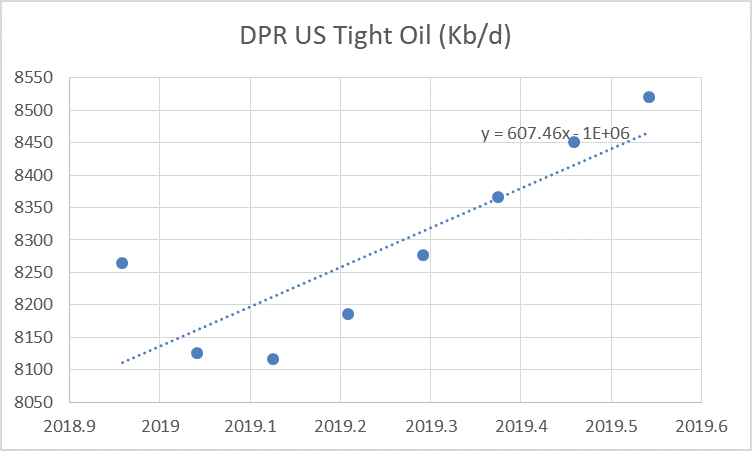 New tight oil estimates were recently released by the EIA. The chart below compares estimates from Dec 2018 to May 2019, where the Dec 2018 estimate is that estimate with the most recent month estimated being Dec 2018 and likewise the May 2019 estimate has May 2019 as the most recent month estimated. The May 2019 estimate is fairly close to the April 2019 estimate with a slight downward revision of the April 2019 estimate from 7399 kb/d to 7368 kb/d, March 2019 was also revised lower by 10 kb/d from 7292 kb/d to 7282 kb/d. For May 2019 the most recent estimate is 7462 kb/d and if past history repeats this estimate may be revised lower next month. Due to the repeated revisions both higher and lower, (from July 2018 to Dec 2018 the data has been revised higher several ...
Earlier this month BP released its Statistical Review of World Energy 2019. The Review provides a comprehensive picture of supply and demand for major energy sources on a country-level basis. Each year, I do a series of articles covering the Review's findings. In the first article of the series, I discussed the trends in global carbon dioxide emissions. Today, I want to cover the production and consumption of petroleum. Two years ago, in response to numerous articles suggesting that the world was on the cusp of peak oil demand, I argued that Peak Oil Demand Is Millions Of Barrels Away. This marks the second Review since I made that argument, and the latest Review shows that global oil demand has grown by 3.1 million barrels per day (BPD) since that article published. A New Consumption Record For 2018, the Review reported that the world set a new oil consumption record of 99.8 ...
I am steadily on the lookout for leveraging forces that can lift us out of heavy stuck loops, onto new ground. Often these are less obvious elements. One that has been underestimated is the presence of "elders," whose presence calls us back to a bedrock sense of self and right relationship to the Earth. We are up against a systemic reality in the U.S. regarding older Americans as they are abandoned in policy and practice on a national scale. Attacks on Social Security, Medicare, etc. are attacks on elderly people. Turning our view of eldership on its end is a beginning place to shift this utter disregard. I am writing to those who are searching for a place from which to understand the disruption at hand and what is behind it, and also to those who want to respond in a way ...
Starvation Sanctions Are Worse Than Overt Warfare
"We are putting major additional Sanctions on Iran on Monday," President Trump tweeted today. ...
Propaganda for Renewables: a Critique of a Report by Oil Change International
"For every complex problem there is an answer that is clear, simple, and wrong". ...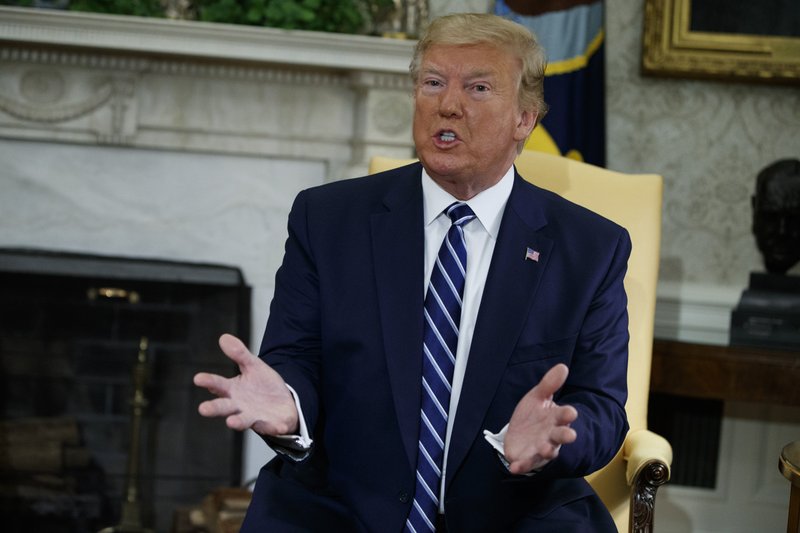 Trump says Iran made 'big mistake' by taking down US drone
President Donald Trump declared Thursday that "Iran made a very big mistake" by shooting ...
Saudi Aramco allows sneak peek into its finances
The company's mammoth $12bn global bond offering allowed a glimpse into its treasure chest ...
More News By Topic...