Welcome to PeakOil.com, an online community exploring oil depletion.
Fears about China's economic growth have spooked oil prices throughout the summer months. In the first seven months of the year, China's crude oil imports rose by 12.4%, hitting 122.4 million tons. Chinese economic growth may slow down in 2024, but consumers continue to drive petroleum demand growth in Asia's largest economy. China has been the focus of attention for oil traders and industry insiders for years now, and with a good reason. The world's largest importer of crude is as important for prices as is the world's largest consumer, the United States. Until the Covid pandemic, China's direction was pretty clear, just like the U.S. direction: demand for oil was rising in a stable, uninterrupted way, with China at some point possibly even overtaking the U.S. in terms of consumption. And then Covid happened,  and nothing ...
Hillary Clinton's 2016 loss was a bigger shock to the Washington DC deep state Blob than Donald Trump's victory. But the dynamics of this trauma operated at many levels. At the most superficial level was the hysterical response of Democratic Party rank-and-file women who regarded Donald Trump as the most extreme and horrifying embodiment of an archetypal "bad daddy." This was all sheer psychodrama of course, but women are engrossed with psychodrama — generating it and relishing it — which men often fail to appreciate. In cases of madness, there is often a dark, sordid secret behind the weird behavior that presents outwardly. In the group madness provoked by Hillary Clinton's loss, the dirty secret was that she had actually bought the Democratic National Committee in 2016, meaning the machinery that runs the party. She used lavish contributions to the Clinton ...
For many years, there has been a theory that imports of oil would become a problem before there was an overall shortage of fossil fuels. In fact, when I look at the data, it seems to be clear that oil imports are already constrained. Figure 1. Interregional trade of fossil fuels based on data of the 2023 Statistical Review of World Energy by the Energy Institute. As I look at the data, it appears to me that coal and natural gas imports are becoming constrained, as well. There was evidence of this constrained supply in the spiking prices for these fuels in Europe in late 2021 and early 2022, starting well before the Ukraine conflict began. Oil, coal, and natural gas are different enough from each other that we should expect somewhat different patterns. Oil is inexpensive to transport. It is especially important ...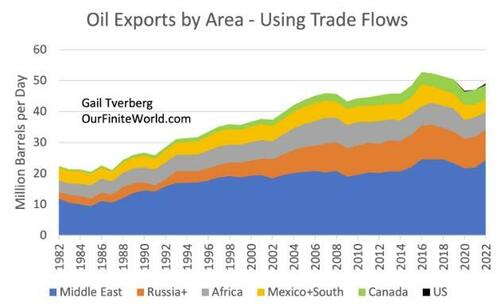 Analysis of 2023 Statistical Review of World Energy data shows constrained global supplies of fossil fuels like oil, coal, and natural gas, particularly in inter-regional trading. Constraints in supply are affecting energy prices, making them highly variable and less affordable for consumers, thereby affecting the global economy, including industries like manufacturing. The cost-intensive infrastructure needed for long-distance natural gas exports is becoming increasingly unsustainable, posing risks to both investors and consumers. For many years, there has been a theory that imports of oil would become a problem before there was an overall shortage of fossil fuels. In fact, when I look at the data, it seems to be clear that oil imports are already constrained. Figure 1. Interregional trade of fossil fuels based on data of the 2023 Statistical Review of World Energy by the Energy Institute. As I look at the data, it ...
According to a recent analysis by Bloomberg, the demand for gasoline and diesel has already peaked in the United States and Europe, and is expected to peak in China by 2024 and in India in the 2030s. Bloomberg predicts that global demand for road fuel will continue to grow for only four more years, reaching its peak in 2027 at 49 million barrels per day, before entering a terminal decline. The main factors contributing to this decline are the rise of electric vehicles (EVs), improvements in fuel efficiency, and the popularity of shared mobility. Bloomberg estimates that by 2040, EVs will displace a staggering 20 million barrels per day in oil demand, a substantial increase from the current 2 million barrels per day. The shift towards EVs is expected to have significant implications for the oil and gas industry. Legacy automakers ...
Global oil demand will hit new highs and is expected to average 102.2 million barrels per day (bpd) this year, driven by summer air travel, strong Chinese petrochemical activity, and higher oil use in power generation, the International Energy Agency (IEA) said on Friday. World oil demand is set to grow by 2.2 million bpd this year, with China accounting for more than 70% of growth, the agency said in its closely-watched Oil Market Report (OMR) for August. The growth estimate is unchanged from last month's report, in which the IEA cut its global oil demand growth forecast for the first time this year, due to persistent economic headwinds. Demand in developed economies was revised up for May and June, with overall consumption returning to growth in the second quarter after two quarters of contraction. Moreover, Chinese demand was also stronger than expected, ...
Saudi Arabia has no good reason to drive the oil price up to $100 per barrel. That's according to Bjarne Schieldrop, the Chief Commodity Analyst at SEB, who made the statement in a note sent to Rigzone this week. "While they [Saudi Arabia] may choose to keep production at around 9.0 million barrels per day for a little while longer they have no good reason to drive the oil price up to $100-110 per barrel as it would receive a lot of political pain from the U.S., China, India, Europe," Schieldrop said in the note. "Saudi Arabia should be fully content for the moment. It has shown the market yet again who's the boss. Why ruin the party with oil rallying above $100 per barrel [and] stir political tensions when oil at $85 per barrel is such a beautiful place," he added. "The world ...
The production of crude oil in the United States saw an increase in June, nearing the record high set before the COVID-19 pandemic. However, the pace of growth has slowed as the industry responds to falling prices since mid-2022. In June, total crude and condensates production reached 12.8 million barrels per day (bpd), up from 12.6 million bpd in May, and is rapidly approaching the record of 13.0 million bpd set in November 2019. The output from the Lower 48 states, excluding federal waters in the Gulf of Mexico, saw a record increase to 10.6 million bpd. Although production had been increasing by 0.9 million b/d (almost 10%) compared to a year earlier, growth has slowed significantly over the past three months, with output rising by just 0.1 million b/d (an annualized rate of 4%). This slowdown can be attributed to the ...
It has now become more fashionable to talk about shortages. Computer chips have been in shortage and then in glut in the last few years. Natural gas was acutely in shortage in Europe after the war in Ukraine and pipeline sabotage brought supplies from Russia down to a trickle. Then, heroic efforts at conservation and in obtaining liquefied natural gas (LNG) shipments to Europe led to a dramatic reduction in price. But last week just the potential for labor strikes among LNG workers in Australia, a major LNG exporter, sent the European price spiking again. The world seemed so well supplied with everything in the previous decade that the shortages of this decade seem shocking to those with memories that do not extend further back than 2010. But in what is actually recent memory, we have examples. It was the mid-2000s that ...
Back in 2019 — before the Covid pandemic hit — the International Energy Agency (IEA) said it had peered into the future and could see no sign of "peak oil" happening any time soon. There was simply no end to the demand for oil and other fossil fuels in sight. A lot has happened since then. Covid brought a sharp decline in economic activity. Then the Russian invasion of Ukraine disrupted Europe's decades-long dependence on cheap Russian methane gas. In June, the IEA took another look into the future and announced "peak oil" was in fact on the horizon. Here's what its latest prognostications had to say. "Growth in the world's demand for oil is set to slow almost to a halt in the coming years, with the high prices and security of supply concerns highlighted by the global energy crisis hastening ...
IEA raises world oil demand forecast in 2023 towards all-time high
The International Energy Agency said on Friday it had revised upwards its forecast for ...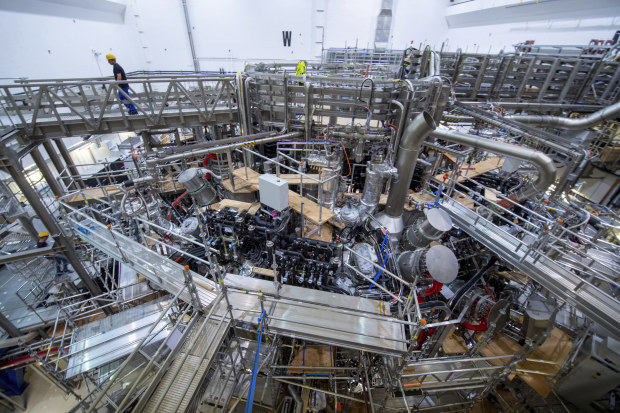 US Scientists Repeat Fusion Power Breakthrough For a Second Time
US government scientists have achieved net energy gain in a fusion reaction for the ...
More News By Topic...