Welcome to PeakOil.com, an online community exploring oil depletion.
In 2010, the scientific journal Nature published a collection of opinions looking ahead 10 years, i.e., where we are right now. Nature then published a short response from zoologist Peter Turchin in its February 2010 issue. Quantitative historical analysis reveals that complex human societies are affected by recurrent — and predictable — waves of political instability (P. Turchin and S. A. Nefedov Secular Cycles Princeton Univ. Press; 2009). In the United States, we have stagnating or declining real wages, a growing gap between rich and poor, overproduction of young graduates with advanced degrees, and exploding public debt. These seemingly disparate social indicators are actually related to each other dynamically. They all experienced turning points during the 1970s. Historically, such developments have served as leading indicators of looming political instability. Very long "secular cycles" interact with shorter-term processes. In the United States, 50-year instability spikes occurred around 1870, 1920 and 1970, ...
Many people believe that humans can have a sustainable future by using solar panels and wind turbines. Unfortunately, the only truly sustainable course, in terms of moving in cycles with nature, is interacting with the environment in a manner similar to the approach used by chimpanzees and baboons. Even this approach will eventually lead to new and different species predominating. Over a long period, such as 10 million years, we can expect the vast majority of species will become extinct, regardless of how well these species fit in with nature's plan. The key to the relative success of animals such as chimpanzees and baboons is living within a truly circular economy. Sun falling on trees provides the food they need. Waste products of their economy come back to the forest ecosystem as fertilizer. Pre-humans lost the circular economy when they learned to ...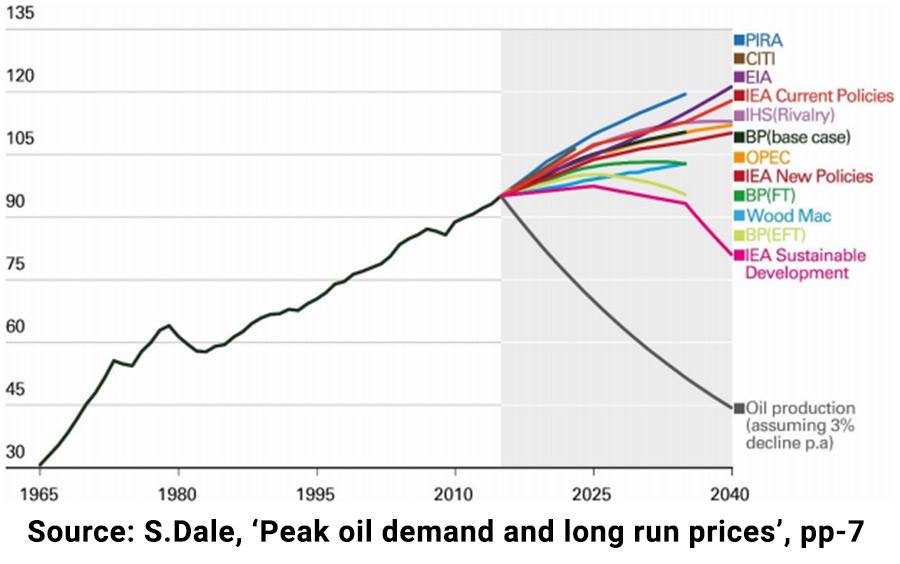 If I had of said to most of you reading this a year ago that 2020 would see negative oil prices, the world economy collapse and record highs in the stock market, you would have laughed me all the way to a padded cell. The same can be said for oil, in 2019 energy analysts had no concept of peak oil on the radar. Forecasts for oil demand destruction were almost nonexistence bar the improbable chance of a new technological innovation that would act like a meteor to fossil fuels as it did to the dinosaurs. But here we are now with growing numbers of energy analysts forecasting that from here on out; oil demand is going to continue to decline. The most recent improvements in oil prices have been linked to the return to normality, driven largely by the introduction ...
A year ago, if anyone in the petroleum business had suggested that the moment of Peak Oil  had already passed, they would have been laughed right off the drilling rig. Then 2020 happened. Planes stopped flying. Office workers stayed home. "Zooming with the grandkids" replaced driving to see family. A year of global hunkering yielded the sharpest drop in oil consumption since Henry Ford cobbled together the first Model T. At its worst, global demand dropped by a staggering 29 million barrels a day. As a once-in-a-century pandemic played out, British oil giant BP Plc in September made an extraordinary call: Humanity's thirst for oil may never again return to prior levels. That would make 2019 the high-water mark in oil history. BP wasn't the only one sounding an alarm. While none of the prominent forecasters were quite as bearish, predictions for peak oil ...
Much has been said in recent months about the so-called "Great Reset," also known as "The Fourth Industrial Revolution." Klaus Schwab, founder and executive Chairman of the World Economic Forum (WEF), and Thierry Malleret, founder of the Monthly Barometer, have even co-authored a 2020 book titled "COVID-19: The Great Reset." Prince Charles of the U.K. has also played a major role in formulating and promoting the "Great Reset" agenda. The WEF is based in Switzerland and was founded in 1971. It hosts an annual meeting in Davos, Switzerland attended by thousands of millionaires, billionaires, and their political and media representatives. The large gathering is an important opportunity for the international financial oligarchy to figure out how to maintain their domination over the world's peoples and resources under the banner of high ideals. The meeting is notorious for being non-transparent, undemocratic, and ...
The progressive goal to "transition" away from oil might not be as easy as some proclaim. In the U.S., oil has been our main source of energy since 1950, when it surpassed coal. Along with its sister energy source, natural gas, oil dominates the immense U.S. energy complex (see Figure). In the U.S., more than 265 million cars run on oil-based products such as gasoline and diesel fuel; less than 2 million run on electricity. Oil won the transport race because it packs a much bigger punch than alternatives. For example, the energy density of gasoline is approximately 47.5 megajoules per kilogram, or some 100 times more than that of an electric car's lithium-ion battery (about 0.4 MJ/kg). Most Americans probably don't realize that back in 1900, 40% of U.S. cars were electric, though they were soon overtaken by Ford's more ...
According to the latest International Labor Organization reports, as job losses escalate due to lockdowns aimed at slowing the spread of Covid-19, nearly half of the global workforce is at risk of losing livelihoods, access to food and the ability to survive. The World Economic Forum (WEF) has stated, "With some 2.6 billion people around the world in some kind of lockdown, we are conducting arguably the largest psychological experiment ever." As governments and corporations tighten political authoritarianism and technological surveillance, curtailing privacy and democratic protest, much of humanity is succumbing to anxiety, depression and a sense of powerlessness. Countries with some of the harshest lockdowns, such as India, have seen significant increases in suicides. Pandemic narrative and dissent Dominant global political and economic institutions and the media present their pandemic narrative as based on scientific authority. However, there is increasing disagreement on the ...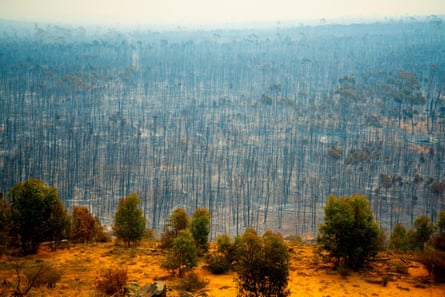 If you've ever been around someone who is dying, it may have struck you how strong a person's lifeforce really is. When my dad was gravely ill, an invisible point of no return was gradually crossed, then suddenly death was in plain sight. We stood back helplessly, knowing that nothing more could be done, that something vital had slipped away. All we could do is watch as life extinguished itself in agonising fits and starts.   As a climate scientist watching the most destructive bushfires in Australian history unfold, I felt the same stomach-turning recognition of witnessing an irreversible loss. The relentless heat and drought experienced during our nation's hottest and driest year on record saw the last of our native forests go up in smoke. We saw terrified animals fleeing with their fur on fire, their bodies turned to ash. Those that ...
The Organisation of Petroleum Exporting Countries (OPEC) has slashed its 2021 projection for global oil demand to 96 million barrel of crude as against 102 million barrels, a target set before the outbreak of COVID-19 earlier in the year. The Secretary-General of the organisation, Mohammed Barkindo, who made the disclosure said the current global oil demand was slightly above 90 million b/d. This current threshold, according to him, "represents a sharp decline of nearly 10 million b/d from where we started the year, and almost an 11 million b/d contraction compared to what we forecast for the year back in January." Speaking at the OPEC's Crescent Ideas Forum (video conference) during the week, Barkindo stated, "In 2021, we expect growth to bounce back to 6.2 million b/d, to just over 96 million b/d, compared to our pre-coronavirus expectations for demand reaching almost 102 ...
    Resource Depletion. It's such a big issue in our world, yet so much about it is unknown. Just imagine, resources that are crucial for mankind to survive disappear. Moreover, it takes a very long time to get them back. What will we do without them? When will this happen? How will we know before it's too late? Learning about resource depletion is the first step to discovering what we can do to end this matter once and for all.    Resource depletion is when renewable and nonrenewable resources are used up much faster than they can recover. Renewable resources are sources that can regenerate and can be replaced. An example of a renewable resource includes biomass energy, which  is an organic material that comes from various plants and animals. Non-renewable resources are resources that cannot be replenished by natural processes. Some examples ...
Could OPEC's House of Cards Collapse?
As the cartel's oil ministers prepare to meet in just over a week to decide on ...
Huge Reservoir of Fresh Water Found Beneath the Sea Off Hawaii
A huge cache of fresh water found beneath the sea floor off the western ...
Sick of Winning
In this episode we look at the aftermath of the 2020 US Presidential elections, ...
The last oil peak in the history of the world
Current global energy consumption forecasts indicate that although renewables are set to expand by 50% between ...
More News By Topic...