Welcome to PeakOil.com, an online community exploring oil depletion.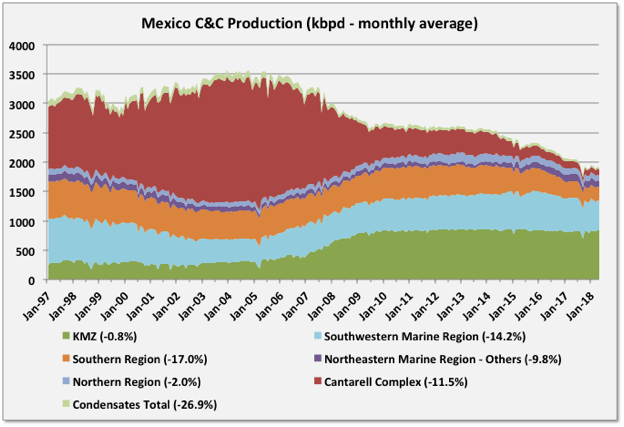 Mexico oil production is in decline though, at the moment, not as steep as it was expected to be (at least by me – IEA predictions are closer). Data is through June and comes from Pemex and National Hydrocarbons Information Center (CNIH) (both sites are pretty good). For June C&C was 1870 kbpd, down 25 kbpd from May and 170 kbpd y-o-y. Yearly decline rates for each region are shown in the chart below. Production peaked in 2004/2005 at just over 3500 kbpd, so overall decline is approaching 50%. Most of the decline has been in light oil and condensate, with heavy oil holding fairly level. Ku-Maloob-Zaap The largest producer is the Ku-Maloob-Zaap complex (KMZ), which has been kept on a plateau, contrary to predictions of a decline starting about now from a Pemex presentation in 2012. The production has been maintained mainly by increasing ...
Who doesn't want to think that they are a good human being? That they are a person of good intentions, clear conscience, fair-minded, generous, loving, and merciful? On the other hand, who wants to be a loser? The current political predicament in the USA has America's winners turned losers and the consequent pain of that flip-flop has propelled the new designated losers into a fury of moral indignation. The deplorable Trump insurgents were supposed to be put in their place on November 8, 2016 — stuffed back into their reeking WalMarts — but instead, their champion with his gold-plated hair-do presides over the nation in the house where Lincoln, The Roosevelts, and Hillary lived. "Winning…!" as the new president likes to tweet. What a revoltin' development, as Chester A. Riley used to say on "The Life of Riley" TV show back in ...
(Above: a 19th century English family).  A few years ago I was invited at a reunion of citizens concerned about social issues. When I was there, I was startled to discover that only concern of the group was the evils of abortion. It was a fascinating experience: one of the persons speaking reported a calculation of how many "babies" had been killed by abortions over the past 15 years and concluded with "do you realize that, were it not for abortions, we could have today one million more people in Italy?" (I may remember the numbers incorrectly). But don't make me say that they were bad people, not at all. It is just that if you start - as they did - from the assumption that the more people there are, the better the world is, then the consequence is that ...
Consumerism is an economic theory; it says that a progressively greater level of consumption is beneficial to consumers. Since the 1800s and the Industrial Revolution, the world has been consuming at a higher rate than ever. Consumerism is an economic theory; it says that a progressively greater level of consumption is beneficial to consumers. Since the 1800s and the Industrial Revolution, the world has been consuming at a higher rate than ever. Yes, consumerism is good for the economy, in light of the fact that it creates more economic action. More demand for goods and services creates more activities to satisfy the demand, which gives rise to more manufacturing, more innovation, more research and more development. If there was no consumer, there would be no need for a market. The reason a trade exists is everyone has needs, wants and demands. ...
Conserving oil is no longer an economic imperative for the U.S., the Trump administration declares in a major new policy statement that threatens to undermine decades of government campaigns for gas-thrifty cars and other conservation programs. The position was outlined in a memo released last month in support of the administration's proposal to relax fuel mileage standards. The government released the memo online this month without fanfare. Growth of natural gas and other alternatives to petroleum has reduced the need for imported oil, which "in turn affects the need of the nation to conserve energy," the Energy Department said. It also cites the now decade-old fracking revolution that has unlocked U.S. shale oil reserves, giving "the United States more flexibility than in the past to use our oil resources with less concern." With the memo, the administration is formally challenging old justifications for ...
Google trends – nobody is interested anymore in the topic of "peak oil" Technology is not just expanding our daily oil production; it also continues to increase the amount of oil and liquid fuels we can count on for the future. In 1981, the U.S. Geological Survey estimated that remaining global recoverable crude and condensate resources were 1 trillion barrels; today, the IEA estimates that it is 4.5 trillion barrels – enough to meet global oil demand beyond the 21st century. By 2040, the amount of resources yet to be produced will still be far higher than total production prior to 2040, even with a 20 percent rise in global oil demand. [reason.com] – U.S. Oil Reserves Bigger Than Saudi Arabia's Note that the IEA doesn't state at what price levels these 4.5 trillion barrel can be recovered. Regardless, there is enough oil left ...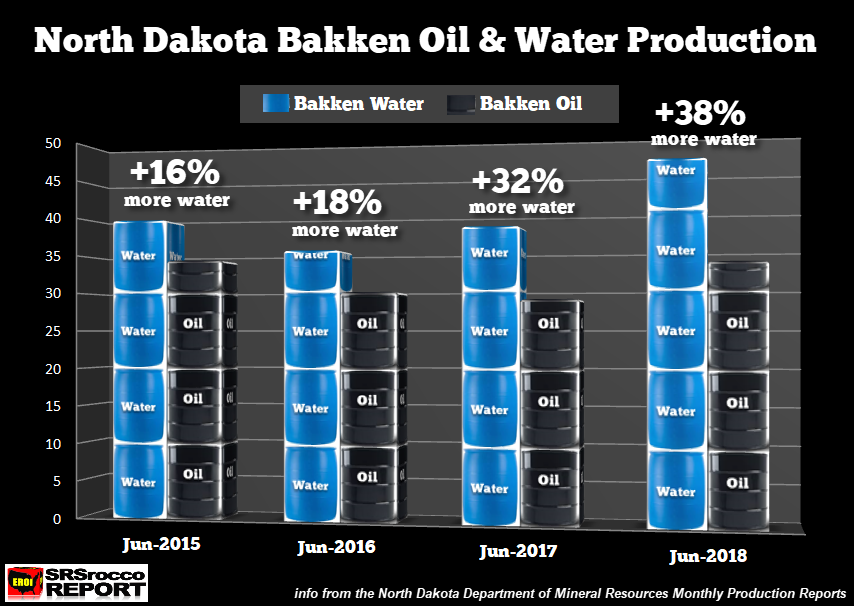 Big trouble is brewing in the mighty North Dakota Bakken Oil Field.  While oil production in the Bakken has reversed since it bottomed in 2016 and increased over the past few years, so has the amount of by-product wastewater.  Now, it's not an issue if water production increases along with oil.  However, it's a serious RED FLAG if by-product wastewater rises a great deal more than oil. And… unfortunately, that is exactly what has taken place in the Bakken over the past two years.  In the oil industry, they call it, the rising "Water Cut."  Furthermore, the rapid increase in the amount of water to oil from a well or field suggests that peak production is at hand.  So, now the shale companies will have an up-hill battle to try to increase or hold production flat as the water cut rises. According ...
The rise in oil prices is feeding through into higher spending in the oil and gas sector and will continue to drive up drilling activity globally over the second half of the year and 2019, according to oil and gas analysts at Fitch Solutions Macro Research. "Globally, rotary rig counts have averaged 183 rigs higher in the year to date, compared to the same period last year," the analysts said in a report sent to Rigzone on Tuesday. "The majority of additions have been made in North America, as shale developments continue to pick up pace. Internationally, the rig count has averaged 23 rigs higher, but performance has been widely varied between the different regions," the analysts added. Fitch Macro Solutions Research analysts said they expect "continued strong growth in US shale, with producers set to add around 1.25 million barrels per day ...
I often read that China may retaliate against US trade sanctions by further decreasing their US Treasury holdings, sending Treasury yields significantly higher, thus blowing out US deficit spending on interest payments.  Trouble is, Chinese Treasury holdings peaked in 2014 (on an annualized basis) and have been declining since.  The Chinese have not only ceased accumulating US Treasury debt, despite continued record trade surplus' with the US resulting in significant dollar surplus', but have been decreasing their holdings.  All this, according to the Treasury International Capital (TIC) system. But this postulation that the Chinese could wound the US via selling a portion (or all) of its Treasury holdings (as Russia recently did) is submarined by the recent actions of the Federal Reserve.  I say this based on the magnitudes greater accumulation and subsequent dumping of specific maturities of US Treasury debt done by the Federal Reserve. The Federal ...
Iranian-backed militants are operating across the United States mostly unfettered, raising concerns in Congress and among regional experts that these "sleeper cell" agents are poised to launch a large-scale attack on the American homeland, according to testimony before lawmakers. Iranian agents tied to the terror group Hezbollah have already been discovered in the United States plotting attacks, giving rise to fears that Tehran could order a strike inside America should tensions between the Trump administration and Islamic Republic reach a boiling point. Intelligence officials and former White House officials confirmed to Congress on Tuesday that such an attack is not only plausible, but relatively easy for Iran to carry out at a time when the Trump administration is considering abandoning the landmark nuclear deal and reapplying sanctions on Tehran. There is mounting evidence that Iran poses "a direct threat to the homeland," according ...
Saudi Aramco committed to meeting future oil demand
Saudi state oil giant Saudi Aramco remains committed to meeting future oil demand through ...
How Ghana's Rapid Population Growth Could Become an Emergency
Paul Ayormah and his fellow farmers make their way home after hours spent manually ...
Kunstler: The Three-headed Monster
The faction that used to be the Democratic party can be described with some ...
Is Deepwater Drilling More Profitable Than Shale?
Just as the U.S. shale patch is starting to look a little crowded, deepwater ...
More News By Topic...