Welcome to PeakOil.com, an online community exploring oil depletion.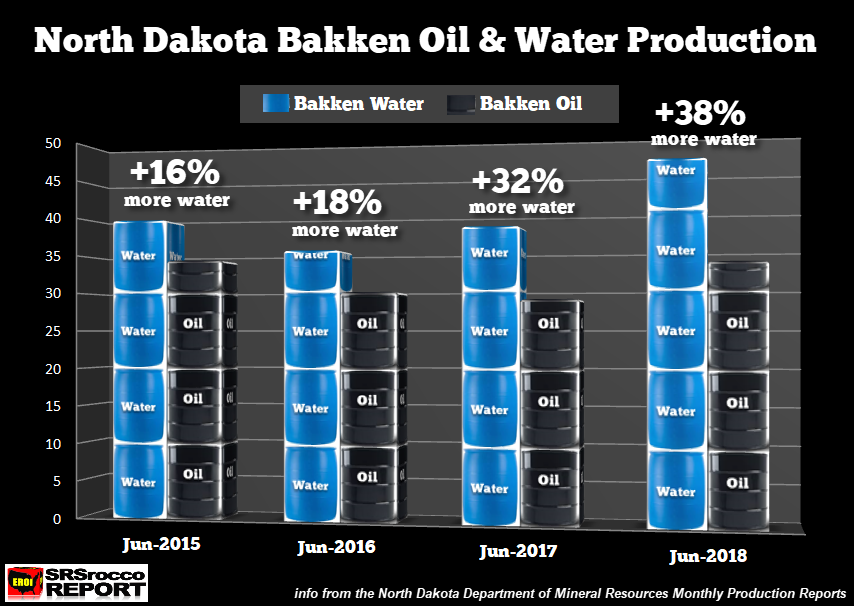 Big trouble is brewing in the mighty North Dakota Bakken Oil Field.  While oil production in the Bakken has reversed since it bottomed in 2016 and increased over the past few years, so has the amount of by-product wastewater.  Now, it's not an issue if water production increases along with oil.  However, it's a serious RED FLAG if by-product wastewater rises a great deal more than oil. And… unfortunately, that is exactly what has taken place in the Bakken over the past two years.  In the oil industry, they call it, the rising "Water Cut."  Furthermore, the rapid increase in the amount of water to oil from a well or field suggests that peak production is at hand.  So, now the shale companies will have an up-hill battle to try to increase or hold production flat as the water cut rises. According ...
The rise in oil prices is feeding through into higher spending in the oil and gas sector and will continue to drive up drilling activity globally over the second half of the year and 2019, according to oil and gas analysts at Fitch Solutions Macro Research. "Globally, rotary rig counts have averaged 183 rigs higher in the year to date, compared to the same period last year," the analysts said in a report sent to Rigzone on Tuesday. "The majority of additions have been made in North America, as shale developments continue to pick up pace. Internationally, the rig count has averaged 23 rigs higher, but performance has been widely varied between the different regions," the analysts added. Fitch Macro Solutions Research analysts said they expect "continued strong growth in US shale, with producers set to add around 1.25 million barrels per day ...
I often read that China may retaliate against US trade sanctions by further decreasing their US Treasury holdings, sending Treasury yields significantly higher, thus blowing out US deficit spending on interest payments.  Trouble is, Chinese Treasury holdings peaked in 2014 (on an annualized basis) and have been declining since.  The Chinese have not only ceased accumulating US Treasury debt, despite continued record trade surplus' with the US resulting in significant dollar surplus', but have been decreasing their holdings.  All this, according to the Treasury International Capital (TIC) system. But this postulation that the Chinese could wound the US via selling a portion (or all) of its Treasury holdings (as Russia recently did) is submarined by the recent actions of the Federal Reserve.  I say this based on the magnitudes greater accumulation and subsequent dumping of specific maturities of US Treasury debt done by the Federal Reserve. The Federal ...
Iranian-backed militants are operating across the United States mostly unfettered, raising concerns in Congress and among regional experts that these "sleeper cell" agents are poised to launch a large-scale attack on the American homeland, according to testimony before lawmakers. Iranian agents tied to the terror group Hezbollah have already been discovered in the United States plotting attacks, giving rise to fears that Tehran could order a strike inside America should tensions between the Trump administration and Islamic Republic reach a boiling point. Intelligence officials and former White House officials confirmed to Congress on Tuesday that such an attack is not only plausible, but relatively easy for Iran to carry out at a time when the Trump administration is considering abandoning the landmark nuclear deal and reapplying sanctions on Tehran. There is mounting evidence that Iran poses "a direct threat to the homeland," according ...
Saudi state oil giant Saudi Aramco remains committed to meeting future oil demand through continued investments, the kingdom's Energy Minister Khalid Al Falih said in a company report on Friday. Saudi Energy Minister Khalid al-Falih attends a session of the St. Petersburg International Economic Forum (SPIEF), Russia May 25, 2018. REUTERS/Sergei Karpukhin Aramco, which is slated for a public share sale, "continued to prepare itself for the listing of its shares, a landmark event the company and its board anticipate with excitement," Al Falih, who is also chairman of Saudi Aramco, said. Despite an improved market picture, the oil industry's preparedness for the future remained in question as the sector had lost an estimate $1 trillion in planned investments since the start of the market downturn, Al Falih wrote. Logo of Saudi Aramco is seen at the 20th Middle East Oil & Gas Show ...
Paul Ayormah and his fellow farmers make their way home after hours spent manually weeding a friend's one-acre maize farm in Ghana's Eastern Region. "Tomorrow it will be the turn of my maize farm," he tells IPS. This year, Ayormah and his colleagues who live in Donkorkrom in the Kwahu Afram Plains District of the Eastern Region, have resorted to alternative means of cultivating their farms. The farmers group together and travel to each other's farms, where they work to prepare and weed the farmland, taking turns to do the same for everyone else in the group. They have also resorted to using cattle dung to fertilise their crop. "We are doing this to cut down on the cost involved in preparing our land for planting our maize," Ayormah tells IPS. Ayormah, a father of five, inherited his two-acre maize farm from his late ...
The faction that used to be the Democratic party can be described with some precision these days as a three-headed monster driving the nation toward danger, darkness, and incoherence. Anyone interested in defending what remains of the sane center of American politics take heed: The first head is the one infected with the toxic shock of losing the 2016 election. The illness took hold during the campaign that year when the bureaucracy under President Obama sent its lymphocytes and microphages in the "intel community" — especially the leadership of the FBI — to attack the perceived disease that the election of Donald Trump represented. The "doctors" of this Deep State diagnosed the condition as "Russian collusion." An overdue second opinion by doctors outside the Deep State adduced later that the malady was actually an auto-immune disease. The agents actually threatening the health ...
Just as the U.S. shale patch is starting to look a little crowded, deepwater drilling could see a comeback. Royal Dutch Shell says that offshore drilling is now more competitive than onshore shale drilling, upending what has become conventional wisdom since the 2014 oil market meltdown. The downturn was thought to place a premium on short-cycle shale drilling, dramatically reducing the risk companies face by allowing them to quickly earn their money back in a matter of months or even weeks on individual shale wells. In sharp contrast, deepwater drilling requires huge upfront outlays, and promises returns that extend over years or even decades, not a particularly desirable place to be in the "lower for longer" environment or in a world in which peak oil demand looms. But Shell argues that the earnings are much better offshore. "The most excitement at the moment ...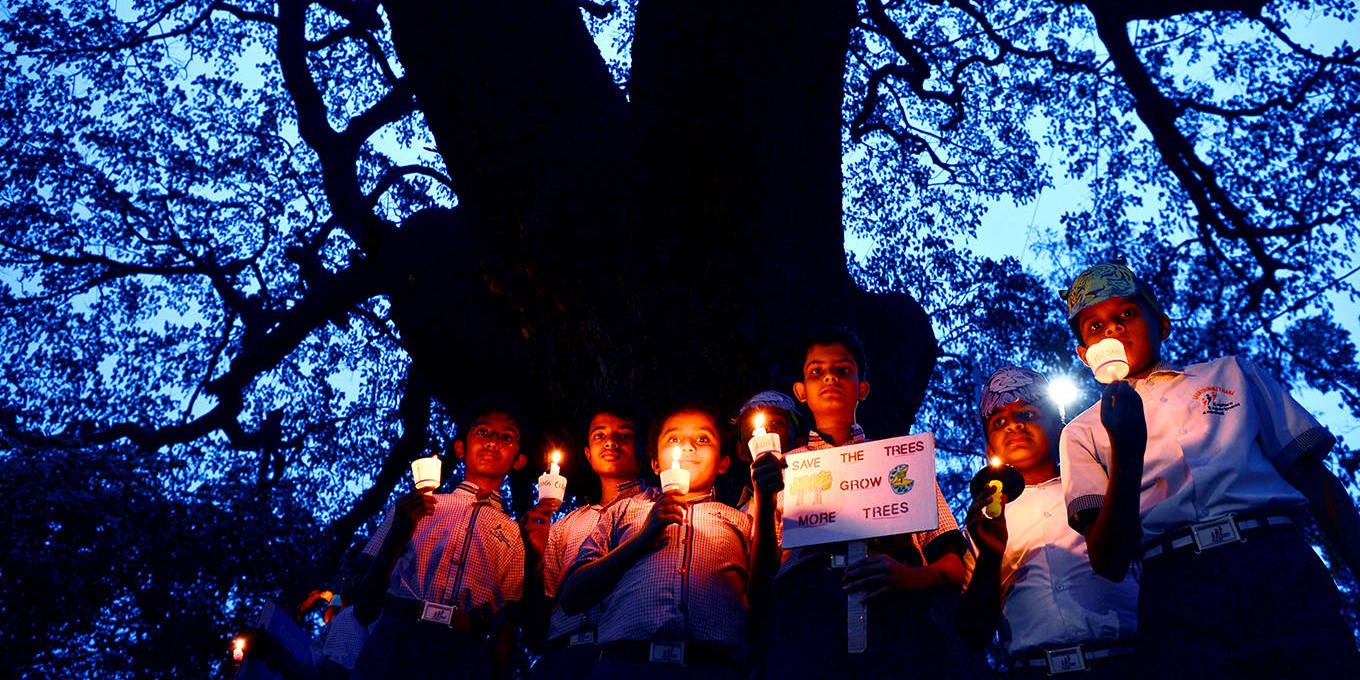 The belief that everything is getting worse paints a distorted picture of what we can do, and makes us more fearful. But while getting the facts wrong – or willfully misrepresenting them – often results in misguided policies, fact-based recognition of what humanity has achieved encourages policies that can achieve the most good. SKANDERBORG, DENMARK – It's very easy to form the view that the modern world is coming apart. We are constantly confronted with an onslaught of negativity: frightening headlines, alarming research findings, and miserable statistics. A Tale of Two Realities Apr 20, 2018 Javier Solana worries that technological and economic changes are overwhelming political leaders' capacity to manage them. There are indeed many things on the planet that we should be greatly concerned about. But fixating on horror stories means that we miss the bigger picture. The United ...
MOSCOW The use of the U.S. dollar to put pressure on other countries will lead to the creation of an alternative world currency, costing the dollar its world currency status, a top Russian deputy told Anadolu Agency on Wednesday. Anatoly Aksakov, who heads the Russian State Duma Financial Committee, said the dollar gained its "world currency" status in 1944 when, because of World War II, the national currencies of many countries were devalued while the dollar stayed stable. This resulted in more payments in dollars and its domination in international transactions. "But today the U.S. administration is doing everything for the creation of a new world currency," he said. "More and more countries are considering transactions in national currencies. Meanwhile, the BRICS countries, which Turkey seems to be interested in joining, are discussing the possibility of creating a new currency for payments within the ...
Hyperinflation Has Destroyed Venezuela
Has coffee become an unattainable luxury? It is if you live in Venezuela's capital ...
After 'Peak Water,' the Days of Plenty Are Over
In a recent paper in Science of The Total Environment, a team of Chinese ...
Analysts: SPR Release Won't Lower Gasoline Prices
Even if the U.S. Administration decides to release crude oil from the Strategic Petroleum ...
After Billions in Blowouts, Mega Oil and Gas Projects Are Back
Investors are about to find out whether the world's largest oil companies have learned ...
More News By Topic...