Welcome to PeakOil.com, an online community exploring oil depletion.
The nation's crude oil reserves of 37 billion barrels, two per cent of which is being produced annually, will be depleted in 49 years, according to the Department of Petroleum Resources. The reserves, which stood at 37.45 billion barrels in 2014, fell to 37.06 billion barrels in 2015 and 36.74 billion barrels in 2016. It, however, rose to 36.97 billion barrels in 2017 and 37 billion barrels in 2018, the DPR data showed. "The nation's depletion rate and life index are 2.04 per cent and 49.03 years respectively," the regulator said. The reserves depletion rate is a measure of 2018 total oil and condensate production divided by the reserves as of January 1, 2019, according to the DPR. It said, "This indicator gives a bird's eye on an annual basis, what percentage proportion of the quoted reserves was produced. "The life index, on the other ...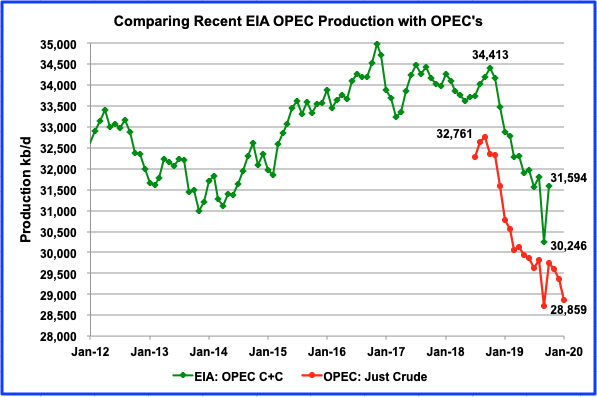 Below are a number of oil (C + C ) production charts for Non-OPEC countries created from data provided by the EIA's International Energy Statistics and updated to October 2019.  Information from other sources such as the IEA and OPEC is used to provide a short term outlook for future output and direction. Non-OPEC production increased by 382 kb/d to 50,930 kb/d in October from 50,512 kb/d in September. This is second highest monthly increase for 2019 after the August increase of 699 kb/d. October's production exceeded the previous high of 50,919 kb/d reached in December 2018 by 11 kb/d. Gains from Norway, U.S, and Canada overcame declines from other countries to post the new October record. Contrast what has happened with output in 2019 with 2018.  From December 2017 to December 2018, production increased from 47,768 kb/d to 50,919 kb/d, an increase of 3,151 kb/d. Of ...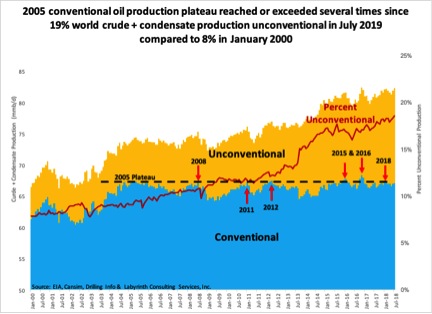 In spite of record increases in solar and wind energy development, human carbon emissions continue to rise because, over the last decade, fossil fuel use has grown ten-times faster than renewable energy use. In spite of good intentions, nothing we have achieved has actually reduced oil, gas, and coal use. Given the slow pace of climate action, some ecologists have wondered if peak oil production might arrive in time to forestall runaway global heating. Oil industry disinformation has unnecessarily confused the biophysical fact of peak oil. Non-renewable or very-slowly-renewable resources — such as oil and coal — typically exhibit a bell-shaped production curve, with a rise, peak, and decline. Conventional oil from drilled wells appears to have reached its peak. As conventional oil production begins to decline, that process could help reduce carbon emissions. However, of course, there's a catch. How peak ...
Has U.S. oil production growth hit the buffers? Supply has boomed over the last decade, disrupting the market, domestically and internationally. But weak commodity markets and corporate strategies are now taking their toll, undermining the expected growth path in the near term. I spoke with our North American market expert, John Coleman, principal analyst, crude supply and infrastructure, to get his perspective. The big question is: have we passed "peak growth" for U.S. tight oil? Our forecasts suggest we have. And pipeline developers (and their financiers) who've done so well out of the boom are increasingly concerned about it. Permian crude supply growth, the main driver of tight oil growth, has outpaced takeaway capacity frequently in the last few years. When production jumped by an astonishing 1.7 million barrels per day (b/d) in the two years from January 2018 to December 2019, ...
Preface.  Recently the IEA 2018 World Energy Outlook predicted an oil crunch could happen as soon as 2023.  Oil supermajors are expected to have 10 years of reserve life or more, Shell is down to just 8 years. Political shortages are as big a problem as geological depletion. At least 90% of remaining global oil is in government hands, especially Saudi Arabia and other countries in the middle east that vulnerable to war, drought, and political instability. And in 2018, the U.S. accounted for 98% of global oil production growth and since 2008, the U.S. accounted for 73.2% of the global increase in production (see Rapier below).   What really matters is peak diesel, which I explained in "When trucks stop running", and fracked oil has very little diesel, much of it is only good for plastics, and yet America may well be ...
Americans generally like to hear good news. They like to believe that a new president will right old wrongs, that clean energy will replace dirty oil and that fresh thinking will set the economy straight. American pundits tend to restrain their pessimism and hope for the best. But is anyone prepared for the worst? Meet Michael Ruppert, a different kind of American. A former Los Angeles police officer turned independent reporter, he predicted the current financial crisis in his self-published newsletter, From the Wilderness, at a time when most Wall Street and Washington analysts were still in denial. Director Chris Smith has shown an affinity for outsiders in films like American Movie and The Yes Men. In Collapse, he departs stylistically from his past documentaries by interviewing Ruppert in a format that recalls the work of Errol Morris and Spalding ...
A fracking ban would cost millions of jobs. That's according to the American Petroleum Institute's (API) Director of Communications, Ben Marter, who made the statement ahead of last night's Democratic presidential debate in a post published on the API's website. "Fracking has been one of the most important technological advancements in American history and banning it would erase a generation of American progress," Marter said. "A fracking ban would leave working families behind, cost millions of jobs and deliver a major win to countries like Russia. Presidential candidates who stand with American workers must stand against a ban on fracking," the API representative added. Last month Rystad Energy revealed that if fracking activity was to be eliminated on federal acreage, the result would be a widespread shift of capital from federal to private and state-owned acreage in a bid to replace lost oil volumes. ...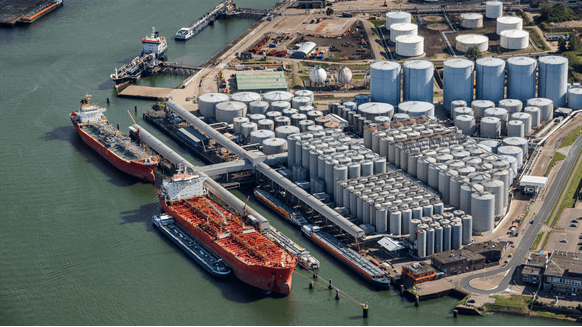 All told, the US could become the largest crude oil exporter within five years. While U.S. crude oil production has soared 160 percent to 13 million b/d in the shale-era since 2008, total demand has remained flat at 19-21 million b/d. In turn, exports of crude and products have been mounting fast. The country's immense refining infrastructure is yielding more gasoline, diesel, jet fuel, heating oil, and other petroleum products now freed up for export to foreign markets. For crude, the surging flows from America's shale fields have been yielding a light to even a very light grade. These oils are not a natural fit for the country's refining system, configured to process the heavier grades historically imported from Mexico, Canada, and Venezuela. The mismatch has been augmented by a 2015 law change that allowed U.S. crude to be shipped beyond just ...
A Dubai-based operator of ports and terminals around the world is returning to full state ownership with a proposed transaction and a subsequent delisting from Nasdaq Dubai. This could be one of the latest signs that the oil-rich countries in the Middle East are still struggling to shore up budgets and finances in the aftermath of the 2014 oil price crash. Under the proposed deal, global ports operator DP World will be delisted from Nasdaq Dubai after Port & Free Zone World (PFZW), a subsidiary of state-controlled Dubai World, buys nearly 20 percent of DP World's shares it does not already own. DP World will become indirectly fully owned by the government of Dubai and will help the emirate's investment vehicle Dubai World to repay some borrowings to its lenders. "In the context of the planned delisting of DP World, a payment of ...
A new report from the International Monetary Fund warns that, by 2034, declining oil demand could gnaw away the $2 trillion in financial wealth amassed by the members of the Gulf Cooperation Council. Unless they act quickly to reform their hydrocarbon-dependent economies, these countries, which collectively account for a fifth of the world's crude production, will become net debtors. Inevitably, the report has led to predictions that the evaporation of Arab oil wealth will bode ill for economic development and political stability in an already troubled region. Beyond the GCC, low oil prices would hamper the progress of populous, but still under-developed, oil-rich Arab countries—Iraq and Algeria—that must reorganize their economies and societies toward productive sectors without the cushion of wealth salted away during the boom years. But declining oil prices and the dwindling of cash reserves are not necessarily bad news ...
The Possibilities and Limitations of Geothermal Energy
You'd think that in today's world, the average Joe doesn't need much more convincing ...
IEA Cuts Global Oil Demand Forecast on Coronavirus
The International Energy Agency (IEA) has cut its oil demand growth forecast for the ...
Toward the Next America
When I mentioned in a post two weeks ago that America was heading into ...
EIA expects natural gas production and exports to continue increasing in most scenarios
Source: U.S. Energy Information Administration, Annual Energy Outlook 2020 According to projections published in the ...
More News By Topic...