Welcome to PeakOil.com, an online community exploring oil depletion.
Let's say that you've devoted your entire adult life to developing a carbon-free way to power a household for a year on the fuel of a single glass of water, and that you've had moments, even years, when you were pretty sure you would succeed. Let's say also that you're not crazy. This is a reasonable description of many of the physicists working in the field of nuclear fusion. In order to reach this goal, they had to find a way to heat matter to temperatures hotter than the center of the sun, so hot that atoms essentially melt into a cloud of charged particles known as plasma; they did that. They had to conceive of and build containers that could hold those plasmas; they did that, too, by making "bottles" out of strong magnetic fields. When those magnetic bottles ...
"It's important to recognize that net zero demands a transformation of the entire economy." – Larry Fink (emphasis added) We are on the cusp of a significant mass starvation event of our own making. Soon, tens of millions of the world's most impoverished people will die from an inability to feed themselves, while many of those comfortably getting by now – especially in the Western World – are in for a shock. The leaders who put us in this position are doubling down on their misguided energy policies and will continue to do so until they are overthrown. I doubt they will go peacefully. Between now and then, they will use all manner of surveillance tools to spread Orwellian propaganda, misdirect blame, and crush dissent. Leading technology companies will greedily facilitate this modern incarnation of the Great Leap Forward, imaginary utopian ends ...
World food prices rose for a second consecutive month in September to reach a 10-year peak, driven by gains for cereals and vegetable oils, the United Nations food agency said on Thursday. The Rome-based Food and Agriculture Organization (FAO) also projected record global cereal production in 2021, but said this would be outpaced by forecast consumption. FAO's food price index, which tracks international prices of the most globally traded food commodities, averaged 130.0 points last month, the highest reading since September 2011, according to the agency's data. The figure compared with a revised 128.5 for August. The August figure was previously given as 127.4. On a year-on-year basis, prices were up 32.8% in September. Agricultural commodity prices have risen steeply in the past year, fuelled by harvest setbacks and Chinese demand. The FAO's cereal price index http://www.fao.org/worldfoodsituation/foodpricesindex/en rose by 2.0% in September from the previous month. ...
The energy crisis that's led to electricity shortages and blackouts in Europe and Asia may be heading for the U.S. Electric companies are alerting customers about winter price hikes and an energy hedge fund warned of potential gas shortages. Ernie Thrasher, chief executive officer of Xcoal Energy & Resources LLC, said utility executives have told him they're anxious that fuel shortages this winter could trigger blackouts. "These utilities are worried the assets that they have can't get enough fuel," Thrasher said in an interview. "There are people of high authority at large utilities that are deeply concerned." He declined to name the companies, saying they come from almost every region in the U.S. The global economic recovery from the pandemic has driven up demand for power, triggering shortages and higher prices for natural gas, especially in Asia. That's prompted utilities to use more ...
I'm bringing some bad energy to your inbox. Not sorry for the terrible pun. Definitely sorry for the bad news, though: Wherever in the world you're reading this, you're likely just a few weeks away from a massive energy bill, if you haven't been slammed with one already. What's happening: Oil and gas prices are soaring globally. Low supply + high demand from a recovering economy = higher prices to move and make stuff. It'll get worse if the winter is tough. Some numbers to make you think: $100/barrel: Bank of America Corp. has talked up an outside chance of oil climbing back to this price per barrel — as soon as this winter 1,300%: How much European benchmark natural gas futures have surged since May 2020 20: This number of Chinese provinces — making up more than two-thirds of the country's GDP — that have announced some form of power ...
My basic beef with working in the oil industry has always been the obliviousness of the industry to the fossil fuel issue. I became quite disillusioned and began speaking up here and there in a reckless Clint Eastwood go ahead and make my day kind of way. Speaking up became a pastime. I did it in a boardroom in Lafayette with this young kid who was a bigwig consultant and one of our own senior business development people. Our own executive just dismissed me but the kid and I had more of an exchange. I realised that people who have grown up on oil from the Mexican Gulf were some way behind on sustainability awareness but they were the people running our company, and that the men in senior roles here in New Zealand and Australia were trapped in roles ...
The U.S. Department of Energy (DOE) on Thursday said all "tools are always on the table" to tackle tight energy supply conditions in the market. The department made the comment amid questions about whether the Biden administration is considering tapping into its strategic petroleum reserves (SPR) or pursuing a ban on oil exports to bring down the cost of crude oil. Oil prices have climbed to over $80 a barrel due to a recovery in global energy demand since the depths of the coronavirus pandemic, and production restrictions by the OPEC producer group. "DOE is actively monitoring global energy market supply and will work with our agency partners to determine if and when actions are needed," a spokesperson said. The Financial Times on Wednesday quoted U.S. Energy Secretary Jennifer Granholm as saying that the administration is considering tapping the SPR, while also not ruling ...
Energy is so hard to come by right now that some provinces in China are rationing electricity, Europeans are paying sky-high prices for liquefied natural gas, power plants in India are on the verge of running out of coal, and the average price of a gallon of regular gasoline in the United States stood at $3.25 on Friday — up from $1.72 in April. © Anindito Mukherjee/Bloomberg News The central chimneys at the coal-fired NTPC Ltd. Dadri Power Plant in Uttar Pradesh, India. The country, which relies on coal for about 70 percent of electricity generation, has already seen signs of power shortages. As the global economy recovers and global leaders prepare to gather for a landmark conference on climate change, the sudden energy crunch hitting the world is threatening already stressed supply chains, stirring ...
The final day of a popular air show in Huntington Beach has been canceled because of a massive oil spill off the Orange County coast. © Provided by The LA Times A U.S. Marine Corps MV-22 Osprey banks over the Huntington Beach Pier during the Pacific Airshow on Friday. (Brian van der Brug / Los Angeles Times) City officials said the decision to call off the Pacific Airshow on Sunday was made so they could focus on the spill and cleanup. The beaches in Newport Beach and Huntington Beach are closed and authorities urged people to avoid the areas. "We apologize for the inconvenience and thank you in advance for your understanding," Huntington Beach said in a statement Sunday morning. The oil slick is believed to have originated from a pipeline leak, pouring 126,000 gallons into the ...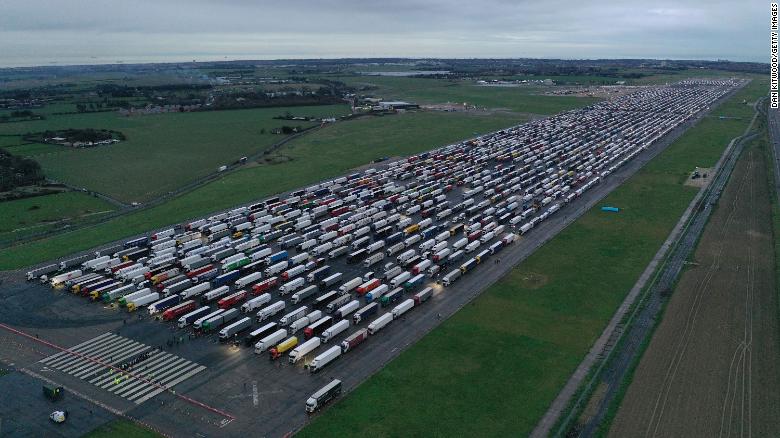 Seafarers, truck drivers and airline workers have endured quarantines, travel restrictions and complex Covid-19 vaccination and testing requirements to keep stretched supply chains moving during the pandemic. But many are now reaching their breaking point, posing yet another threat to the badly tangled network of ports, container vessels and trucking companies that moves goods around the world. In an open letter Wednesday to heads of state attending the United Nations General Assembly, the International Chamber of Shipping (ICS) and other industry groups warned of a "global transport system collapse" if governments do not restore freedom of movement to transport workers and give them priority to receive vaccines recognized by the World Health Organization. Seafarers on board a Mitsui O.S.K Lines vessel share a message of safety. "Global supply chains are beginning to buckle as two years' worth of strain on transport workers take their ...
Colossal Fossil Total Projects Peak Oil by 2030, Still 'Leaves it to Others' to Meet Paris Targets
A shareholder action group says TotalEnergies is leaving it to others to meet the ...
Petrol bosses warn fuel shortage 'getting worse' in London
Fuel shortages are getting worse rather than improving, especially in London and the south-east ...
Europe's Energy Crisis Is Coming for the Rest of the World, Too
This winter, the world will be fighting over something that's invisible, yet rarely so ...
Fusion energy nears Kitty Hawk moment
IN TRYING TO EXPLAIN their recent fusion energy breakthrough, Dennis Whyte of MIT and ...
More News By Topic...