Welcome to PeakOil.com, an online community exploring oil depletion.
Ahead of tonight's key China data dump, State Grid, China's largest utility company, has warned the rate of economic growth in the country could plunge to 4% within the next four years, according to internal forecasts, first seen by the Financial Times. The state-owned utility has turned bearish on the Chinese economy. It forecasts a rapid slowdown that has already dented energy demand across all 23 provinces and could last until 2024. Already, ten of the company's 25 regional operations reported a loss in 2019, according to company insiders, resulting in decreased capital expenditures. One official from the utility company, who asked not to be identified, said the economy was booming, and generally, that meant internal estimates about the economy were overly bullish. But now, it appears the exact opposite, and internal estimates show China's economy is decelerating while official GDP estimates ...
Saudi Arabia's shortage of executioners didn't stop the kingdom from carrying out a record number of death sentences in 2019, according to the non-profit Reprieve, which monitors how KSA handles capital punishment. According to figures provided to ABC News, KSA executed 184 people last year, including 90 foreign nationals. The most common crime committed by the prisoners who were put to death was drug smuggling (82 were executed for smuggling narcotics) while 57 were executed on murder charges. That's compared to a total of 22 executions in the entire US. Notably, KSA has seen a rise in killings since 2015, when Reprieve first started keeping track. In 2014, 88 people were executed, with that number nearly doubling to 157 executions in 2015. Executions stayed at around that level until last year, when the state killed 35 more people than they had in 2018. As we ...
Oil supplies from Iraq, the Middle East's second-biggest producer, are "potentially vulnerable" amid rising political risks in the country and the broader region, the International Energy Agency warned. Crude prices briefly soared to a three-month high above $70 a barrel last week as tensions between the U.S. and Iran erupted in neighboring Iraq, where America assassinated an Iranian general and Tehran struck U.S. military bases in response. Though hostilities faded, the threat of escalation still menaces Iraq, which was already grappling with domestic protests that spread to its oil-rich southern region. Iraq's oil exports have doubled during the last decade to reach 4 million barrels a day, with half these volumes flowing to China and India, the two major centers of global demand growth, the Paris-based IEA said in its latest monthly report. The country relies heavily on shipping crude through the ...
Summary The facts remain that Production/Consumption has seen consistent growth since 2011 with only minor variation of 1.74% +/-0.013%. The data presented shows the US developing a Refined Product Export business since 2003 which has grown ~13% annually. The history from 2003 includes the speculative "Peak Oil" 2010-2014 period representing WTI over $100/BBL only to plunge below $30/BBL on strength in the US (US Dollar) resulting in many believing excess production now represented an "Oil Glut." New Record US Crude Production 13mill BBL/Day US Crude Inv declines 2.5mill BBL-now ~27mil BBL below 5yr mov avg Refinery Inputs rise less than 0.1mill BBL/Day and remain low relative to historical trend Gasoline Inv rise to recently established Spring peaks while exports still positive declined 1mill BBL/Day the past week The multi-year trends are higher US Crude Production, lower Crude Imports with the US being a Net ...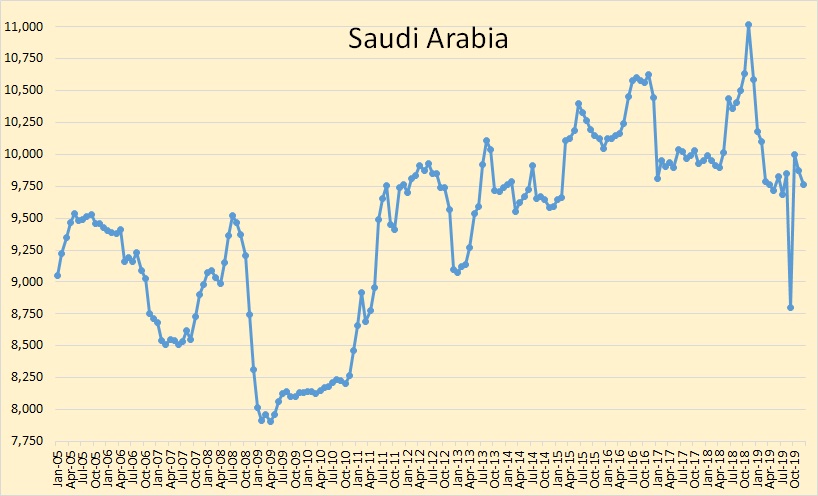 All OPEC data for the charts below are from the OPEC Monthly Oil Market Report https://momr.opec.org/pdf-download/ OPEC crude oil production continued to slide in December.   OPEC production was down 161,000 barrels per day in December but that was after November production had been revised upward by 54,000 barrels per day. Angola had the largest gain in December, up 125,000 barrels per day. This will be Ecuador's last month with OPEC. In January it will be the OPEC 13. This will not cause a drop in OPEC production as Ecuador's historical production will be removed from all OPEC data. Gabon was up 22,000 barrels per day in December, a big jump for them. Iran continued its slow decline. Political problems have increased in the area but I expect they will have little effect on oil production. Iraq is still producing flat out. They reached 4,642,000 barrels per day ...
Global oil demand growth is accelerating to 1.26 million barrels per day (MMB/D) in 2020, up from 0.95 MMB/D growth in 2019, with growth expected in all regions except Western Europe and Japan, S&P Global Platts, the leading independent provider of information, analysis and benchmark prices for commodities and energy markets, stated in their 2020 outlook, just released. Global oil demand growth to slow from 2025 – IEA About 20 percent of that projected growth in oil demand is associated with the International Maritime Orgamisatio, IMO, bunker-fuel specification change, which will push high-sulfur fuel oil, no longer allowed for use in maritime shipping, into power generation, requiring more middle distillates and low-sulfur fuel oil to satisfy demand in the shipping sector. Demand growth will be increasingly reliant on emerging economies and led by distillates in 2020. Jet fuel demand is forecast to rise ...
When it comes to the future sustainability (excuse the pun) of oil companies, there are two trains of thought, one of which is that they should 'stick to their knitting' and just focus on what they are good at, which is extracting oil and gas out of the ground, refining those fossil fuels and delivering petrochemical products to their customers. The other train of thought is that they should diversify their offerings in order to reduce the risks associated with a business model that is going to come under massive pressure over the coming years. US oil and gas companies, such as Exxon and Chevron, as well as Gazprom and SaudiAramco share the first view, while we see some of their European counterparts such as Shell, Total and Equinor investing heavily in new business areas such as offshore wind, EV ...
Energy transitions "take decades, even centuries" to complete, the chairman of the world's largest oil company, Saudi Aramco, said at a conference on Monday, adding that the industry should continue to think in decades. Because complete energy transformations take such a long time to complete, the oil industry should continue to think in decades, Aramco's chairman Yasir Al-Rumayyan said at the International Petroleum Technology Conference (IPTC) in Dhahran, Saudi Arabia, as carried by Al Arabiya English. Al-Rumayyan's remarks are the latest from the world's biggest oil firm and the world's most valuable company that the world will still need oil decades from now and that peak oil demand is just 'hype.' Analysts and top commodity traders see oil demand peaking at some point in the 2030s, but oil companies say that peak oil is nowhere in sight and there is still room to ...
Such is the extent of the shakeout in the U.S. shale industry that Permian Basin oil production is closer to peaking than many forecasts suggest, according to one energy investor. Adam Waterous, who runs Waterous Energy Fund, regards the sector's financial position as unsustainable after years of disappointing returns for investors and negative free cash flow. With capital markets now largely shunning shale producers, the impact will begin to show in oil and natural gas output from the largest U.S. oil patch, he said. "We think we are at or near peak Permian" production, Waterous said last week in an interview. "The North American oil market has been grossly overcapitalized, which is not sustainable." Predicting peak Permian output for 2020 isn't a mainstream view. There's plenty of debate about how much production growth in the West Texas and New Mexico patch may slow ...
In 1974, the neoliberal Austrian economist Friedrich Hayek was awarded the newly instituted Sveriges Riksbank Prize in Economic Sciences in Memory of Alfred Nobel. In his acceptance speech, Hayek stated bluntly: "If I had been consulted whether to establish a Nobel Prize in economics, I should have decidedly advised against it." Such a prize, he held, "confers on an individual an authority which in economics no man ought to possess." Economists are unlike physicists or chemists in that they wield tremendous power over laypeople without being subject to almost any democratic accountability. To grant them unthinking adulation, as even Hayek realized, would be a dangerous thing. Even though Hayek's cautions against economists' authority were rooted in his conviction that markets are "unknowable" and thus best left unregulated, the cautions themselves are still worth listening to, but have gone unheeded. Since the ...
A first look at the Clean Energy Act and the Green New Deal
Students joined more than 200 other grassroots activists for a lobby day at the ...
What's Next For Oil? No One Seems To Agree
Although oil production in the Permian Basin shows all signs of slowing down in ...
US oil production hits estimated record 13 million barrels per day
U.S. crude oil production rose to an estimated record-high of 13 million barrels per ...
The population question: Toward a plan for global sustainability
Too often, it seems, matters of population are overlooked in discussions of global sustainability. ...
More News By Topic...