The EIA's Petroleum Supply Monthly has been published with production data for all individual states and offshore areas.  All data is Crude + Condensate and in thousand barrels per day with the last data point March 2014.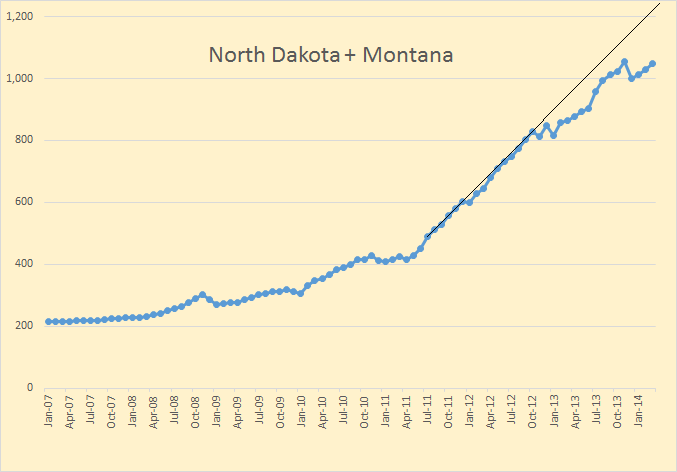 Since the Bakken occupies part of two states, North Dakota and Montana, I have combined their production in order to get a better idea of what is really happening there. I have drawn a trend line from July 2011 through October 2012. That shows where production might have been if the fast decline rate and bad weather had not caught up with the. Production was 1,050,000 barrels per day in March, still 5,000 barrels per day below the point reached in November.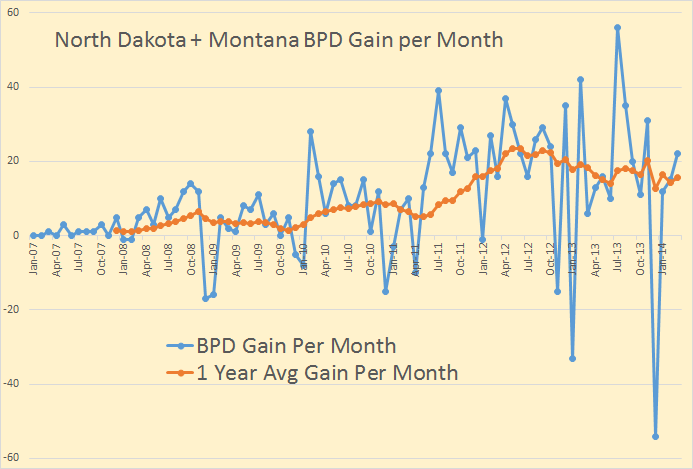 I wanted to show this chart so we could get a better idea what is really going on in the entire Bakken area. Back in May and June of 2012 production was increasing by an average of 23,500 barrels every month. Now production is increasing by an average of 15,580 barrels per month.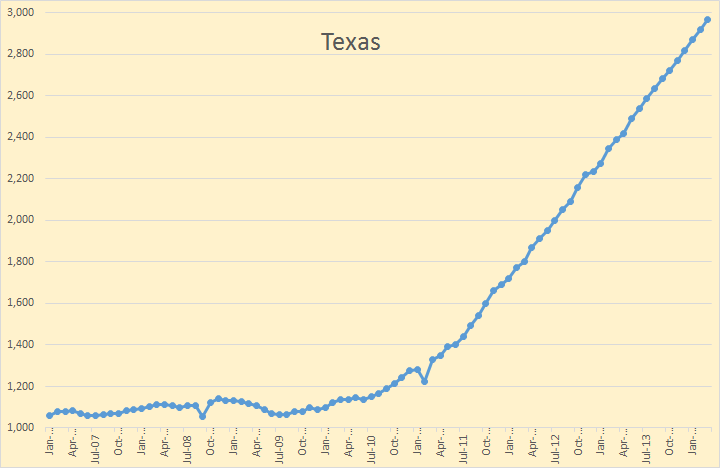 Texas is, by far, the state with the most production. But the last year or so is just an estimate by the EIA. That is why the last 12 months or so are so linear, they are all just a guess.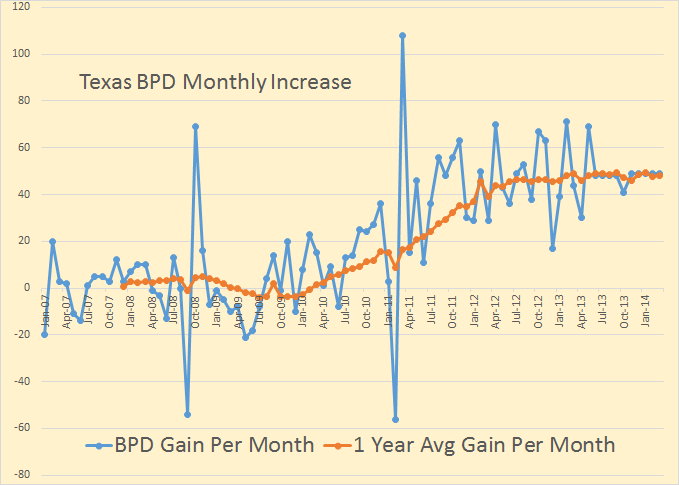 Texas change per month is a little more dramatic but keep in mind the last year is only an estimate. That estimate has Texas production increasing by 48,000 barrels per month.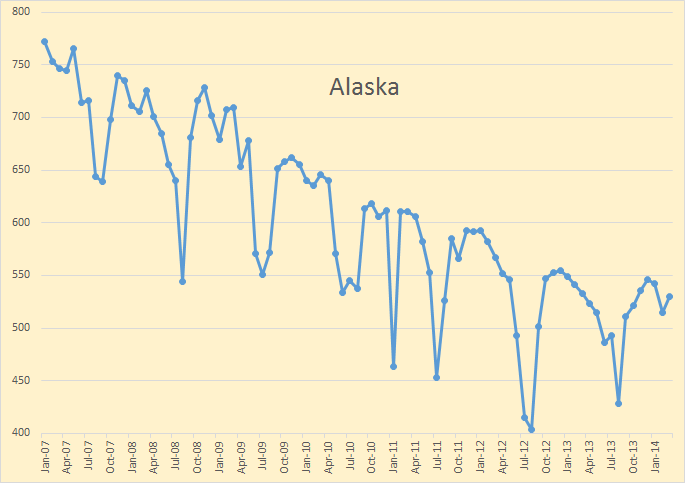 I haven't posted Alaska before. They are, of course, in continuous decline. They have, as of late, shown a slight slowdown in their decline rate however.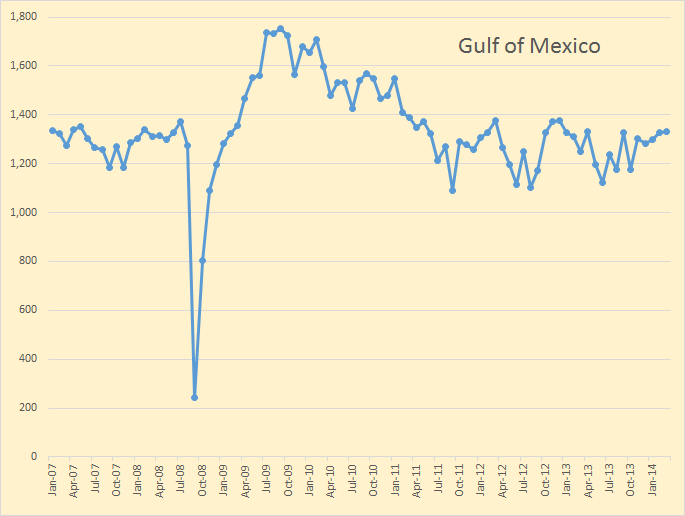 The Gulf of Mexico is going nowhere fast. They are continually drilling new wells in new fields. However the deep water wells have such a very high decline rate that they are just staying even. The EIA is counting on the GOM pumping 2 million barrels per day by 2016 to get them to 9.6 million barrels per day. That is not going to happen. They will be lucky to get to 1.5 bpd. In fact they will be lucky just to hold off decline.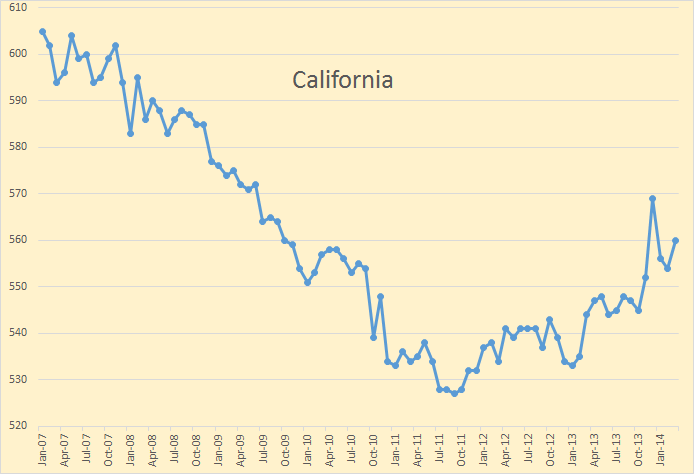 I just had to show California now that the Monterey Shale has gone kaput. They have increased production by about 30,000 barrels per day since mid 2011.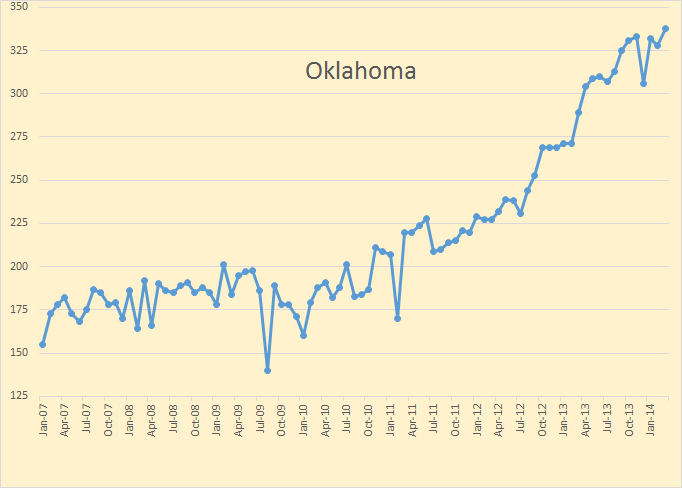 Oklahoma has shown some slight increase in production but has slowed down as of late.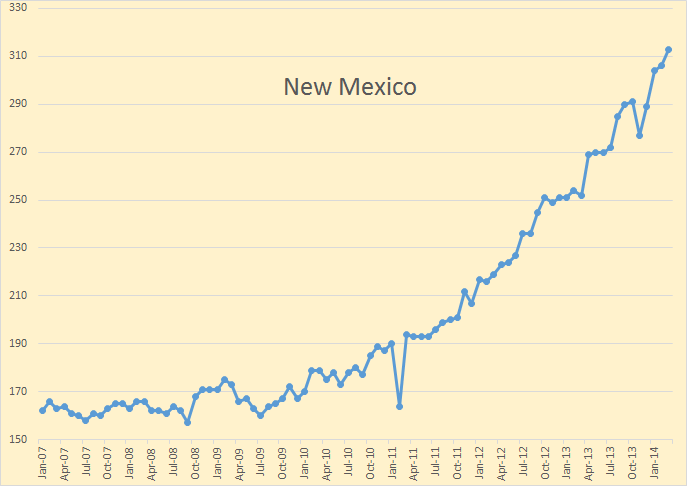 New Mexico has been increasing production lately, up about 100,000 barrels per day over the last three years.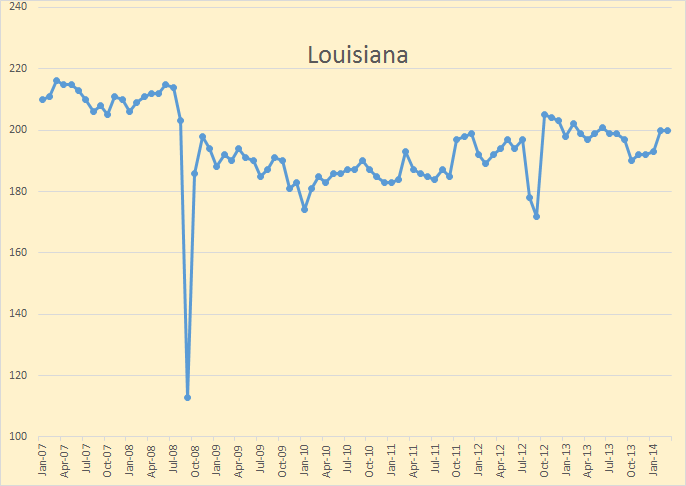 And the last of the big producing states is Louisiana. The big spike down in September of 2008 was Hurricane Gustav.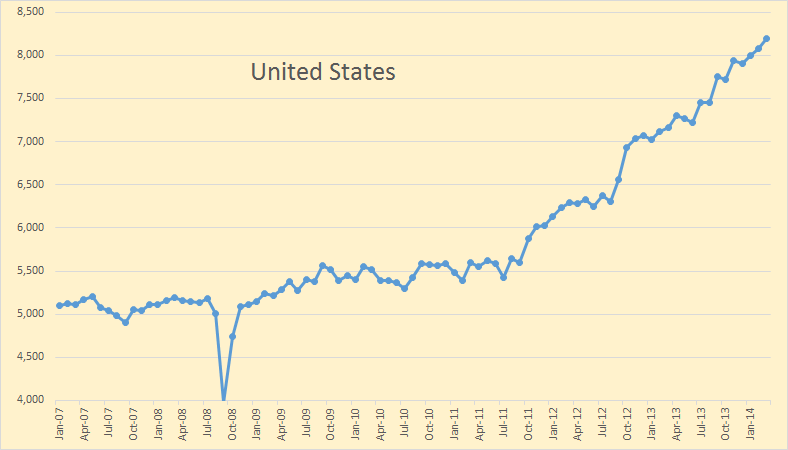 And it all adds up to this.
I send out an email notifying some folks of every new post. If you would like to be put on that list or removed from it, please notify me at DarwinianOne at Gmail.com.