Podunk was a small town Arkansas. Back about a hundred years ago Podunk had no sewage plant, everyone just used outdoor toilets. But a problem soon developed, Podunk's water supply became contaminated. That's when they decided to build a blibbit* in which they would store their crap. This blibbit was built out of wood and placed on a hill in a convenient location, right in the middle of town.
The blibbit was almost circular, about 100 feet in diameter. Poles, similar to utility poles, were placed in the ground about 10 feet apart and boards were nailed to them to form the sides up to about 10 feet high. Then every few days everyone in town would haul their crap to the blibbit and dump it in. After a few years the blibbit was full so they added a few more boards to raise the sides higher.
But then someone noticed that the bottom boards were bulging out and appeared about to rupture. "She's gonna burst" the person shouted to everyone in town. "Nah, maybe it will hold a bit more" was what most people said.
Then a few years later the blibbit was full again so they nailed a few more boards a little higher up on the poles and continued to dump in their crap. The bottom boards became even more strained and looked like they would pop this time for sure. "She's gonna burst" a couple of more people started yelling. Naw, that's what you said five years ago you were wrong. So we should not listen to you.
Then about five years later the blibbit became full again. More boards were added and more crap was dumped in. "She's gonna blow this time for sure. The blibbit has reached peak crap for sure." "Listen stupid", was the reply, "that's what you said 10 years ago, then again 5 years ago, and you were dead wrong. "And because you were wrong in the past means you have to be wrong now."
Now here is my question: Because the peak blibbit crap people were wrong in the past, does that mean it is more likely they are wrong now? Or, is it even more likely they are right now because the situation has deteriorated even more since the early days of peak blippit crap predictions?
We are all asked, from time to time, what do we think is going to happen to this or that down the road. No one gets asked that question more than peak oilers. And every peak oiler seems to have a slightly different opinion. I have, in the past, reframed from making predictions as to when crude oil extraction will peak. I did so out of fear that I would be wrong and cornucopians would throw it up to me later. But I have now gone out on a limb and now predict that Crude Oil, or rather C+C will peak no later than 2017. I strongly believe the peak will be in 2016 but it could be a year or two earlier but no later than 2017.
In spite of all the hoopla about the US shale boom world C+C has been relatively flat for two years.
I have examined every major producing nation in the world. Only two, Libya and Iran, have any significant amount of oil held off the market because of sanctions or war. I expect that these two, combined, could possibly add 1.3 mb/d within two or three years.
Three others,  Syria, South Sudan and Yemen, have a combined total of about .5 mb/d offline due to civil conflict. And all three were in decline before their civil problems. It is unlikely that there will be any significant increase in production from any of these three within the next three years.
Outside political outages there are only four nations that could add significant production by 2017 Iraq, Kazakhstan, USA and Canada. Iraqi production will likely rise to 4 mb/d and possibly 4.5 mb/d within the next few years but is unlikely to go much higher than that. Kazakhstan is a big question mark but even if they ever get  Kashagan's problems ironed out it will only produce about 180,000 bp/d for many months then eventually ramp up to 370,000 bp/d. Not really a big game changer. Canada can and will increase production from where they are today but not fast enough to make a real difference in world output.
And what about the USA?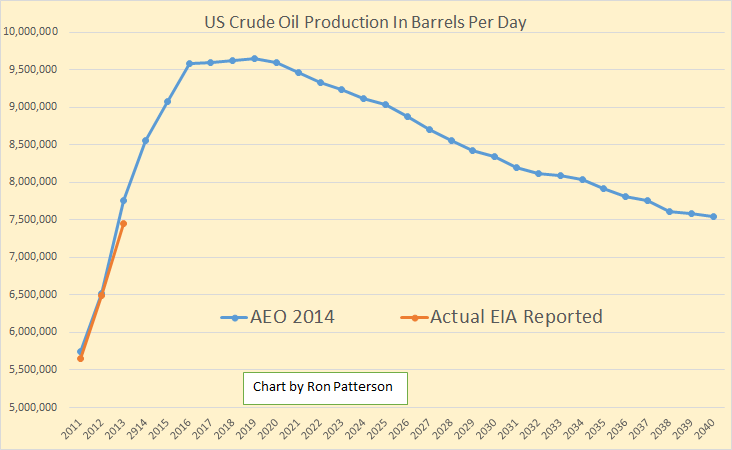 Even the EIA is predicting the US will peak or at least plateau in 2016. There is no way that world C+C can show increased production beyond 2017.  Likely the peak will happen by 2016 but after 2017 Peak Oil will be in the rear view mirror.
Also notice that actual USA production in 2013 was 300 kb/d below what AEO 2014 predicted. Their prediction was made well before the end of 2013.
*Blibbit: The word was dates from back in the days when all shopping bags were made of paper and the weight limit was stamped at the top of the bag. A typical large grocery bag held 20 pounds. A blibbit was officially described as ten pounds of crap in a five pound bag.