OPEC, Tight Oil and Russia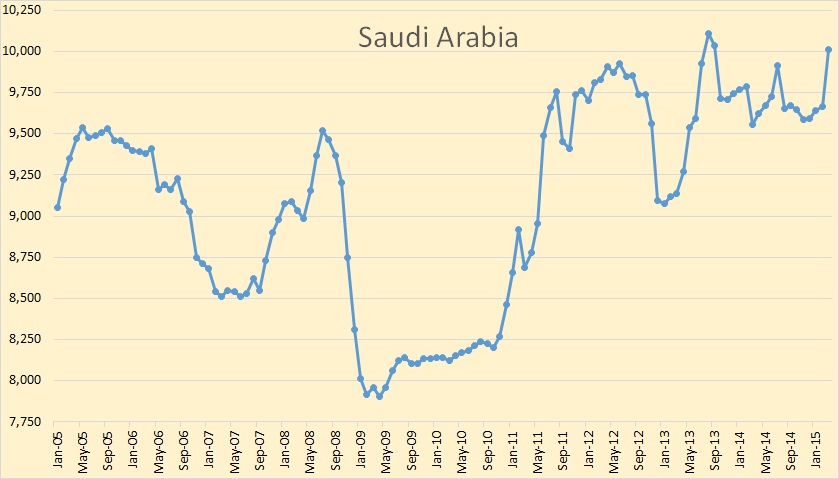 The OPEC Monthly Oil Market Report is out with OPEC crude only production numbers for March 2015.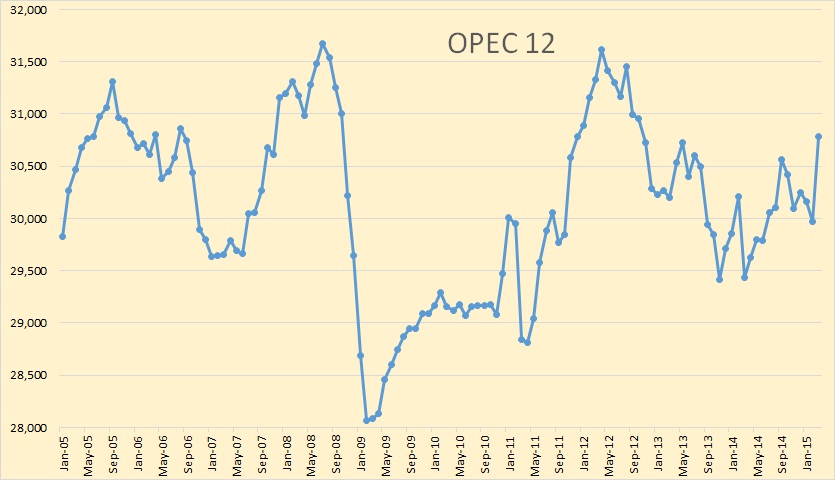 OPEC production was up 812,000 barrels per day. The increase came primarily from three countries: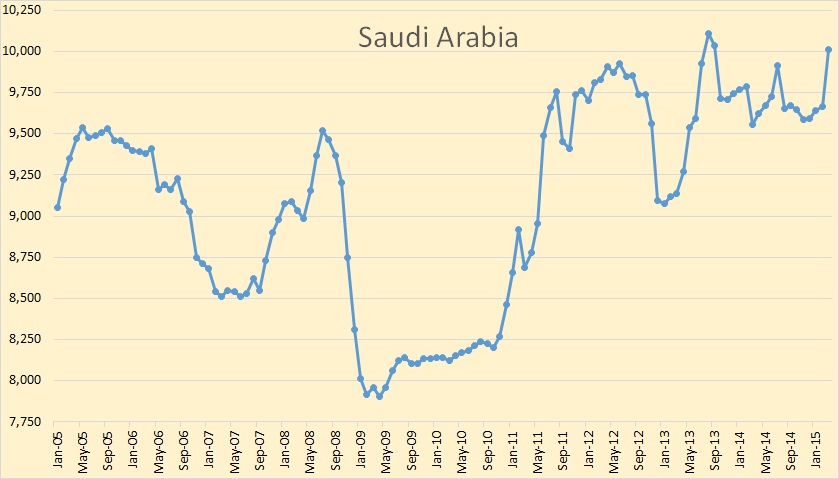 Saudi Arabia was up 347,000 barrels per day to 10,010,000 bpd.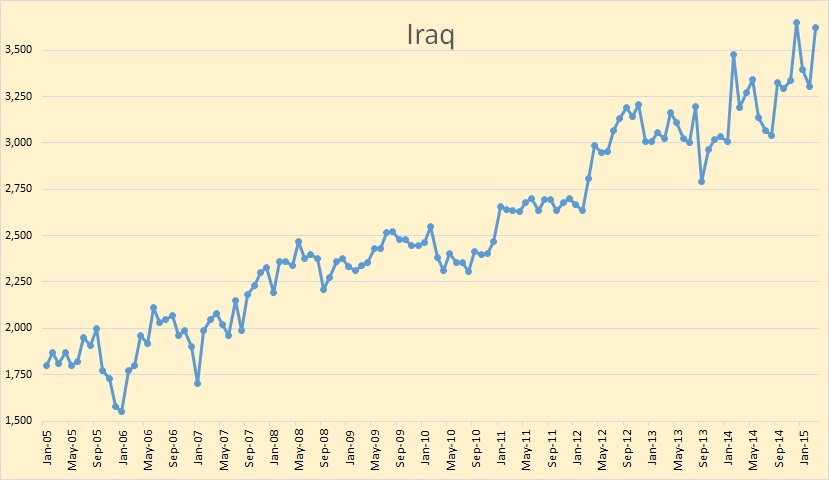 Iraq was up 319,000 bpd to 3,625,000 barrels per day.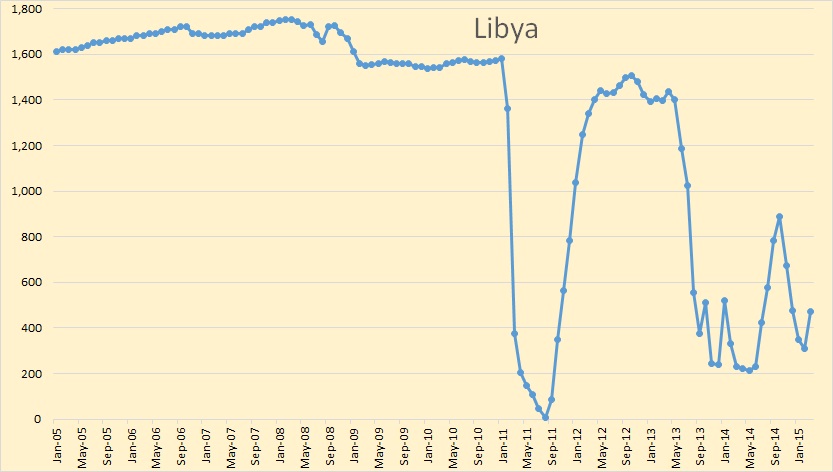 And Libya was up 165,000 bpd to 473,000 bpd.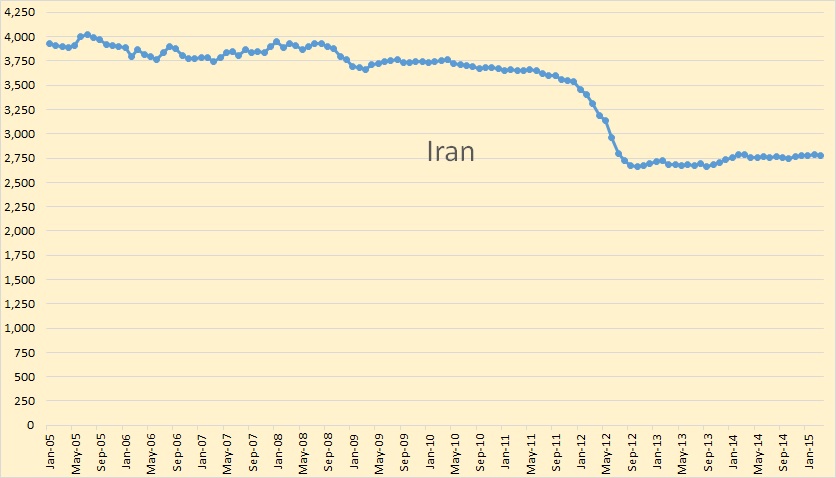 This is Iran zero based in order to show exactly how much sanctions have affected them. Iran was producing about 3.75 million bpd before sanctions. Then when sanctions the UN resolution for sanctions was passed in 2010, but before they were enforced, production began to drop, but very slightly. It was not until late 2011 and early 2012 before production began to fall rather steeply. Iranian crude only production is now around 2.75 million bpd, down about 1 million bpd, or 27 percent from their production level before sanctions.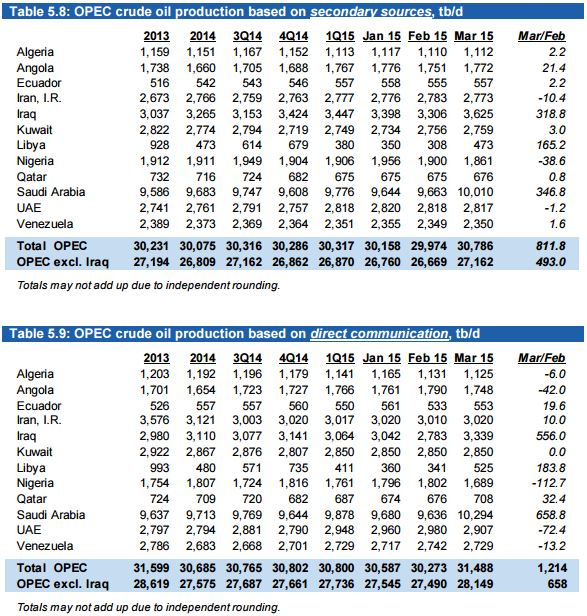 Here is how all 12 OPEC nations fared in March. Notice Saudi Arabia says they were up a lot more than the "secondary sources" claimed they were. Iraq also claimed more increase than the secondary sources' estimated. But Iraq is still claiming almost 300,000 bpd less than the secondary sources says they are producing.
Charts for all 12 OPEC countries can be found at on my OPEC Charts web page.
Art Berman says Saudi Arabia's Oil-Price War Is With Stupid Money
Saudi Arabia is not trying to crush U.S. shale plays. Its oil-price war is with the investment banks and the stupid money they directed to fund the plays. It is also with the zero-interest rate economic conditions that made this possible.
Art's point is that stupid money is funding the so called Tight Oil Revolution. This is a great article that everyone should read. Art has a chart showing that most tight oil companies were losing money even when prices were in the $90 to $100 range. And CLR, Continental Resources, seems to be the biggest loser of all.
The next two charts are from Art's Stupid Money article.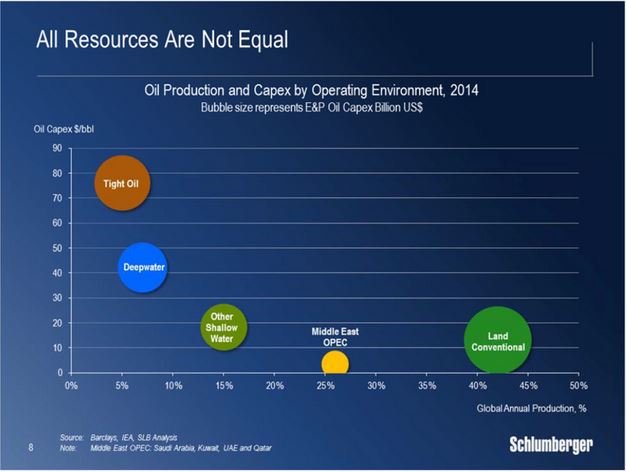 What does it cost to produce a barrel of light tight oil? Schlumberger says it cost around $75. The size of the bubble here represents the Exploration and Production capex spent. Tight oil is second only to the amount spent on land conventional. But land conventional produced about 42 percent of all oil produced while tight oil was about 4 percent.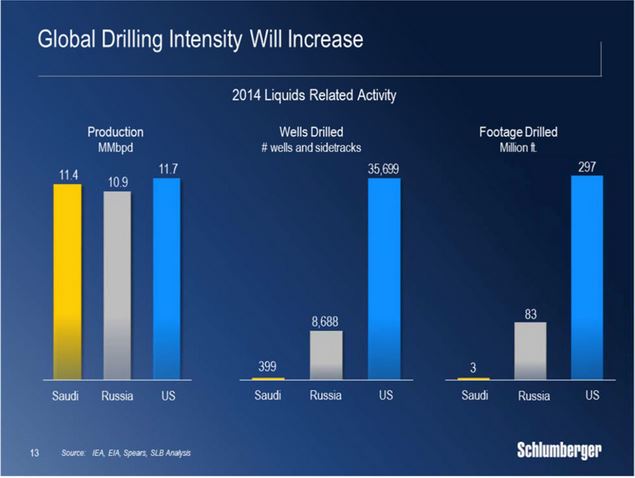 U.S. companies drilled almost 100 times more wells to reach the same daily production as Saudi Aramco. Strident claims of increased efficiency by tight oil producers sound absurd in this context.
But the Russian part of the above chart is what I wish to emphasize here. In 2014 Russia drilled 8,688 wells.
In 2009 Renaissance Capital oil and gas analyst Alex Burgansky said:
If you exclude all the drilling activity taking place every year, then Russian organic decline in production is close to 19%. To compensate for that organic decline, Russia drills somewhere between 5,000 and 6,000 wells every year.
5 to 6 thousand in 2009, 8 to 9 thousand in 2014. They are now drilling 3,000 more wells than they did five years ago and production has been flat for about a year and a half. Russia has their own version of the Red Queen.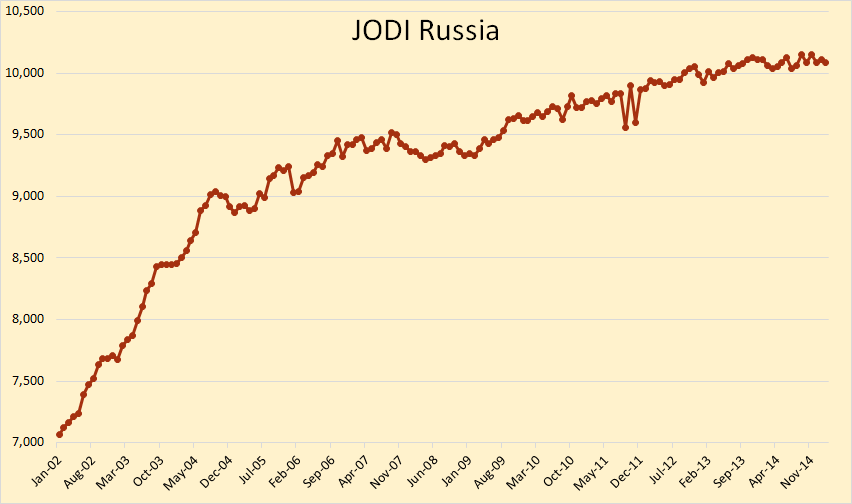 The last data point in this chart is February 2015.