OPEC Crude Oil Production, What's Next?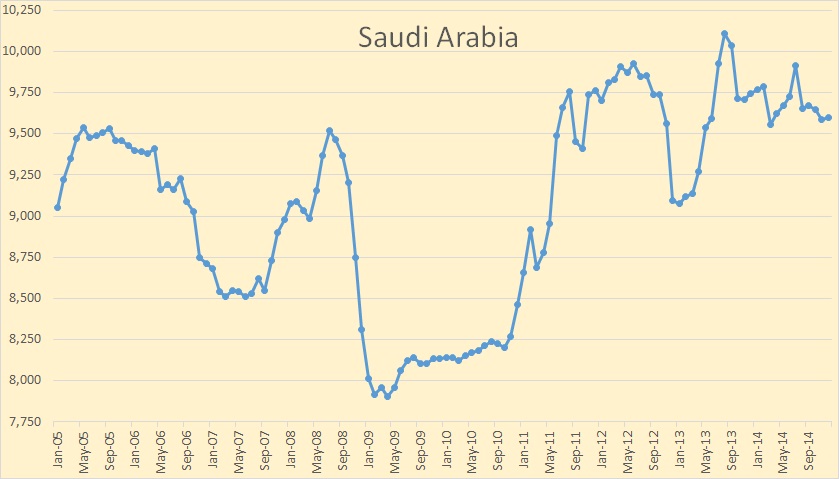 The latest OPEC Monthly Oil Market Report is out with OPEC production data for. The data is "Crude Only" and does not reflect condensate production.
Also the charts, except for Libya, are not zero based. I chose to amplify the change rather than the total.
All Data is in thousand barrels per day with the last data point December 2014.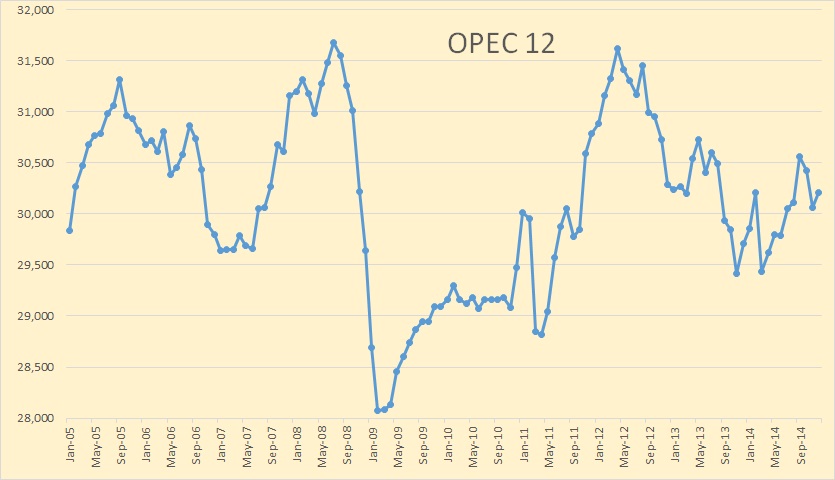 OPEC 12 production has averaged slightly above or below 30 million barrels per day for about two years now and there is little chance it will go anywhere very fast. But what is obvious from the above chart is there has been no surge in OPEC oil production. OPEC's December production f 30,204,000 barrels per day is still more than 1.4 million barrels per day below the peaks of 2008 and 2012.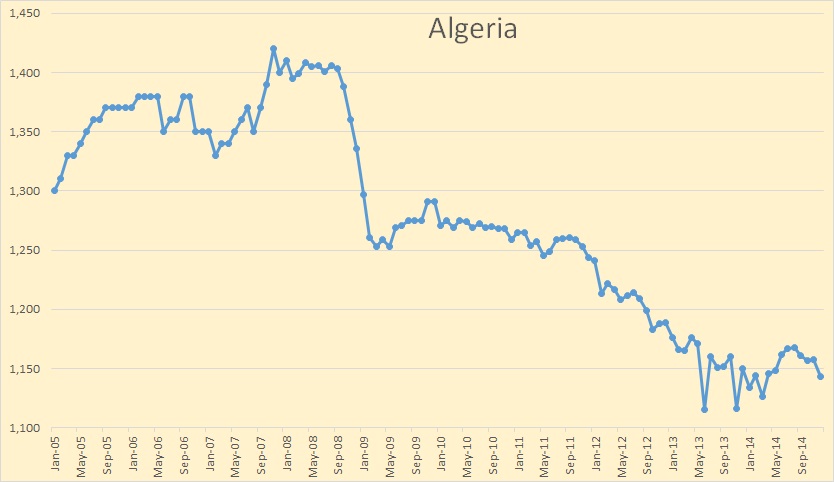 Algeria is struggling to keep production relatively flat.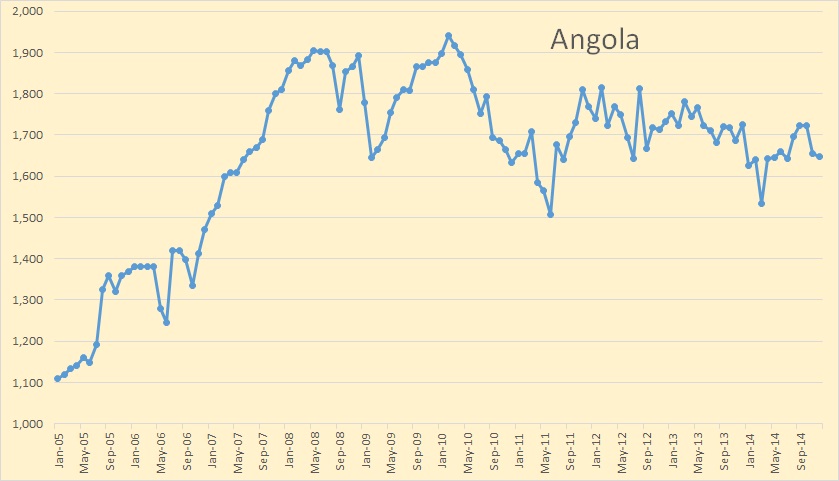 Angola is holding its own… so far.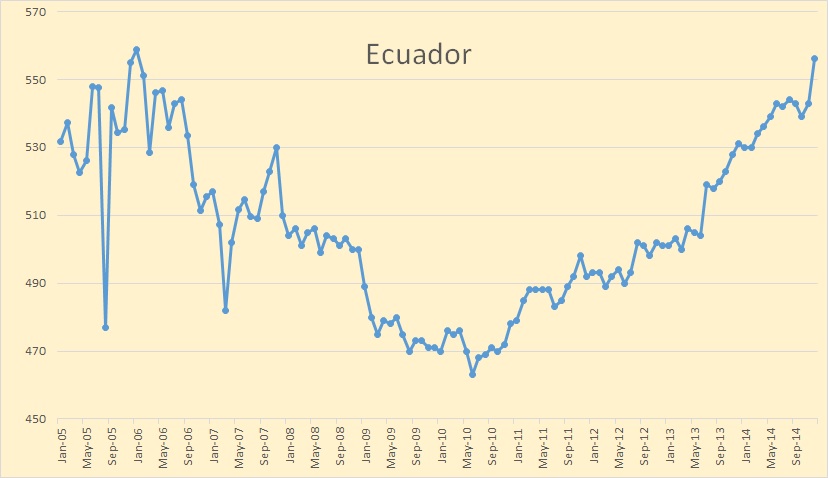 Ecuador increased production by 13,000 barrels per day in December, from 543,000 to 556,000 bpd. Not much but quite a jump for such a small producer.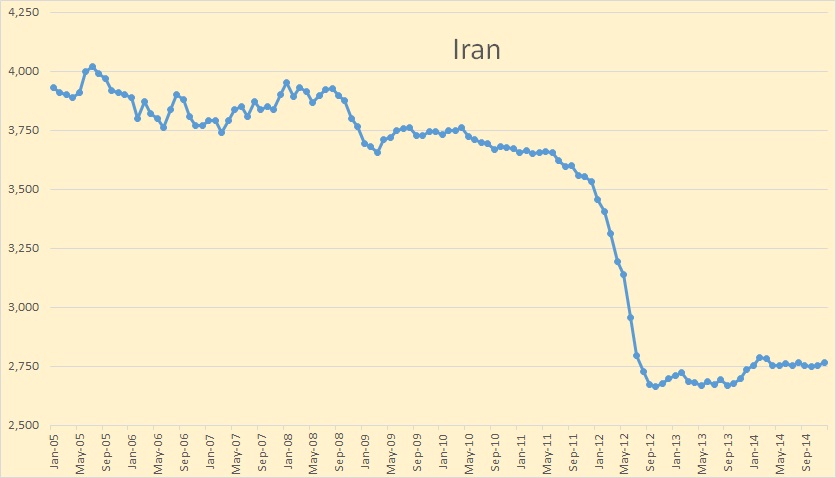 Nothing is happening in Iran. What just might happen in Iran is another thing altogether.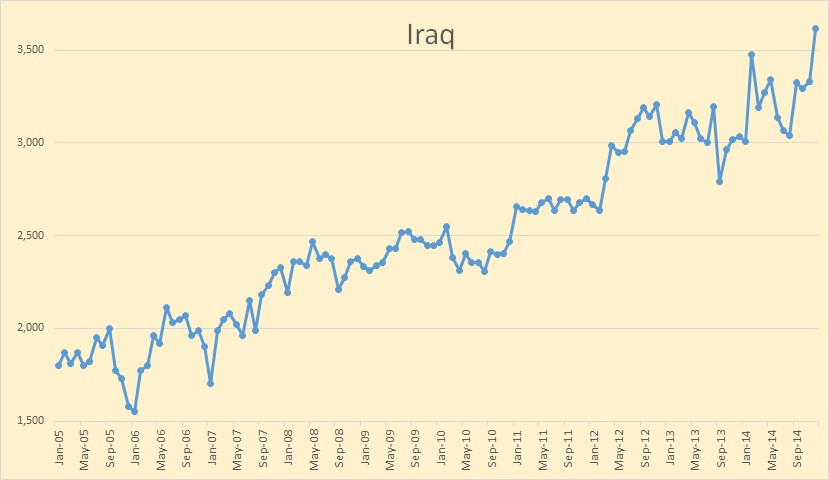 Iraq was where the big OPEC increase came from in December. They went from 3,331,000 bpd to 3,616,000 bpd, an increase of 285,000 barrels per day. This is considerably less than their almost half a million barrels per day increase in February but very significant nevertheless.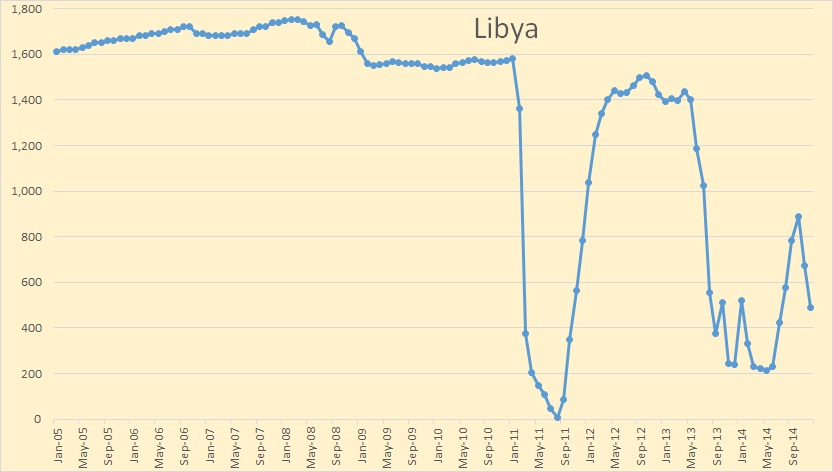 Libya is still having very serious political problems and that is putting it mildly. Who knows what is going to happen there, but it is unlikely they will see these problems solved anyway soon.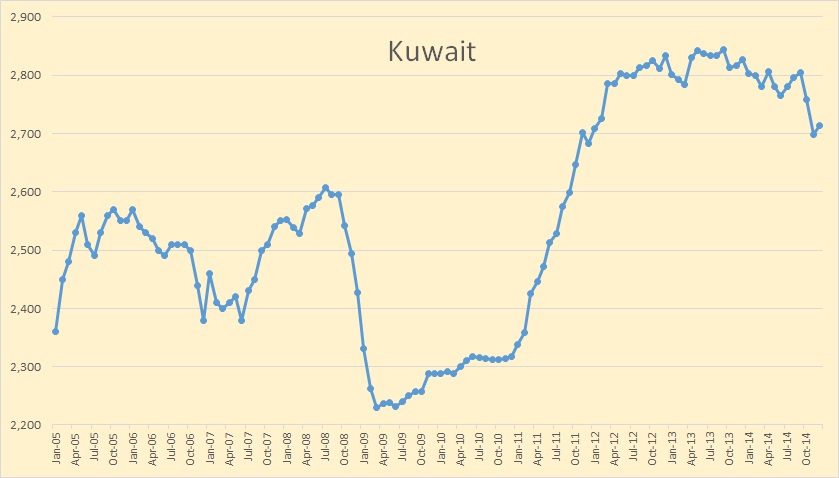 Kuwait's super-giant Burgan Field is in decline so Kuwait has engaged in a massive infill drilling program to increase production in five northern oil fields—Abdali, Bahra, Ratqa, Raudhatain, and Sabriya (Kuwait's third largest field) from around 650,000 bpd to 900,000 bpd. They were successful but now they have peaked again and production headed down.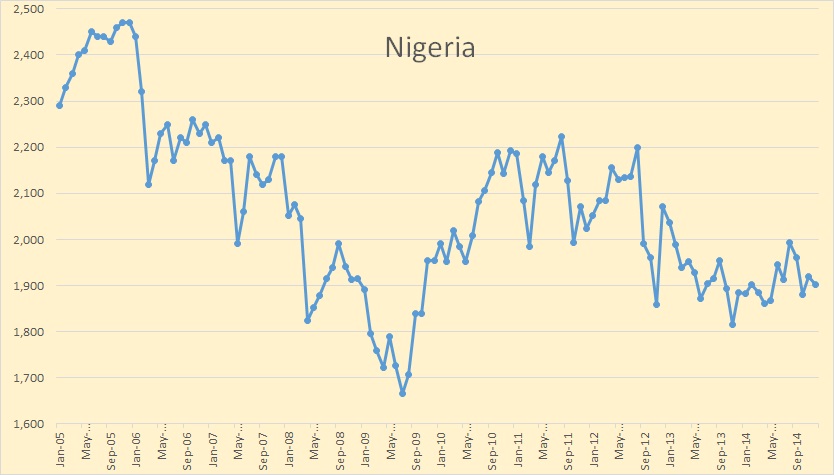 Nigeria's political problems has been raging for years and there is little hope they will be settled within the next decade or so. Nigeria will be very lucky if they can maintain their current production level.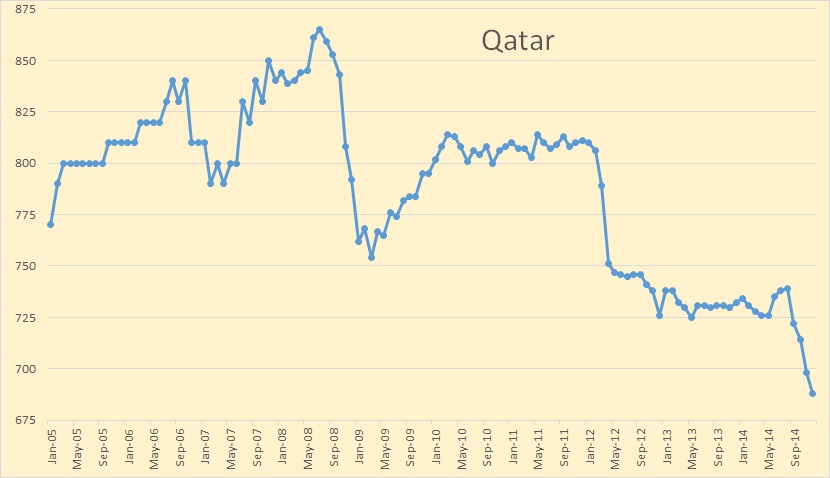 Qatar peaked back in 2008 and is now producing almost 200,000 barrels per say below that peak. From the looks of what has happened in the last fur months they may be in terminal decline. They can only hope that the decline slows. Is this their Seneca Cliff?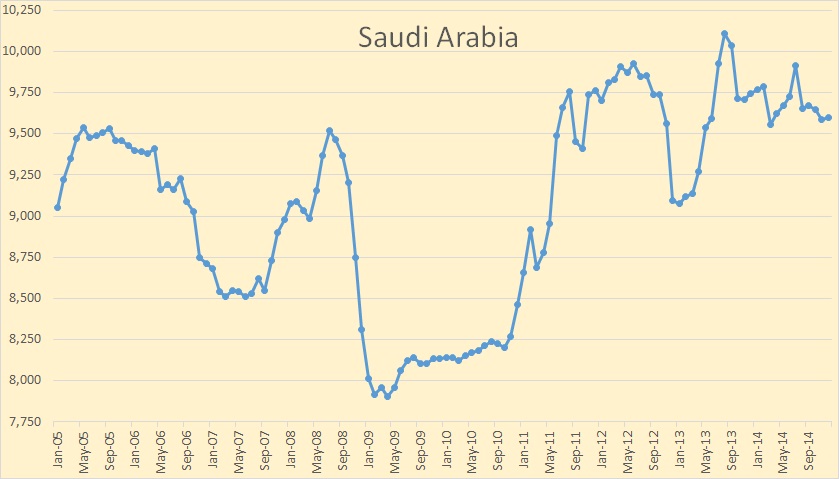 Saudi Aramco to cut drilling costs, hold rig count steady
Aramco deployed 210 oil and gas rigs in 2014, marking an exceptionally busy year.
Saudi has more than doubled its rig count in recent years. Operating 210 rigs even after Manifa is complete? This this means they are drilling about 2500 new wells per year. Why? They are not increasing production, all those new wells are only keeping production flat.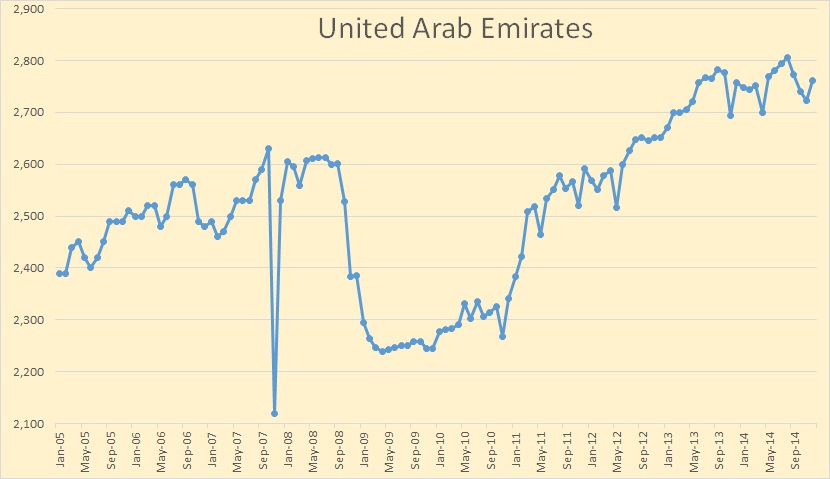 The UAE, like Kuwait and everyone else for that matter, has been doing a lot of infill drilling. They have managed to increase production from their 2008 peak by about 150 thousand barrels per day.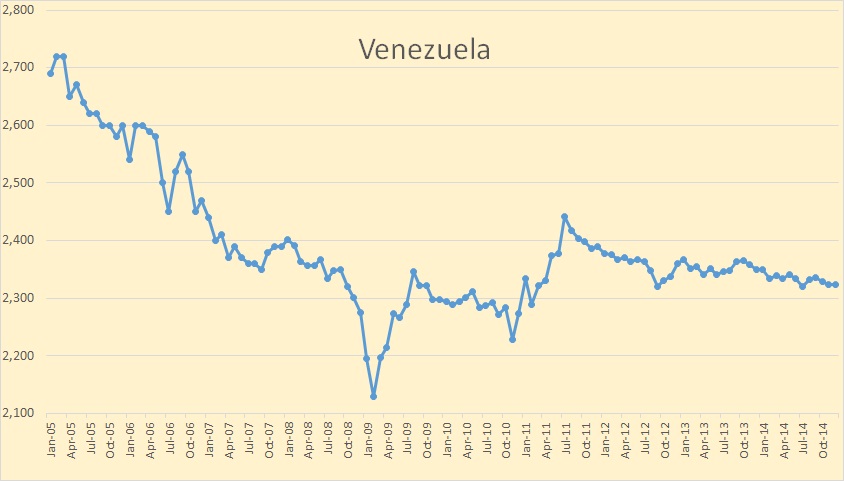 Despite having more oil reserves than anyone else in the world, Venezuela's oil production continues to languish. Engineers with six years experience in Venezuela make about $400 a month, 9% of the world average and one fourth what they are making just across the border in Colombia.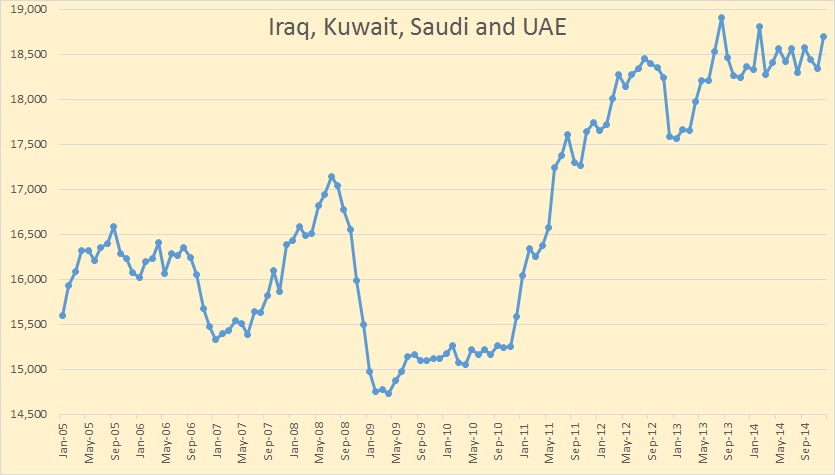 Which OPEC nations are holding their own and which ones are languishing? OPEC production peaked in 2012 and only four countries have held their own or slightly increased production since then, Iraq, Kuwait, Saudi Arabia and the UAE.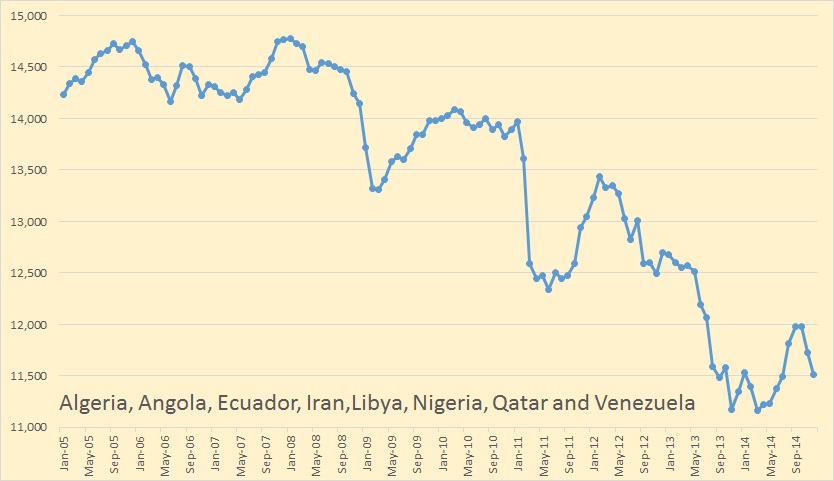 The other eight OPEC countries, combined, peaked in 2005 and have declined by about 3 million barrels per day since then. Of the eight, only Libya and Iran could produce very much more if their political problems were to disappear. However that is not likely to happen in the next few years.
Political problems in the Middle East, Africa and Venezuela will get a lot worse before they get better. Low oil prices will, very likely, greatly exacerbate these problems.  And who knows what might happen in Saudi Arabia?
Saudi King Abdullah's Death Clouds Already Tense Relationship With U.S.
In the short term, the death of the king actually might ease strains in the relationship. The Saudi kingdom, as it enters a period of transition, may feel more vulnerable to external threats and eager to show the world that it still has the solid of backing of the U.S.—the country the kingdom always has seen as its ultimate protector.
But in the longer term, the transition raises questions about how the new Saudi leadership will see its relations with the region and the wider world. Most likely, it will be a period of what longtime Middle East diplomat Dennis Ross calls "collective leadership."
That in turn may reduce the Saudis' ability to move decisively on the difficult and contentious issues—toward Iran, Iraq and the Islamic State uprising, as well as oil policy—that the U.S. and Saudi Arabia have been trying to address together.
New Saudi king vows no abrupt policy shifts
"The Arab and the Islamic nations are in dire need of solidarity and cohesion," the king said.
There is a good video at that last link.
Peak Oil Barrel by Ron Patterson