Jean Laherrere sent me the below charts the other day. I had planned on posting them with more Bakken data. But my schedule has been busy so I am posting them alone.
Jean's interpretation for ND is as follows
Bakken ultimate = 3 Gb
Non Bakken ultimate = 2.2 Gb
Quite symmetrical like the EIA drilling productivity data, but in contrary to EIA/AEO2015 with a peak in 2020
It will be interesting to see the evolution in the next few months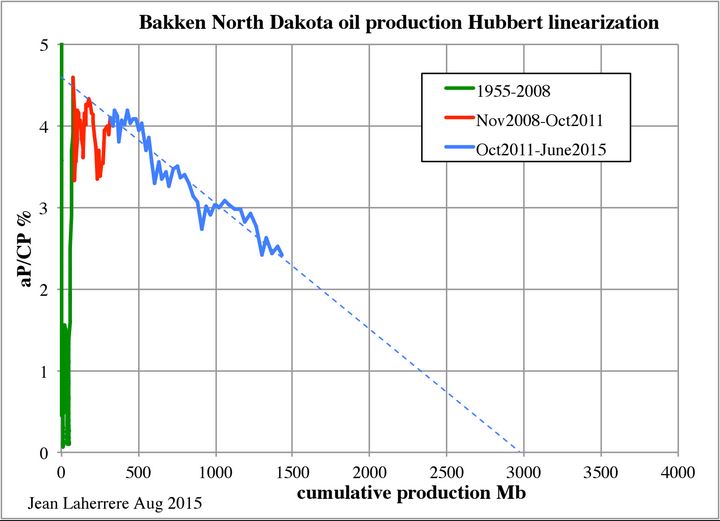 The Hubbert Linearization puts the Bakken about half way to the end.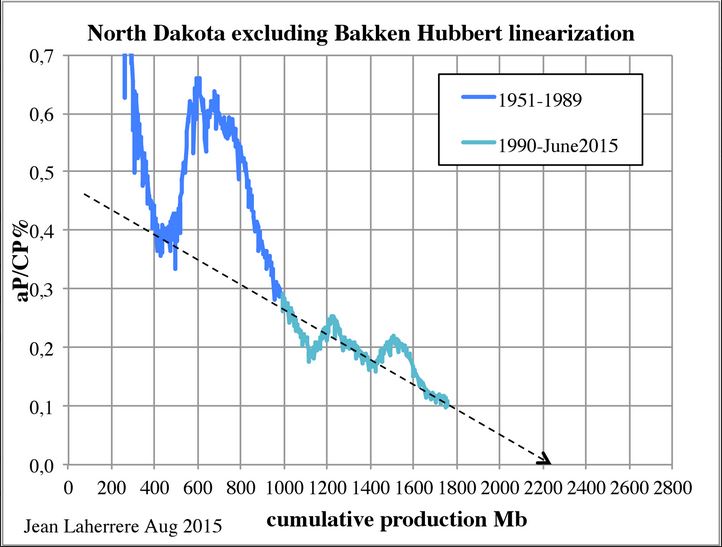 The rest of North Dakota, less the Bakken, is just about finished.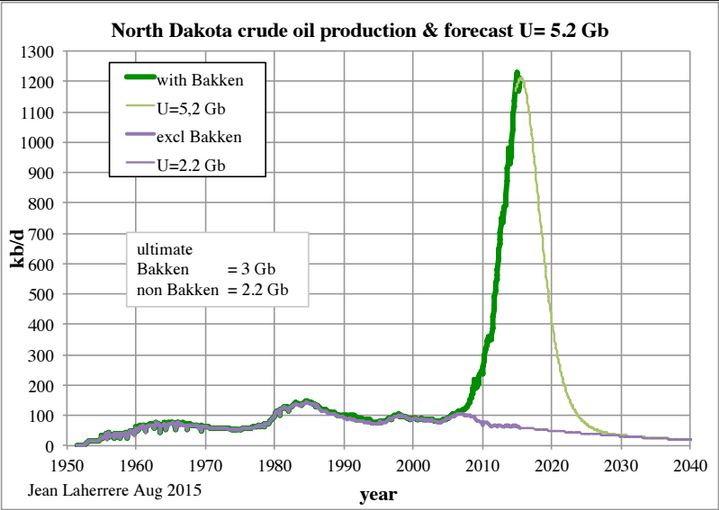 With this chart Jean puts North Dakota production right at the peak.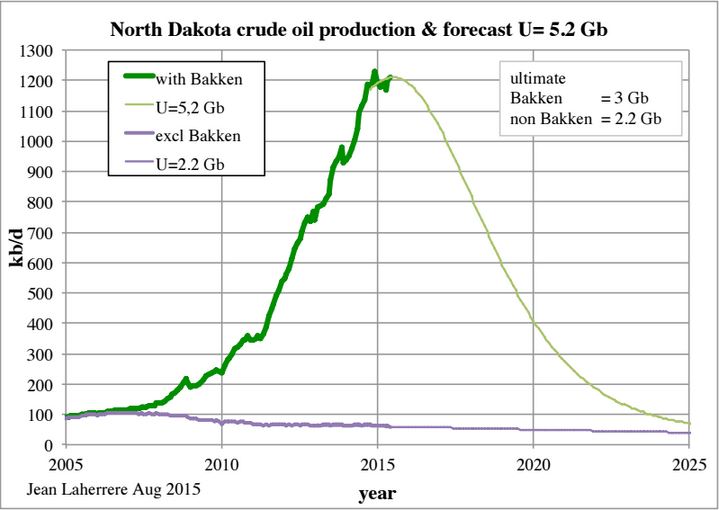 This is a 20 year time scale of the 90 year time scale chart above it.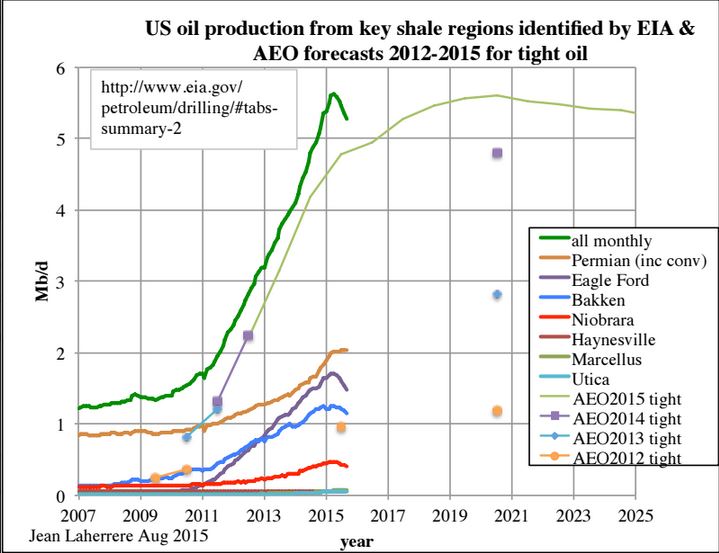 Total shale production including the Permian which has almost half conventional production.
Last post I linked to John Mauldin's column and also a link to James Howard Kunstler's take on Mauldin's post. Well here is Art Berman's take on Mauldin's column:
John Mauldin Defends The Faith, Fails Economics 101
John Mauldin defends the faith of what he calls the "fracking gospel" but fails Economics 101.
In his recent post "Riding the Energy Wave to the Future", he claims that oil prices are falling because the cost of producing tight oil is cheaper than most conventional oil.
But oil is $40 per barrel and falling because it is being devalued by global market forces that have little to do with tight oil at this point.
Mauldin's evidence that producers are making money at $40 oil?
"I have friends," he says, "here in Dallas who are raising money for wells that can do better than break even at $40 per barrel."
I have friends at oil companies here in Houston who assure me that they are losing their shirts at $40 per barrel.
There is a lot more of Art's opinion along with charts. Be sure to check it out.
And on another subject. The following is Chapter 4 of Tumbling Tide, Amazon.com link below. I thought it interesting as it differs considerably from the opinions of some of the posters on this list. I hope we can get some comments on the probability of alternative energy replacing fossil fuels.
The words below are not mine but those of the author, Peter Goodchild. But I do agree with him.
Tumbling Tide: Population, Petroleum, and Systemic Collapse
Chapter 4: Alternative Energy
Alternative sources of energy will never be very useful for several reasons, but mainly because of a problem of "net energy": the amount of energy output is not sufficiently greater than the amount of energy input (Gever, Kaufmann, & Skole, 1991). With the problematic exception of uranium, alternative sources ultimately don't have enough "bang" to replace the 30 billion barrels of oil we use annually—or even to replace more than the tiniest fraction of that amount.
At the same time, alternative forms of energy are so dependent on the very petroleum that they are intended to replace that the use of them is largely self-defeating and irrational. Petroleum is required to produce, process, and transport almost any other form of energy; a coal mine is not operated by coal-powered equipment. It takes "oil energy" to make "alternative energy." Alternative energy, in other words, is always riding on the back of a vast fossil-fuel civilization.
The use of unconventional oil (shale deposits, tar sands, heavy oil) poses several problems besides that of net energy. Large quantities of natural gas and water are needed to process the oil from these unconventional sources. The pollution problems are considerable, and it is not certain how much environmental damage the human race is willing to endure. With unconventional oil we are, almost literally, scraping the bottom of the barrel.
More exotic forms of alternative energy are plagued with even greater problems (Youngquist, 2000, October). Fuel cells cannot be made practical because such devices require hydrogen obtained by the use of fossil fuels (coal or natural gas), if we exclude designs that will never escape the realm of science fiction; if fuel cells ever became popular, the fossil fuels they require would be consumed even faster than they are now.
Biomass energy (from corn or wood, for example) requires impossibly large amounts of land and still results in insufficient quantities of net energy, perhaps even negative quantities. Wind and geothermal power are only effective in certain areas and for certain purposes. Hydroelectric dams are reaching their practical limits. Nuclear power will soon be suffering from a lack of fuel and is already creating serious environmental dangers
The current favorite for alternative energy is solar power, but it has no practicality on a large scale. There is a great deal of solar energy reaching the Earth, but it is too diffused to be of much value. A good analogy to that diffusiveness, and in fact a somewhat related problem, is that metals have been of use to humankind only because they were found in concentrated deposits.
Proponents of solar energy must therefore close their eyes to all questions of scale. The world's deserts have an area of 36 million square kilometers, and the solar energy they receive annually is 300,000 exajoules (EJ), which is a typical 11 percent electrical-conversion rate would result in 33,000 EJ (Kines, 2006). Annual global energy consumption in 2005 was approximately 500 EJ. To meet the world's present energy needs by using thermal solar power, then, we would need an array (or an equivalent number of smaller ones) with a size of 500/33,000 x 36 million square kilometers, which is about 550,000 square kilometers—a machine the size of France. The production and maintenance of this array would require vast quantities of hydrocarbons, metals, and other materials—a self-defeating process. Solar power will therefore do little to solve the world's energy problems.
The quest for alternative sources of energy is not merely illusory; it is actually harmful. By daydreaming of a noiseless and odorless utopia of windmills and solar panels, we are reducing the effectiveness of whatever serious information is now being published. When news articles claim that there are simply painless solutions to the oil crisis, the reader's response in not awareness but drowsiness. We are rapidly heading toward the greatest disaster in history, but we are indulging in escapist fantasies. All talk of alternative energy is just a way of evading the real issue: that the Industrial Age is over.
Petroleum, unfortunately, is the perfect fuel and nothing else ever comes close. The problem with the various flying pigs of alternative energy (as in "when pigs can fly") is not that we have to wait for scientists to perfect the technology the problem is that the pig idea is not a good one in the first place. To maintain an industrial civilization, it's either oil or nothing.