Since the 1970's, Iran has harbored aspirations of becoming a LNG exporter. Prior to the recent sanctions, those dreams were becoming a reality with the construction of three LNG projects poised to turn Iran into a major global supplier. However, those plans were placed on hold as access to funding, technology, expertise, etc. were curtailed due to international political intervention.
But with the removal of sanctions, restrictions on Iran's LNG industry have been fully lifted. Additionally, foreign LNG carriers are permitted to call on Iranian ports. Officials have indicated that once domestic demand has been satisfied, Iranian LNG will now be exported to the global market.
This is a dramatic shift, but what exactly does this mean to the global market, and more specifically, the LNG shipping market?
Companies that engage in LNG transport (and the FLNG segment, which will be discussed) include, but are not limited to, Dynagas LNG Partners LP (NYSE:DLNG), Golar LNG Limited (NASDAQ:GLNG), Golar LNG Partners LP (NASDAQ:GMLP), GasLog Ltd (NYSE:GLOG), GasLog Partners LP (NYSE:GLOP), Tsakos Energy Navigation Ltd. (NYSE:TNP), and Teekay LNG Partners L.P. (NYSE:TGP).
Background
According to the EIA, in their June 19th, 2015 report, "Iran holds the world's fourth-largest proved crude oil reserves and the world's second-largest natural gas reserves. Despite the country's abundant reserves, Iran's crude oil production has substantially declined, and natural gas production growth has been slower than expected over the past few years. International sanctions have profoundly affected Iran's energy sector and have prompted a number of cancellations or delays of upstream oil and gas projects."
The lack of infrastructure has not only forced them to forego opportunity but also made for irrecoverable losses in the form of flared gas. In fact, Albawaba News reported on May 9th, 2016 that "Under-Deputy Oil Minister Mohsen Khojasteh Mehr told a gathering in Tehran on Saturday that the country loses at least 28 million cubic meters of natural gas flowing alongside extracted crude in oilfields." This amounts to approximately $3.5 billion dollars in waste each year.
In 2014, the EIA reported that Iran ranked #2 in terms of flared natural gas globally.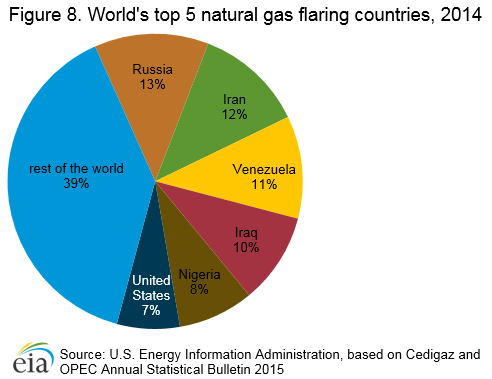 Source: EIA
As noted earlier, with access to investment, infrastructure, and expertise, no longer curtailed by sanctions, we should see an increased amount captured for use as well as greater exploration and extraction. Finally, let's not forget that Iran's increasing crude production should also create more gas available for capture.
Iran's Potential
Iran's neighbor across the Persian Gulf, Qatar, has become the world's leading LNG exporter thanks in large part to North Field (Dome) gas field just off the coast. While roughly two-thirds of that field are in Qatar's waters, Iran holds the rights to the remaining one-third which they have named South Pars.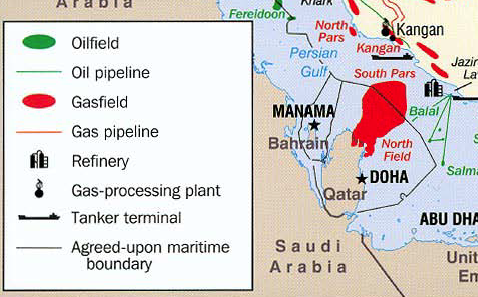 Source: EIA
The field is estimated to contain about eight percent of the world's natural gas reserves, and approximately 18 billion barrels of condensate.
Iran's current production from the field stands at around 130 mcm/d and Qatar's production has been at a fixed level of about 177 mcm/d over the past three years.
However, on May 8th, an Albawaba News headline read: "Iran to exceed Qatari natural gas production by 2017 from shared field". They reported that Ali-Akbar Sha'banpour, the managing director of Pars Oil and Gas Company "told reporters that Iran's production of natural gas from the field will surpass 500 million cubic meters per day (mcm/d) once several ongoing projects are fully developed."
Customers
Iran was a major supplier of energy to the EU before tight sanctions were imposed over the country's nuclear activities. Numerous countries/regions are already inquiring and even striking deals with Iran regarding this increased output.
For instance, The Wall Street Journal reports that "Iranian liquefied natural gas could start to play a significant part of the European Union's energy mix after the next three to four years, the bloc's energy chief said after meeting officials here to map out future energy ties."
The European Commission estimated, just last fall, that by 2030, the bloc could be importing between 25 billion and 35 billion cubic meters of gas from Iran, much of it in the form of LNG.
It was reported that during a recent visit of Italian Prime Minister Matteo Renzi to Tehran, managers of Italy's Enel Trade and National Iranian Gas Export Co. signed an MoU that once finalized, will make Italy a client of Iran's LNG.
It has even been reported that "India has expressed interest in setting up an LNG terminal at Chahabar port in Iran to ship back home natural gas from Persian Gulf nation, Oil Minister Dharmendra Pradhan said."
Of course, as noted before, Iran currently lacks LNG infrastructure and is less than two years away from completing its flagship complex. In total, three LNG projects, including 'Persian', 'Iran' and 'Pars', had been established in the country, but Pars and Persian have stopped due to sanctions. Officials at National Iranian Gas Export Co. have announced that the removal of sanctions will further expedite the process of Iran's LNG projects which are over 50 percent in progress.
LNG World News reported that "Iran plans to increase its share in the global gas trade by launching five LNG projects over the next 3 years managing director of the National Iranian Gas Company (NIGC) Hamidreza Araqi said."
Though, Iran has access to several pipeline networks, some of which lead to LNG facilities in other nations, the Government has made it clear what its future goals are regarding preferred export methods.
According to Azer News: "Iran prefers to export liquefied natural gas to the distant markets due to financial and security reasons but favors gas pipelines for transporting its gas to the neighboring countries, Jafar Jafar Pourfarjoud, press secretary of the Iranian Petroleum Ministry, told Trend news agency on May 4." Additionally, "Iran is currently considering both options, said the spokesman of the ministry by adding Iran's plans to purchase vessels for LNG transportation." Iran has already signed preliminary agreements with Korean, German and Chinese shipbuilders to construct LNG tankers.
Meantime
As noted earlier, Iran does have options. Azer News notes that "It may build a gas pipeline through Turkey. Even, some experts suggest Iran to use the Southern Gas Corridor and build a connection pipeline to TANAP instead of building a separate pipeline. By joining TANAP, Iran is sure to strengthen Azerbaijan's regional position as a transit country. This will not only bring economic benefits, but also political dividends that will be much more significant. Iran also considers building gas pipeline to Oman where it can use the already existing LNG facilities to transport its gas to the global markets. Moreover, the country sees Kuwait and UAE as potential buyers of its natural gas supplies as well."
FLNGs
But perhaps the most exciting option has come in the form of inquiries about FLNG vessels. Over past few months, Iranian officials have been negotiating with international companies about both renting and building the floating liquefied natural gas vessels. LNG World News reported that "two Iranian companies have reached a final deal with a French company on floating LNG production from associated gas from the Forouzan oilfield, according to Iran's deputy petroleum minister, Roknoddin Javadi."
Additionally, LNG World News reported that "Iran started talks with Belgium over a possible deployment of floating LNG technology off the Kharg Island in the Persian Gulf, Iranian minister of petroleum, Bijan Zangeneh said."
FLNG technology represents several advantages over fixed land based LNG complexes, chief among them is less time to establish an operation. With Iran making it clear that time is of the essence, FLNGs could be the most efficient way of establishing export capacity in the short to mid term. Therefore it wouldn't surprise me to see Iran become one of the early adopters of this new technology.
Conclusion
In my latest LNG supply side outlook I stated: "For a long time, the LNG shipping industry has faced what I believe to be a sort of Chicken/Egg problem. Developing a long-term viable market requires significant investment in infrastructure such as ports, liquefaction and/or regasification facilities, transportation, natural gas power plants, perhaps fueling stations, etc. However, the lack of infrastructure creates risk for the end users subsidizing this shift in the beginning due to the uncertainty of long term and/or widespread adoption. However, I believe this may be coming to an end with major supply coming online."
"Therefore, the first part of the puzzle would be reassuring the market that the long-term supply of natural gas would be cheap and stable. Recent supply increases (with growth projected among major producers) coupled with price declines have created a fundamental shift in market perception regarding the long-term outlook of natural gas. Australia is projected to approximately double capacity by 2020. Additionally, places like Malaysia and the USA are set to become significant net exporters."
I believe that Iran could become an important part of solving the chicken/egg problem with its significant reserves that will be increasingly available to the global market.
In the short-run I am afraid that we won't see any major developments for LNG shipping. Iran is at least a couple years away from possessing significant capacity.
However, one possible bullish development in the short-run might be Iran taking advantage of this depressed rate environment by entering into long term charters with vessels currently subjected to the dismal spot market, or coming off existing charters at desirable times. A forward looking chartering strategy could prove beneficial for both Iran and the market.
As for the long run, with its massive reserves and desire to capitalize on energy exports, we could see Iran become one of the leading suppliers of LNG over the next four or five years.
Globally, supply increases and diversification can only serve to keep prices low and allow customers significant fallback options which should encourage long term demand.
Additionally, if Iran is able to successfully exploit FLNG technology in various capacities this could be all the market needs to see in order to begin adopting this new technology which carries with it many advantages.