The EIA releases two monthly petroleum data sets for US oil production. The Monthly Energy Review which gives the US production and consumption of all forms of energy, oil, natural gas, coal and electricity.  The other, the Petroleum Supply Monthly deals only with petroleum but gives every possible statistic, production, refining, export and import from every state and district.
Concerning total US crude oil production the two should agree but they don't. From December 2011 back they have the exact same production numbers but the near months differ greatly. I have found that the latter, the Petroleum Supply Monthly is the most accurate. The Monthly Energy Review usually changes their numbers to match the Petroleum Supply Monthly but both revise their numbers as more accurate numbers come in. They both are published the last week of the month but  the M.E.R is always a month ahead with their data.
Here are their the numbers in KB/d and the difference between the two.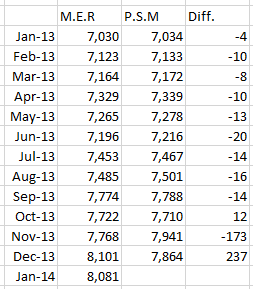 Notice that the former had US production up by 333 kb/d in December while the latter had US production down by 77 kb/d in December. But both will be revised to match what each state or pad reports later on.
There is no uniform reporting strategy among different states. They all appear to do it differently and on a different time frame. For instance the PSM, which is the only one of the two that reports state by state production number, reports the exact same numbers for North Dakota that we get from North Dakota. But they get their Texas data from the Texas Rail Road Commission. And the Texas RRC is very delinquent with their reporting. They just report the numbers as they come in from the field and every month they change as more numbers come in, sometimes taking many months until all the numbers are in. So the EIA just guesses at Texas production numbers.
Texas and North Dakota daily C+C production in KB/D. The last data point is December 2013.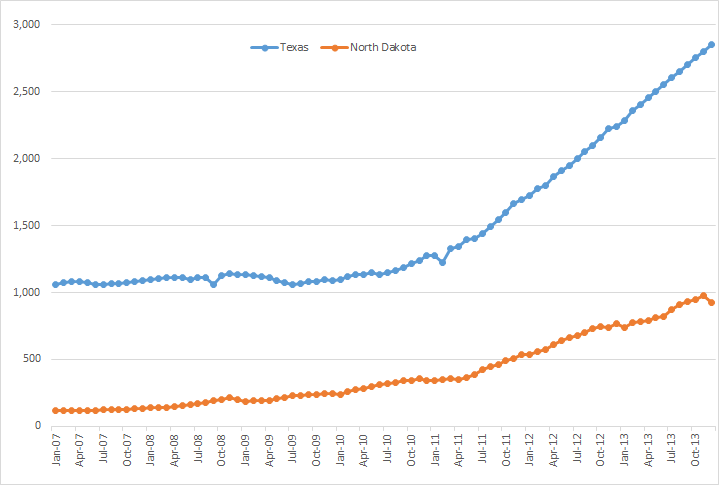 Notice the last nine months are extremely linear. In fact each month, April through December, Texas monthly crude production increased by exactly 50,000 barrels per day.

Here below is their production, along with North Dakota, plotted on as change per month. The December drop in North Dakota production is exactly what was reported by the State.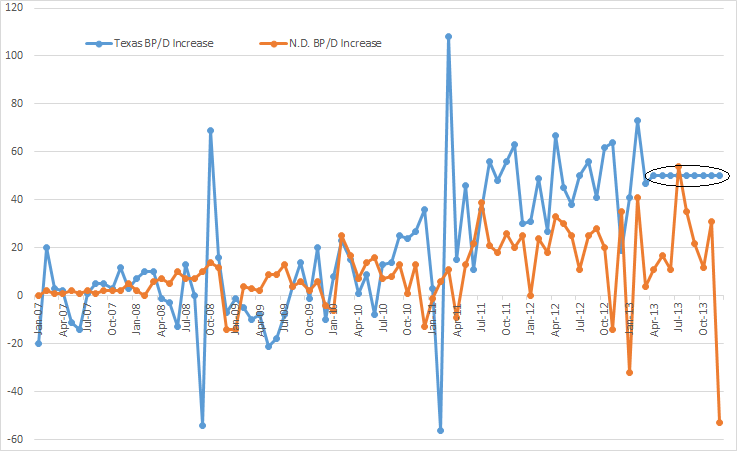 Notice the last nine months of Texas production increase. The EIA is guessing that Texas oil production will have increased by exactly 50,000 barrels per day every month from April through December 2013. The up and down spikes in 2008 and 2011 was just a reporting anomaly. Barrels not counted in one one month were counted the next month instead, causing a down spike one month and a corresponding up spike the next. But what this does tell us is that the EIA reports exactly what the Texas RRC reports, when they finally get around to reporting.
This also means that we don't really get any good data for Eagle Ford and the Permian because the data we get from the EIA's Drilling Productivity Report will reflect this same wild ass guess.
Basically this means we will not know when the US C+C peaks until several months after the fact. But we should get some hint when the EIA starts to lower their guessing numbers as to Texas Production.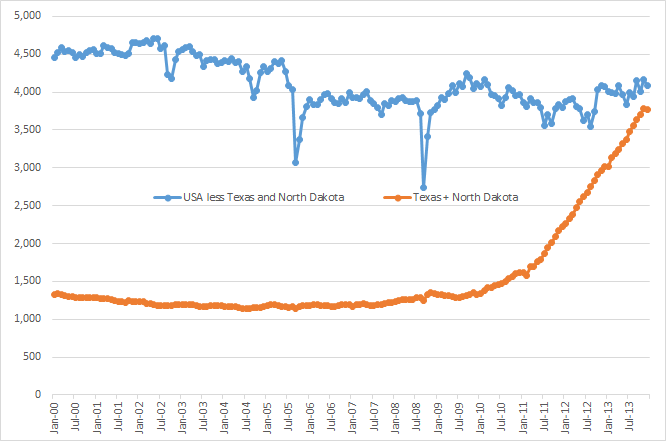 I understand that perhaps half of Texas production is conventional oil, not shale oil but nevertheless this chart tells us that when US shale oil peaks, the US peaks… again.
Here is the US C+C production using data from the EIA's Petroleum Supply Monthly in kb/d. The last data point is December 2013.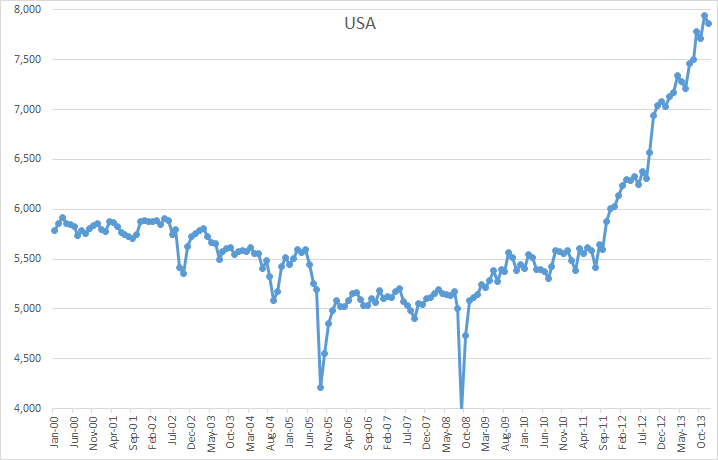 Here you can see clearly that the US Shale or LTO production, beginning about two and one half years ago, has increased US production by 2.5 million barrels per day. This year will tell the story of whether that will continue or not. My bet is we will definitely see a slow down but just how big a slow down I can only guess.
News Jacking
In a way, the world's major oil companies all suffer from some version of the same problem: They're spending more money to produce less oil. The world's cheap, easy-to-find reserves are basically gone; the low-hanging fruit was picked decades ago. Not only is the new stuff harder to find, but the older stuff is running out faster and faster.
EXCLUSIVE-North Dakota Jan oil output flat as winter chills drilling-data
Growth in the larger Eagle Ford shale in south Texas also ground to a halt at around 1.1 million bpd, according to the LCI data, which was made available to Reuters.
Parts of North Dakota had the third coldest December on record, so frigid, according to local papers, that diesel fuel froze in truck tanks. In January, it was the wind that forestalled the drilling and hydraulic fracturing operations that are necessary to keep output growing.
Still, it is likely to be a temporary lull in the otherwise upward trajectory of the Bakken region, whose bounty turned North Dakota into the country's No. 2 oil-producing state. Regulators expect the backlog of wells waiting on completion, numbering 635 in December, to be up and running by May.
"In spite of the weather declines experienced in January, oil production from shale oil wells increased 30 percent from January 2013 after increasing almost 60 percent the year before," said George Lippman, president of LCI.
Two things I take away from this. First the EIA will have to adjust their guess for Texas production for December because Eagle Ford also took a hit that month. Second if shale oil production increased by 60% in 2012 and 30% in 2013, we can clearly see a trend.
And how did I miss this one that came out about a week ago?
Expert: World could face oil shortage
Global demand for oil is about 90 million barrels a day. Factoring in production declines as well as new demand from emerging nations, in 10 years the world will need another 55 million barrels a day of oil, he said.
"I see a lot of forecasts for the future, but nobody is saying where the oil is going to come from," Powers said.