The EIA released its International Energy Statistics. This link is to their C+C stats. I don't track ethanol, bottled gas or refinery process gain, only oil. There were some major revisions to the April and May data and lesser revisions for the February and March data. The data below is in kb/d.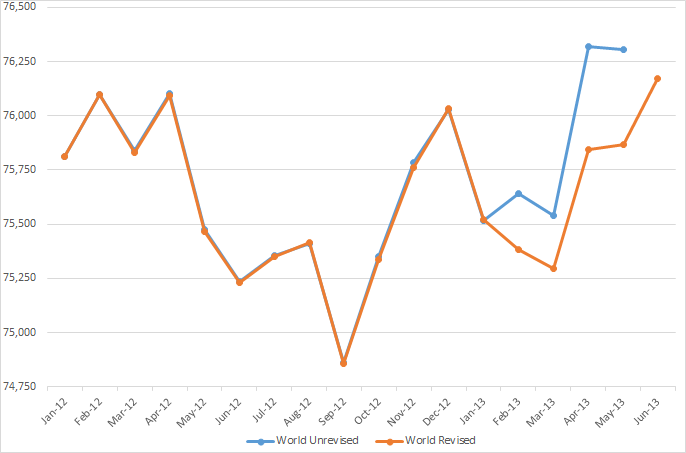 April World C+C was revised downward by 471,000 barrels per day and the May data was revised downward by 442,000 barrels per day. June World C+C production is at 76,172,000 barrels per day, a new all time high, subject to revision of course.
The only major upward revision was in Russia where May production was revised up by 208,000 bp/d from 9,810 kb/d to 10,018 kb/d. Then June Russian Production really took off to average 10,305 kb/d.
Kazakhstan May production was revised downward by 117 kb/d and Azerbaijan production was revised downward by 50 kb/d. But the major revisions downward were from Canada. The Chart below is in kb/d.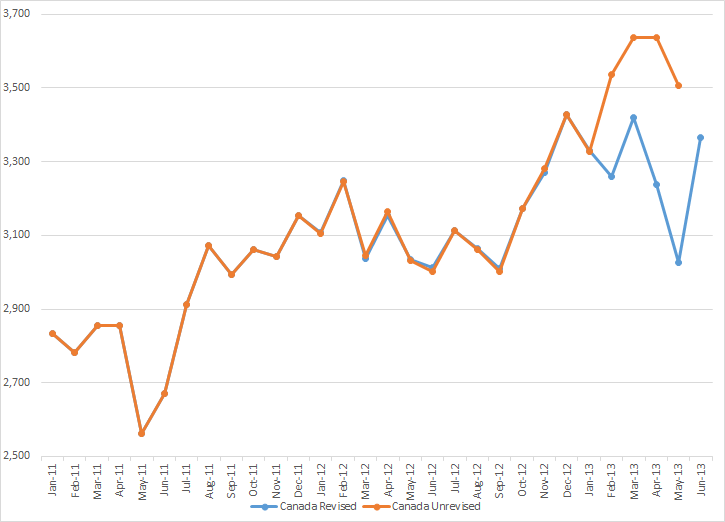 | | | | |
| --- | --- | --- | --- |
| | Canada Revised | Canada Unrevised | Difference |
| Jan-13 | 3,329 | 3,327 | 2 |
| Feb-13 | 3,259 | 3,537 | -278 |
| Mar-13 | 3,419 | 3,637 | -218 |
| Apr-13 | 3,237 | 3,637 | -400 |
| May-13 | 3,027 | 3,507 | -480 |
| Jun-13 | 3,366 | | |
Venezuela isn't telling the truth about its oil industry
 Venezuela's state-owned oil company Petróleos de Venezuela S.A. (PDVSA) is making a habit of reporting production levels well above secondary source estimates. This past August alone, the country's state-owned oil company reported outputs of roughly 2.8 million barrels a day, nearly half a million barrels above (Spanish link) outside estimates of closer to 2.35 million.
While Venezuela is by no means the only country for which OPEC has noticed discrepancies between national and outside estimates of local oil production, its fibs are among the world's most egregious. Only Iran, which exaggerates its oil production by closer to a million barrels a day, has proved to be a bigger liar.
Hey, tell us something we didn't already know. Anyway here, according to the EIA is what is happening in Venezuela through 2012. Venezuela monthly Crude Only production since 2005 through August 2013 can be found at OPEC Crude Oil Charts
 Non-OPEC Charts will be updated by noon CDT October 1st, I hope. But I have 29 charts to update and post so it will take awhile.