This is another Guest Post by David Archibald
Who's Got Liquids?
An article by Canadian consultant Mike Priaro in the 7th July, 2014 edition of Oil andGas Journal, "Grosmont carbonate formation increases Alberta's bitumen reserves", included the following tables: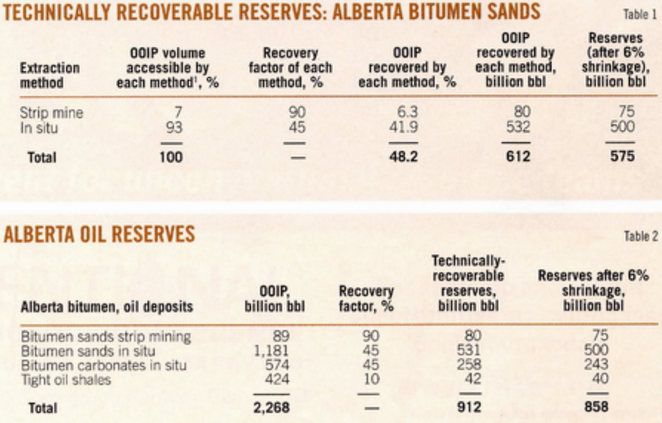 Mr Priaro's estimate of Canada's recoverable bitumen is 818 billion barrels. Almost all of that is in Alberta. Combined with their coal resources, Alberta has the biggest fossil fuel resource on the planet. I have updated my estimate of what some of the major countries have in the way of fossil fuels in this table:

The highest value fuels are those that can be used as liquids in transport. High quality coal produces 2.2 barrels of liquids through a FT plant. In the following graphic I have used a factor of 2x to convert coal to its oil equivalent. Six thousand cubic feet of gas has the energy equivalent of one barrel of oil. Natural gas can be used directlyin some transport applications. Putting it through an FT plant to make diesel, for example, would lose at least 30% of its initial energy. Natural gas has traditionally traded at the oil price in the US and conceivably might return to close to that level in a tight market. So in the following graph, natural gas in TCF is divided by six to produce its oil equivalent in billions of barrels. This is the graph: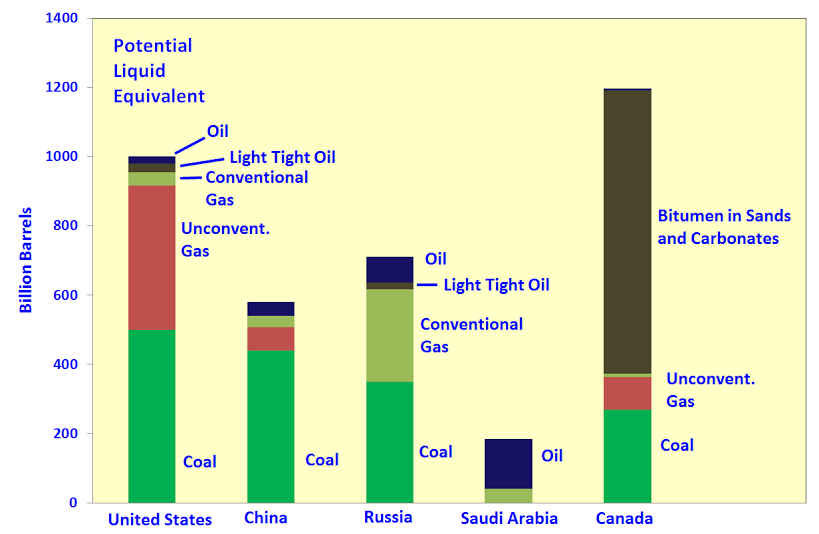 From there, one can divide each national resource endowment by the country's population to produce this graph of per capital potential: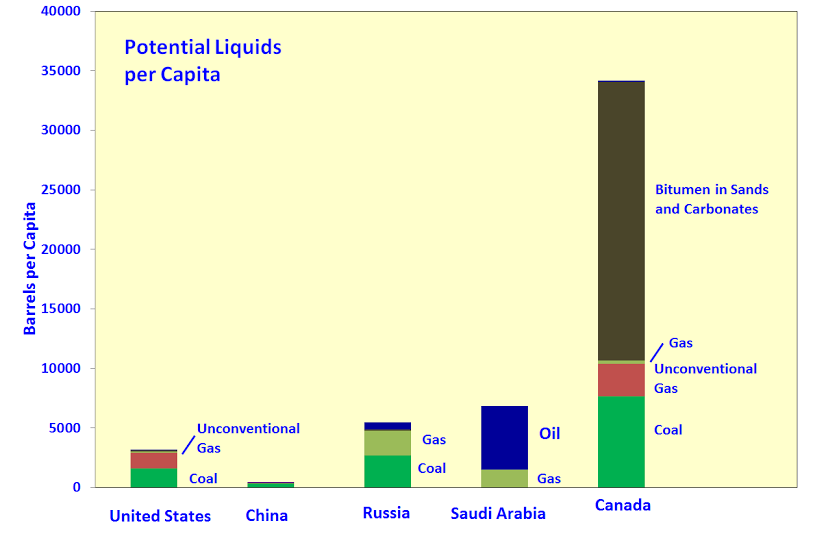 For the United States, the Green River oil shales are not included. Some parts of this formation might be economically recoverable at some point, for example the Mahogany Zone, but the unit as a whole has a total organic carbon content of 6%. Rocks with a carbon content down to 10% will burn in pure oxygen. It may be that only a few percent of the Green River Formation might be worth mining. In the absence of good data, it would be best to exclude it.
China's coal resources are about the same size of that of the United States but they are burning through them four times faster. The average mining depth is approaching half of the possible ultimate depth. China has plans to increase coal consumption by another 10% to make synthetic natural gas. This process was pioneered by the Carter Administration with a plant based on lignite at Beulah, North Dakota. The Beulah plant burns through 18,000 tonnes per day and exports by-product carbon dioxide for EOR in Canada. Converting coal into syngas is a more efficient use of the contained energy than putting it through a power station. There is a 90% transfer of the inherent energy in gas in domestic cooking for example. Gas is also more storable than electricity. China appears to be on a path to have burnt through half of its initial coal endowment by the mid-2020s. Their cost of production is likely to rise thereafter.
In theory, the Chinese are building power plants that will run out of coal before the power plants wear out. They have one thing up their sleeve that has a good chance of saving the day for them. That is their thorium molten salt reactor project. The team running that project was told recently to get it commercialised in ten years instead of the original twenty years. Molten salt reactors could be added to existing power plants to replace the coal-fired boiler. That technology might come along in time to provide a seamless transition.
The figure for China's unconventional gas potential is nominal. Results to date have fallen short of expectations and it may be a few more years before clarity is achieved.
Similarly, while the Bazhenov Fm of the West Siberian Basin in Russia has a number of similarities to the Bakken but is many times larger, well productivity for commerciality may be too low at any oil price given the much high drilling costs of this region. This is due to the rock having too high a clay content and not enough silicates so that it deforms plastically rather than fracturing to the required extent.
Further to the Bakken 
In this post I had looked at the contribution of the Bakken and the other three main US tight oil plays. Another look at the data suggests to me that my prediction that the peak is imminent may very well be right. There may only be six and a half years of production data but it is monthly data giving close to 80 data points. As to the evidence, this is a map by Schmidt from 2011 showing 15 month production for the Bakken: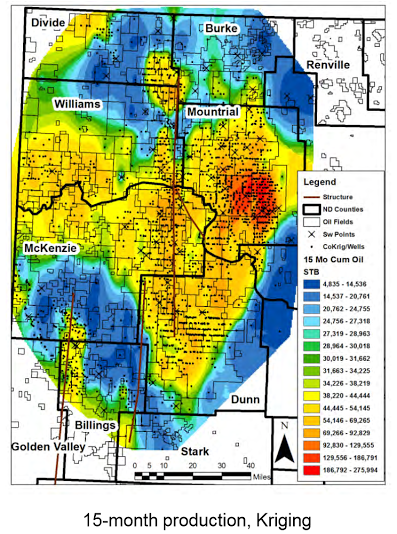 Only the wells doing 100,000 barrels or more in their first 15 months have a chance to produce 300,000 barrels or more. This is the bottom three orange colours. Four counties provide 87% of Bakken production and the prospective area may be 60% of these counties at best. With respect to the Three Forks, the area that is possibly prospective is smaller again as show by this map by Millard and Dighans from May 2014 of water cut: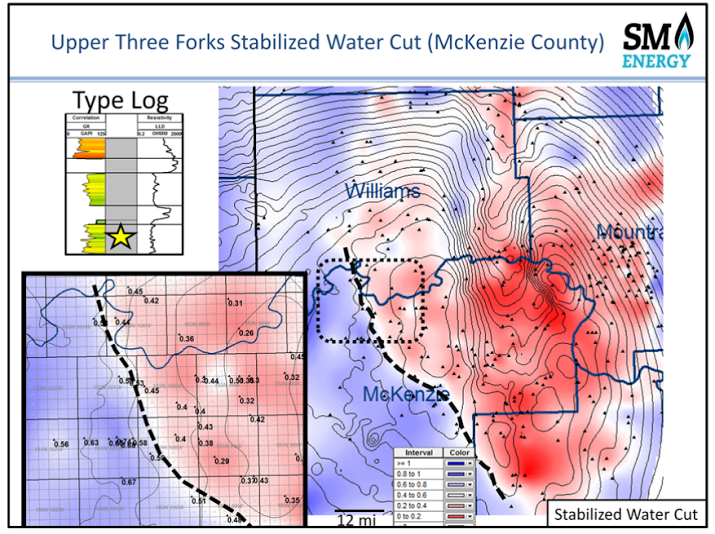 Millard and Dighans make the case that the abrupt transition from high oil saturation to low oil saturation in McKenzie County shown by the dashed black line is due to the overlying Pronhorn Shale blocking downward migration of oil from the Lower Bakken into the Three Forks.
Fractracker provides very good detail on completions to dat in the Bakken including the postion and length of the laterals. Clicking on a well will provide details of its spud date, ownership and drilled depth.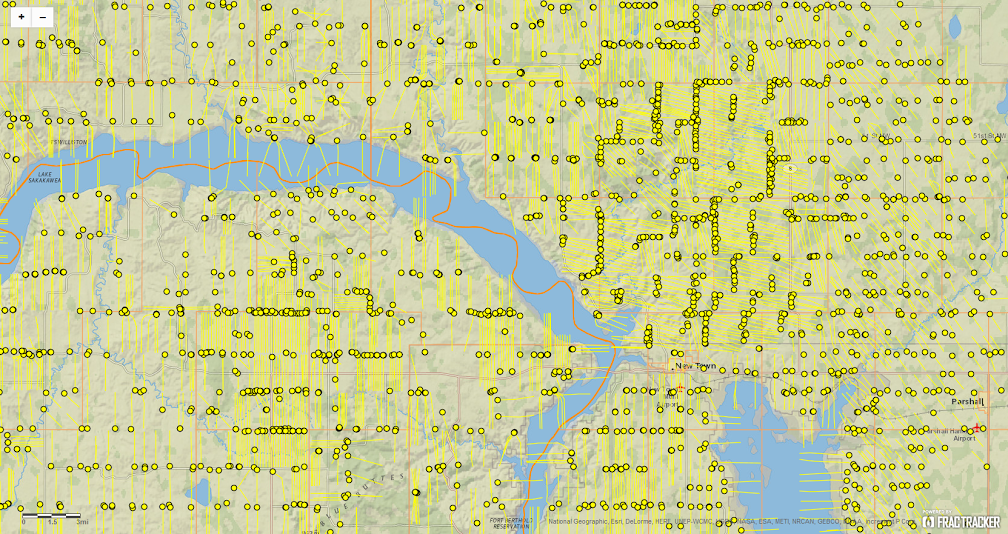 Some areas are already drilled on a tight spacing. For example, this is an area north of New Town that has been drilled on a 700 foot average spacing:
And this is an area west of New Town that has been drilled on a 620 foot average spacing: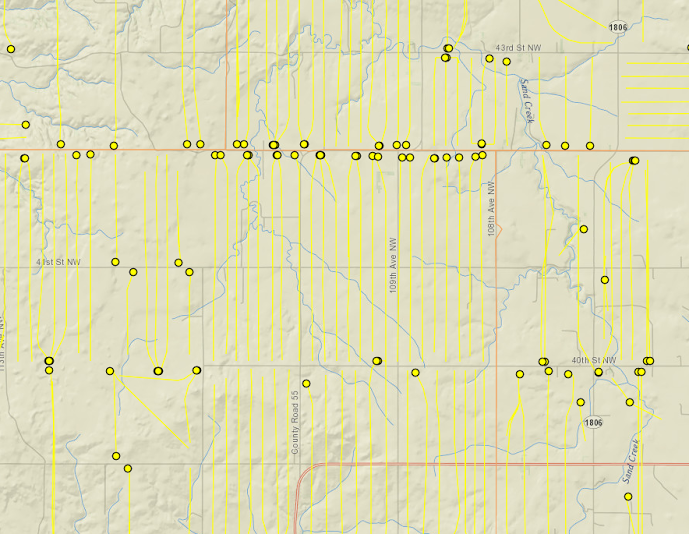 It appears that the sweet spots of the Bakken have already been heavily drilled. There may not be that many locations left in areas that are going to provide a good return.
David Archibald, a Visiting Fellow at the Institute of World Politics in Washington, D.C., is the author of Twilight of Abundance: Why Life in the 21st Nasty, Brutish, and Short (Regnery, 2014).