Tanada,
Wind farms in a cow pasture are still mostly cow pasture...
Wind farms offshore are still mostly sea water....
....neither uses more than 5% of the area they are in, and 95% is unaffected.
Central thermal solar is pretty huge, but we have just about proved it is impractical. There is a large solar plant in California that is going to be scrapped because it requires continuous tinkering with either the plumbing for molten salts or the plumbing for liquid sodium, both have been tried.
Rooftop solar has several downsides. Firstly, they pierced my roof and invalidated the remainder of my 40-year roof warranty. Secondly they created an attraction for pigeon nests which had to be corrected with poultry netting. Third in spite of their commitments in the lease, they have never cleaned my panels or serviced the air filter for the inverter, I do that. (I created a wet mop head for my pool cleaning wand.)
All in all, I agree with RM. If you have any other alternative, don't put Solar PV on your roof. Do this instead:
...you will still be able to use the land except for maybe 5%. Some vegetables require part shade, and dogs like it too. Note that the area under the curve represents the power produced, and the array shown re-positions 7 times per day, increasing the power output by 40%:
My call is that the next time I do add-on solar PV, I will use a tracked array. If building a house, I would choose an invisible integrated array such as a Tesla PV roof.
A homestead only needs one small wind turbine: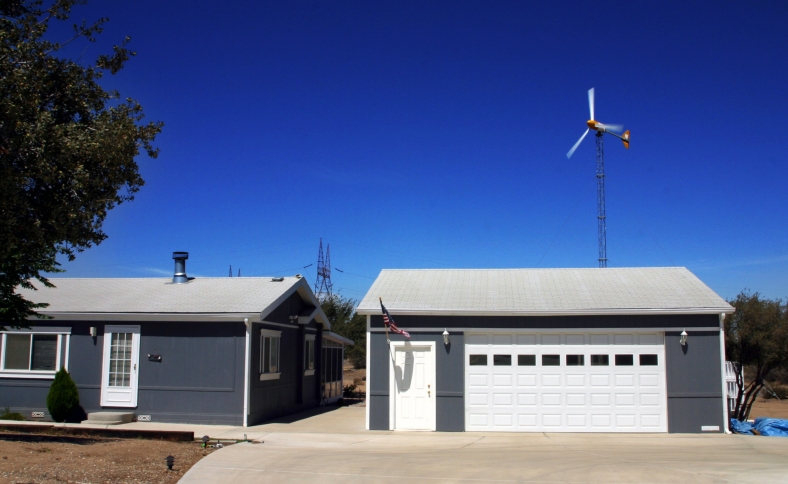 ...which consumes no more space than a conventional TV antenna.